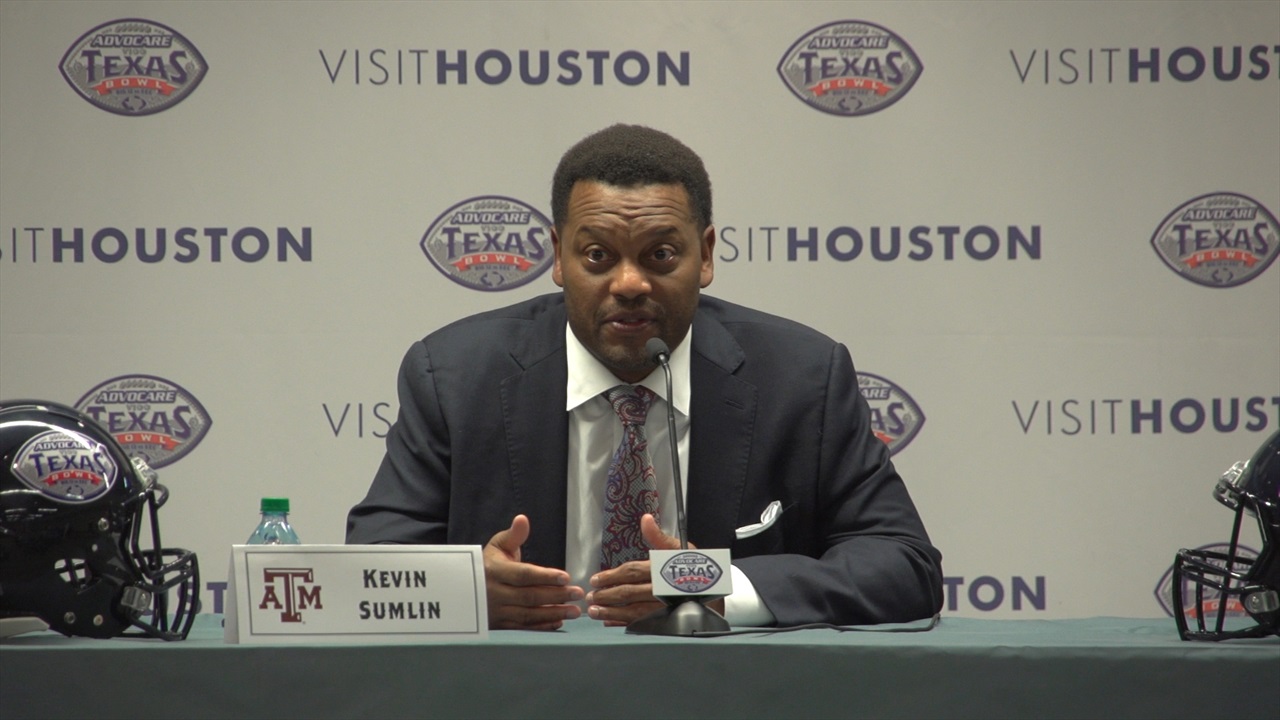 Kevin Sumlin
Myles Garrett
Trevor Knight
Bill Snyder
Texas A&M Football
Texas Bowl Press Conference: Coaches, players preview A&M-KSU
---
Texas A&M and Kansas State are set to square off in the 2016 Texas Bowl. Both teams are gearing up in Houston, and the coaches and players from each team took the time to meet with the media on Tuesday to share their thoughts on the game.
Texas A&M Head Coach Kevin Sumlin
When you look back at DL Myles Garrett's recruitment, how important was he to get at the time and when you look at what he's contributed to the program, what has he meant the last few years?
"You know, I don't think -- at the time, may be different, but I think our staff has done a really, really good job of evaluating talent, not based on stars, or, really, services. I think, you know, this class that's committed to us right now is a product of that. The guys, we really don't care where they were ranked. Although, I'll give a lot of you guys credit. Usually the five-star guys are really good. Guys that are ranked No. 1 at their position, they are usually pretty good guys, and he's one of those guys.
"He was a guy that in recruiting was -- you'll have to ask him -- I've got my side of it and he's got his side. I think we had a lot of work to do, early, with him. But I think he'll be the guy to tell you that between family, and his experience at Texas A&M has been a great one.
"And I said this earlier, I think what gets lost with him and with the guys who are here today, you've got guys with a lot of different things that are at stake. And with what you see going on with bowl games, what you see that's gone on during the year in playing games, this guy was not healthy after Arkansas, and is a dominant player. And the fact that he wanted to play in games at 50 percent, whatever it was, third downs, whatever, with his teammates, says more about him than just his talent. That speaks to our team, and you know, he's not very vocal, but when he speaks up, you hear him, and he plays that way. I think it's been a great example to our younger players."
What about the recruitment?
"You've got to ask him. You see him smiling over there; he knows. He knows what I know; that he wanted to go somewhere else early. But we had to convince him that A&M was the best place for him. And mom and dad helped during that time, and sis. Yeah, she gave me the intel all the time, since she was already there."
Kansas State is averaging nearly 300 rushing yards over the last six games. What kind of challenge do they present on the ground against you guys?
"A real challenge. We've had our issues, particularly with quarterback runs. And Coach (Bill) Snyder, they have done a great job. This is one of the hottest teams in the country coming into this game, with what they have done at the end of the year. So the challenge is, as always, Coach Snyder's teams are extremely disciplined, know what they are doing. They have had a month to really hone in -- really, three weeks, to hone in on us and where we're going to be.
"It's a real challenge to be able to stop the run, and then as soon as you commit to that, the ability to, really, defend the deep ball. You know, that's going to be something that we've had our issues with at the end of the year, but we'll see where we are tomorrow night, because I think we made some strides and done some things to help ourselves, but obviously we've got to execute on the field, otherwise that could be an issue. And for us, offensively, it's the same thing. It's going to be an interesting game, just because special teams will be a big deal in this game. Offensively we've got to be able to score some points, because Kansas State has been scoring at a pretty good clip here the last four or five games of the year. So it's going to be a challenge for us."
You talked about DL Myles Garrett a little bit, but can you talk about the impact your senior class has made on this year's team?
"Yeah, at the banquet, I said we've got guys who have been here five years. We've got guys like Ed (Edward) Pope, who has been here since we got here. We've got guys that are junior college guys that have been here, two and three -- or like Josh Reynolds; and then we've got a guy who's been here 11 months. So it's an eclectic group. But they have done a great job with our football team, from a leadership standpoint, not just playing.
"But as I've said before, this group of guys that are here, have done a great job, I think, in the locker room, filling the void with leadership, and then also with how they have played. And examples because the guys that are up here today, not all of them are seniors, but every one of these guys has struggled through some sort of injury this year and continued to press on and have handled it like grown men, and I think they have been great examples for the rest of our program."
This game features some talented defensive players like DL Myles Garrett and DE Jordan Willis. Would you compare or contrast the way that they have played?
"Jordan, we are not going to wait very long for them to call his name in Philadelphia this year. He's a really, really talented, talented guy and one of the better defensive linemen in the country. I think he's very versatile. He's strong against the run. He's got a great first step. He's got really good -- he'll be easily one of the top three or four guys that we've played against this year, and we've played some pretty good ones; half the All-American team is in our league in the west.
"You watch the film with this guy with production and what he does, he's right there. So you know, I think just like one of our guys, a couple of our guys, you've got to account for them. Not only in the passing game but in the running game, too, because he's a heck of a player."
Can you give some sense of why you think that even when you have had some difficulty in the second half of the season, you've come back and been very successful, played very well in bowl games. Any reason you can think of that your team has been able to bounce back like that and play well in the bowl games?
"First of all, we don't look at it like bouncing back. So that's probably the biggest thing. You know, we take advantage of the time off, and then how we practice for the game is probably a little bit different. I've been fortunate enough to be in a lot of bowl games in my life as an assistant coach and I've seen positives and negatives to how you prepare for those. So we've got a system in place that allows us to practice our younger players, early, and really take advantage of that, and it's really two segments with the developmental part of bowl practice and then our opponent's bowl practice. So that's been our approach for the last nine years.
"It's really a combination of things from Oklahoma and Purdue, and even when I was here the first time, just a lot of things that you take from different people. Our guys -- I think our guys feel good. Like I said a week ago, last week was the first time these two guys were in full pads practicing since about two months ago. And so we got a little energy, and I think our guys are looking forward to playing tomorrow night."
---
Texas A&M QB Trevor Knight
Coach said last year that you might consider Kansas State. Did you consider them on any level?
"Yeah, I talked to Coach (Bill) Snyder a little bit. I've always respected the way he runs his program. Obviously getting to play against them for four years and just the way that he treated me personally, but also the way he ran his program was top-notch, and I still believe that today. I'm excited to get this opportunity to play against them because I do respect them so much. They're a team that's very disciplined, like Coach (Kevin) Sumlin said, and they do exactly what they are going to do. And they're not going to beat themselves. You're forced to beat them. So it's going to be a fun matchup."
You've had some success against them as the quarterback at Oklahoma. What did you take away from those matchups that you can use in this one?
"Well, I've seen them before. I've studied their defense before, so I kind of know what they are going to do. Now, whether that shows up on the field tomorrow or not, I don't know. But I've at least played against them and I've seen them schematically before, so I think that's a little bit of an advantage."
Did you inquire about going to K-State?
"That's what he was just asking. I definitely talked to Coach Snyder when I was going through that process. I talked to a lot of people, so I'm not going to say that I was thinking about going there or anything like that, but I definitely had conversations with him."
Biggest challenges in this game that you see coming up?
"Again, I think that Kansas State is extremely disciplined. They've got some great playmakers on the defensive side of the ball. We're going to have to execute to our full potential in order to have an opportunity to win. They're not going to beat themselves. Again, they do what they do and they do it really, really well."
What's your impression of DE Jordan Willis?
"Like Coach (Kevin) Sumlin said, he's going to be a guy that goes really high in the draft next year. He's a playmaker, he's versatile and he's extremely explosive. He's somebody that we have to kind of take notice of whenever we are scheming things up and things like that."
What was the biggest difference, SEC and Big 12, any one or two things that you can put your finger on?
"You know, when you get out there between the lines, it's just football. You know, maybe the types of offenses and even the defensive schemes are a little bit different from week-to-week. For me personally, I just I really enjoy getting to travel to new places. I get to go play at all the places in the Big 12. But this year I got to go to Bryant-Denny in Tuscaloosa and go out to Jordan-Hare at Auburn and things like that, so that was fun for me. But as far as football goes, maybe slight differences, but still just football."
How nice was it to get back and practice and be fully healthy?
"It's been nice. These bowl practices have been good. I feel like we are really gelling at this point and kind of got back into a rhythm. We went I think eight straight days before we got a few days off for Christmas break. Any time you get going like that, you get a little energy behind it, I think good things happen. And we're excited to play. It's been three weeks, almost a month since we've played, and you know, we kind of have a bad taste in our mouth, because Thanksgiving Day we played LSU and didn't come out with a win. So we're excited to go out there tomorrow and hopefully finish the season out the right way."
You were on the sideline for the Oklahoma/K-State game earlier this season. Did you notice anything you can use for your preparation?
"I was really enjoying myself at that game. I wasn't necessarily scheming them up or anything like that, because obviously at that point I didn't think I would be playing against K-State or didn't know, so not really.
Again, I've played against them before, and they haven't changed up what they do too much over the past, however many years, under Coach (Bill) Snyder. I think it is an advantage that I've played against them before and seen some of the looks but we still have a huge challenge ahead of us tomorrow night."
Do you feel like you and QB Jesse Ertz are similar? What similarities do you think you share?
"I think he runs the ball extremely well and he does a great job of managing that offense. Obviously, no, I didn't watch them too much, as we're preparing for K-State because I'm looking at the defensive side of the ball. But he is a dynamic player and poses a challenge for our defense just because he does have that run-threat ability."
Can you talk about the whole full circle it has come with Texas A&M, being committed in high school and finishing out your career?
"It's been a perfect ending. Obviously you want to come in here and compete for a big-time championship, but this year has been phenomenal for me. I was a guy that really loved where I was at Oklahoma and kind of took a leap of faith just because I wanted to be on the feel again. Coach (Kevin) Sumlin and his staff have given me every opportunity that I ever could have asked for, about to play in my 11th game at A&M as a starter and we've had a lot of ups, lot of down but memories that'll last a lifetime. Specifically this week, it being the last one, kind of tried to take everything in. Enjoy the little things that maybe sometimes you take for granted week-in and week-out."
What have you seen from QB Nick Starkel and QB Jake Hubenak, just throughout the year, and knowing obviously they are going to be stepping in and competing next year?
"I've loved working with those guys. The way that they prepare, even when they're not I guess necessarily the guy has been phenomenal. They've helped me out so much just competing in practice and even on the sidelines, talking about looks and things like that. I've gotten really close to both of those guys. I'm excited to watch them compete next year for the job. I think both of them have things that are going to give this team an ability to win and so it's going to be fun to watch."
How close are you to 100 percent?
"I feel great. I feel like I can do everything that they ask me to do, and again, last game, so I'm ready to rock and roll."
Jordan Willis leads the Big 12 in sacks and tackles for loss. What did you see against him?
"Yeah, he's a fantastic player. Can do everything that he's supposed to do and even more. He's definitely a challenge for us, especially as we go through scheme and some run game stuff. We're just going to have to play really well against him and try to work around him, because he's going to make his plays."
Why do you think that you all will play well?
"I think we've done a great job in preparation leading up to this game. We lost our last game of the season on Thanksgiving day and kind of got a bad taste in our mouth and want to finish it the right way. I know Coach (Kevin) Sumlin has even said it, the seniors, we're not going to have to worry about us. It's our last game and we're going to go out there and give it everything we have and those other guys have rallied around us. I think they're excited to play. Again we went eight straight days, had a few days off and have had two fantastic practices the last couple of days. Everybody is excited. Everybody has their juices flowing a little bit, and it's going to be a fun one tomorrow night."
What have they done well down the stretch that you've seen on film?
"I think they just have some confidence going. You know, obviously schematically, they are not doing much different than they were in the beginning. But they have gotten rolling a little bit and kind of all the parts are piecing together and sticking together at the right time. And so you know, they are probably going to come out tomorrow and hopefully continue that streak for them. But we are going to do everything that we can to stop that."
They got their confidence rolling at the end. On the other side, you guys kind of started hot and fizzled out a little bit. How did that differ for you guys, trying to get the confidence back?
"I think we remained pretty confident. We battled the ups and downs of this season, especially towards the back end like you were saying. We had a lot of injuries and things like that, but we're motivated. We're ready to play this game and there's a lot that comes with it being a nine-win team instead of an eight-win team. So we definitely have motivation."
I know you're graduating but what can a win in the bowl game do for the team next year and moving on to the next season?
"Any time you win your bowl game, it kind of propels you into the next season and even the off-season. It gives you a little bit of confidence and sets the tone for the next year. Coach (Kevin) Sumlin was saying a little bit, we had the opportunity to get our young guys a lot of work during bowl practices, so it's kind of the start of their competition for next year. A win would be big for the program but also big for next year's team."
How much better is this team now than they were when you guys walked off the field against LSU?
"I wouldn't say we are necessarily a better team. I think we're ready to play better than we did that night. We're the same team from week one, that we were not ranked to all the way to No. 4 in the country and then have battled some adversity kind of through the back stretch but we are the same team, same guys, same motivation and excited to go play really, really well tomorrow night."
How about from a health standpoint?
"From a health standpoint, we've come a long way."
---
Kansas State Head Coach Bill Snyder
I know you've been asked this question a lot, but the return of DB Dante Barnett to the defense this year, just really kind of advanced from where you guys were last year and made you a much better defense. How important was it for him coming back from that injury and really leading the defense this year?
"Well, it's been particularly significant for not only our defense but the entirety of our football team. And, Donte's (Barnett) leadership has been tremendous. Players respond to him quite well. You know, from a technical aspect, it was significant in regards to his understanding of our defense, the schemes, understanding of offenses, the ability and capacity to give directional guidance to young people in our program when they are on the field, in regards to getting in and out to schemes that we put on the field defensively, making adjustments, I guess, and being able to handle that quite well. Everybody trusts him immensely for that."
For QB Trevor Knight what do you see from him and how well do you think he would fit in your offense if he were playing for you?
"Well, he's the kind of quarterback that we've been blessed to have throughout my tenure here: Someone that can bring a balance to your offense. Someone that can run it, execute all of the option-type stuff that exists in college football today and throw the ball around quite well. And I think, also, it's kind of like Jesse (Ertz) in that he's a young guy that seems to have command of their offense and schematically how they do it, getting into the right thing and out of the wrong thing. And, that tells me that he has quality leadership, as well."
I distinctly remember before the Buffalo Wild Wings Bowl, you mentioned the week leading up to that was maybe the best set of practices that you had been around since you were a head coach. Has this squad maybe come close to that measurement in the past week?
"Well, I truly think so, and probably a little more elongated. And by that, I mean, the consistency of the performance level in our practices over a period of time, not just on one given day, which you're addressing right now. But I think consistently, they have been -- they have practiced well."
Do you have an update on RB Alex Barnes? Do you think he'll be available?
"He'd better be available."
QB Jesse Ertz has fought through this injuries this year and we saw that all come together at the TCU game. What does his leadership mean on the field and in the locker room, beyond his skill set as a runner and thrower?
"I think like Dante (Barnett), he brings that quality level of leadership into his group and to his side of the ball. And you know, the significant aspect of it, you've heard me talk all the time about improvement and day-to-day you get all that. But Jesse kind of epitomizes that, I believe, in terms of his leadership and Jesse's kind of a quiet, mild-mannered young guy. And yet, he still exudes some leadership that allows our players to respond to him, you know, what he says, what he does and what he does has been significant. And I think it's because, you know, again, so many of the young guys invest themselves in that daily improvement, so to speak, and Jesse has done that.
"You've just seen his performance level grow and grow and grow. And so many people, I've said this a thousand times, so many people think of Jesse as a returning starting quarterback. And those of you from our area that cover us realize he played one snap last year. So he really was a fresh young pup when it came to beginning of this year, and he really stepped up, and like I said, just got better and better. That goes along with the experience, the number of reps that you take, opportunities on the field, as well as practice opportunities."
Watching DL Myles Garrett from afar, and reading and watching clips about him off the field, things of that nature, what are your thoughts on him and who he is?
"Well, I think he's all that everyone attempts to write about and speak about. You know, he's a very talented football player. He's got size, strength, quickness to go along with athletic ability. I don't know Myles (Garrett), but I would suggest based on what I see that he probably brings leadership to the defensive side of the ball, as well. You know, and I think his height and the ability to get his hands up and bat passes down, things like that, are significant. You know, it's important for our players to truly understand that, and they do. They understand the kind of player that he is and he's -- anyway, just a very, very fine, talented, All-American player."
You mentioned QB Jesse (Ertz) only making one snap, but did you have a little more favorable view of him coming in and playing the position, experience-wise, just from him being in film study and that sort of thing, than a typical first-time, first-year starter?
"Well, but I mean, a lot went into it before his first game last year. By that, I mean he had earned the opportunity and the right to become our starter. So everything that has taken place since then just builds on that. I don't think there was ever any question in our mind. We always make it competitive. We try not to make any gifts whatsoever, and every young guy that steps out there, is out there because they have earned the right to be there. But I don't think we ever had any doubt about that."
QB Trevor Knight, how much different does his game look than maybe the first time you were seeing him when he played for Oklahoma in the Big 12?
"Well, you know, that's really a hard question to answer, and I would say probably no distinct difference at all, other than the fact that the two offensive systems are different. And so we saw him and played against him, anyway, in one arena, and now we're viewing film on him in a totally different -- well, not totally, but somewhat, considerably different, put it that way, yeah."
Talk about WR Byron Pringle's production for your time and how the rest of the junior college transfers have also helped.
"Well, Byron has really done a nice job for us. Another, just like I was talking about Jesse (Ertz) and so many of the other players in our program, has just evolved into a quality player within our system. You know, he was a very fine athlete before he came and is a fine athlete right now. But it's learning the system and getting invested in the system, and gaining the experience, the practice experience, the game experience and he's done that, and that's helped elevate his performance throughout the course of the year, as well."
When you've had players in the past, like a DL Myles Garrett, who could potentially be a top draft pick in the first round after their junior season, what kind of advice have you given them leading into their decision?
"Well, you know, that's left up to families and them. When we sit down and talk, it's really about understanding what the process is and that they have to do what they and their families feel comfortable with, and all of that takes place after the season. Nothing's going to change during the course of the season. I think our players are pretty good about it. The families are pretty good about it, because you have a lot of people that inundate themselves upon young people and their families, and I appreciate our young guys because they know how to handle that.
"And then when our season is over after the ballgame Wednesday night, then that process begins to take place. You know, it's sometimes -- not always, but sometimes it's a very difficult choice to make. So much of it depends upon things that you cannot be aware of until draft day, and, you know what will happen; where will you go. I've seen young guys that have the anticipation to go extremely high and that doesn't happen.
"I think the evaluation process has gotten better and better and better over the years, and the projection has gotten better over the years. But there are still a lot of misses out there, and have been, in both directions. We put together -- we have a group of people on our campus, that have an investment in young people and have an understanding about draft procedures and NFL, as well as some other facets of a young person's life. And we open it up to all our seniors to meet with their parents and that counsel if, indeed, they choose to do so.
"You know, the agent deal is always significant and I don't discourage agents. I think in this day and age, you almost have to have one. So we provide opportunities for young people to evaluate the agents that have an interest in them, and we do so through the NFL and through the Players Association, and they provide a great deal of significant information that we can share with the players. And we also invite the players, if they have interest in certain agents, to bring them in and meet with the counsel that we have; a variety of different things like that I think, try to make the process as good as possible for the young people in our program."
What scout team players caught your eye during these bowl practices?
"Well, that's a pretty good question. I think a lot -- Logan O'Dea is probably the one guy that stands out more than anyone else. Logan works on our scout squad. He's a senior in our program. He's been with us a long time and he takes immense pride -- all of us, all of the coaches talk to young players that are invested in that scout squad environment. And normally, they are probably a little younger players than that who have the opportunity, really, to compete in that environment and catch the eye of other players and coaches. And it's a way to make your way, so to speak, in your program.
"And here, Logan has been in that environment, virtually all of his career. But he cares so much, and here he is a senior and really at the end of the day, in all honesty, what's he have to gain from it. And you know, what he gained from is really significant in life and that is his values. So he has a great grasp on hard work and dedication and commitment and being a great teammate and all those things that we address all the time. He's really invested in that. So I'm very, very proud of him."
As your career has progressed, the bowl games, do you put more emphasis on winning and losing, or is it more about the rewards? The value of a Bowl game, how has it changed as your career has progressed?
"Well, it really hasn't changed at all, and I think I've been to I think 27 Bowls. And the process has never changed, and the process is the same as it would be from game to game to game. All I can ask of the young people in our program is to invest themselves as diligently as they possibly can in their preparation, to prepare as hard as they can to take good care of themselves, to play as hard and as well as they can and if they do that, we feel like we've reached our -- that's what's important to me; let me put it that way.
"Now I'm not naive to the fact that it's significant to be able to be victorious in ballgames. I get that, and our players, certainly they are invested in that, very dramatically. But again, life is about day-to-day process and how well you do what you have to do on that given day and a value system and those are the things that we put emphasis on; and, with the feeling that if you can comply with that kind of value system, that you will have success in life. And part of that is on the football field."
---
Kansas State QB Jesse Ertz
How would you evaluate the week before the game through practice?
"I think this was a really good week of practice. I think the way you kind of judge that is just by, you know, the energy level, as well as there's going to be time where you screw up a play and you have to re-run it and things like that. We just had a very small amount of those this whole week and I really feel like even last week and the week before that, it's been a really good bowl prep, one of better ones I can remember being a part of."
How anxious are you to play after the layoff?
"I think we are all biting at the bit to get out there and play. There are so many practices and time between now and the last game. It's been three weeks, and I mean, we are just kind of tired of doing the same thing every day. We want something new. So we have all been watching film and seeing this opponent and we are ready to go."
How do you carry your momentum from all those wins into this final game?
"I think you just keep doing what we always do, and kind of like what Coach (Bill Snyder) said, the preparation to each game is always the same. It's not really going to change a whole lot. You know, we know the schedule. We know what each day, the important things to focus on, and as long as we do that, we'll be ready."
As you go back and study your own play this year, how do you self-assess?
"I mean, I have a lot of room to improve. I believe I will improve. So throughout the whole season, obviously I think it was kind of about what you would expect looking back. I was pretty inexperienced. A lot of the guys went off as pretty experienced, so as a unit we continued to get better, and hopefully the next season it will the same."
Traditionally when the quarterback star comes back, shows great progress. How much does it excite you that you have that opportunity in front of you now?
"I mean, I said it from the start of the season: After last year, I just want to get on the field. There's nothing more fun to me than just being able to play football with friends, and to get the opportunities, I'm very thankful and really that's all I'm looking for. So as long as I'm on the field, I could care less about stats, as long as we win."
What would the thrill be to lead this team to a bowl victory?
"I think it would be big because as a fan base, everyone always talks about that we have not been good in bowl games; that we have a low win percentage in bowl games. I wasn't around for any of those losses, a lot of us weren't, so we kind of get tired of hearing about it. So we are all anxious to get out there and try to get a win for the fans."
What do you think the turning point was for you this season? Was it maybe the Texas game?
"I think West Virginia was a really big learning experience for everybody. You're in an environment where I can't hear the running back next to me and it's a tight game. We're having a lot of miscommunication and things just going wrong and stuff. I think after that game, we kind of all left knowing it's never going to be as tough a situation as that was. I mean, that was really good. I think that was, as bad as it is to lose a game, there's a lot of positives that came from it and from then on, whatever the next game would have been, we slowly started building and here we are."
You work closely on the offense with WR Byron Pringle. Can you talk about his production a little bit?
"Yeah, Byron (Pringle), he's got a ton of talent, and we have multiple receivers that have a lot of talent, but I think we all knew from this offseason that Byron was going to be huge. He's so versatile, he can play inside, outside. He's strong. He can run, and you're starting to see him now as he's really getting comfortable with knowing the schemes and stuff that he's playing more confident, and it's starting to show.
You've probably already been asked this, but what do you see from A&M defense?
"I think, you know, you're looking at an athletic defense that's got good size. They have a real big defensive line, athletic, that can rush the passer. You know, secondary, they fly around and they like to tackle. They are solid. They are a good team. So it will be good."
Was the rest during the end of the season beneficial for your own health? Do you have to go through less to get on the field each day?
"Yeah, I think it's good for everybody. Everyone is going to have aches and pains and certain sprains and things like that and all that stuff just to clear away in these weeks. It's good for everybody."
How much better do you feel right now?
"I feel much better. I can't complain too much because everybody is going through it."
How physically demanding is the quarterback run game?
"It's obviously a whole different ballgame than high school and this is really my first year running the ball in the Big 12 and things like that. I'm running the ball and I know my running backs want the ball so, I can't complain too much about anything, because I'm the one getting touches a lot of the time. I'll do whatever I need to do to win and to help the team. It's really no problem."
What's your favorite running play?
"My favorite running play? It's my job to like all of them. I've got to feel comfortable with everything and I try to do that, so I feel pretty good about it."
They compare you to Collin Klein a lot, right?
"I'm not near as big as Collin I don't think. He was probably -- he was probably 20 pounds heavier than I was, and I didn't actually watch too many of those games. I was still in high school in Iowa. I wasn't really watching a lot of the games here."
I remember they sent the Band-Aids out for the Heisman. Do you still get all the scrapes?
"I did earlier on. I know I started wearing tights and things like that. That kind of helped a little bit. But sometimes, you know, you're going to get a little turf burn."
How much fun was it as a team, once you established the running game, second half of the season, to stay with it and just keep gaining yards when teams know it's coming?
"Yeah, I think we had so many new players that we were kind of trying to establish what our style really was. You know, because we feel like we're strong in every area, but you know, we're trying to get everything on the field, and I think for whatever reason, you know, we started hitting big plays in the run game and we just stuck with it and it's been great for us. It's kind of been established as who we are as we run the ball. So it's been positive thing for us and hopefully we can keep doing it well."
You guys have gained a lot of momentum coming into this game but how important is it to keep that momentum going?
"It's huge. I think every one of us is feeling like the next year, next two years, could be really special. We have a lot of returners and we are just a young team. 9-4 would just feel a lot better than 8-5. Just a bigger separation, I guess, wins, losses. We're all feeling like it's a really important game."
You were talking a second ago about the identity of the offense, running the ball. At Stanford, beginning of the year, did you think this was going to be the identity of the offense?
"I don't know necessarily if I would have said I didn't think that or I did think that. It was just kind of one of those things where we're kind of figuring things out, and you know, it just kind of happened a little."
From your perspective, do you think this time off is an advantage or disadvantage for your team?
"I think it's an advantage, because we had some guys missing some games at the end of the year and we were able to get them back. Like I said earlier, just small things, everyone is dealing with, playing with, a lot of those go away. It's good for everybody."
Have you been totally healthy all year?
"Me, I've been healthy enough. I've been pretty good. I've been lucky."
Your knee wasn't an issue early on?
"No, I just had some -- it was kind of like some deep bruising. They were just kind of swollen and it's nothing anymore. It's gone away."
How much has the running game changed from the first six to the last, was it all execution?
"There's more to it than just throwing a run play out there and running it. We're getting in the right run play that accounts for everybody that needs to be blocked. The execution, and playing with confidence; there's less hesitation. Maybe a guy pulling knows exactly where he's going compared to maybe being a little unsure or a running back is hitting at full steam. Just everyone is improving. It's just kind of showing as we go along."
What challenges do you see from their defense tomorrow?
"They are going to be big. They are going to be fast. It's a solid defense all around. I don't think there's any in-particular thing where it's like, we don't think we can do that. We're going to do what we do and come to play. But you know, they are definitely going to be a quality team."
Anything jump out at you when you see DL Myles Garrett?
"You know, he's a really good pass rusher. I'd say that's probably what jumps out at first. He's got very good speed for his size. You know, you have to account for that."
When you talked about this could be a very special team in a year, two years, are you talking about Kansas State, like the very, very elite, competing for a National Championship?
"That's our goal. You look at it, an offensive standpoint, we lose I think three guys that played quite a bit of minutes. That's a lot of people coming back. A lot of those guys have more than one year. It could be really special but I mean, if we just say that, it doesn't really go too far, so we'll play and see what happens."
How does going against DE Jordan Willis help you out, going against DL Myles Garrett tomorrow?
"I think you ask any of us on offense, who go against Jordan (Willis), we feel like Jordan is as good as anybody. So to have that, and you hear all of these really good things about Myles Garrett, and he's a really good player, it's pretty obvious. But you feel like you have a measuring stick and you kind of just say, you know, it's going to be similar to Jordan, that type of thing. I've never played him. I really don't know. That's kind of the way I look at it."
Do you ever go one-on-one in practice where you would face DE Jordan Willis?
"Yeah, we have a couple periods every day that is like up-tempo, ones-against-ones and things like that."
So you have a taste of it?
"Yeah, yeah. So it's nothing like I've never experienced, having to account for him or anything like that. He'll be a good player."
They have a pretty good defensive end on the other side, Daeshon Hall. Do you feel like you might have to have kind of your head on a swivel a little bit?
"Yeah, I think he doesn't get enough credit probably. Because I know he plays hard and I know he's, again, a big player that can move. You know, anybody that plays aggressive and plays with confidence, we feel like their whole defense has that. That's going to be tough. It's going to be a good challenge and we are looking forward to it."
Do you guys feel like tomorrow will be a neutral site game, or do you feel like a road game with A&M being so close?
"I guess we'll see how it feels when we start. I mean, you know, you can kind of tell with crowd noise and things like that I guess. We'll be ready for that regardless."
Never miss the latest news from TexAgs!
Join our free email list