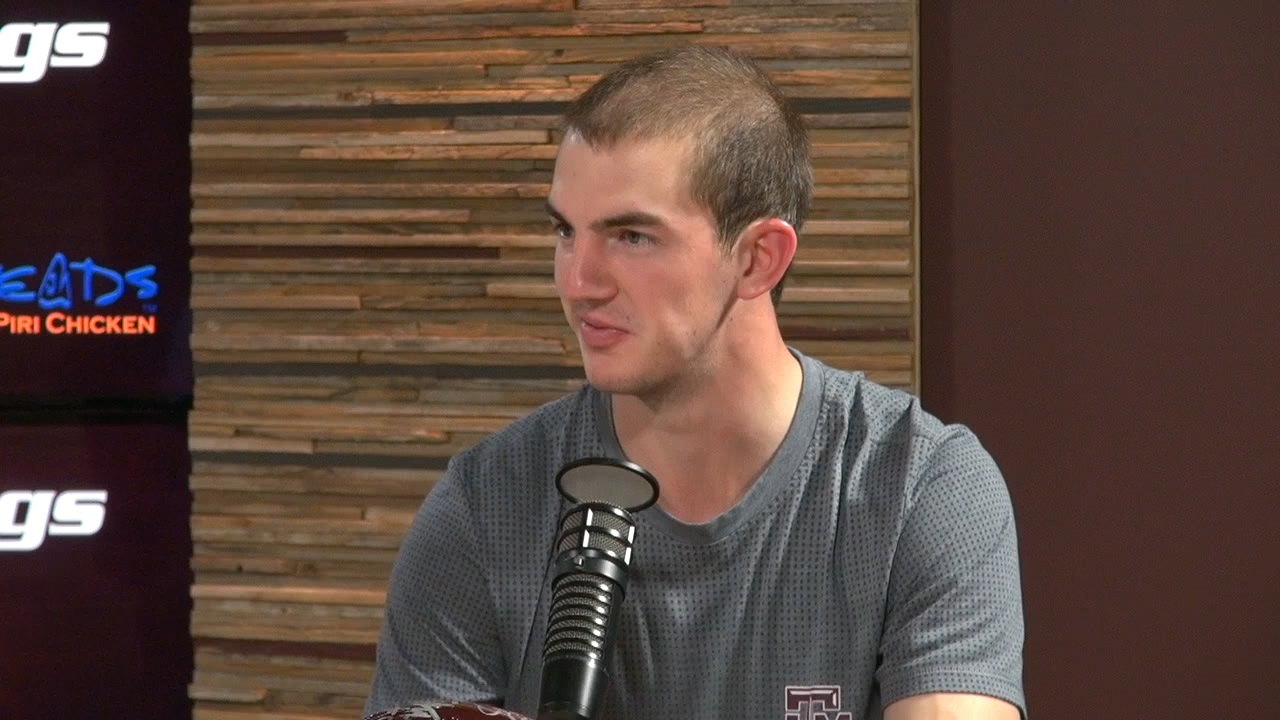 Texas A&M Basketball
AC and Acie: Caruso, Law IV discuss the 2016 NBA Draft
---
Notes from Alex Caruso's interview
Very excited, but a little anxious for draft day for where he may end up. There is a lot of mystery in what city or country he may be living in. It has been a great experience to travel.
Brooklyn, Philadelphia, Utah, Washington, New York, Boston, Chicago, Houston, Los Angeles, San Antonio, and Orlando have all had some workouts.
Received the best response in Boston and Brooklyn and shot the ball really well in Orlando.
The process is that you fly out to wherever you are working out and someone picks you up from the airport and takes you to the hotel. The team picks you and some other guys up and then they work you out. They take you through different physical tests and then workouts.
Have surprised some teams with athleticism. Getting to show my quickness and leaping ability.
Every team has their own routine with how they work players out.
Teams have been saying that he need to improve his shooting. Also getting a little bit stronger was another thing to work on.
Working hard and being a leader was something that he always tried to make stand out.
Having to find the balance between competitive and beating your guy every single time and then being a good competitive teammate has been interesting.
The NBA is going out and competing against your best friends and then shaking hands afterwards.
If he were a General Manager, he would take Ben Simmons with the first overall pick. The different things he can do at such a high level is so impressive. His shooting is a confidence thing. The only thing stopping Simmons was himself.
It was an impulse decision to shave the mustache.
Sees himself as a Ricky Rubio/Manu Ginobili hybrid. A player that can handle the ball and also slash to the basket.
Any team that will takes him would be greatly appreciated, but staying in Texas would be a plus.
Really liked Brooklyn, due to the great workout he had with them. Boston had a great culture that he really admired. Chicago also stood out just because of their rich history.
No preference between the D-League and overseas. Whatever opportunity gives the best chance to make a team.
If the right fit comes along, then getting drafted would be an amazing feeling. If he doesn't get drafted, it comes down to who is most interested and making good decisions.
If the Aggies can play defense and develop toughness, the sky is the limit next season.
Notes from Acie Law IV's interivew
Brandon Ingram has a ton of talent and could be the best player in this draft when all is said and done, he just needs to develop his body.
Things could not have worked out any better for the Los Angeles Lakers when it comes to the Draft the past few years.
Ben Simmons compares to Lamar Odom. He plays the game the right way in the sense of being a great facilitator.
The one thing you can improve on is shooting. Looking at Simmons as a total package, his floor is Lamar Odom. When you start comparing to the greats of all-time, he has a lot to improve on.
Philidelphia has some good pieces to work with. Adding Simmons, makes them just one or two pieces away from being able to compete.
Thinks the top five picks will be Simmons at 1, Ingram at 2, Dragan Bender at 3 if Boston doesn't trade, Jaylen Brown at 4 to Phoenix and Jamal Murray at 5.
Likes Murray better than Buddy Heild as an NBA player because he can play both spots. Hield is a little one dimensional.
Tyler Ulis is the most underrated player in the draft. He dominates the game even though he's small.
Not sure any Aggies will get drafted. Maybe a month ago House would have had the opportunity to get drafted but haven't been hearing much buzz about him lately.
If he had to pick one Aggie to still be playing in the NBA five years from now, it would be Alex Caruso. He doesn't have the measurables but he plays the game the right way with a winning attitude. Thinks he'll get an opportunity to play in the summer league and go to training camp.
Remembers being in the green room at the draft with his family and seeing the PR guy for the Hawks giving him a thumbs up. Knew at that point he was about to be drafted.
Never miss the latest news from TexAgs!
Join our free email list