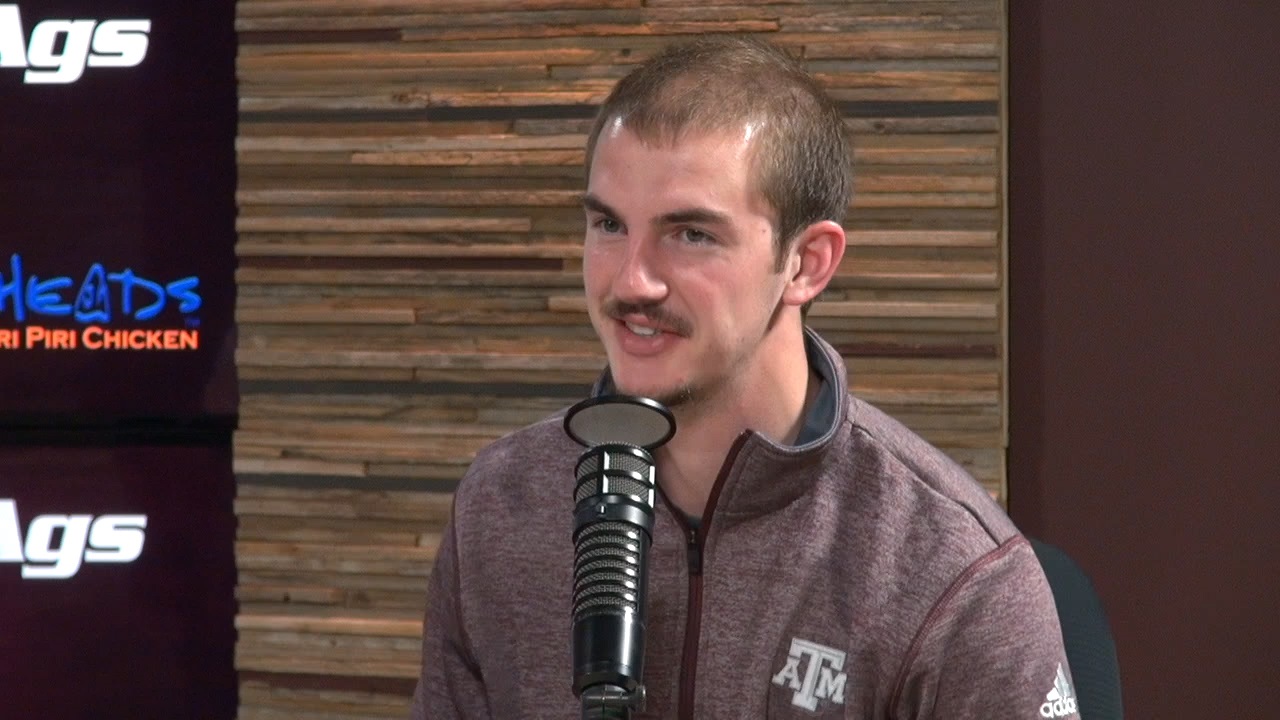 Texas A&M Basketball
Alex Caruso discusses Texas A&M's 2016 run, pro workouts, future of the program
---
Key quotes from Alex Caruso interivew
"I graduate tomorrow. It's 36 hours away or something like that. I signed with an agency based out of Los Angeles. I'll fly out there Monday and start working out and training with them, living a pro lifestyle and getting ready for workouts and the rest of the summer."
"It's been a grind since the season ended. Usually after the season, you get a couple of weeks off. You're catching up on school and you just kind of relax. It wasn't so much like that, which is a little different. Graduating is big, and mom is really proud. She stayed on me about that after the season. The next day she was like, 'Alright, the most important thing is to make sure we graduate.' I was like, 'Yeah, mom. I know. I know.' She kept texting me and making sure I was on top of it."
"This is pretty sweet. The more stuff I completed and the closer I got to finishing another class, it started to get a lot more real. It started to feel pretty cool just thinking about walking across and being able to say you're done at Texas A&M University. It's a little sad, honestly. You have to leave, but I'm pretty proud, pretty accomplished."
"Portsmouth was great. I got lucky and got a great group of guys on my team. We bonded really quickly. We were social media friends after spending two or three days with each other. We had a group chat set up while we were there. They were really good guys as well as good players. We clicked pretty well. Playing defense at something like that was a little unprecedented. That was probably our biggest standout for us. We played like a team. We ended up getting to the championship game. We were up big by like 15 or so, and to lose it by two in the last few minutes – there was some questionable refereeing."
"The first morning – we got there Thursday morning when it kicked off. We split into two groups. One group went to the gym early, and one went late. We did the combine tests. The vertical, lane agility – stuff like that. Outside of basketball, there were opportunities to interview with teams. The team would contact your agent and say, 'Hey, we're going to have a 20- or 30-minute interview and get to know you better as a person.' They ask you stuff that they don't know about. They ask you about your family and about what you like to do."
"Feedback was pretty good. My agent said he heard good things for me individually and as a teammate, which is pretty normal for me. I'm used to being a good teammate. I wasn't too surprised. He was just saying that people are interested. They liked my skill set and the things I can do, the multiple facets of the game that I can impact."
"Every A&M student that has seen me since the season ended has said I should play for the Spurs, especially since some of my best friends that I've met at college are Spurs fans. I'm giving them a hard time and telling them, 'Yeah man, I'm going to go there.' Obviously, I have no idea, but for them it's pretty cool."
"I met with the Thunder, the Spurs, the Hawks, the Nets and the 76ers, briefly. I was supposed to meet with the Bulls, but with the way the scheduling went, I wasn't able to do that. Those teams are the ones that are pretty much interested. Those are the ones that I've heard from my coaches and agency. Obviously, they're not going to tell me everything, so there might be more. You never know. Those are the ones that seem interested."
"Any team would be a dream come true. That's what I tell everybody. They give me a specific team, and I say, 'Write up the contract, and I'll sign it right now. We'll get it done.' Honestly, if I could go to Dallas, Houston or San Antonio, that would probably be ideal, but any NBA team is ideal."
"It's kind of like the graduation thing. The closer I'm getting to leaving and not being around here is making me a little emotional – not outwardly, but inside I know that it's a pretty special place. I had an amazing opportunity when I was here. I took advantage of it, and I was blessed with the outcome and the results. To see where I am four years from when I came in looking to not mess up and get on the coaches' bad side to starting, setting records and making historic runs in the NCAA Tournament, it's crazy to look back and see all the highlights and experiences that have come from those four years."
"I couldn't leave home after high school. This is where I grew up. That's part of what I'm getting nervous about. I've lived here for 22 years – my entire life. Going somewhere else, especially Los Angeles, is going to be an interesting experience. I'll be there for sure through the middle of June. I'll stop by at home, but if I'm working out, that's going to be my house for the summer. If I get invited to a summer league team, I'll go do that, but that's pretty much my home base for the summer."
"Being able to come in and hope to just get on the floor eventually and be able to play for the school that I grew up loving to doing everything that I did – I can't put into words how cool and how special it is to be able to do that. Thank goodness we're forty years ahead in the future, so I can have tapes of all the games and can relive it and watch it. I know my parents still have some of the games recorded on TV. My mom will go back and watch it just because she has nothing to do and wants to relive the emotions of it."
"The first game that I played well in that mattered was at Auburn my freshman year. It wasn't like incredible or anything. I didn't have 30 points. I think I had like 13 points. That was when J. Mychal Reese was still here, and we ran the show in the fourth quarter and overtime. That was the first game that stood out that I thought, 'Okay, we're going to be good eventually. We've got this.' There were other games where I had played well, but freshman year I was such a deer in the headlights and wide-eyed most of the time. That was the first game where I felt composed for most of the game and felt a flow for it and felt comfortable."
"The Elston Turner 40-point game at Kentucky is one of those things like Northern Iowa. You don't understand how big it is until a couple of years later. You look back on it, and every year we go back they bring it up because it was just that historic. It was incredible -- the things that he did in that game and to be able to go in there and win. That was like our second or third game in conference freshman year. We were like 2-0 or 3-0. I was like, 'We got this!' (Then we) tanked."
"I think about the butterfly effect of one play sometimes. Against Alabama, Anthony Collins is a 90-percent free throw shooter. For some odd reason, those don't go in. If we win that game, we're sitting pretty the rest of the way. It's one play here or there that can decide so many games. Everybody kind of knows that, but it really sticks out to basketball players. Obviously, the Kentucky game – I don't know what it is about Kentucky that we always go to overtime. They bring the best out of people. I think that kind of shows what A&M has been about the last couple of years – being competitive at higher and higher levels each year.
Obviously, Kentucky is the status quo you're trying to reach each and every year. They're good. They're going to be good. This year's Kentucky game and the LSU game – that's the first time in my college career that I've run out with two or three minutes left – they saw Varsity's horns off and we come out. It was the first time where I had to break focus and not be locked in. I looked up in the stands, and I got goosebumps. That was the most incredible experience emotion-wise – just seeing how packed it was and how good we'd been up to that point. That was the real feeling of -- 'Basketball is back.'"
"Marshall Henderson was one of the toughest people to guard. Jamal Murray is just a more composed version of Henderson, which is tough. Henderson would catch it facing the guy who passed it to him and jump in the air like that. He wouldn't turn to face the basket. He would just jump and turn in the air to shoot the ball. I didn't guard him, but Kentavious Caldwell-Pope was the most efficient dude. He would have like 24 points on 10 shots. He'd go like 8-10 with a couple three's, two steals and a bunch of assists and rebounds. There are probably some guards that I'm missing that were pretty good. Jordan McCray was pretty good. Scoring-wise, he was tough to defend. Scotty Wilbekin – when I was a freshman and I had to guard him. His pace was so good. He was the dude that Coach Keller showed me film on when you come off ball-screens and do the little hesitation and crab-dribble. He tore me up, because I was just going one speed. It was like, 'I have to go fast. I have to be there. I have to do this.' This guy was just taking his time, methodically using what I was doing against me. I was young, and he was really good."
"Cutting down the nets at Reed had never happened. That's like the perfect, storybook ending other than going out with a national championship. That wasn't in the cards. I'm not going to lie. We felt some pressure going into that game knowing that the ceremony was after the game. I'm not going to lie to you and be like, 'No, we were good. We were just trying to play the game, and whatever happened happened.' We were a little nervous just because we knew how good Vanderbilt could be. They were kind of a wild card this year. They were either red-hot or they fizzled out. They shot 33-percent or they shot 50-percent. We knew how good they could be. Those two things added together were a little nerve-racking. We came out ready to play. People showed up. I know it was early. I hated playing early games at home, and I loved playing them away just because you could get a win and still have some time to live. But yeah, it was super special to be able to do that in front of all those people and share it with my family and Coach Kennedy. It was really, really special to me."
"The thing that sticks out to me about the Northern Iowa game was how bad we played. We struggled. Credit to Northern Iowa. They were really good. They played their game, and they did it well. But that game to me – I remember just clawing back and fighting and then they'd hit a three or get an offensive rebound. I can't remember the guy's name, but No. 2 went for 10 or 12 points in a row. The game was crazy. The runs and the emotions that were within it – our fans were great. Their fans were great. The last minute, obviously, you have to try and fight. You have to do something. Either your college career is over or you're going to the Sweet Sixteen. There's not really anything to lose. We just made plays. Play after play, whatever needed to go right did."
"Once they made the free throws to go up 10 or 12, I remember coming down and taking a bad three. After the game I said to myself, 'I probably shouldn't have taken that.' That was probably me saying, 'Are we making this? Do we have a chance?' Then Admon (Gilder) got the rebound and sparked it all. I just remember everything happening perfectly. Everything that needed to happen for us did. Even that last layup by Admon – my dad and I talked about a lot of stuff. There's a lot of stuff to critique and go over. If Washburn throws the ball down to the end of the court, maybe House goes and gets it. Maybe I go and get it, and there are two seconds left. I throw up a half-court shot.
If that guy fouls Admon on the last shot instead of just giving him the layup, you have to make two free throws. There's so much that goes into it, and that's why it doesn't happen. It's like the butterfly effect. You change one thing, and I bet they win by five or six. We're interviewing like, 'Hey, it was a good season, even though we wanted to get more accomplished.' We still don't appreciate it. I was talking to Dobbins on the way home from the game, and I was like, 'Man, we're not going to be able to appreciate this for five or ten years. That's not going to happen again in any basketball game at any level.'"
"Aggie basketball is so high right now. The things that we got to do this year and for the young guys to learn and experience that, that's something I wish I could have had. It's so valuable for them to go forward. It's so valuable for them going forward. Now it's our job as older guys to keep guiding them and tell them that this is what it takes, but I think they have a pretty good idea after a year of practices with us. Talent-wise, you don't have to question that. They're going to be able to score the ball. They're going to be able to play with anybody strictly off talent. It all comes down to the same things it always has – how hard you're going to play, how many stops you can get, finishing off possessions, rebounding – if they can do those things, they're going to be really, really dangerous, because those guys are only going to get better."
Never miss the latest news from TexAgs!
Join our free email list