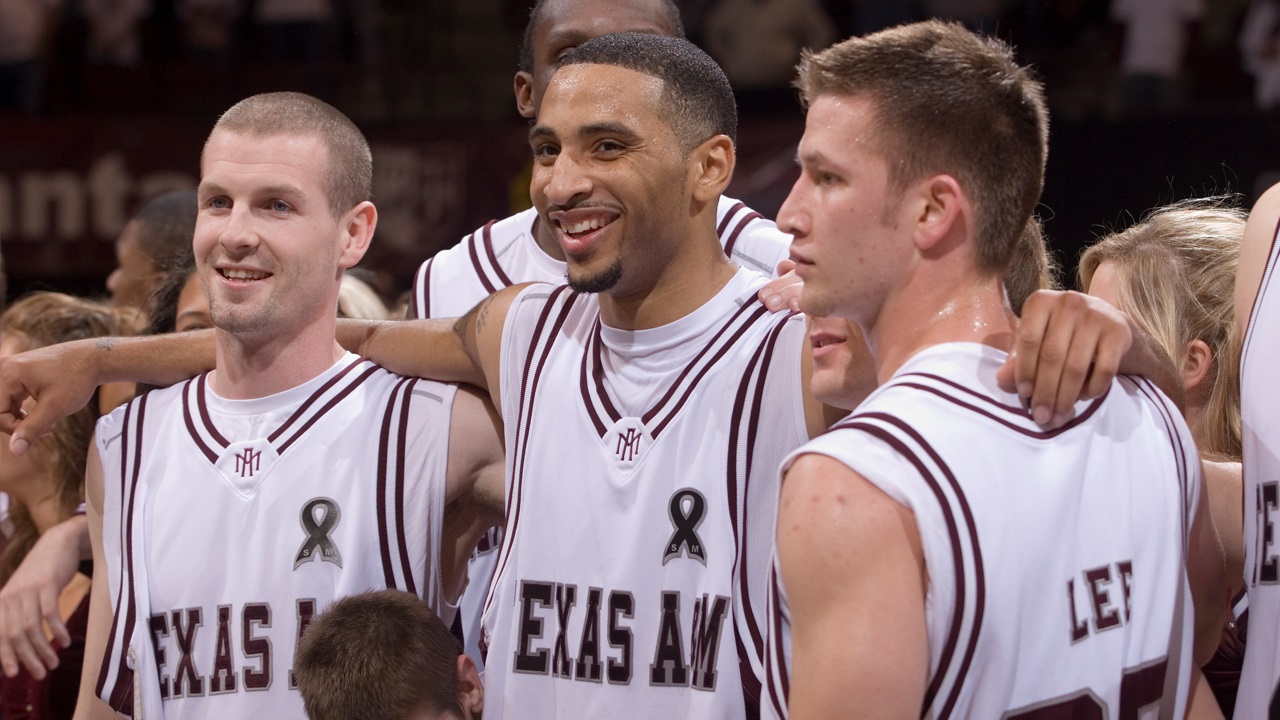 Photo by Texas A&M Athletics
Texas A&M Basketball
Acie Law on joining the TexAgs team, coaching at Ranger & more
---
Key quotes from Acie Law IV interview
"I'm doing well, I'm happy to be a part of the TexAgs team. I'm excited. I think it's going to be a lot of fun to be on the other side of it. With me being a former player and getting critiqued all the time, now I get to be on the side where I'm doing the critiquing. Analyzing is exciting, it's going to be a lot of fun."
"I think it gives me the opportunity to be around my family as much as possible and also be able to do what I love which is being involved with the game of basketball. Obviously getting an opportunity to work with Coach Gillispie and getting into coaching was a lot of fun and a learning experience, but now I'm just excited to about doing this and seeing where this goes. It's possible (that coaching may still be in the cards down the road) but I think for right now, at this point in my life where me and my family are, I think this is a better situation. I think this will be good for everybody."
"Basketball is what I've done my whole life. I knew that when I got done playing, in some capacity, I was going to be around the game either teaching it to children or coaching at the collegiate level or NBA level or analyzing it from a media perspective. I've decided to take this journey so far and I think it'll be fun. I think I have a lot of knowledge about the game and I think I have a lot to offer. I'm excited to continue to be around the game since I can't play anymore. To still be involved with it in some capacity, I think will be good."
"I'm very appreciative. A&M has been good to me and to have this opportunity to start this journey right where it all started is exciting. Whatever you have to throw at me, throw it at me. Let's get started. I haven't talked to him Coach G about this. Coach is a hard guy to get a hold of sometimes. Last time I talked to him he was at the Kentucky Derby. I'll be in touch with him and talk to him. I think he'll be excited about me doing this and starting this new chapter and giving me all the advice he can."
"Coaching at Ranger College with Coach G was a humbling experience. It was a learning experience and it was different. Those kids, like I've said, I've played at a pretty high level at every level and to see those kids living out their dreams at pretty much a low level, the junior college level ... They put in the work and they work extremely hard. Coach G got those guys to buy in, they had a ton of success with a 25 game improvement from last season. For me, to be a part of it and contribute on a volunteer level and them to get all the way to the Final Four was a great experience for me. This is just the beginning for them and I think they're on the right track and having a lot of success."
"Without question coaching at the JUCO level was humbling. You think about when we were at A&M, you're flying private and first class everywhere you go and the staying in the nicest hotels while playing in arenas where there are 15,000 people watching and national TV. Then you go to a small gym and have a three six passenger vans to transport you, it is just different. Everything that we had in college we took for granted. To see what they have and them putting it in and dealing with it, they are just grateful for the opportunity to be playing basketball. It definitely was a learning experience for me and something that opened my eyes and kind of was a reality check."
"I'd tell Alex Caruso to just enjoy it and the process. It all goes by so fast. You have an opportunity to live out a dream and something he's thought about his whole life. Soak it all in and have fun and relax go out there and give it all he has."
"I disagree with a lot of the reception that Steph Curry is getting from the former players. I played with him briefly and he's one of the hardest working kids that I've ever seen. I mean, after practice I would stay for 30 or 45 minutes getting shots up and when I get done you see him on the other end of the floor still getting shots. He works countless hours on his shot and for him to have all the success that he has and the confidence that he has, he's earned it. I have nothing but respect for him. It's just a great story to see where he came in dealing with ankle surgery and things like that. To get to this point now where he's at the pinnacle of the game and winning championships and MVPs, it's an amazing story and I was able to see it on the ground level. I have nothing but respect for him. Hopefully he can continue to have the success that he's having and finish out the season."
"Obviously I have a bias to our team (as far as the best A&M Sweet Sixteen team goes), but I will say that I have a ton of respect for the team this season. Watching everything that they were able to accomplish, to win a conference championship and overcome Kentucky with the team and the talent that they have. To get into the tournament and do the things that they were able to accomplish, I have a ton of respect. Obviously I played on a team and I'm biased to what we accomplished. Beating Kansas there and playing against Kevin Durant, things like that."
"The past season was a lot of fun to watch. They had a lot of great moments, the tip in against Kentucky and the run at the tournament - I've never seen anything like that. They added so much to the history of the A&M program. They added another great chapter to it with the things they accomplished."
"Tyler Davis' putback, I mean it was for the conference championship if you think about it. For him to make that play for his team. They (the putback and the shot) were both very important plays. We were competing for opportunities to play in the NCAA tournament, something that hadn't been done in awhile. For him to make that play and win an SEC championship was equally important and a great play that people will talk about forever. They were two great plays."
Never miss the latest news from TexAgs!
Join our free email list