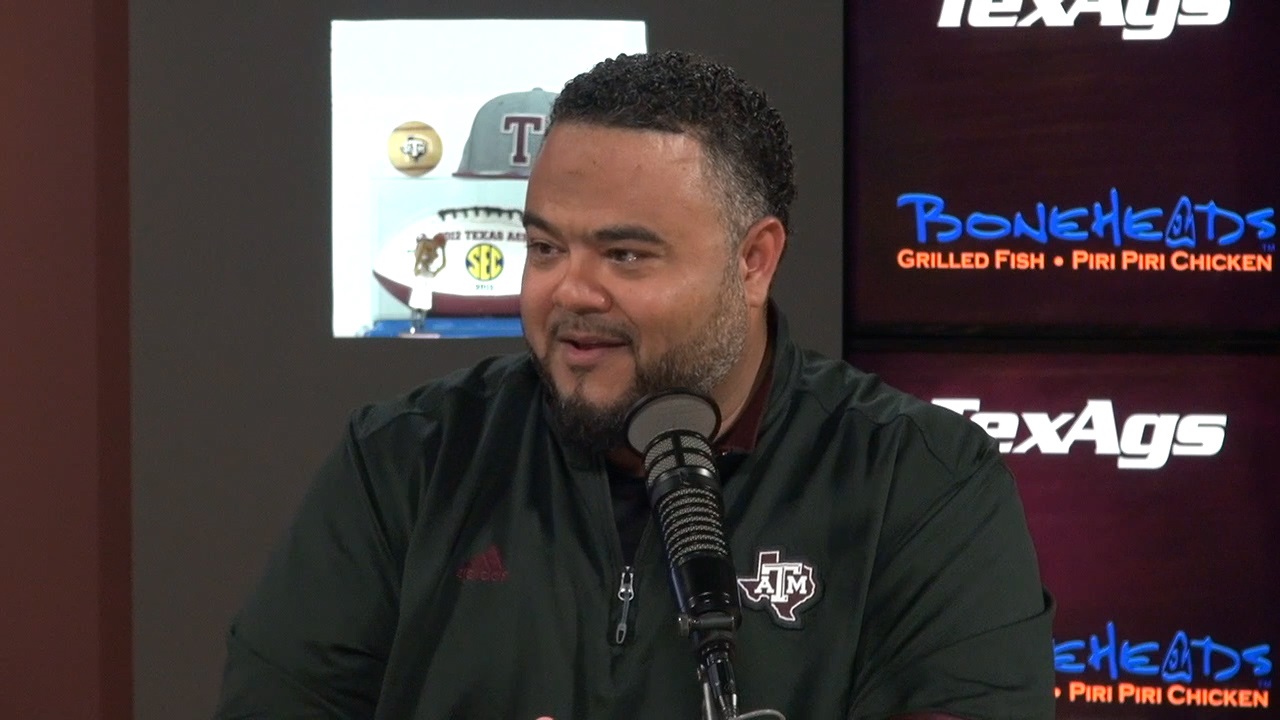 Texas A&M Football
Aggie Football's Mikado Hinson on A&M's upcoming mission trip to Haiti
---
Key quotes from Mikado Hinson interview
"I love what I'm doing. I wake up every day excited to come to work. I get to work with an awesome coaching staff and some great young men. We live in a society where we want results quick, so when I first came here I thought the relationships with these guys would just skyrocket. I was humbled through the process because it took time. Anything worth having takes time and if I wanted a relationship with these guys, I had to invest time. Now finishing my second season, and going into our third, I'm really starting to see a lot of those relationships blossom. Why is that? Because they trust. It's a dream coming to work every day, but there are highs and lows to it. I see a lot and hear a lot, but you have to love a lot."
"I like to think that what I do plays a huge role when things aren't going well on the field. I feel that my job, my passion, kicks in when things aren't going well; that's when people are usually searching for answers. When things are going great, you don't feel like you have a need for other people. It's our own personal god complex. But, when things are going wrong, you start reaching out and searching for help and that's when my job kicks in. Now do I like losing? No! But through injury, defeat, academic struggles, things like that, that's when people start reaching out. Now, it isn't just me. There is a great team of people who are all-hands-on-deck when things aren't going well. Gary Reynolds is an all-star and is a guy I've learned a lot from in the way he deals with people, his temperament and how he is direct with people but does it with love. There is a team of people that engage at the same time but stay in our lanes. When things aren't going well, it doesn't feel good all the time, but you have to be there."
"I've seen a lot more teaching going on with the coaching staff this year. We've got some old school guys now. I know everyone is excited about Jim Turner being back, but David Turner is just as old school in his approach and how he coaches. Then you have coach Mazzone. He's forgotten more football than a lot of people ever know, but he coaches with a lot of energy and passion. Guys are buying in and have bought in and we've got some really good leadership from inside the team that is stepping up. When you've got leadership inside the locker room, it makes everyone's job easier. You don't have to motivate as much or police as much, they are doing that themselves in spring ball."
"There is organization called 'Mission of Hope.' Jay Richardson, who is an Aggie. For anybody who has been inside Kyle Field and seen the Bernard C. Richardson Zone, that is his grandfather. So Jay Richardson reached out to me during the season and said, 'I work for a non-profit called Mission of Hope and we take short-term mission trips to Haiti with different groups of people. I've been helping other universities go and really have a passion and burden for my won school. Why isn't my own school going?' I said, 'Jay, this really interests me but we're in the middle of the season. So if we can talk after the season, I'd really love to see what this thing is all about.' Well, he followed up and my passion was still going for it, so we met up and talked about what it would look like and what the time frame looked like.
I looked at the school schedule and the last day for finals is May 10th. Therefore, we're planning on hitting it May 11th through the 18th. Everything is directed through Mission of Hope and they have operations on the ground, in Haiti, 365 days a year. Jay is there right now and he usually goes a couple of times a month. It was going to be a football trip. I was going to invite some of the football guys and really just pour into them. I said, 'Look, we aren't going for photo ops. We aren't going to be seen with a big S on our chest. This isn't about twitter; it is about serving the poorest country in the western hemisphere that really struggled with that big earthquake and has not recovered. Mission of Hope is there to help rebuild homes, churches, plumbing. There is an orphanage they oversee. There's 16 schools and over 7,000 students they oversee in these villages daily."
"When Trevor Knight transferred from Oklahoma, I told him about the trip and it is the same organization that takes OU. He's been there three times and he told me, 'Mikado, I'm an Aggie, but I'm going back to Haiti whether it is with A&M or OU. I'm going back.' Jake Hubenak is going back and I don't care whether you are scholarship or not, offense or defense, black or white. We've got 15 football players signed up and we've all had to raise money. The student-athletes have done a great job of reaching out. We've got 15 football players and 12 volleyball players going. It started with just a few volleyball players and I needed their names and numbers, but then I got a response back and was like, 'Hold on, this is more than three.' We have a female staff member who is going to oversee the young ladies. We have a soccer player, an equestrian rider. We've got 28-29 athletes going plus seven staff."
"To help, you can go to Mission of Hope Haiti website at
mohhaiti.org
. You can give that way, there's a PO Box you can send it to. It's all tax-deductible, so you can sow a seed that way or going online. They'll send you a receipt. We've got $39,200 as of this morning and need $70,000 for all the people that are going. That takes care of airfare, vaccinations and everything before we get there and once we get there. We are not doubting or wavering in the purpose, we know we are called to go and are excited to go. We're going serve, serve, serve and get people outside their comfort zones. The byproduct is, this will change locker rooms.
The whole team isn't going, but the guys who are going have great influence. Myles Garrett, Dasheon Hall, Josh Reynolds, Otaro Alaka, Koda Martin. This is going to change our locker room and I think we'll be able to bring back stories of what we saw and what we endured while we were there that will help in the locker room. It doesn't matter who signed up, there will be some transformation. People who are listening see the Aggies play football, but that is a small slice of their life. A lot of these guys, I didn't approach, they knocked on my door and said, 'Hey, I heard about the trip to Haiti, Is that something I can go on?' I said, 'Absolutely!"
"There are so many great things happening behind the scenes. I'll just tell you, let me give you a quick snapshot for people listening. If I gave you a quick snapshot of everything that our head coach is implementing with this team, the areas of accountability, the areas in recruiting of evaluating guys' character ... A lot of people would start hitting delete on what they're typing. There's some real stuff going on and it's exciting. It's really exciting to see just even with the mission trip, Coach [Sumlin] is like, 'If it's going to help our guys Mikado, I support it 100%.'
With holding the guys accountable whether it's through nutrition through their meals, whether it's through the rehab-prehab of their stretches and things like that, every 'i' is dotted and every "T" is crossed and it's all to benefit these young men. It's not to make their job easier it's to make them just better men. So whether it's on the field or off the field, whether it's this trip to Haiti or whether it's something we're doing inside our football program, everything is being covered. Everyone should be proud of this team, they're doing great things. We have the Big Event coming up this Saturday and we'll be at Twin City Missions serving and helping clean, pull weeds, and help do some gardening things there. The whole team. Everyone should be very very excited about our team and the product that is being put on the field."
"I'll tell you if anyone was around just a few days after the bowl game, it was consuming Coach Sumlin. Not in just a completely negative way. He saw things he probably could've done differently that he can speak on. You just reflect on if it's deemed a failure, which it was. Losing our final game, that's a hard pill to swallow, especially when going into the game the preparation was great. Of course there may have been some distractions and things of that nature but you don't focus on those things, you focus on the task at hand and when we lose the game it's one of those where you're reevaluating not just from that game but the whole season.
You look at it and Coach Sumlin is one of those guys that he's very proud, but not too proud to change things when they need to be changed, to make tweaks here and there. He is open to whatever is going to put us in the best position to succeed. Some of the moves he made on the staff and things like that were what he felt was the best for this program and even in spring ball we see some of the fruit from that. I've said it here, and it's going to sound like I'm a broken record I understand ... It's going to sound like I'm a Kevin Sumlin apologist, which I am, I believe in what he's doing because I'm there every single day and I hear his heart. I hear what he talks about.
He thinks about these guys all the time, and it's not just, 'How's this guy going to help us win a football game?' It's, 'This guy is going through some personal things, how are we going to help him through this situation in his life?' People don't see that and they don't need to hear that or see that all the time. He thinks about those things all the time and so he's always making minor adjustments, tweaks and things like that. I think that we are not just headed in the right direction, but to see where we are compared to when I even first stepped foot on campus, it's light years. Just the character the leadership of our team, the accountability within the team, it's real."
"You can look at our guys and physically they look stronger, the way they're stretching, the preventative maintenance that they're doing against soft tissue injuries and things like that. Everything has just amped up. Now of course the end product is you have to win games but I will say this, as we're hitting little check marks on the way, we're winning in this area of sports science, we're winning in this area of nutrition, we're winning this area of stretching, of these coaching hires. We're winning along the way and what is that going to create at the end? Hopefully a lot of wins. But you're putting yourself in a great position, our head coach has put us in a great position, starting with UCLA to start getting wins in the 2016 season. Before we get to that season there is going to be a great victory May 11th through the 18th when we get to take some of these student-athletes to Haiti."
"Everyone should dream big. Everyone who is listening, dream big. Don't say, 'Well next year I just want to bring two more than I brought this year.' It should be our goal to have the whole airplane. It should be our goal, and I don't like turning away people, but saying, 'We may have to do two trips in a summer.' This thing could get big and I want it to. If it's a one and done, I believe that it's a failure to be honest because then it's just seven days of, 'Oh, we went to Haiti.' But if it's not doing something within our own hearts and transforming us, igniting a fire and a passion to go back or, how can we start even throughout the year doing shoe drives starting sending things ... Jay Richardson and Mission of Hope, they go all the time. So if we do a shoe drive or if we do a clothing drive they'll take it in a heartbeat.
This thing, if it's a one and done deal, I'll be the first one to stand up and say we've missed it because then it becomes more about what we did for one week and that means nothing. It means everything if it really transforms our heart and we just continue to want to help and serve and grow and all those other things. It's not about the photo-op, it's not about any of those things. We're going to serve people who may have nothing but have everything, while we're viewed as people who have everything but have nothing. That's what we're going to do. So as much as we're quote-unquote going to bless them, I tear up thinking about it, we're going but they're going to bless us. This is iron sharpening iron. It's not us swooping in as a hero to save the day because that's not us. That's him, that's his job. He's going to do it through people who are just wiling to go. And for the people who aren't able to go but they're able to help us go, there is a great way for people to help. One in prayer. If you're a praying person, please, please, please pray for us. Pray for our trip our health, our safety and just everything that goes smoothly. If you're able to support us in going financially, that's a huge blessing too."
Never miss the latest news from TexAgs!
Join our free email list