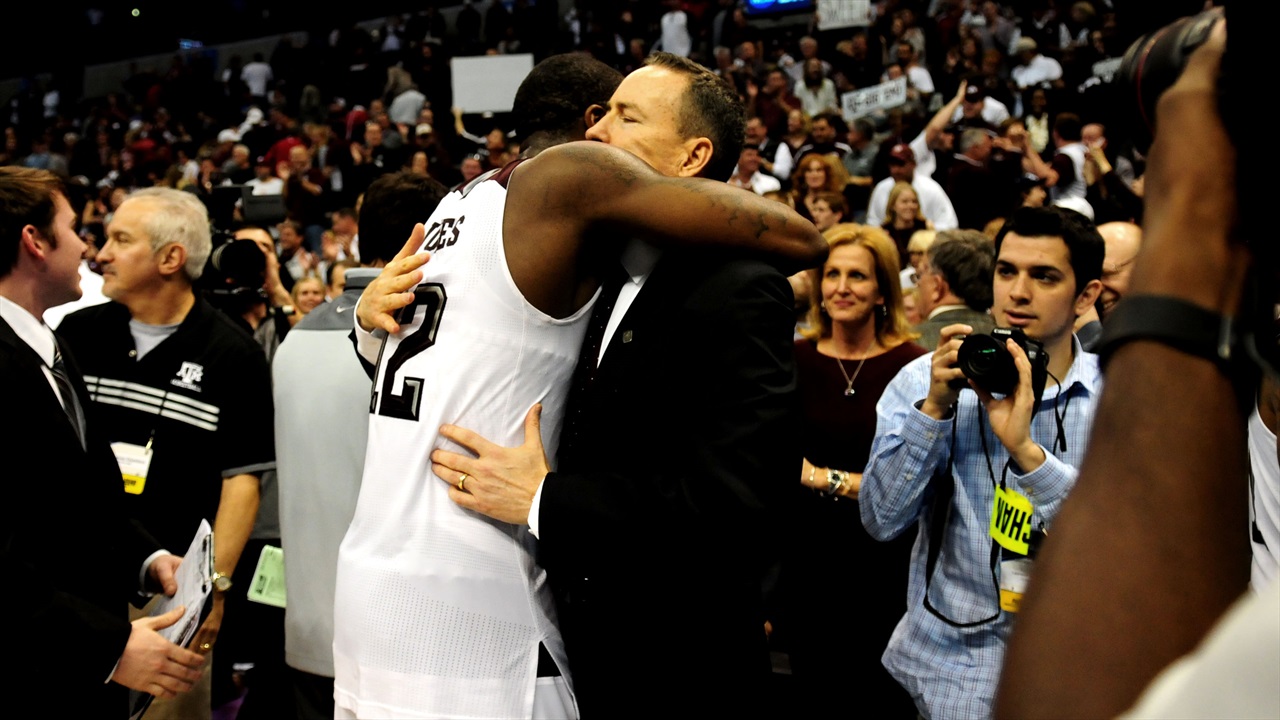 A&M Postgame
UNI Postgame
Texas A&M Basketball
Texas A&M stuns UNI with historic comeback, steals 92-88 2OT win
---
OKLAHOMA CITY
— History is said to repeat itself, but sometimes history even gets one-upped.
That happened on Sunday night as three-seed Texas A&M (28-8) pulled off a historic comeback — perhaps the greatest in NCAA basketball tournament history — to capture a 92-88 victory over 11-seed Northern Iowa (23-13) before 16,088 stunned witnesses at Chesapeake Arena.
Northern Iowa, which beat Texas with a miraculous buzzer-beating half-court shot on Friday, held what seemed like an insurmountable 12-point lead with 34 seconds to play.
That's when the Aggies pulled off an even bigger miracle.
A&M somehow closed the final 33 seconds with a 14-2 run and forged a 71-71 tie on Admon Gilder's steal and layup with 1.7 seconds remaining. The Aggies then maintained that momentum to an incredibly improbable victory in double overtime.
"They were blessed on Friday and we were blessed today," A&M coach Billy Kennedy said in a postgame television interview.
Indeed, the Aggies seemed to have angels on their shoulders. And now they advance to the City of Angels — well, to nearby Anaheim, Calif. — to make only their third Sweet Sixteen appearance.
They will face Oklahoma on Thursday.
No doubt, the Sooners will face a Texas A&M team that feels anything is possible because — well, because the Aggies accomplished the impossible.
A&M won even though Danuel House, who finished with 22 points, missed his first nine shots and did not hit a field goal until 25 seconds remained in regulation.
The Aggies won despite hitting just one of their final 15 shots in the first half.
They won despite trailing by 10 points with 28 seconds left.
"I've never been a part of a game like that. I never saw one. I still really don't know what happened when I heard we were down 12 with 34 or 43 seconds to play and won," Kennedy said. "I mean, come on man, I don't know what Vegas' odds are on a situation like that?"
He added: "I'm not usually up or down. I'm pretty even-keeled, and that's how I feel right now. I'm elated. It will soak in. I've got to go watch it. I still don't know what happened, to be honest with you."
So here's what happened: The Aggies forced four turnovers and hit six shots in a half minute.
Gilder hit a layup. House then hit a layup — his first field goal of the game — with 25 seconds left.
Another Northern Iowa turnover led to a Jalen Jones dunk three seconds later.
Northern Iowa's Wyatt Lohaus threw away the ensuing inbounds pass. House capitalized with a three-pointer that brought the Aggies within 69-66 with 21 seconds left.
"Once House hit that three (I thought we had a chance)," said Alex Caruso, who scored 25 points. "Up until then I was just trying to make a play and get back in the game. Then they throw it out of bounds. Our ball. House hits a three. OK, we've got a chance here."
Northern Iowa stalled the A&M charge with a floor-length pass to Klint Carlson for a dunk to make it 71-66 with 17 seconds left.
But Caruso was fouled on a driving layup and converted the three-point play to make the score 71-69 with 11 seconds remaining.
Then, Gilder and Tonny Trocha-Morelos trapped Northern Iowa guard Wes Washpun in the corner after the ensuing inbounds pass.
Washpun tried to throw the ball out of bounds off Gilder. But the A&M freshman anticipated that, made the steal and then converted the game-tying layup.
"I knew he was going to try to throw it off my leg, so I stepped back and got the steal," said Gilder. "I saw layup there and I had to take it."
Gilder didn't even realize his shot tied the score. Jones did.
"Once I got that dunk I thought, 'We've got some momentum going,'" Jones said. "The next thing I know Admon steals it and makes the layup. I was like, 'Is it tied?' All we knew is we had a chance to keep fighting."
While the Aggies' bench erupted in celebration, House's thoughts went to Northern Iowa's Paul Jesperson, who hit the half-court shot to beat the Longhorns.
"I thought, 'Not the Texas game,'" House said. "'Texas game. Texas game. Texas game. Stay in front of the man. Don't give him a clean look.' That's the only thing that went through my mind."
This time Washpun missed a half-court shot.
However, there was still work to do.
The Aggies trailed late in the first overtime, but Caruso hit a short jumper with 5.6 seconds left to force an 83-83 tie and extend the game.
Jones scored a tip-in to give A&M a 85-84 lead in double overtime. The Aggies never trailed again, but had to sweat out some tense moments.
House hit a three-pointer for a 90-86 lead with 57 seconds left. Then, D.J. Hogg and House hit free throws in the last 21 seconds to complete the Aggies' amazing rally.
"We thought we were down and out, but this team has been fighting throughout the whole season," Jones said. "It was just the will in us. We never gave up.
"The coaches said, 'Fight 'til the end.' Teammates on the bench continued to back us up. We got an incredible win. It was one for the ages."
Never miss the latest news from TexAgs!
Join our free email list