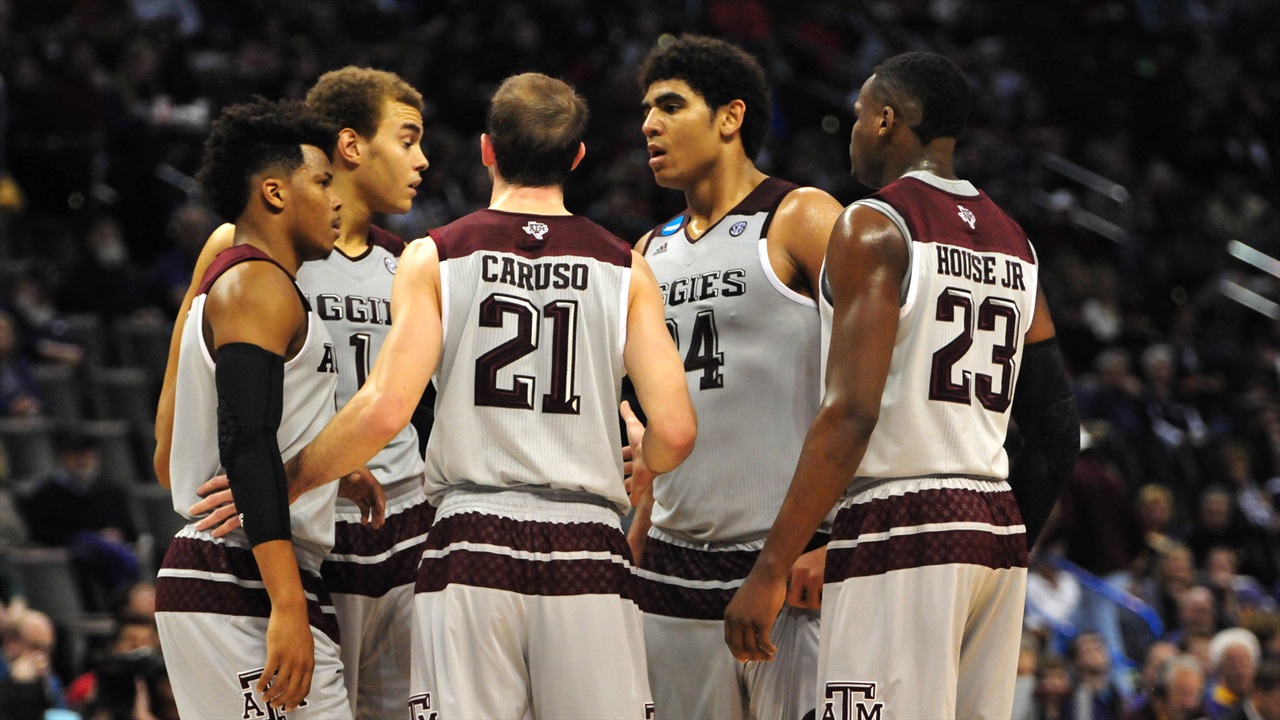 Billy Kennedy
Texas A&M Players
UNI's Ben Jacobson
UNI Players
Texas A&M Basketball
Aggies gear up for guard-heavy Northern Iowa in second round
---
OKLAHOMA CITY, Okla.
— Shakespeare wrote that a rose by any other name would smell as sweet.
By the same token, inclusion among the final 16 teams in the NCAA basketball tournament would be sweet regardless of who you beat to get there.
Perhaps, Texas A&M would have wanted Texas to be its next stepping stone to Anaheim for next week's Sweet 16. But, of course, the Longhorns were eliminated by the long shot.
Therefore, the third-seeded Aggies (27-8) will play Northern Iowa (23-12) instead.
They're just fine with that.
"Winning and going to the Sweet 16 on anybody feels good," senior guard Danuel House said on Saturday.
Fellow senior guard Alex Caruso echoed that.
"There was no burning desire for us to beat (Texas)," he said. "I think in that first one (an 84-73 victory in November) I got my hatred for Texas out of the way. It's more about just winning and getting to the next round, really."
However, Caruso acknowledged that to Aggie fans, reaching the Sweet 16 by beating Texas would have been akin to winning the daily double.
Florida is a really tough team and plays really good defense and takes tough shots. They like to keep the game in the 60's. I think (Northern Iowa) resembles that style.
"I know they wanted to," he said. "Although they're just as happy – I saw on Twitter – making fun of them after they lost.
"To be able to move on is the biggest deal for us now, no matter who we play or no matter what the score is. Hopefully, it won't come down to a buzzer-beater. Hopefully, we can do it easy."
However, the Aggies aren't counting on anything to come easy. Not in this tournament, in which the lesser-seeded team won 13 games in the first round.
And certainly not against Northern Iowa, which boasts victories over North Carolina, Iowa State, Stephen F. Austin and Wichita State as well as Texas, who UNI beat on Friday night, 75-72, with a half-court shot at the buzzer.
Caruso compared Northern Iowa to Florida, A&M's SEC rival. The Aggies twice beat Florida though both games were decided by six points or less.
"Florida is a really tough team and plays really good defense and takes tough shots. They like to keep the game in the 60's," Caruso said. "I think (Northern Iowa) resembles that style. I don't think they have the athletes that Florida does, but they have high-quality players at the guard position like Florida does."
The Panthers are definitely guard heavy. Wes Washpun, a 6-1 senior, averages 14.3 points and had 17 points against Texas.
Matt Bohannon, a 6-4 senior, averages 11.8 points, while Jeremy Morgan, a 6-5 junior, averages 10.4 points.
The Panthers, who have won seven straight — including the Missouri Valley Conference Tournament — are shooting .754 at the foul line and have hit 286 field goals from three-point range.
But they are not imposing inside. Forward Bennett Koch, the only non-guard starter at 6-9, 232 pounds, averages just 7.7 points and 3.6 rebounds. Sophomore Klint Carlson, a 6-7 forward, averages 6.9 points and 3.6 rebounds.
A&M figures to have a significant advantage in the paint with 6-10 center Tyler Davis, 6-7 forward Jalen Jones and even House, a 6-7 guard, on the drive. All average in double figures scoring.
TexAgs
"They have a little more size, but we just have to try to use that to our advantage with our smaller lineup," Washpun said. "(We'll) try to stretch them out a little bit and use it to our advantage a little bit with Klint there at the five and try to make their big guys have to guard us, as well."
The Aggies are very well aware they will have to guard Northern Iowa on the perimeter for all of 40 minutes.
They learned that when guard Paul Jesperson, who hit four treys, banked in the half-court shot at the buzzer to beat the Longhorns.
"(You) pray it doesn't happen to you because that's the grace of God when you make a shot like that," A&M coach Billy Kennedy said. "I thought Texas did a great job the whole game guarding them. Northern Iowa is a disciplined team and a very good offensive team with seniors. That was two senior ball clubs playing. Texas has a lot of seniors, so it's never over until it's over.
"That's the biggest thing you learn from that game: if you've got a chance to get one off three-quarter court, fire away. Fire a shot at it."
Never miss the latest news from TexAgs!
Join our free email list