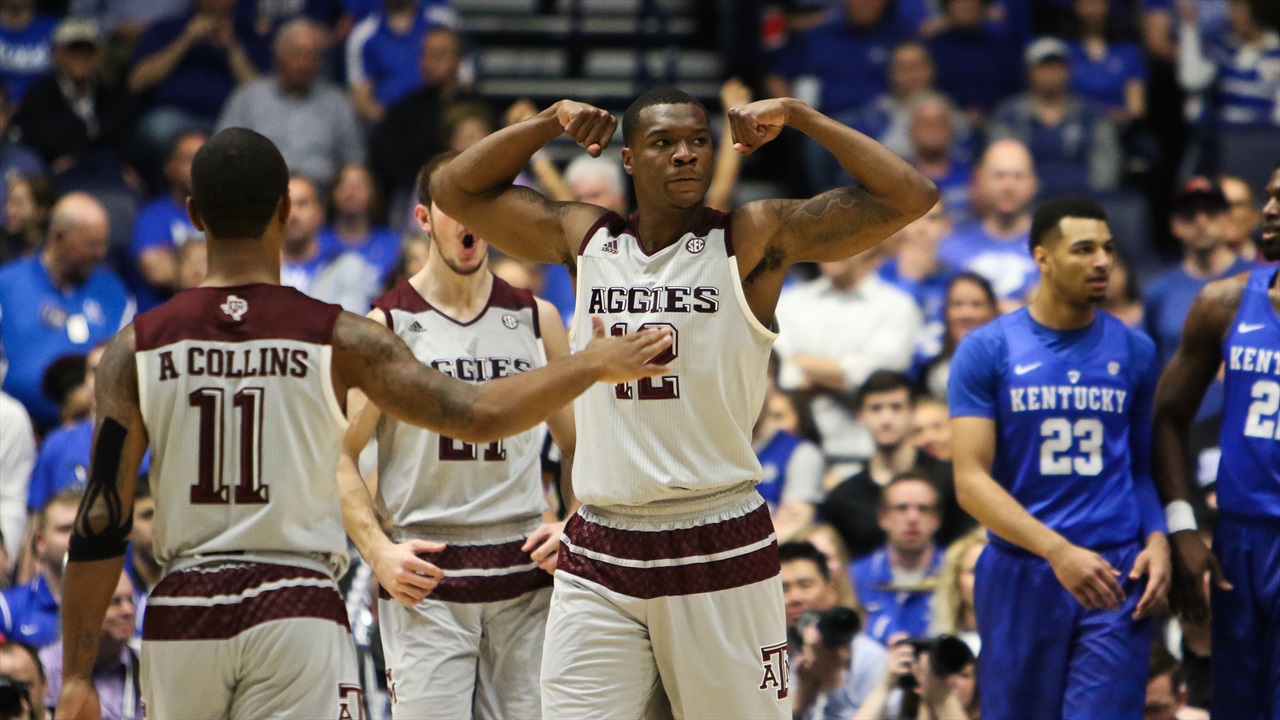 Photo by Kirby Clarke, TexAgs
Texas A&M Basketball
Buckle Up: The numbers say Texas A&M can win the NCAA Tournament
---
Fifty years ago Texas Western University (now known as UTEP) stunned college basketball by winning the 1966 national championship.
That is historically significant for two reasons:
The Miners were the first NCAA national champion to start five African-American players.


They remain the only team from the state of Texas to win a basketball national championship.
Sure, some Texas teams have come close. Houston's Phi Slama Jama teams of the early '80s advanced to the Final Four three consecutive years and were upset in 1983 on a last-second dunk by North Carolina State.
Also, the Longhorns reached the reached the 2003 Final Four and lost to eventual champion Syracuse in the semifinals.
So, the '66 Miners remain the Lone Star's lone champions.
But this year the Miners could get some company. Don't be surprised if the Aggies duplicate Texas Western's feat and shock the nation with a national championship run.
The Aggies (26-8) seem to have the elements necessary to contend for a championship.
Successful NCAA tournament teams typically have good guard play. A&M does.
A&M is good and deep at guard. Anthony Collins and Alex Caruso can both play the point and distribute the basketball. Caruso has a knack for getting steals. Also, Admon Gilder has emerged as another effective player in the backcourt.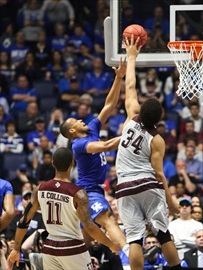 Kirby Clarke, TexAgs
Successful NCAA teams typically have a strong inside presence, too. A&M does.
Freshman center Tyler Davis averages 11.1 points, 6.1 rebounds and 2.1 blocked shots. Forward Jalen Jones averages 15.5 points and does most of his damage close to the basket.
Successful NCAA team needs good outside shooting. Seven A&M players have hit 25 three-point goals or more.
That group is led by guard Danuel House, who has hit 70, and enters March Madness coming off a career-high 32-point performance in an overtime loss to Kentucky.
Successful NCAA teams need a strong bench. A&M has one.
Gilder, D.J. Hogg, Tonny Trocha-Morelos and Tavario Miller give coach Billy Kennedy a lot of options. Gilder, Hogg and Trocha-Morelos all average more than 6.0 points. That's very good bench production.
Successful NCAA teams should play good defense. A&M does.
The Aggies allow an average of 65.5 points per game. That ranks 35th in the nation. Iowa State is 15th in the nation in scoring; A&M held the Cyclones to 62 points. Gonzaga is 33rd in scoring; A&M held the Zags to 61 points.
Still, some would scoff at the suggestion that A&M is a legitimate championship contender. They would dismiss that notion as irrational ravings from a biased observer with no objective point of view.
Except that ESPN college basketball analysts Jay Bilas and Seth Davis both projected the Aggies to reach the Final Four.
Greg Price and Bobby Ilrich of International Business Times also picked the Aggies to reach the Final Four.
True, if the Aggies are good enough to get to Houston they would have to get past No. 1 seed Kansas.
But then, A&M has beaten Iowa State, which has beaten Kansas.
If the Aggies reached the championship game they might face mighty North Carolina. But then, A&M has beaten Texas, which has defeated North Carolina.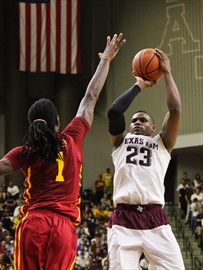 Kirby Clarke, TexAgs
True, transitive properties mean nothing. Everyone knows a victory over a common opponent doesn't guarantee anything. Still, they do indicate that A&M can compete head to head with any team in the field.
Indeed, the Aggies beat Kentucky, which defeated Duke. They beat Texas, which beat Oklahoma.
In fact, the Aggies were 8-3 this season against teams that are in the NCAA field.
They're 4-0 against the Big 12. If, as expected, the third-seeded Aggies get by 14-seed Wisconsin-Green Bay in the first round, they could next face Texas of the Big 12.
After that, they could face Oklahoma in the Sweet 16, Baylor in the Elite Eight and Kansas in the Final Four.
Don't go betting the farm on the Aggies, though. The NCAA Tournament is too unpredictable. According to Las Vegas bookmakers the Aggies are listed at 30-1 odds to win the championship.
Eleven teams have better odds.
Still, that indicates the Aggies don't need a major miracle to win a championship.
They just need a Miner accomplishment.
Never miss the latest news from TexAgs!
Join our free email list
PRESENTED BY