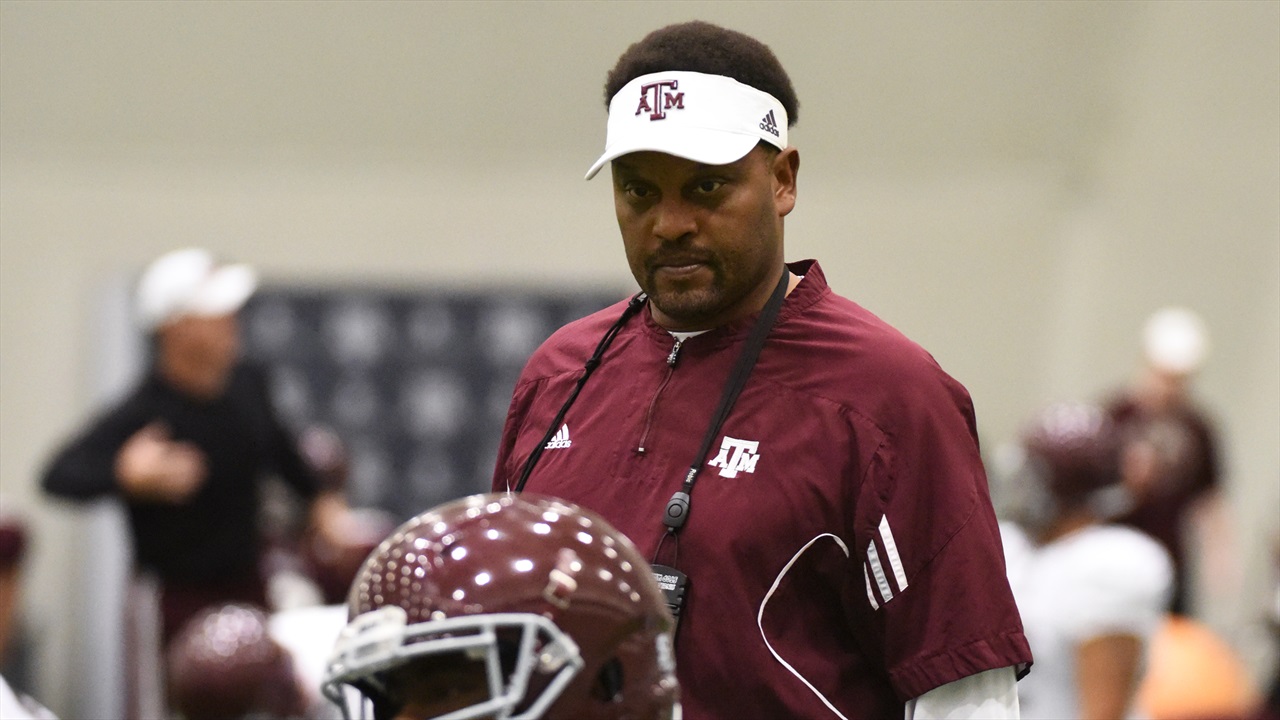 Photo by Alex Parker, TexAgs
Texas A&M Football
Kevin Sumlin addresses media as program questions abound
---
On Kyler Murray's status...
"I met with the family before practice and (Kyler) is going through some things, and doesn't feel well. I told him to stay home today, so I expect him to be back out here tomorrow."
On if Murray is considering a transfer...
"I don't know that I would call it considering. We had a discussion about all kinds of things. I've talked to a number players since we got back for the dead period. I've been gone for two weeks, we had an official visit weekend, and Kyler is one of many players I've talked to in the last few days about a lot of different issues. Like I said today, he is going through some personal things and I told him to stay home today and we'll talk tomorrow."
On the concerns Kyler and Kevin Murray have...
"I'm not going to go into specifics about that. Just like other players, I have discussed a lot of different things, both positively and negatively. Not just with (Kyler), but with a number of other players in the last three days. Those are of a personal nature and discussions have been good, so I expect him to be out here tomorrow."
On Kyle Allen's decision to transfer...
"First off, I want to wish Kyle Allen all the best. I think he and his family got together and made a decision that they felt was best for them. Obviously we didn't agree with it, but this program is not about one person or one coach. After those discussions, he wanted to leave and as I said, we didn't agree with it, but that was a decision he made. Since that time, we granted him a release."
On whether the QB position has been mismanaged...
"I don't know that mismanaged is the word. I think that there is some question, at any position, when you have a number of players that have left. We've only had one player that has left at this point, so to speculate on mismanagement and one guy leaving, I don't think that is right. Right now, we've had one guy ask for a release and that is where we are."
On whether he was surprised at Kyle Allen's decision to transfer...
"I was (surprised) a little bit, to be honest with you. The timing was more surprising than the decision. That's never happened before the end of the season, so the timing was more surprising than anything."
On the evaluation of the coaching staff...
"It is an ongoing process that goes through the bowl game. I've been evaluating our staff all along, and we have evaluated where we are. We have done some things very well, and we have done some things not so well. Offensively, we have struggled and if there is anybody to blame, that's me. Just like the other things that have happened while we've been here, whether that is on the field, off the field, defense, things that have been an issue for us, we have addressed the problem and for the most part corrected the problem. I would say that would happen in this case. After the season, we'll take a hard look at the body of work of the year and make some decisions at that point."
On whether coaching assignments will change for the bowl game...
"I said at the end of the season. Those evaluations are ongoing and I'm not going to talk about it. Any decisions will be made after the bowl game."
On what makes this year's coaching evaluation different from last year when he made a decision immediately following the regular season...
"Every season is different and every situation is different, last year was last year. There were a lot of things that took place that led (to last year's) decision, this year is this year and there are some other factors. Without getting into the factors, every year is different."
On whether he wishes he had played just one quarterback...
"Hindsight is always 20/20, particularly when things do not work out. When things do work out, it is never an issue. Whenever any kind of adversity hits or there is problem, the process is always going to be scrutinized. That's just part of the evaluation of how you do things. From that stand point, this job and this team pays off on results. If the results aren't the ones you're looking for, then you have to reevaluate the process that brought you to them."
On how much of the offensive struggles are due to things outside of the quarterback...
"There are a lot of different things (that go into the struggles). Like I said, production is what we are about. The bottom line is that it isn't about one person or one coach, it is about production. What is the problem with the lack of production we're used to having? That's where the evaluation comes from."
On whether he expects Kyler Murray to start the bowl game...
"Yes, I do."
On who he has behind Kyler Murray and Jake Hubenak...
"Most teams don't usually go past three or four (quarterbacks). I've seen a couple teams the past few weeks go to four or five, but I don't want that to happen. That's what practice is for. Just so you know, the way we have done things in the past and been successful with it, is that it is a two part process during bowl practice. Right now, we had practice last weekend before the dead period, so this is the developmental phase for the young guys and the guys that don't play a lot. That's the last two practices, today's and through the weekend.
We're working against ourselves and trying to develop our young players. We'll begin work on Louisville this weekend. So we've got today through Saturday to work on our young players. What we like to do is get two game weeks of preparation for our bowl opponent. We'll practice here till the 22nd, so that will give us Monday, Tuesday and Wednesday as big practice work days for Louisville. Then we'll come back Christmas night and start a whole other week against Louisville. The real 'meat and potatoes' of the bowl preparation starts this weekend. Right now, this is a developmental phase for the young guys."
On how important it is to fill Kyle Allen's roster spot with a QB...
"We'll cross that bridge when we get to it."
On how Kyler would juggle baseball and football in the spring, if he is still here...
"We've thought a little bit about it, but he'll be able to do both. We talked about that earlier. We've had discussions with baseball about it. They've been preliminary with nothing set in stone. We've got a spring practice schedule that has been set, so we'll work from there."
On whether there have been any change in coaching responsibilities for the bowl game...
"There hasn't been any change in responsibilities, across the board."
On whether he has lost confidence in his offense coaches...
"I haven't lost confidence in anything. Does it look like I have?"
Never miss the latest news from TexAgs!
Join our free email list