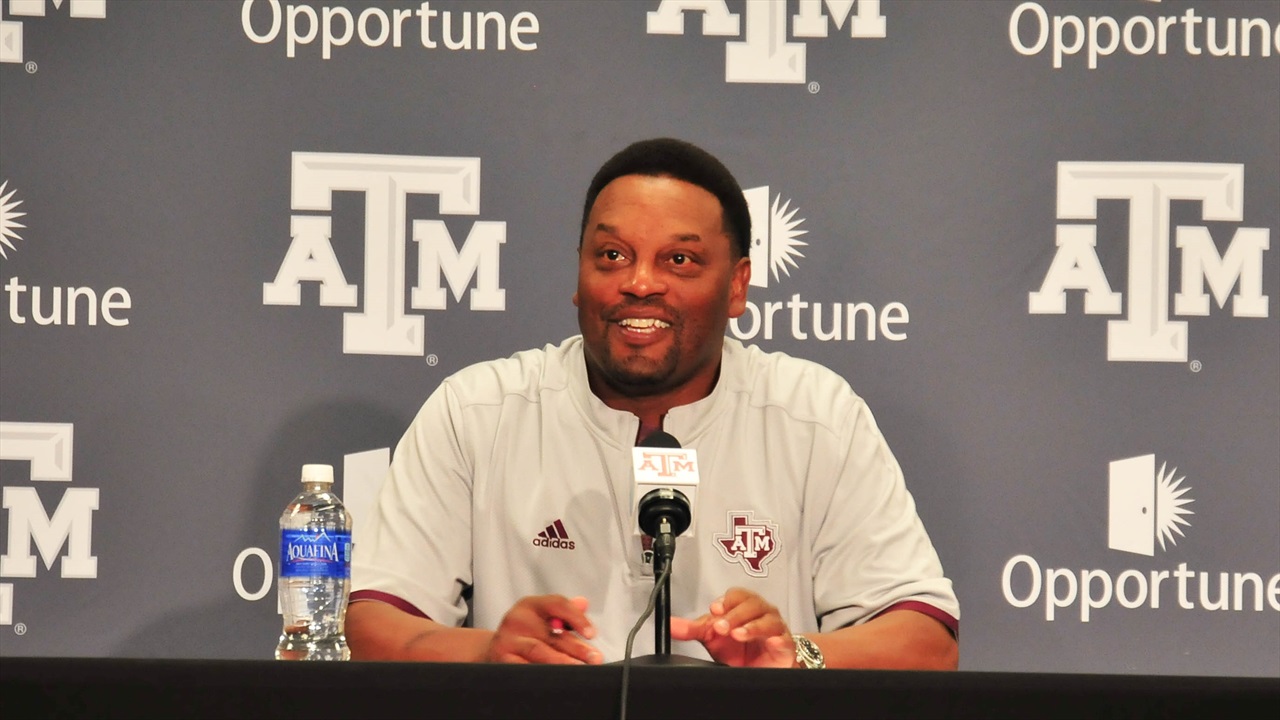 Kevin Sumlin
Jake Spavital
John Chavis
Kyle Allen
Julien Obioha
Armani Watts
Taylor Bertolet
Texas A&M Football
Texas A&M Football weekly press conference: LSU
---
Coach and player interview videos will be added as they render.
Kevin Sumlin
On the meaning of beating LSU...
"I think it's a big deal for our fans and for these seniors, just because you heard me say a couple weeks ago these are the pioneers — this is the first group that's come into this league (and played four years in the SEC at A&M). I met with them the other day about what's important to them. You look back and, being the new guys in this league, the expectations these guys have set for this program are a lot higher than they were when they got here.
"The fact that they've won 36 games in four years and they could get to 37, maybe get two double-digit seasons in four years ... that's where this program has come. These guys have a lot to do with that. That said, this is the one program they haven't beaten in the West in their time here and that's something they want to accomplish in their time at Texas A&M: the first group to come into the SEC and have a victory over every West opponent. That's something we've talked about.
"What I care about more is the players, how they feel, what's important to this group right now. It'll be another big task for us because this team is dangerous. They've lost three in a row but ... Leonard Fournette, Duval and Malachi Dupre on the perimeter are tremendous weapons. Those guys can score points quickly. So we've got to eliminate the big play and keep things in front of us."
On having John Chavis on his side now...
"There's some familiarity with a lot of things. We lost last year by six. That was a tough loss at the end of the year. But, I think there's some familiarity on both sides. He worked there too, so they went against him every day also. People forget about that. Certainly, I think you look at where we are — are we the defense we want to be, completely? No. I'll tell you that, John will tell you that, but without a doubt we've improved. Our run defense will be tested Saturday night. Last week we made some strides in that area.
"Any time you have the first shutout in 11 years here, you're doing something. It'll be interesting to see how that plays out with Leonard Fournette. They've got the No. 1 rushing attack in the league; we're down in the statistics on that, but ... the same energy we brought to Nashville, we need to bring to Baton Rouge."
On Kyle Allen's showing...
"Kyle did what we asked him to do. He valued the football, we didn't have any turnovers Saturday night, he had one or two ill-advised throws, but when he missed down in the red zone he missed high and away from people where Ricky or somebody else could go get it. He protected points. That was a real point of emphasis last week. ... That directive, he carried out. Protected it pretty well. We weren't very good in the red zone.
"That's the No. 1 red zone defense in the SEC. That's no excuse for us ... we can be better in the red zone, we need to be better, but for us to operate the way we operated Saturday, we had the most yards Vanderbilt has given up this year. Defensively they're pretty salty. But those yards didn't equate to the number of touchdowns we'd like to have."
On the run game improving...
"Tra's been running well, without a doubt James White being healthy and playing 10-15 snaps a game — what you saw earlier in the year was Tra Carson, in the second half, being tired. What you see now is a Tra Carson in the second half being stronger, and that's because he hasn't played as many snaps early in the game as he does late in the game. So he's been able to be effective in the second half as much as anything. And schematically, we've done some things to help the run game."
On whether Kyle did enough to maintain the starting job...
"I answered that Saturday night. I said, 'We're good where we are.' So, we're ready to roll."
On Speedy Noil and Josh Reynolds rebounding...
"We need those guys to play that way. They responded. They were suspended a week ago and the week before that came back and practiced at a level they needed to practice at. That showed during the game.
"When you get into games like that — and Vanderbilt did some things differently defensively than they had, showed us some things up front from a defensive front alignment, which took us some time to figure out — we've got to have guys on the perimeter that make those plays. We've got guys that are able to make it. Josh and Speedy are guys on the edge that have to be able to do that to back people off us, score points and help the run game. If they're going to load it up in there, we need guys on the perimeter that can make plays one-on-one.
"The 50-50 balls we've been talking about all year, we made those Saturday. We'll have to continue that ... Tra has really done a nice job of creating a situation where people are starting to drop another hat in there and giving us some one-on-ones in the perimeter. If we can continue that, those two guys — along with Ricky and Christian, Vandy had a nice plan were they bracketed Kirk — when that happens, you've got to have other people come to play and we're going to need those two guys along with everybody else to come to play Saturday night."
On his thoughts on the Les Miles situation at LSU...
"I have a lot of respect for Les Miles and what he's accomplished in 11 years. Getting to know him over the last, this'll be my fourth year in the league, I don't know enough about what's going on over there ... but yeah, you do. Any coach. And there's a lot of them this year. Every situation is different, I don't know the details, but you can't help in this business — Mike Slive said it best: when we meet, there's 14 guys in that room, a lot of different personalities, but there's a relationship and a respect.
"I can tell you that I have a lot of respect for what Les Miles has done as a coach and is doing as a coach at LSU."
---
John Chavis
Opening statement...
"It's a lot easier coming in here this Tuesday. We got some things accomplished last week, made some strides we hoped to make earlier. Really proud of this team and the way they competed on the road, but also proud of our fans. It was darn near a home game for us."
On facing guys he recruited to LSU...
"It's a good relationship. We're competitors and we're going to compete. That makes it somewhat different, I don't say difficult because when it's time to compete that's what you go do. It's a lot of kids I care for and wish them the best — but not on this side. We're looking forward to getting to Baton Rouge. We have time to get prepared and we're going in intending to play well."
On coming off of a shutout...
"Our kids were excited about it, and they should be. Those things aren't easy to come by. We had some challenges with Vandy and their strength was running the football, and we hadn't been very good against the run. But our guys understood what we needed to do to go in there and win the football game, which we did. Our offense did a great job moving the ball and keeping possession of it and we got stops when we needed to.
"We continue to be strong in the fourth quarter and that's been a plus for us all year. There's things to build on, things that helped us in this ball game that we got accomplished last week in practice and that's what we'll need to do this week. But I know they'll be more confident after the shutout."
On any extra emotion going back to Tiger Stadium...
"Nah. I've been there a bunch. I've spent six years there but also was there a bunch before that. It's SEC football. That's what it's all about. I'll tell you this: I'm excited about walking in there as an Aggie."
On whether he saw the current mess in Baton Rouge coming last year...
"This is going to be about Texas A&M and LSU on the football field. I don't know what's going on and I'm not concerned with it. You move on. I spent six years in Baton Rouge, enjoyed my time there, most of the people were good to me, it was a great experience, won a conference championship, went 13-0, a lot of good memories. But football is football. My focus is on Texas A&M and getting them prepared to play this week."
On the problems Leonard Fournette presents...
"He's one of the better if not the best backs in the country, not taking anything away from anybody else. The year I was around him, he's an outstanding young man. He's a first-class act, very talented, very blessed with talent and he's worked to make it work around him. He'll pose a challenge for anybody that's facing him."
---
Jake Spavital
On what Kyle Allen continues to show him as a quarterback...
"The kid battles. You've got to give him a lot of credit for how he handles every situation. He comes in every day wanting to get better, not letting things affect him and trying to improve each day. He's playing at a high level right now."
On what Allen did in the week of prep to earn the starting job back...
"He's throwing the ball efficiently. He was doing a great job of getting through his progressions and making smart decisions with the ball. We had problems with turnovers at the quarterback position and ... it was just about ball security."
On not having to scheme against John Chavis this week...
"Definitely. But he did recruit a lot of those guys to LSU. He's done a great job for us this year, but I know it's going to be an emotional game for him based on being there a long time and recruiting these kids. We've just got to go out there and compete."
On LSU's defense now under Kevin Steele...
"Coach Steele came from Alabama, so you can see a bit of Alabama sprinkled in with what Coach Chavis was doing. It's still a tough defense; we've got to find out what they're doing effectively to us and go from there."
On the short-yardage failures...
"Both (play-calling and execution). There were decisions made out there that I thought we could've executed cleaner and also I could've put them in a better position to have success. They caught us in some things, but we corrected it and moved on and had some key third down conversions later in the game."
On how Kyler has handled being the backup again...
"He's in a good spot. It's been a roller-coaster in the quarterback room this year, a lot of highs and lows, and each of them is just supporting whoever goes out there and trying to improve their game as well. For Kyler specifically, he's in a good spot."
On the backup role...
"Last week it was going to be Jake going in, but this week it's open backup, that's how it is each week. We put them through a lot in practices to get them going ... we rotated reps and they both did a great job at it."
Never miss the latest news from TexAgs!
Join our free email list
PRESENTED BY