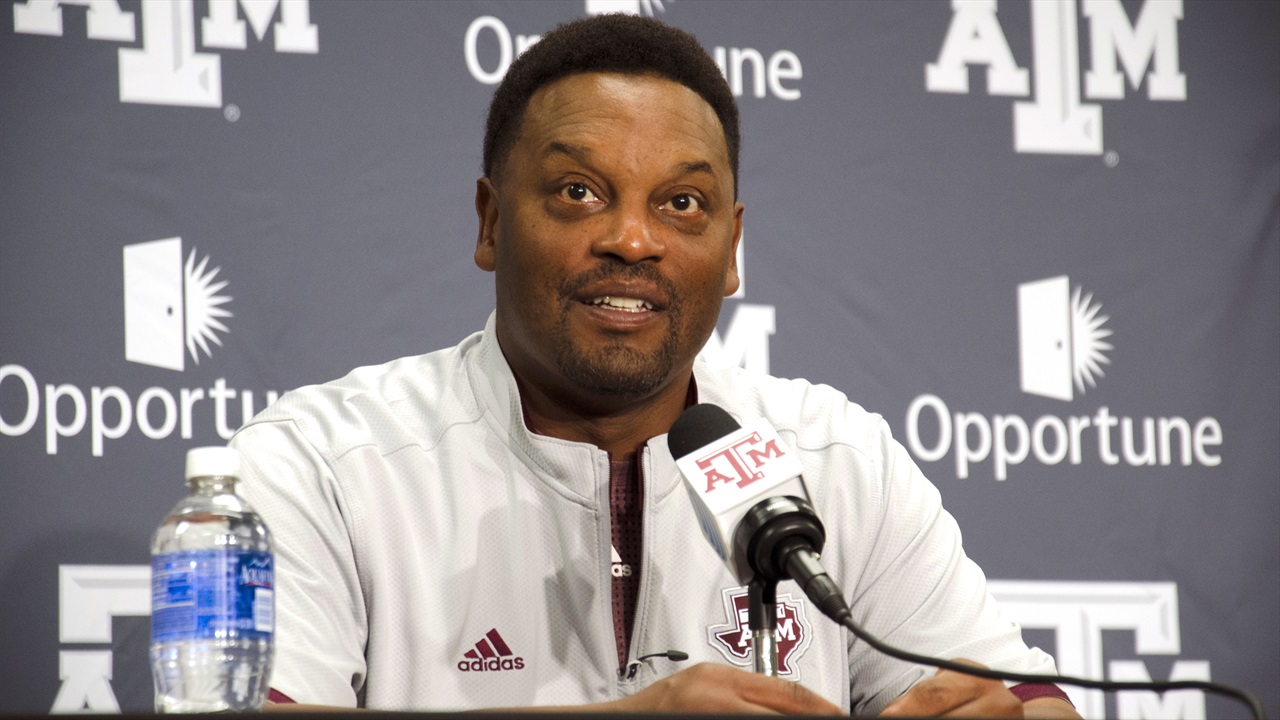 Kevin Sumlin
John Chavis
Jake Spavital
Kyle Allen
Germain Ifedi
Brandon Williams
A.J. Hilliard
Alex Sezer, Jr.
Texas A&M Football
Texas A&M Football weekly press conference: Mississippi State
September 29, 2015
26,620
---
Coach and player videos will be added as soon as they are rendered.
Kevin Sumlin
On the impact freshmen are making...
"I don't know that they're making — that's not an across-the-board statement. I think you've got certain guys that are very talented that have been able to make that transition. There's also been, the new rules have really helped college football and helped the student-athlete. The fact that we're able to pay for summer school ... that was one big thing that helped from a maturation standpoint.
"The second big real change was the ability for coaches to meet with players about football-related things for up to two hours a week in the summertime. So you've got a young man here now who is lifting for two four-week periods, June and July, which is a complete offseason in the workout phase. You've got a guy who's here, he's lifting three or four times a week, quarterbacks are running 7-on-7s four nights a week, he's meeting with his coaches three days a week. That'll speed up a curve in a hurry, as opposed to a guy coming in August and seeing a playbook for the first time.
"For Kyler and a bunch of these young guys, when we started practice we had done installation twice. ... The only thing we hadn't done was work with them as coaches."
On Christian Kirk's impact...
"I always envision everyone we recruit doing that. We want everybody to sign to be that way. There's a lot of dynamic players out there and guys making impacts across the country. Fortunately we've signed our share of them and we'll continue to recruit that way. I think it says the best players get to play here whether you've been here five years or five days, and competition is our best friend.
"That said, he's been good. He's caught a break, Speedy's been nicked up a bit and when he gets back he'll take a bit off Christian's plate. It's hard for a freshman to play at that level all year, you saw that with Armani Watts last year. We need to have other guys step into these roles, and fortunately we have guys that can do it. Ricky has been solid, he hasn't had the numbers people think he should have, but he's blocking and played as well as he's ever played. Josh Reynolds ... has made touchdowns, that's his deal.
"We bring guys along in the intermediate phase and that's where guys like Speedy, Ratley and Jeremy Tabuyo are. ... We've got guys who can help him out. About game four or five teams can see he has real talent and defenses will change (to accommodate)."
On what about this team makes him more confident than last year...
"I disagree with you, I don't think this year's schedule is anything like last year's. We were one of the few teams to go eight games in a row last year; we've got a bye week (this year) after this week. We've played two power five teams, we played Arizona State to start, we've had one conference game so far. I think this season is completely different, I don't draw any parallels. I think people are making a mistake trying to say, 'Well let's wait and see.' Wait and see, that's fine.
"This team we're playing, Mississippi State, is a good team. You spend five weeks last season at No. 1 and return the best quarterback in the league and they're picked last in the division. I don't see that. They lost a game, they missed a field goal. They kept Auburn out of the end zone on four trips into the end zone last week. They've got an experienced quarterback who will not be intimidated ... have their top four tacklers back on defense. It's a team that's not getting the type of respect they should be getting, and they're coming in here to prove it.
"You've got two similar teams playing Saturday night and it's going to be a good one."
On Kyle Allen's fourth-quarter poise...
"He's been really good. He's been calm, the look in his eyes has been good. When he left the Arkansas game last year, I think honestly he was thinking about going somewhere else. He's come a long ways. Can he get better? You bet. But confidence is a big deal. He understands the system better, his ball security was better Saturday. Coming through the game with us not turning the ball over at quarterback has a lot to do with that. He was smarter in what he was trying to do.
"He should get better, that's just the progression of things. He knows the personnel better, you saw that in the fourth quarter with his decision-making."
On the offensive line's play...
"I think we did some good things. In situations where we had to drop back and they could just pin their ears back and rush, that made things tough. ... Our biggest issue was penalties. Christian steps out at the three-yard line, we get a penalty at the goal line. We had long fields. The third down situations, I thought we handled schematically, as coaches, better. The screen game was good in those situations. Christian one time across the middle, Kyle stood in there and took a hit.
"I'll tell you what I did see, they played more man-to-man and loaded the box more than they had the previous three weeks, with two high safeties. You get the extra guy in there, you're not going to be able to block them all, you've got to run on them. Tra was able to do that. ... We've taken a step every week. I do know this, schematically, it changed their defensive look and we were able to do some things offensively that we probably couldn't have done (before) against some two-safety looks."
On the problems Dak Prescott presents...
"The same problems he presents everyone's defense. He's 220, 230, gets bigger every year I see him. You just hope he doesn't come popping out of there, he's a tough guy to tackle. He's strong. And he's a leader. I think the biggest compliment you could ever give a guy is, 'Would you want this guy on your team?' He's a class act, great guy to be around, and when he's on the field he just exudes confidence and they feed off that. He's been on big stages, and he's a good player.
"Everything's going to run through him offensively, we know that. They have excellent skill on the outside, big, big receivers that can go get it. He's got weapons. The power run game comes off that and the play-action shots. Dan Mullen has always been that kind of guy that's going to give his guys opportunities to be successful and not put a square peg in a round hole. He's done that all the way back to Tebow. ... It's going to be a challenge for us."d
On inserting Kyler Murray against Arkansas...
"I was hoping it would catch them off balance. It looked like it did, we gained 25 yards. To be in that environment is advantageous to him. As he gets more comfortable, there's more things he can do instead of just running him on and off the field. It cost them a timeout one time; there's things he brings to the table that help our football team during the game, but also creates a preparation situation for the other team.
"As he continues to grow, the more he's going to get and the more of the whole package he'll be able to handle in those type of situations."
On Otaro Alaka...
"No comment."
On James White...
"No, no ... come on, Sam, really?" (Sam Khan: "I still have to ask.") "Well, you're going to get the same answer."
On recovering from the physicality of the Arkansas game...
"We don't do much on Sundays, Monday is more of a mental, I'll know more today. We're in full pads today and tomorrow. I know this, our guys were bouncing around yesterday and fully attentive. Very excited to be back home. It's going to be a great atmosphere, not many tickets left, 6:30 game, two top-25 teams. It's right in the wheelhouse for the 12th Man. This'll be a great atmosphere Saturday night and our guys will be excited to play."
On why his teams have had more success on the road than at home...
"Nope." (Smirk.) "Don't know. If you get an answer, let me know."
---
John Chavis
On the Arkansas game...
"In our mind as a defense, we didn't play as well as we were capable of playing. We have to give Arkansas some credit for that. They ran the ball more efficiently than we thought, we could've done some things better. A lot of that had to do with planning. Fortunately we were able to get to some situations in the fourth quarter. I'm proud of the team. That's what you take from that game, the will to win. It was strong."
On how A&M met the physical challenge...
"Physically, we didn't get out-manned anywhere. We had some issues with the vertical divide with our linebackers. We were rushing upfield trying to get to the quarterback and we weren't sealing the gaps. It took us a little longer to get to some things. That's when you start running twists and insides, three-man, and we did that in the fourth quarter and it helped a bit.
"We should've been rushing the passer when we should've been playing run, and when they ran draws we didn't get in the seams as quickly as we could. They also ran some trap plays that we hadn't seen, some wham plays that we felt we were prepared for, but when you see new blocking schemes you need to be able to adjust quicker."
On how he'd grade the linebackers...
"It's hard because they're not the same guys playing. We had two guys who played the biggest part of the game this week that didn't play in the first two games. Shaan Washington has been the one mainstay. As far as development, we've got to get better. And that's my responsibility, regardless of who's playing, to have them ready. The effort is there, it's the technique. To grade it, it wouldn't be good, to be honest with you. Again, that's on me. I've got to get it done. It's not the kids. They're playing their butts off. I've got to help them."
On Dak Prescott...
"You'd better tackle him when he's got the ball. That's for sure. He's an outstanding athlete, runs the ball extremely well, throws the ball extremely well. So when you start looking at quarterbacks, facing two guys back to back, even in last week's game we let the quarterback run when we had someone sitting in the hole that should've cleaned it up on third down situations. You've got to make him make tight throws and then account for him in the running game, because he's a big threat in the running game."
On De'Vante Harris' game-winning PBU...
"The inside guy on the vertical route did a great job jamming the receiver and not allowing him to make that break, but (Harris) is a good player and he's playing with a lot of confidence. He's got to continue to play that way. It's good to have a guy out there you don't have to worry about. It allows you to be more flexible with your defense."
On whether he studies last season's MSU game film...
"You always go back and look at things they've looked at. The scheme has changed, and to be quite honest with you we studied more what they did against LSU than against Texas A&M because the scheme is different."
On how a win like that will help the defense...
"You hope what it should do is create confidence. I don't think there was a time in the ball game where our guys didn't think they were going to win. They went out and fought on every possession. Time was of the essence in the fourth quarter and we had to get the ball back, we put ourselves in a situation defensively where we were down eight ... it came down to them being confident, and they were. That's what winning does. Our team knows how to win, they know how to fight. I told them yesterday, we went through the mistakes and got the negatives out of the way, but their will to win was so important in that game. It showed big in the fourth quarter and then again in overtime."
On Julien Obioha's play at defensive tackle...
"We had some really good movement inside and he was a big part of that. He gives us some fast-twitch inside, some speed. It's important no matter who you're playing but even more important as you play spread teams. He and Zaycoven both are guys that can get off blocks and make people account for them. We like the depth we're gaining and we have five or six guys we feel comfortable putting in the game."
---
Jake Spavital
On how much he enjoys putting out alignments that force timeouts...
"They're such a ball control team that it forced us to throw that out there."
On getting Speedy Noil involved...
"He's handling it great. He's going to continue to come along. He's just a little nicked up right now. You're going to see his role increase in SEC play because he's such a talented guy."
On getting Christian Kirk the ball...
"The kid's got home run talent. If you look at how we were backed up that one drive, we hit two plays and he took it like 90 yards. He's got that ability that you can do that toss pass and it goes 45 yards. The kid is very talented and very driven, and you'll continue to see his role improve as well."
On the quarterback situation...
"I think they're handling it great. I talked to both about it and practiced repping Kyler throughout the week during substitutions in the middle of the drive. They understand the situation. We didn't know if James would be able to go, so we had to have a package with Kyler because he has such a special talent. ... They're both handling it great right now."
On going 2 of 9 on third down conversions...
"I think it was a lack of execution, and sometimes our second down calls ended up in negative yardage. ... We didn't have many third downs in the game, but when it comes down to it we didn't execute at times when we needed to."
On fixing the red zone issues...
"Last week we had a turnover on downs and kicked three field goals. It's mainly eliminating negative plays. We emphasize that when we enter the red zone we have to always be moving forward. ... We had some mental mistakes, had a bad handoff, Kyle made a call on a zone read, that's just part of the maturation process."
On how Kyler Murray is progressing in the offense...
"It's going to expand a lot as the season goes on. Early in the season we don't have many tendencies. We put him out there and ran the ball every time, but the kid can throw the ball. You'll see it evolve. He's young and we've got to keep him coming along, get him more valuable reps, and you'll see his role increase as well."
On Mississippi State's defense...
"They do a great job. Manny Diaz, I've gone up against him a few times. He does some exotic things. But the thing about this defense is they're very big and can plug gaps very good. They've done a great job, especially last week against Auburn they didn't even allow a touchdown. We've got a tough challenge ahead. It was a great win against Arkansas but our kids know what lies ahead in this SEC West division. ... There' s a lot of motivated kids and we've got to come out and prove a point."
On the screens used against Arkansas...
"The Arkansas mentality, they came out wanting to stop Tra Carson and that's why that pass across the field to Christian Kirk that he scored on, it was all due to how they were playing Tra Carson. Those screens, they subbed on third down and I knew they'd be doing line stunts, so I thought it would be an easy way to get Tra Carson the ball. I thought Kyle had the hot hand and was throwing well, so I thought they'd expect him to throw downfield. It set us up for the screens."
On Kyle Allen's fourth-quarter excellence...
"That's another emphasis we talk about with the team each week is, you've got to win the fourth quarter. Kyle has done an unbelievable job with that. In overtime and the fourth quarter he was making such mature decisions. The touchdown pass to Christian Kirk was a check by him in overtime. We discussed it all week; it was the first time we ran that set and put Jordan Davis out there, Kyle recognized the way they adjusted to it."
On the second-and-goal play where Allen was tackled for a loss...
"He said that when he had the exchange with Tra Carson, he had a bad hold on the ball, so he just kept it and didn't want to force a fumble. I'm glad the ball didn't land on the ground, but he was trying to hand it off to Tra Carson."
Never miss the latest news from TexAgs!
Join our free email list