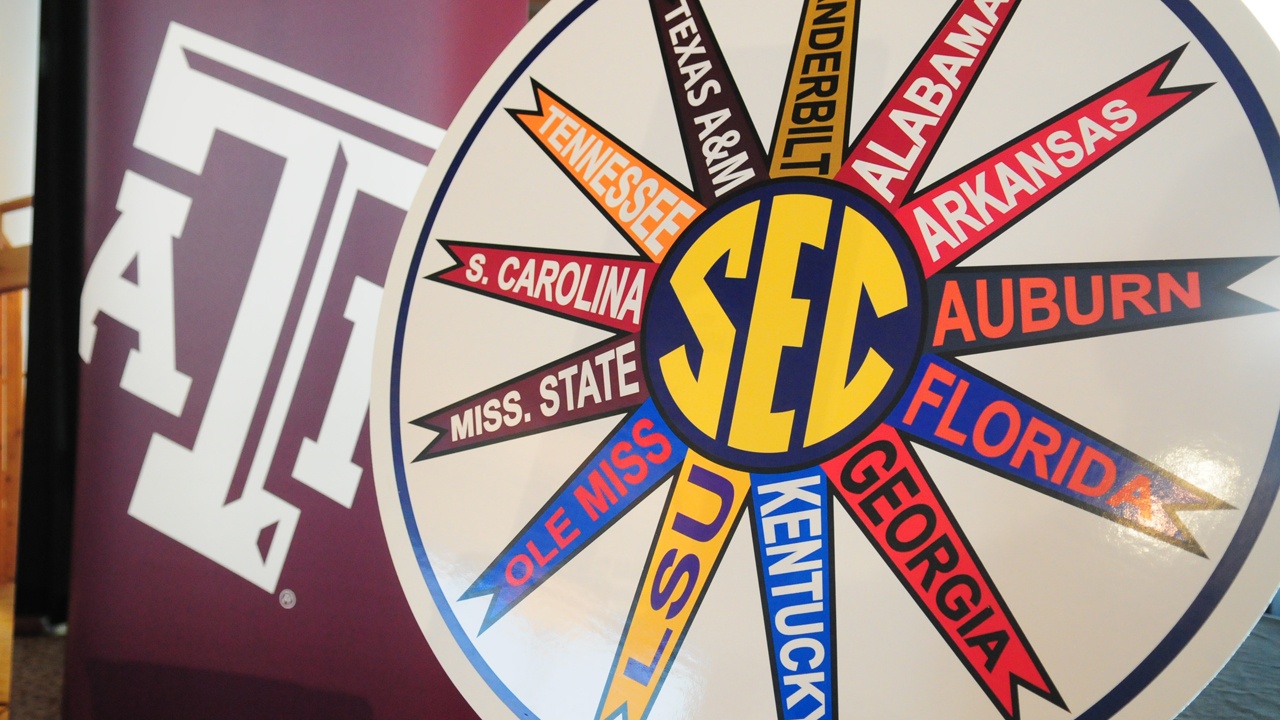 Photo by Andrew Kilzer, TexAgs
Tony Barnhart discusses Chavis, SEC in 2015, Mr. CFB origin and more
---
Key quotes from Tony Barnhart interview
"I don't think criticism of John Chavis' third down defense is that valid. I think what happens is when you are very good at what you do, people work really hard to find something wrong with you. If you look at John Chavis' defenses over the years, particularly going back to Tennessee, when he's got really good defensive ends, when he's got corners that he can play press coverage with, his defenses are very, very disruptive. I would suggest the folks that are looking for a flaw – every coach has those. I'll take John Chavis and let them have the field, okay?"
"Obviously, in Myles Garrett, you've got a special player that can put pressure on the quarterback. What John has always wanted to do is what he calls 'press' or 'stress' the quarterback. Make him throw the ball before he wants to. That part of it is taken care of. What I'm looking to see is: does he have what he needs in the secondary? Does he have what he needs at linebacker? What he did at LSU and Tennessee was that the defensive guys were very good at occupying blockers to allow the linebackers to make plays.
"The question is, does Texas A&M have those athletes? I'm not quite sure they have them yet, but I believe they're going to get them. I think in year one you'll see an improvement over the last couple of years, obviously. They just couldn't get off the field last year. Giving up 36 points in SEC games – you just can't do that. What you'll see is they'll look very well coached. They'll be good at times, but at other times, the lack of personnel will show up. I think it'll be a good first year."
"Auburn played for a national championship two years ago. It's more of a feel than it is anything else (as to why Auburn is getting preseason love and A&M isn't). Auburn has been there. I think the voters are looking at Texas A&M and saying, 'Texas A&M – good offense, moves the ball, not very tough running the ball, not very tough against the run. They need to toughen up a little bit.' Obviously, if you've paid attention, that's exactly what Coach Sumlin is doing. He's bringing in Dave Christensen to toughen things up on the running game. I just think the general consensus on the Aggies is that they're extremely talented, but they need to be a little bit tougher when it comes to running the ball and stopping the run."
"Let's start with the West. When I did my spring tour, I promised the readers that I would project the SEC West. When I sat down to do it, I wished I hadn't said that. Somebody had to be one and somebody had to be seven. I was just wracking my brains, and at the end of the day, Mississippi State, a team that had been number one for four or five weeks, was number seven. The SEC West is as balanced now as I've ever seen it, and I've covered this league for a long time. One-through-seven, the gap is very, very narrow. I think it's going to be Alabama and Auburn at the top, but it's not going to surprise me if somebody else is there. Every game this year within the division is going to be a war. It's just incredibly balanced."
"Let's look at the East. I think the media – it surprised me that the gap was this big, but on paper, Georgia is the best team in the East. Veteran offensive line, best stable of running backs – probably – in the country, Malcolm Mitchell, the receiver who's coming back off a couple of tough year's with injuries. If he can stay healthy, he's a big-play guy. The defense is going to be much-improved in the second year under Jeremy Pruitt. The issue for Georgia is they've got to find a quarterback and you gauge how good a schedule is by who you've got to play from the other division. Well, Georgia's got to play Alabama and Auburn. I don't know who else does that within the SEC East. Probably nobody. That's an issue for Georgia. Tennessee's like a good stock. You know it's going to pay off, so you go ahead and buy now, but you don't know if it's going to pay off this year or in the next two or three years. All the indicators for Tennessee look very good. After that, I think there's another gap. I like Georgia and Tennessee in the SEC East."
"When you ask about a surprise team, I think Arkansas is a team that if they have a couple of things fall into place, they're going to surprise some people. That was a team that nobody wanted to play at the end of last season. Huge offensive line, two thousand-yard rushers, a quarterback in Brandon Allen that's getting better every week – the key for them is defense. I think the two teams I'm watching to break out are Arkansas and, potentially, Ole Miss."
"You take the two guys at Arkansas. You've got Leonard Fournette at LSU. Nick Chubb had almost 1,600 yards (at Georgia) as a true freshman. I don't think he'll get that much work this year if Georgia stays healthy. Jalen Heard at Tennessee is a great, great back. Alabama – they like their guy, Derrick Henry. The list of great running backs in this league goes on and on. I don't know that you can say who's the best. You can just say there are a lot of really good ones."
"I can't take any credit at all (for being called 'Mr. College Football'). In my last three or four years at the AJC, the guy who was running the internet site for the sports department came to me, and he said, 'Tony, we need you to write a blog.' I said, 'Hey, great! What's a blog?' He explained it to me, and I said, 'Oh, so you want me to write something to get people arguing amongst themselves.' He said, 'Yeah.' I said, 'Okay, well I can do that.' He said, 'We're going to give it a title. We're going to call it, 'Mr. College Football.' I said, 'Mr. College Football? That's kind of cheesy. Isn't it?' He said, 'Yeah, but cheesy works on the internet.' I have to give credit to a guy named Scott Peacock who tabbed it 'Mr. College Football.' It kind of stuck. When I left the Journal Constitution back in 2008, I took the name with me. It's just kind of stuck ever since, but I can't take any credit for it."
"I was 12 years old, and Vince Dooley was in his second year as the head coach at Georgia. A lady who was the mother of one of my classmates invited about four of us to go to Athens and watch the football game. I didn't care anything about the football game. I wanted to go, because Becky Cheeves was going. I wanted to sit next to Becky in the car on the way to Athens. That's all I cared about. Then I got there, and I saw the bands and the colors and the pretty girls and the bands and the pretty girls. I went, 'You know, this is kind of cool.' I got hooked after that and was watching college football every week. I certainly never dreamed that I would cover the sport for a living, but I'm a very, very lucky guy. It's been a great run."
"(Moving to the SEC Network from CBS) has been a lot of fun. It was a natural opportunity when it came about. I told my wife, 'If we get an offer here, we're going to have to consider it.' She said, 'You're not going to consider it. You're going to do it. You've been working your whole life to do this.' What's really cool about it is that I get to do a lot of studio work on the weekends. I get to work with guys like Greg McElroy and Booger McFarland and guys that I covered when they were players. To work with them has been really cool. We got to all see each other in Hoover over the last few days. We have a whole lot of fun, and I get to see a whole lot of football."
"(The talent gap between conferences is shrinking), and it's inevitable. I think you see it not only among conferences, but within conferences. The gap always shrinks. That's OK. That's cool. Competition is good for everybody. I find it amusing sometimes when they say, 'The best days of the SEC are behind us.' I'm going like, 'Dude, what are you watching?' They look at the 2-5 bowl record in the West and say, 'Obviously, the SEC is slipping.' Yeah, you're right. It's probably time to give up football. It's going so poorly. We haven't won a national championship in two years after seven straight. It's time to really pack it in. Nothing good is going on here. It's kind of funny to listen to. I just tell them, 'If you want to go into Tuscaloosa and then turn around and go into College Station, knock yourself out.'"

Never miss the latest news from TexAgs!
Join our free email list