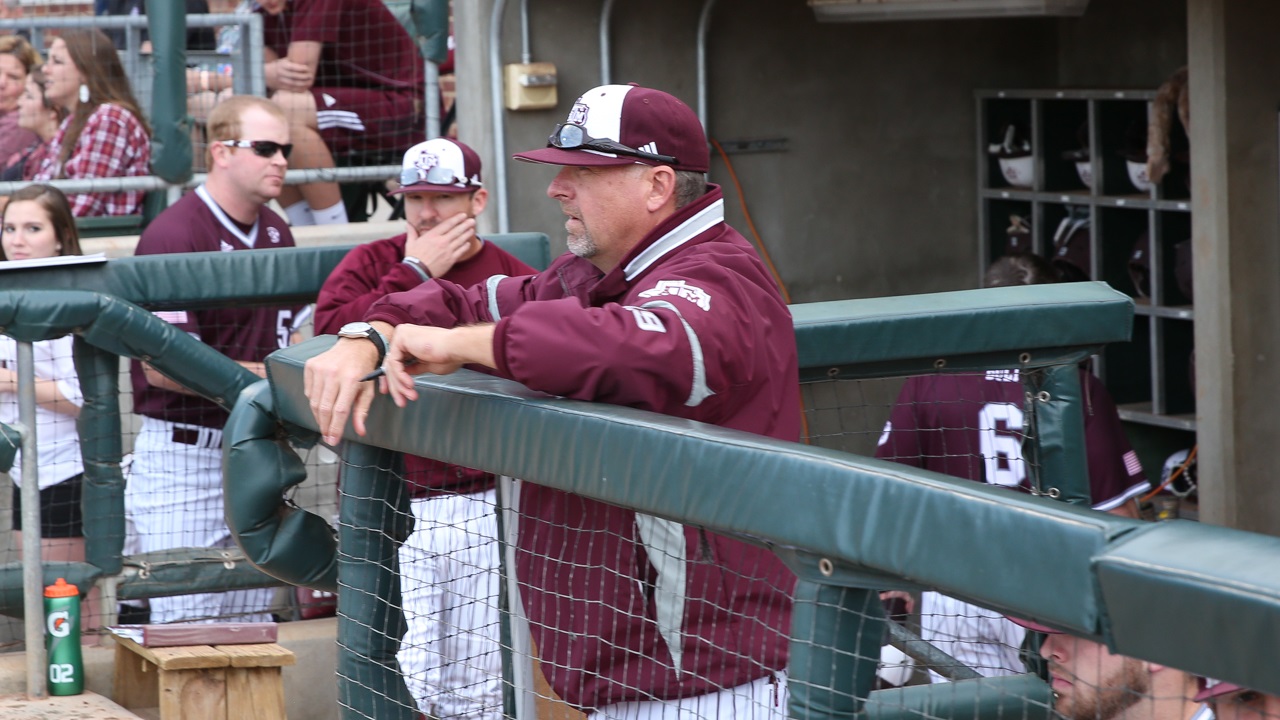 Photo by Matt Sachs, TexAgs
Texas A&M Baseball
Rob Childress details week ahead, Hendrix starting, scheduling Texas
---
Key quotes from Rob Childress interview:
"It is really good for our players to have a Tuesday off. Mentally, emotionally and physically they really emptied the tank this past week against Rice and Mississippi State. I think two days off comes at a really good time. We had a full off day yesterday and we'll hit a little bit today, have a short day and get ready for Abilene Christian tomorrow."
"ACU's strength is pitching. Last week it was nip-and-tuck and they had the lead late against TCU with a chance to beat them, and it just didn't happen. When they go to the bullpen, they make an upgrade there and have a starting rotation that is going to keep them in games. We need to make them earn everything offensively and grab the lead as early as we can and not allow them to use the guys at the end that are so talented."
"Arkansas is starting to stabilize their pitching. They have lost so many guys the last few years to the draft that it has been an issue early. Trey Killian started the year dinged and they've gotten him back healthy, he's very talented. Kid out of Houston in the two hole, Dominic Taccolini, is very good and they have a difference maker out of the bullpen in Zach Jackson. They'll use him when they get a lead and he's mid 90s with a wipeout curveball. They are very similar to us offensively and I think they have the national home run leader in Andrew Benintendi, who doesn't look the part. He reminds me of Tyler Naquin, just wiry, strong, very athletic and can run the bases with 13 homeruns. We're going to need to be at our best on the mound."
"It'll be fun before the game but once it starts it'll be like any other series, Coach Van Horn wants to beat us and we want to beat him. He means an awful lot to Coach Sealy, Coach Bolt and myself. I wouldn't be where I'm at today without him and I'm certain Will and Justin would say the same thing."
"Our players are coaches are really excited to have a night game on Saturday. We've been on the road to Fayetteville twice and they haven't been here since we joined the league. For their first time coming to Olsen, it is going to be pretty special being parents weekend and will be electric all weekend long and will definitely provide an advantage for us."
"Tuesday against Rice, we had a great crowd and I think that with our guys being in the league we're in, it gives us an advantage because we treat it like another game. It was a big win and one we may look back on in six weeks as bigger than it was at the time. Proud of our guys this weekend, Grayson Long was as good as he's been all year on Friday against Mississippi State. He got us seven innings and we were able to grab the lead and Vinson and Ecker held on."
"Saturday against MSU, Simonds gave us a good start and they grabbed the lead. For us, it was a situation of missed opportunities. Their pitcher made pitches when they had to and not only on the dirt but in the outfield, they made not only the routine plays but the amazing one as well and almost played a perfect game to take us down."
"We responded in a big way on Sunday and it felt like the old days there for a while where it seemed like it was run day and we were in for a wild one until we went to (Ryan) Hendrix. He stabilized things and we pulled away with a few grand slams. It was good to win that series."
"Our guys don't need any motivation or a long speech the day after a loss. They're ready to go and I think that is a testament to the leadership of (Mitchell) Nau and (Logan) Nottebrok and (Blake) Allemand. Not only leading on the field but in the locker room and practice. Just being out ahead of things."
"Hendrix was fantastic and we're starting him on Saturday against Arkansas. (Mark) Ecker has done a great job of finishing games for us and putting Simonds back in the bullpen, I really like his energy. With the two rights, he and Vinson and the two lefts in Schlottmann and Kopetsky, I feel like that sets up Ecker really well and allows Hendrix to get a little bit bigger piece of the pie."
"When you recruit a junior college player, you expect them to come in and contribute. If they aren't going to do that, you aren't going to take them. We are very blessed to have Michael (Barash) in our program. He has a great mentality and is an energy giver to our guys on the mound, in the dugout and on the field. The average fan probably doesn't realize it, but he gets about five pitches a game he gets as strikes because he catches the low ball properly."
"I think scheduling Texas is good and benefits both teams in terms of a midweek game and there being energy in either park. From an RPI standpoint, it is going to help down the road come selection time and you're always looking to make your RPI as good as it can be. Obviously, it is a historic rivalry that will be good for both teams and fan bases."
Never miss the latest news from TexAgs!
Join our free email list