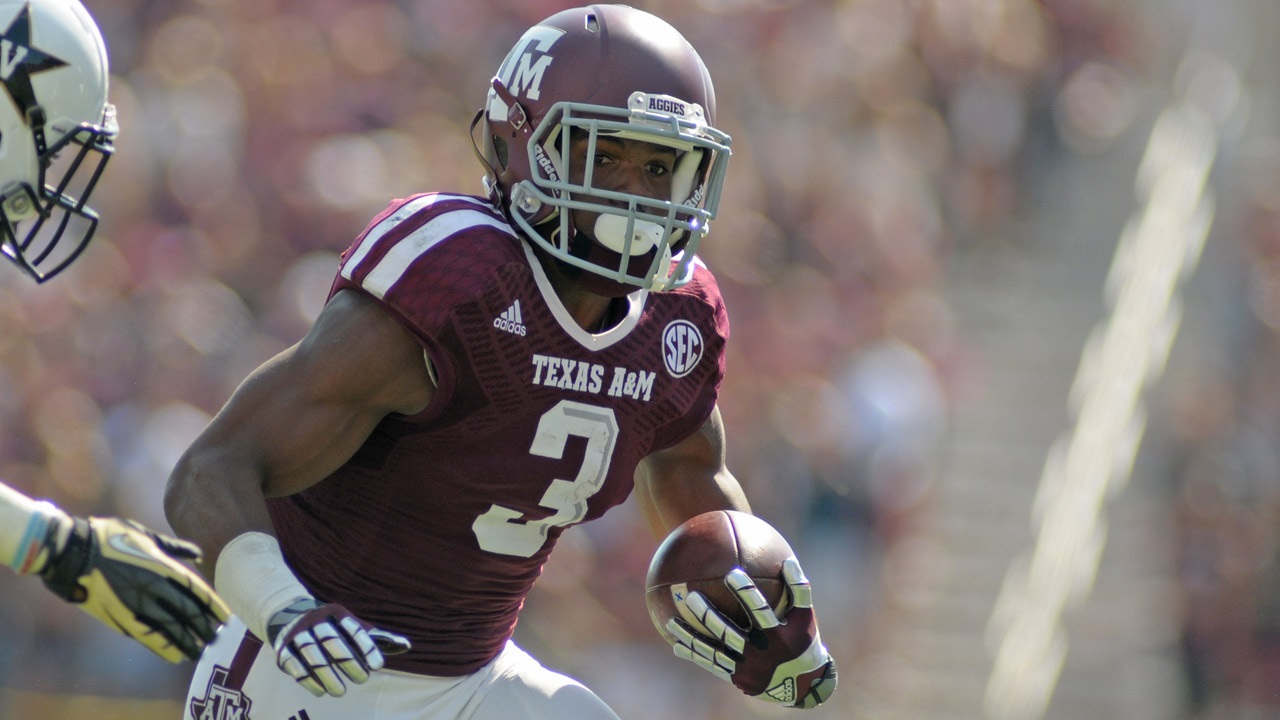 Texas A&M Football
Trey Williams on his combine performance, decision to leave early
---
Key quotes from Trey Williams interview
"The combine was crazy, it was a heck of an experience and I advise anyone to go through it if they can. I don't regret anything. I'm just grateful for the opportunity."
"You have no idea how rigorous it is. The first thing you do, you come up there and they have you doing this little leg thing and it really tires you out on the first day. They came out of no where with it. After that, they have you go through this medical deal and you have to get an MRI and all kind of medical checks. Doctors are every where they're like ants. So, I had to get an MRI and as I was getting my MRI for some reason I got claustrophobic. They put you in this little ship and I was good for about 25 minutes, but then it started getting hot in there and I couldn't take it, I told them to get me out of there."
"When you go up there they make sure that you don't have anything wrong with you at all. It was a huge experience for me, like I said I don't regret anything and it was a heck of an experience."
"They asked me what I liked about myself and asked me how to draw certain plays. This is where A&M really helped me out because of the kind of offense we run and who to pick up in blitz protection. I got all that down and A&M helped me do that. I drew up the offense and the defense and let them know who I have on the blitz protection and the guys coming through the blitz. A&M and Coach Sumlin really helped me through that process. I was able to get it down and really understand blitz protection."
"I would give myself a pretty good grade because I gave it my all. A lot of guys get out there and are like, 'I wish I could have done this.' I gave it my all and feel good about it. God blessed me with the talent I have and that is all I can do."
"It was a really tough decision to leave school early and I thought about it for a long time. I thought about it during the bowl game and again after the bowl game. Thankfully, I had a good game against West Virginia, and it really made me think about it because I love College Station and Texas A&M. I prayed on it and thought about splitting times with the great running backs they have with Tra Carson, Brandon Williams, James White and the youngsters they have coming in. I would have been splitting time with those guys and there was a lot going on. I thought I was good enough to take my talent to the next level and pursue my dreams."
"I honestly don't know where or if I'll get drafted, I always expect the worst. I never build myself up to be like, 'I know I'm going to run this or that.' I'm always expecting the worst, so I wouldn't be surprised if I didn't get drafted, that is the mindset I have. It won't hurt me, because a lot of guys think third or fourth round, next thing you know they don't get drafted and then it kills their mindset. I'll just worry about what I can with myself and help the team that picks me up."
"One of the great memories I have from my time at A&M is being in that atmosphere at Alabama with Johnny Manziel and Ryan Swope, greats like them and Mike Evans. Being a part of that win was a heck of an experience. One of the runs against Ole Miss, they had me in jersey #17, I'll never forget it. I got the ball and tripped up a bit, I made a move and caught my balance, which made it look like a hop. I immediately reacted to that and I saw three guys to my left and a guy in front of me, so it was either get tackled or go right. Boom, make a cut right, and it was like, 'Oh snap, I can take this to the house.' Mike was there to pick the block up and it was to the house."
"When you are competing with guys like Tra and Brandon, we were making each other better. It makes you better as a back and a whole. That's what I feel like made us a great group of backs."
Never miss the latest news from TexAgs!
Join our free email list