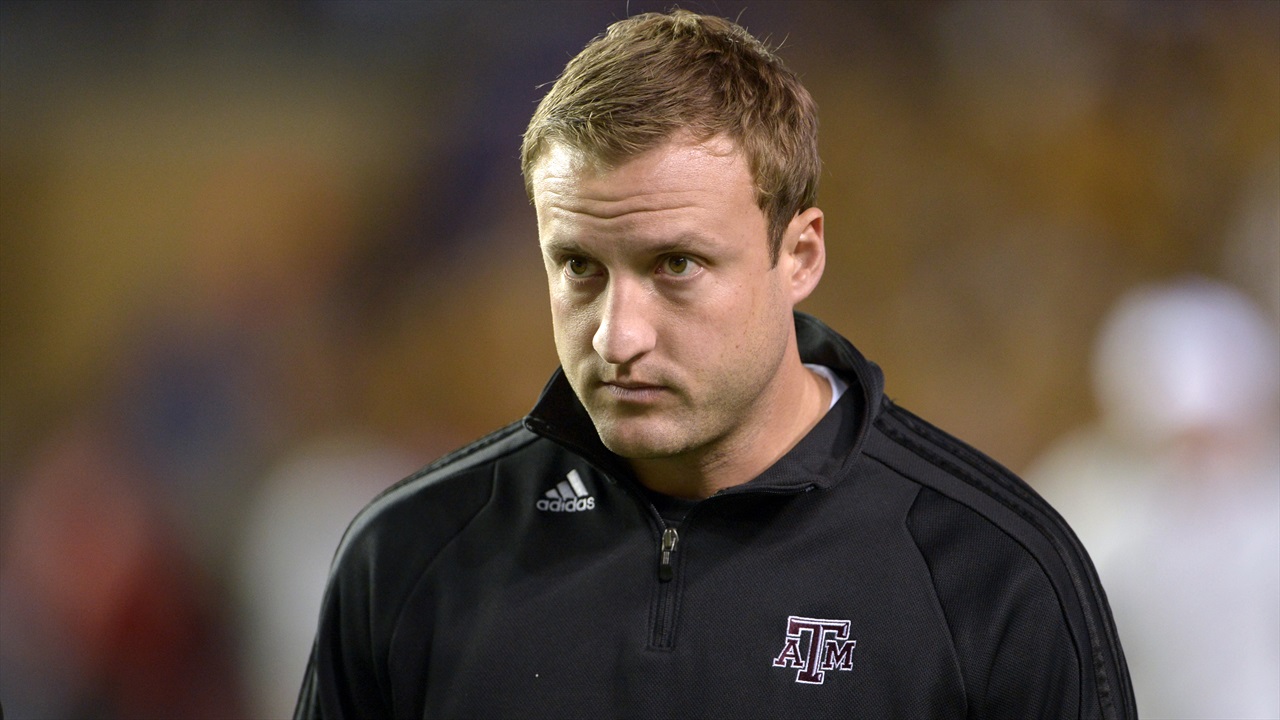 Photo by Thomas Campbell
Texas A&M Football Recruiting
Jake Spavital: Kyler Murray's recruitment, QB competition, A&M class
---
Key quotes from Jake Spavital interview
"We're fired up. I know he (Kyler) kept a lot of people on their toes for a bit, especially with the fax papers not coming in until 11:30. It is all sealed and delivered now, so we're fired up to have him as part of the Aggie family and we'll worry about baseball when that comes up in June."
"I'm very slow and picky with the quarterback process, but once we got through, he was a no brainer. We still weighed the options and sure this was the correct deal, because once I offer a kid, I go all in on it. With the career Kyler had at that point, he was still undefeated, about 24-0 when we gave him that offer. He ended up 43-0, that is pretty impressive. The 186 touchdowns, almost 15,000 yards in his high school career, undefeated, those are all great things.
What I was most impressed with was the presence he has with others. He was so influential on every other recruit we had, because all of these recruits we had at Texas A&M wanted to play with Kyler Murray. That is something you really can't coach and he's got that, which was the thing that I made me think we've got to go all in. We rolled the dice and didn't recruit any other quarterbacks and if he would have gone to another school, it would have put us in a bind, but we know the effect he has on the entire signing class at A&M. I had many talks with Coach Sumlin about it, we we're going to ride or die with this commitment."
"Throughout the process, I didn't say anything to Kyler, we never guaranteed any starting time. What we did tell him is that we'll give an opportunity to come in and run with the ones in fall camp and have the ability to win that starting position. A lot of kids get turned away with that, because they want to hear guarantees, but you can see the competitive nature of the kid that he isn't afraid to come in and compete to beat someone out.
From the Kyle Allen standpoint, we've talked about the maturity, of how that kid handles certain situations with maturity; he handled the whole Kenny Hill situation. Going into the offseason he is not fazed, he is ready for competition. Kyle is a self-motivated kid and he is going to keep working and try to be the best. It is going to be a heated battle, but I think these are two kids that have the competitive desire to try and go out and win this job."
"I definitely think Kyler is ready to play in the SEC. Just from the speed, you can tell that Kevin has been polishing this kid since a very young age. He is one of the most polished throwers, he has a very quick, tight release, the spiral comes out well and he can make all the throws. We aren't a pro, under the center offense, which is going to play to his advantage. He is going to do something very similar to what he did at Allen, so it is a great situation for Kyler to come in and have some familiarity with this offense."
"The thing about Christian Kirk is, Coach Banks and I went out there recruiting Kyle Allen and we left Allen's school and went over to see about this Christian Kirk kid. I saw him run one route, catch the ball and get up field and we offered him pretty much right there. The thing that makes this kid so special is that he scored six touchdowns in six different positions. He has played corner, safety, kick returner, punt returner, running back and receiver, so he has been everywhere and is so dynamic.
The thing that makes it even better is that he is such a great kid. He has a great work ethic, the family is awesome and they wanted him to come in here and work. He is already pushing everybody in that weight room with his presence. He is not here to joke around and has plans to do special things next year, so he attacks the weight room with a great approach and it rubs off on everybody else. It is lifting the intensity within the receiver corps. One of the influences of him coming to A&M was Kyler Murray, that shows the importance that Kyler had on this recruiting class."
"Kendall Bussey was a huge get, especially late. You have to give a lot of credit to Clarence McKinney and Terry Joseph for that recruitment. Even though he was committed to Tennessee, they were still in there being as persistent as they could to get that kid in. He is going to be a great addition, especially when you lose Brandon Williams and Tra Carson a year from now, but we are very pleased with Kendall Bussey and he is going to make an immediate impact with us in special teams and you'll probably see him in a few appearances in games next year as well."
"Connor Lanfear was in my recruiting area, the kid is a huge individual, hes enormous. The thing I like most about him is that he is nasty, he gets in there and get dirty. I'm looking for that right now in offensive lineman, I want guys that are going to stick their faces in there and fight. We're fired up."
Never miss the latest news from TexAgs!
Join our free email list