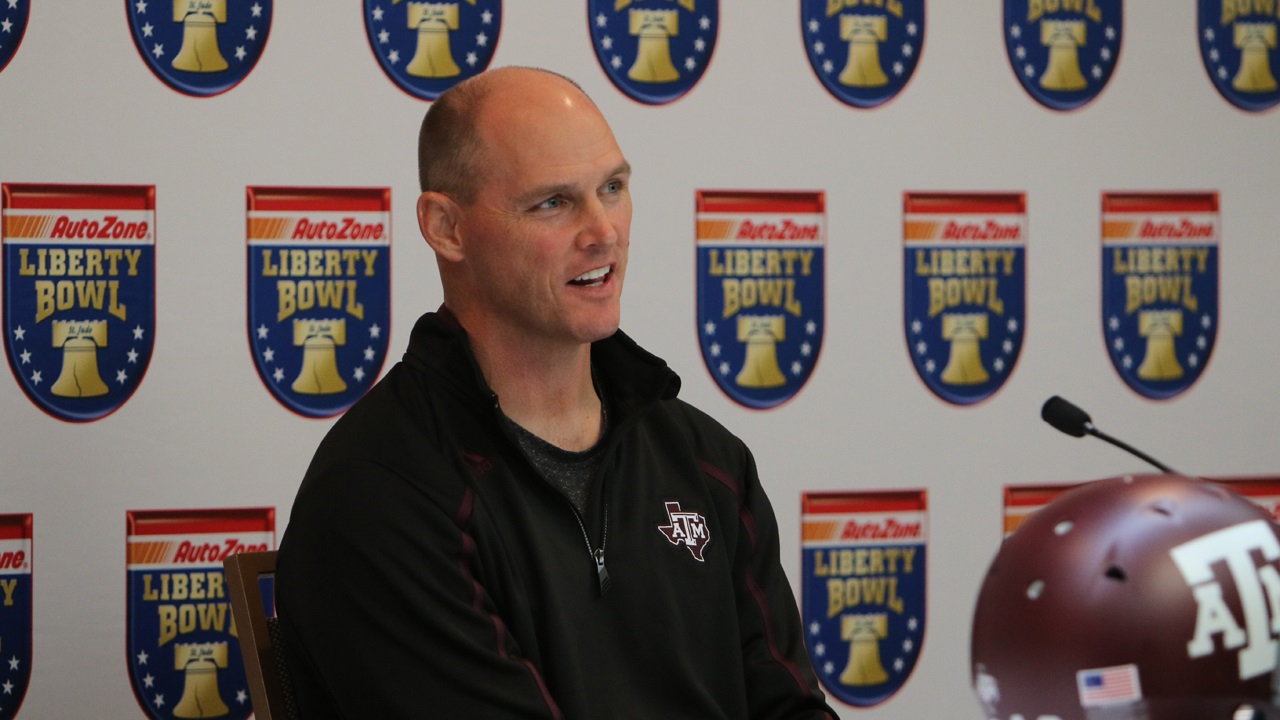 Mark Hagen
Julien Obioha
Alonzo Williams
Donnie Baggs
Deshazor Everett
Lonnie Galloway
Rushel Shell
Kevin White
Mark Glowinski
Texas A&M Football
A&M defense, WVU offense talk pivotal bowl matchup
---
Texas A&M Interim Defensive Coordinator Mark Hagen
Opening statement…
"For our guys it's kind of been an up and down season. (We) started fast and certainly stubbed our toe middle of the season. We kind of found our way a little bit then faltered there down the stretch, so I think our guys are just excited for the opportunity to play another football game. We've had good preparation—a real focused Thursday-type practice for us. Certainly know that we have a great challenge Monday trying to slow down a very, very potent West Virginia offense."
On West Virginia's wide receiver Kevin White…
"He makes an impression real quick. Certainly one of the best receives out there. We're going to try to give our guys some relief in different ways, but certainly an outstanding guy. I think he was up for best receiver. I think it's the Biletnikoff Award. He finished probably a very close second to Amari Cooper, who we saw at Alabama. He's certainly a talented guy and certainly a homerun threat. The thing is, you turn all of your attention to him and they've got other pieces around him that can hurt you."
On being interim defensive coordinator…
"When it happened you really don't have time to sit back and gather your thoughts. It was a heavy time with recruiting so we hit the road. The rest of the staff and I, we just came together collectively to embrace our players and give our guys the best chance to go out and execute. It has been fun. We'll see how it all comes together on Monday."
On Myles Garrett…
"The sky is the limit with Myles. To me, he's our most valuable player on defense and he's earned that. He's a guy that when he's in there he demands one, two, sometimes three guys to account for him and that just accounts for other opportunities for other players. When he's not in there you certainly know it as well because maybe you're not getting as much pressure with him being in there."
Texas A&M Players
Defensive lineman Julien Obioha on how similar their offense is to West Virginia's…
"I would say about 90 percent of our playbook is similar. Since they have that really athletic quarterback they're going to do a little more quarterback run, but besides that it's about 90 percent the same."
Defensive back Deshazor Everett on the Mountaineers having time to recover before the bowl game…
"The defense is definitely fresh. We've had some off time. Some guys have had time to recover from injuries, things that were bothering them, and get their legs back under them."
Linebacker Donnie Baggs on the West Virginia offense…
"It's going to be a big challenge. Kevin White is a good player; very explosive player. I think the system that we have in place right now is just going to allow us to run around and make plays and be fast and just go out there and have fun. It's going to definitely be a challenge with their mobile quarterback and all the running backs but I think we're more than ready for it."
Defensive lineman Alonzo Williams on defending the run game…
"We've been working a different type of technique that's going to help us be more sound in the run game and allow us to make more tackles. It'll give our linebackers less responsibilities so they can focus more on tackling."
---
West Virginia Wide Receivers Coach Lonnie Galloway
Opening statement…
"We have a huge challenge in front of us on Monday. Defensively they do a whole lot of things that could cause a team problems. I feel like we prepared these last couple of weeks for the challenges that are ahead of us. Our practices have gone well. Again, the players and coaches, we feel like if we go out and do the things we need to do we should have a chance to win this football game."
On what to expect from the Aggie defense…
"They're a mix on defense. They play four-down, three-down. A lot of the teams that we have played in the Big 12 do some of the same stuff. They play a lot of man coverage stuff that we've seen on tape so I think from the looks that we've seen throughout the Big 12 and just studying them over the last three of four weeks, I think that they compare to a lot of the teams that we've played."
On the chemistry...
"From last year we played a lot of quarterbacks. This year Clint solidified himself as a starter. Skyler got to participate a lot so he's not new to us. He was competing very hard for the job, so Kevin and the guys are used to him. The last couple of weeks with preparation with him being the main guy and throwing the ball to them—we'll be okay."
On today's practice…
"Today was great. We got there and they worked out a little bit. Then I put my rain suit on and we went outside and did our normal Thursday practice. They know on Thursday that there are a certain amount of plays that we do and they were ready to get out of the rain so they were bouncing around."
West Virginia Players
Tight end Cody Clay on what he expects on Monday…
"You watch SEC games and there's really not a whole lot of scoring going on and that's what the Big 12 is all about and I know that's where A&M came from. It's exciting knowing that it's back to our brand of football. It's not too far away from Big 12 so that's what we're excited about."
Offensive line Mark Glowinski on how he feels about quarterback Skyler Howard…
"I just feel like we play the same game so it doesn't really change me. I'm just doing everything I need to do and everybody next to me is in the same job."
Running back Rushel Shell on practice this week…
"Like Coach Holgorsen said, in these bowls games the teams that win are the ones that are the most excited to be here and play. Everyday in practice we've just been very high tempo. We're happy to be here and happy to have an extra game and preview everyone for the 2015 season."
?
Wide receiver Kevin White on his last game as a Mountaineer…
"I just want to go out there and have fun. I really don't want to focus of the outside world and what people say. I just want to play the game because I love it. I just want to have fun and get a win."
Never miss the latest news from TexAgs!
Join our free email list