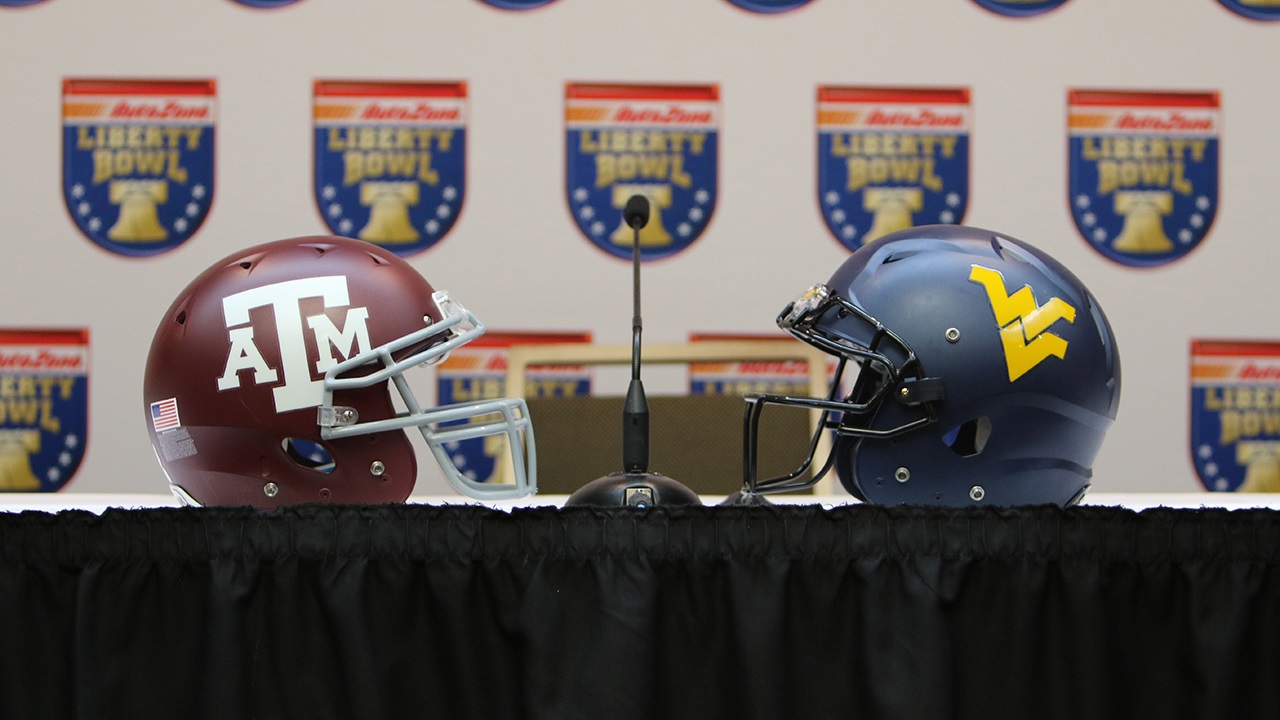 Cedric Ogbuehi
Malcome Kennedy
Mike Matthews
Ricky Seals-Jones
Wes Tonkery
Nick Kwiatoski
Karl Joseph
Daryl Worley
Texas A&M Football
Aggie offense, WVU defense kick off bowl lead-up
---
Texas A&M Offensive Coordinator Jake Spavital
Note: Jake Spavital's press conference video may be accessed here.

Opening statement…
"We're excited to be here. This game has a lot of meaning for us right now. One, just leaving this senior class on a high note, but this is our opportunity to win four straight bowl games. They have the opportunity to be the first senior class to do that and we're excited. This win will actually help us going into the offseason as well and with recruiting. Everybody likes being on a high note. We're excited to be here and we're ready for this challenge. It's definitely going to be a fun game for me, especially since I get to see a lot of faces that I've seen in the past."
On going up against Dana Holgorsen…
"It's pretty interesting just overall. He trained me in this offense. I know how he trains the quarterback and he knows how I train the quarterback which is going to get pretty interesting. We've had to change up some things from signals to the communication because they know it obviously. It's going to be fun and it's good to look across the field and see some familiar faces because I enjoyed my time at West Virginia."
On the Texas A&M and West Virginia offensive similarities…
"You can't go in and just completely change everything about what you're doing offensively or as a team in general. There's just going to be some little things that you tweak here and there but the overall philosophy of each team is going to be the same in what they've rode out on this entire season and what makes them have any success this season."
On preparing for West Virginia…
"It definitely is a work in progress. What we did in these bowl practices was we didn't begin to prepare for West Virginia until about five or six practices in and it was mainly just to help with the development of these kids. We're a very young team. If you look at our skill positions, we lose one guy. We spent a lot of time just going back to the basics and getting down to coaching and making sure everybody is on the same page.
"The development has been huge for these bowl practices, but now we're on to West Virginia and we're trying to put together the best game plan that we can possibly do for Kyle and hopefully it fits for him, especially against this 3-3 stack defense."
Texas A&M players
WR Malcome Kennedy on dealing with this season's adversity…
"We just got caught at some bad times. That's the great thing about football, sometimes things happen. You win games you're supposed to win; lose games you're not supposed to lose. We got into a spot where we didn't do so well but one thing the team did do is stay together. We learned as men how to create character and build that from those losses."
OL Mike Matthews on how he feels going into the game…
"We're really excited for this game. We understand that there's a lot riding on this game coming off that loss against LSU. It's just time to get back in the win column — and not only for that, it's the beginning of the next season. This game follows up into next season and to get this one right here would be big."
Matthews on West Virginia's defense…
"It's a little bit different. We don't see that type of defense every week. We're used to seeing your base in SEC defenses. It's a little bit different. We saw a little bit of it early on in the season but I think we've prepared really well for it. I think we know what we're doing and we're pretty excited."
OL Cedric Ogbuehi on the chance to win four straight bowl games…
"It's special in that in the history of Texas A&M no one has done that. It would be cool to make a mark on a legacy."
Wide receiver Ricky Seals-Jones on the benefits of playing a team with a similar offense…
"Coach Spavital knows their plays, but they also know ours. We have to change up some of our signals and they obviously have to change up some of theirs. You just have to go out and play your game and not worry about them."
---
WVU Defensive Coordinator Tony Gibson
Note: Tony Gibson's press conference video can be accessed here.
Opening statement…
"I just want to talk about our defense and where we've come in a year's time. We don't have a superstar, which I like and I think the kids like. We play aggressive. We play together and it's paid off. We've really improved on third down defense. I think we finished 10th in the regular season right now going into the game and 15th in the country on three and outs. Those are probably the two biggest jumps we've had in a year's time. I'm really proud of how well the kids have played all year long. They're excited to play and excited to be in a bowl game."
On the key to winning on Monday…
"What the biggest thing in the league we play in, the Big 12, it's a wide open league. Offenses are good. They spread you out and put you in position—a lot of open space and one-on-one tackling. We're going to give up plays and we're going to give up yards. What we have to do is keep battling and try to eliminate the big play. When we've lost games it was because of that."
On Thursday's practice…
"Our practice last night was unbelievable on both sides of the ball. We were game speed, flying around. We were hitting people. It was exciting to be around. We did 20 plays of good-on-good against our offense and those 20 plays, it was game speed on both sides. I'm very excited about that. We broke off into scout team and continued. I'm very impressed with how they came back and prepared on Christmas Day. It was a great practice."
On facing a freshman quarterback making his bowl game debut…
"He's a competitive kid. We're not going to rattle him. We're going to have to get to him and rattle him a few times and show him some different looks. Hopefully he'll throw us one. That's the way we're going to be able to get to him. Going into it I don't think he's a kid that's going to be nervous. I think he's got a lot of confidence right now and he's got some great wide-outs to throw to and obviously great tailbacks. He's got a great offensive line to protect him. I'm sure he's prepared very well over the last month or two to try to make himself better."
West Virginia players
S Karl Joseph on Skyler Howard taking over the quarterback position…
"We have a lot of confidence in our quarterback Skyler Howard. He's stepped up in the last two games in leading the offense. He's getting prepared for this game and he's going to lead the offense for us."
LB Nick Kwiatkoski on Texas A&M…
"We know that their offense has the potential to put up points on the board. We're going to go out and play the way we know how to play. We've played teams that know how to score all year so it's not something we haven't seen before. We're just going to go out and play the way we've played all year."
LB Wes Tonkery on playing his last game with WVU…
"I just want to go 100 percent. When the game is over, win or lose, I want to have no regrets. I think that's what everyone else's mindset is, too."
Tonkery on Texas A&M offense…
"They're really similar to our offense. Their offensive guy, Jake Spavital, we had him for a couple years. He's down there running similar things. Watching them on film, everything is pretty similar."
CB Daryl Worley on playing in the 56th AutoZone Liberty Bowl…
"In the end it's just a game. Honestly, I look forward to this more than I do any other game just because we get to play a different opponent and a different conference. Even though we did play a SEC team at the start of the season, we get another opportunity at them and show that we're better than what we showed the first game."
Never miss the latest news from TexAgs!
Join our free email list