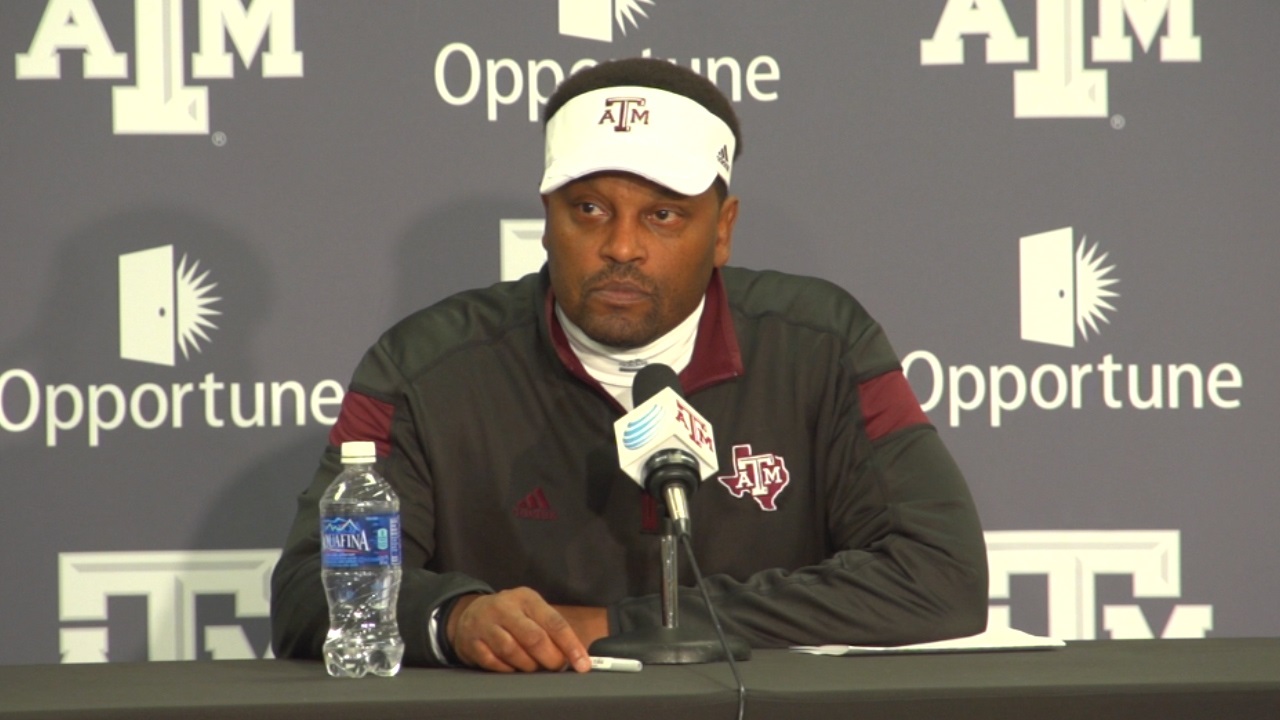 Kevin Sumlin
Cedric Ogbuehi
Deshazor Everett
Texas A&M Football
Sumlin, seniors put cap on A&M's regular season
---
Kevin Sumlin
On the offensive adjustments in the fourth quarter...
"We made some adjustments at halftime and were able to move the ball a little bit better. We saw our play selection change a bit as well. Really, in the second half we were more efficient offensively. We had to be because we weren't very good in the first half."
On the end of the season and heading into the bowl game...
"I was sorry for the seniors losing their last game at home. I told the team I was proud of them in all three phases of the game there at the end. They gave us an opportunity to win; defense came up with a stop and gave us the ball back with one timeout to play for a touchdown and win the game. Our guys didn't quit, that's important. We didn't make enough plays to win but we did not quit.
"Now, you know how we treat bowl games here. A week from Sunday we're going to find out where and who we will play. We're going to be excited about that. We treat it as the start of the next season. We practice our younger guys a lot and our seniors really leave their legacy of what they can do. The seniors have a chance to be the first A&M group to play in and win four straight bowl games.
On where the team will go from here...
"We start our recruiting contact period on Sunday, so we'll be in people's homes and doing that whole deal next week. I'll sit down tomorrow and look at where we are and what we need to do from a big picture standpoint and we'll go from there."
DB Deshazor Everett
On the controversial no-call and the end of the game...
"You have to live with it. There is not much you can do. You can argue with the refs, you can yell at them, but you can't make them see something. They can't go back and reverse that call, so it's just something we have to live with. The game shouldn't have come down to us needing to win that late in the game. We can't just point fingers."
On the dominance of LSU's running game...
"I'm not going to say it was a mismatch physically. We played with those guys. They run the ball well. They're coached well up front and they run the ball hard. There were just mistakes here and there and game planning. Great play calling on their side."
On the losing streak against LSU continuing...
"It's frustrating because it's a rivalry game. You always want to come out on top. You don't want to be the underdogs going into next year. You want to be the team that won this game last year. It's the team you want to beat. It's the team that when they're on the schedule you want to get a win against."
On playing his final game in Kyle Field...
"Honestly, I don't think its hit me yet. It was the last game and it was a great experience the whole four years being here. I'm just going to have to keep motivating young guys and try to leave on a good note. I hope I can be someone that they look up to and they continue to play hard as a defense and continue to want to be great players."
OL Cedric Ogbuehi
On the loss...
"It's tough, especially the way it happened. We had a chance and just saw it taken away. You have to move on, you can't dwell on it too much because we have a big game in the bowl game coming up in about a month."
On the confidence of the offense on the final drive...
"We knew we were going to score. It was our mindset."
---
Post-game notes
Trends and notables
• Junior RB Trey Williams scored on a 41-yard romp in the first quarter, marking his first rushing TD since the Ole Miss contest (game 7). It also put Williams over the century mark in career scoring (102 points).
• Junior CB De'Vante Harris set up Williams' scoring run with a pickoff of LSU QB Anthony Jennings. It was the first INT of the season for Harris and the second of his career (previous INT came against Mississippi State in 2012).
• Four of the Aggies' 11 defensive starters were true freshmen: DT Zaycoven Henderson, DE Myles Garrett, LB Otaro Alaka and FS Armani Watts. Two more members of the 2014 signing class started on offense -- true freshman QB Kyle Allen and sophomore transfer WR Josh Reynolds.
• It was the first start of Henderson's career.
• WR Speedy Noil caught four passes for 46 yards and one TD. He moved into fifth place on A&M's list for receiving yards by a freshman with 559. The TD was the fifth of the season.
• Noil logged 97 all-purpose yards for the game to move into fifth place on A&M's freshman list with 1,322, passing Greg Hill (1991 - 1,318).
• QB Kyle Allen went over the 1,000-yard mark in passing yardage on the year. He has 1,028 yards and 12 TD in eight outings, including four starts.
• LSU is the ninth 2014 opponent for the Aggie that has achieved bowl eligibility, which is tied for second-most in the Football Bowl Subdivision.
Kyle Field averages 100,000-plus
• For the first time in school history, Texas A&M averaged more than 100,000 fans per game with an average of 105,122. The old season average record of 87,183 was set in 2011.
• Tonight's crowd was 105,829, which marks the second-largest crowd in Kyle Field history.
12th Man, game captains...
• The Aggies' 12th Man against the Tigers was Sam Moeller, a junior from San Antonio, Texas. He has served as the Aggies' 12th Man in every game in 2013 and 2014 (25 straight starts).
• Game captains were juniors Julien Obioha and Drew Kaser. The Aggies won the toss and chose to receive the opening kickoff.
Senior Class of 2014
The 17-member Texas A&M senior class of 2014 played its final home game against LSU on Thanksgiving night. Highlights of their careers include:
• The 2014 seniors have compiled a 34-17 (66.7 winning percentage) record over the past four seasons.
• Will become the eighth senior class to play in four bowl games, joining the seniors of 1978, 1992, 1993, 2000, 2001, 2012 and 2013.
• Will be seeking an unprecedented fourth bowl win having already logged wins in the 2011 Texas Bowl, the 2013 Cotton Bowl and the 2013 Chick-fil-A Bowl.
• Only the Senior Classes of 2013 and 2014 have won more than two bowl games in their careers.
• First group of seniors to log three road wins over Associated Press top 10 opponents since the mid-50s.
Senior Class of 2014
Donnie Baggs LB League City, Texas
Justin Bass LB Arlington, Texas
Cameron Clear TE Memphis, Tenn.
Ben Compton OL/TE Friendswood, Texas
Deshazor Everett DB DeRidder, La.
Alex Freeman SNP Austin, Texas
Garrett Gramling OL Denton, Texas
Jarvis Harrison OL Navasota, Texas
Clay Honeycutt DB Dickinson, Texas
Malcome Kennedy WR Cayuga, Texas
Josh Lambo PK Middleton, Wisc.
Howard Matthews DB League City, Texas
Cedric Ogbuehi OL Allen, Texas
Floyd Raven Sr. DB Kenner, La.
Ivan Robinson DL Longville, La.
Tommy Sanders LB Cordele, Ga.
Tyrell Taylor DL Houston, Texas
Never miss the latest news from TexAgs!
Join our free email list