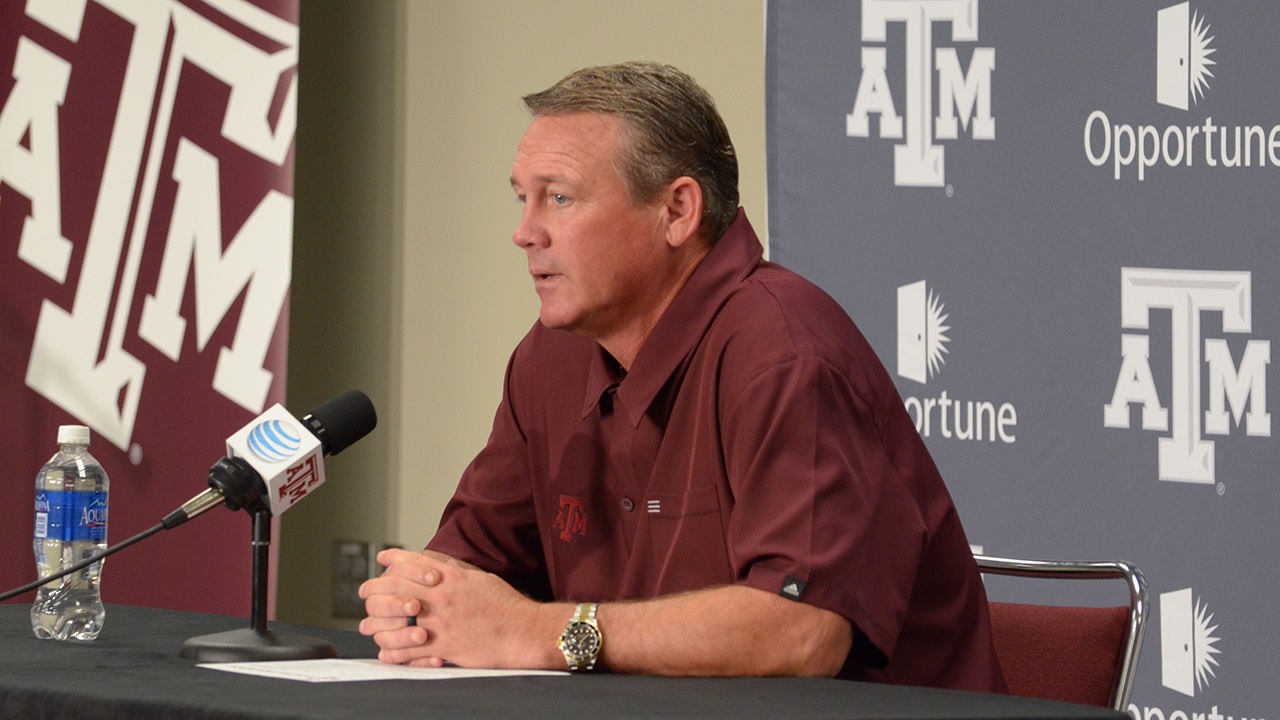 Kevin Sumlin
Jake Spavital
Mark Snyder
Kenny Hill
Malcome Kennedy
Ivan Robinson
Justin Bass
Texas A&M Football
A&M seeking recovery in time for Ole Miss' visit
---
Note: Video of Jake Spavital & Mark Snyder's discussions will be added as they render.
Kevin Sumlin
"Coming off of a tough weekend, a disappointing loss, we've talked about that after the game, talked about it with our players yesterday, and the way this league is now, we've just got to move on. Our players understand what we need to do, the challenges we're facing. And so does our coaching staff. As quickly as you talk about last weekend, you don't have any time to look back because Ole Miss is a team that's playing very, very well right now. They came off a big victory at home.
"For us, it'll be good to be back at Kyle Field. This will be our fourth SEC football game, our first one at home. We draw a lot of energy from home, and from our fans. We had great support in Dallas, great support in (Starkville), but it couldn't be a better time to be home. Our guys are anxious to get back on the field and prove who they are. The feel of our team right now is a little disappointed, but Mississippi State, as I said after the game, had something to do with that.
"Fortunately that hasn't been indicative of the type of football we've played around here. I think our guys are anxious to get back on the field and play."
On the drops...
"When you look at the video, which I have to — you were there too — we had 11 drops, 15 if you were being real salty about it. That's part of your job as a receiver, to catch the football. And we didn't do that."
On the OL play, particularly the last two weeks...
"You look back at our game Saturday, I thought we were fairly efficient in what we did. We had no penalties on offense. I thought we were able to run it efficiently. Not great, but efficiently. The protection, for what we had to do to try to get back in the game — throw it all the time — I thought that was decent. Overall I thought last week was OK.
"We got into a different kind of football game. When you're behind like we were, you have to pass protect and people know it. You get different blitzes and different looks. But I thought our guys handled it well."
On this stretch affecting a young team...
"That's a good question. It could be that Arkansas took more out of us than we thought. But that's not an excuse. Everybody is in this deal right now. People talk about the SEC and this part of our schedule being the gauntlet; the good news to our team is we're part of the gauntlet. We've brought this program to a point where we're running the gauntlet and we're a part of the gauntlet. You've got to play like that to be there.
"Is it difficult? Yeah, but it's what you want. Our guys will be excited to have the No. 3 team in the country here in front of 105-106,000, at 8:00 on national TV. It doesn't get any bigger than that.
"Going into this season, this stretch, everybody knew it was going to be difficult. How you react to that, that's where the challenge comes. That's not just for us, that's for everybody in this league."
On Kenny Hill's performance...
"It wasn't a poor performance by him. It takes a complete team. Just like it took a complete team to beat Arkansas, it took a complete team performance to play like that last week. We have to correct mistakes whether we win or lose and keep his confidence at a high level and get other players to that level. The evaluation of him is that he's got to continue to get better, which he understands, but there's more than just him on the field. It's part of playing quarterback.
On the linebacker play...
"Obviously we're limited with A.J. Hilliard being out. Shaan Washington, getting him back was big. He's had a couple games where he's been thrown right into the mix. He's given us a real shot in the arm. Donnie Baggs has, for what we've asked him to do, much improved over last year. We haven't really put him in a position to make a whole lot of plays off the line of scrimmage as much as he does on the line of scrimmage.
"From a depth issue, that's probably one area on our football team where we don't have as many players as we do every other position, whether it's the D-line or defensive backs. That's probably the one position where we lack the depth other positions have. Those guys are playing more plays than anybody and the injury to A.J. Hilliard pushed things back. Justin Bass has been a jack of all trades in there and really helped us. He can play MIKE and WILL and get Jordan and Shaan off the field some, which we need to do in this league."
On Malcome Kennedy...
"Probable."
On how many passes need to be completed for the offense to run optimally...
"(Hill) has been up and down, but completion percentage, as we just talked about, isn't entirely to do with the quarterback. It's about guys' ability to get open and to catch the football. We're in the sixty-five percent range usually, we've gotten to the seventies. Depends on how many times you throw the football, too. Game plans, there's a misconception that we have the same game plan every week for the amount of throws we have and that's not necessarily the truth.
"That game changed quickly for us. From a percentage standpoint, it's hard to put a definite number on that, but certainly sixty-five percent or so is going to be good for us. The big percentages come on third down. We weren't very good on third-down offensively last weekend, and those things tell the story."
On Speedy Noil's involvement in the offense...
"I got some questions last week why he didn't start. People forget he had knee surgery the week before. Let's back off the guy a bit. He had surgery three weeks ago. We're going to bring him along, we want to bring him along. He's an explosive player and we're going to do things that help him and help us, but we're also going to give him an opportunity to grow because he basically had two weeks off."
On Ole Miss...
"Their first-string defense has given up one touchdown all year. Alabama got 10 points; they got one defensive score to get to 17. They're leading the league, they're No. 2 nationally in scoring defense, they're giving up 10.2 a game, less than that if you just go with the first-string guys out there and take away the defensive scores. So they're playing very, very well. This is a talented team. You're looking at the nation's No. 1 recruiting class a few years ago, those guys took their lumps and now they're playing with a lot of confidence.
"They're playing with a veteran quarterback in Bo Wallace. He operated very, very well (against Bama). Defensively they've been really stout. They lead the league in interceptions and giving up the least amount of points."
On A.J. Hilliard's chance to return...
"I don't know. That was a pretty serious, significant injury. He had a plate and 10 screws put in there, it was a dislocation. I don't know, put it that way."
On Cam Clear...
"He's just got to get better. He had a high ankle sprain. You've seen in sports, particularly with big guys, they can look good all week and have one movement and it slows them down a bit. We're trying to bring him along and we want him to be a part of what we're doing. He's big, he's talented, he's athletic, but he's had some issues with that ankle and that's been kind of a setback. It's been disappointing for him."
On State's size advantages at WR and how to overcome it against Ole Miss...
"We've just got to play better. We can't grow. We've got 5-9, 5-10, 5-11 guys. We've got the guys we've got. We can't go out and trade and get 6-2 guys by Saturday night. So we've got to play better at the position and understand leverage on the ball. It's a catch-22: you stay off and let them catch it, they get 4-5 yards. That's just part of playing defense."
On similarities between he and Hugh Freeze's programs...
"Hugh is a good friend. Known him a long time. We came into the league and it seems like yesterday we were asking each other what to wear to the first meeting. We've certainly had some close games. I'm just happy we're playing at home, I thought it'd be three straight years we'd go there.
"He's done a fabulous job. You look at where that program has gone since he's been there in a short amount of time. Anybody, at that time when both of us were hired, wouldn't have thought you'd have No. 14 and No. 3 playing at 8:00 at night in front of 106,000 people. A lot of things have changed in three years."
On what scares him most about Ole Miss...
"Everything. They're undefeated. This time of year you don't get there without playing well on both sides. ... Last week (Wallace) made plays to win the game. They've surrounded him with talented players who are explosive. They've done everything they need to do to be where they are right now. They lead the league in interceptions. Is that enough for you to be worried about?"
On utilizing the running backs...
"I think they've been utilized. The Arkansas game was probably more physical than you think. We've got some guys limping around a bit, a bit nicked up, and they appreciate the fact that they've been able to rotate. Our rushing numbers over the year, from a statistical standpoint, are pretty good. Just because we don't have one guy at 100 a game doesn't mean we're under-utilizing them. They appreciate the rotation.
"James White is playing a lot of specials teams right now; he's fine where he is. But we're glad we have him. You look back at last week, Brandon Williams is out of the game after the first touchdown. That's why we need them, particularly in this league."
---
Jake Spavital
On what he'd attribute Kenny's decline in performance to...
"The competition. It's definitely going to get harder as you play in this league and in the SEC. Because of the windows you've got to be accurate and smart with your decision-making. But the competition is probably the biggest thing."
On the drops...
"That's something we emphasize every day, throwing and playing catch. But it's been a concern in our meeting room recently, the incompletions we've had, so we'll be switching it up and getting the best guys in there and getting Kenny as accurate as he can possibly be."
On Kenny not checking down as often as he should...
"There were times in this past game where we were pressing a bit because we were down 21 points and trying to make the big play. But Kenny's got to get to that checkdown, for sure. A lot of quarterbacks have trouble with that. That's important against teams that drop eight into coverage or just try to match routes and run with them. So we've definitely got to be better at checking down to our running backs."
On what changed after the unstoppable first drive...
"It was just the rhythm of the game. We went out on our first drive, had an incompletion, Ricky dropped one, but there was another where he made a great catch down the sideline. We got down near the end zone and Kenny made a great read and it was a great reception by Josh Reynolds and a great read by Kenny."
On trying to get Malcome Kennedy back...
"It'll be huge. We are still a young team out there on the perimeter and Malcome has that experience. He tried as best as he could to be vocal on the sideline, but at the end of the day Malcome wasn't out there and these young kids need to step up. It'll be very important if we can get Malcome back this week."
On Cam Clear...
"He's still banged up and we're trying to ease him into it. I had a small package for him this game, mostly trying to ease him in and get him good reps. You've got to put your best runners out there and that's what we went with. He's going to keep getting healthier and you'll see his role grow. I'd expect to see him a lot in this game (against Ole Miss)."
On Mike Matthews' inconsistent snaps...
"They had a very large defensive front and, at times, you're going to have bad snaps. Mike's only 280 pounds going against a 330-pound guy, and he's trying to snap and fire off and make the right block. There were a few that were high or outside, but I don't think it affected much. Maybe only one play."
On Speedy Noil...
"Going into the Arkansas game he wasn't 100 percent. We kept saying he wasn't 100 percent and it doesn't make sense to come back from a knee surgery after one week. But he's getting healthier and healthier and you can see it out there. His confidence is high and he's getting healthier by the day. From what I saw last Saturday, he's pretty healthy right now."
On how he grades the drops and the WRs...
"There's a lot of gray area with that. There's a lot of times I'll tell Kenny, 'You've got to be more accurate with the ball,' then go to the receiver on the same play and say, 'You've got to make that catch.' You've got to play both sides. Josh Reynolds dropped that ball on the sideline in the first half where it would've been an incredible catch if it could've been tucked in. Yeah, you need to catch that, but Kenny's also got to be more accurate."
On Kyrion Parker...
"This was the first week he was healthy and we got the clear to go with him. He's a guy you'll definitely see more. Josh played 80 plays and Kyrion got the rest of them, and that was a good number for him. I definitely think you'll see him build himself into that backup role behind Josh."
On the frustrations with the short-yardage package...
"We ran it two times against Mississippi State. One was a miscommunication — Kenny put us into the right check and a couple guys didn't get over there. The second time, Kenny ran it for four yards. It was a 50-50 day. But we've got to get (more consistent)."
On Ole Miss' defense...
"I started looking at their defensive stats and I saw they're No. 1 in scoring defense and No. 2 in total defense. Our kids are excited to be back home and I think they're up for the challenge. There's a lot of guys who want to redeem themselves after last weekend."
On the running backs and how a game like that helps him grow as OC...
"It just depends on who you're facing. Mississippi State is a defense built for heavy-set offenses. When you spread them out, they have the most problems. That's one of the reasons we wanted to get out there and play as fast as we could, do zone, screens and get the ball to the perimeter and that would lead to the interior opening up and you could run the ball. Normally we'd call 40 percent run, 60 percent pass and that includes screens. I'd like to get as close to 50-50 as I possibly can. A game like that, with this offense it's not about the evolution it's about who's playing well and can you get them the ball.
"Of the running backs this week I thought Tra Carson stepped up and played well and I've got to find a way to get him the ball more. If we're having drops, you need to run the ball more and I've got to figure it out."
---
Mark Snyder
On how they can shore up the CB position, schematically...
"There's not a whole lot you can do. Give Mississippi State some credit, Dak had good throws, back-shoulder fades. We're going to see some of it again this week. The thing about corners is you have to have a short memory and that's our message to them this week."
On the linebackers...
"Mastro is coming. He's dinged up and we don't have a lot of depth there. The hard part is we're trying to keep them off special teams but they have to go on special teams as well. They're wearing down right now, especially with the big teams we're playing.
On whether they're still confident in Mastrogivanni's ability to do what they're asking...
"Yeah. Losing A.J. Hilliard hurt us depth-wise. We have to move Justin Bass between both positions."
On facing Dak Prescott...
"I had a chance, for two years, to watch defensive coordinators come up to talk to Johnny. I did that Saturday. Grabbed him by the head and had a little chat. He's a good football player."
On getting a pass rush from someone other than Myles Garrett...
"I think so. This week was a little more difficult; it was a lot of play-action. You've got to fit your gap first. (Ole Miss) isn't as play-action. The ability of the quarterback to run, it's hard to pressure a guy that can run the ball from the quarterback position. You saw that for two years here.
"This is a bit different. Sort of the same offense with different blocking schemes."
On whether anyone is challenging De'Vante Harris at CB...
"Yes. (Q: Can you enlighten us who?) No. (Laughter.) But yes."
On what made State hard as opposed to Ole Miss...
"The running quarterback. The team we just played is more like Rice than the team we're about to play. When you're calling a game, it's just different when you've got a guy that's 230 pounds that can run it like their tailbacks can. Unfortunately for us, this weekend he (also) threw it like a quarterback."
On whether Ole Miss' offense gets going late and why...
"That's a good point. They do a good job of adjusting. You see that as you watch the game films. If you give them something, you better not give them a steady dose of it. Because Hugh's gonna get it fixed. And then they'll attack that weakness.
"The key last week was we felt like we were in control on defense and they'd hit a back-shoulder fade for 25 yards and the field changed. The same thing happened for Ole Miss. Bama stops their run game, bam, a pass play happens and they change the field. Their adjustment was to throw the ball and pick up yardage. Alabama said, 'Bo Wallace, beat us.' And he did."
On how beneficial the 12th Man will be...
"You can see the smile on my face. It's so good to be home. I hear it's already a sellout. Especially on our side of the ball, the kids feed off of it. You saw it in Dallas. I know they've got a pep in their step to be home."
On what they can do at linebacker...
"You have to build depth because of the league we play in. There's not much you can do, we've just got to keep rolling on. (Q: You don't move any other players to that position?) No, we can't do that right now."
Never miss the latest news from TexAgs!
Join our free email list