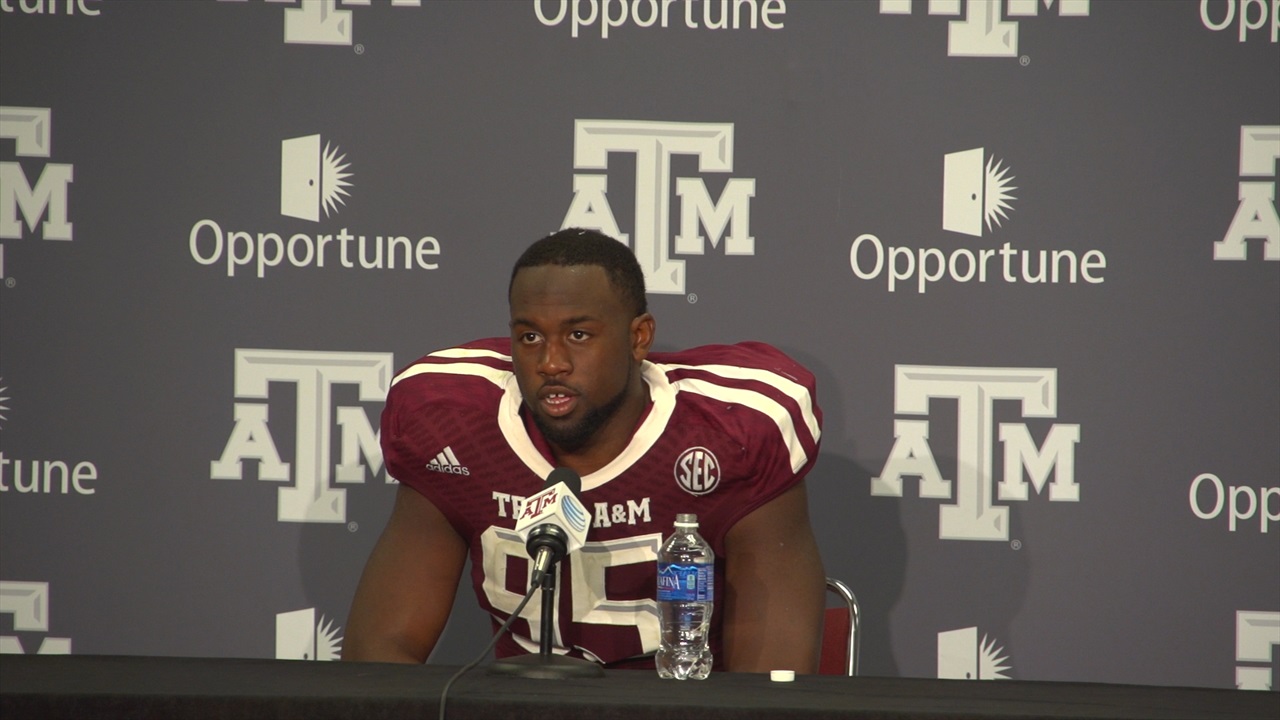 Kevin Sumlin
Tra Carson
Kenny Hill
Julien Obioha
Ricky Seals-Jones
Justin Bass
Texas A&M Football
Quotes, Notes & Video: Texas A&M 38, Rice 10
September 14, 2014
26,093
---
Kevin Sumlin

On the slow start…
"I think people have become spoiled with our offense. If we don't score on the first play then the sky is falling. To have the ball for sixteen minutes and score 38 points, I can't be mad at that."
On Myles Garrett…
"He's tied the school record for most sacks in a season by a freshman and we've only played three games. I think it's safe to say the future is bright for that young man."
On the defensive performance…
"Well just look at the scoreboard. We held them to ten points."
On Armani Watts…
"You're never going to accuse him of not playing hard."
On Tra Carson…
"Tra was very good. He was very physical, and it pulled the defense in, that's why you saw the deep ball being thrown."
RB Tra Carson
"I think we did good but I know we can do better as a whole. Next week we have to play better and prepare better."
On playing again…
"It felt great. Last week it was kind of hard to sit out there and watch my team go to war and not being able to play with them. So it felt great."
On ankle tackles…
"I was very close, I think that comes with not playing last week. I feel like I was rusty so hopefully that gets better next week."
QB Kenny Hill
"I think we started off slow. We never want to start it off slow. We are going to work on that and fix that and be better next week. We just weren't really clicking and we weren't executing the way that we want to. Like I said we are going to get that fixed and be ready to go. All the stuff we were doing offensively was working."
On sophomore wide receiver Edward Pope…
"He is very important to our offense. He is a great player and he loves to play. He comes out there and plays hard every single day. He is a baller. He is someone you can send out there and if you need a big play you can trust him to get things done."
DL Julien Obioha
"Rice is a really good team. We knew what we were getting ourselves into. We knew that they might get some yardage on us and they did. When they got into the redzone we just buckled down and made sure that they didn't get any more yardage and made sure not to let them convert."
On the field conditions…
"It's a new field. We have to get used to it. Conditions are not always perfect."
WR Ricky Seals-Jones
"The field was kind of bad but both teams had to play on it so you can't say that the field was bad and that's why we didn't play as good as we could have. Both teams had to play on it and perform on it."
On what improvements can be made…
"I think we did good but we can always be better so we've just got to go back in on Monday, watch film, and get back to work and get ready for next week's game."
LB Justin Bass
"It was decent but I feel like we could have played better. We need to be sharper on our assignments, better execution, just be a smart defense overall."
On the Rice offense…
"Anytime you play a dual threat quarterback there is some difficulty to it. I mean I've been used to it since I've played him in high school so I was kind of expecting that coming out, but it's just being more disciplined being able to know when he might break down and try to make a play."
On how the defense can improve…
"It's more being smarter, executing better, knowing what you have and where your eyes are supposed to be, just a more focused defense. Because that's what coach asks us to play smart and play fast and we didn't play as smart as we could tonight."
Never miss the latest news from TexAgs!
Join our free email list