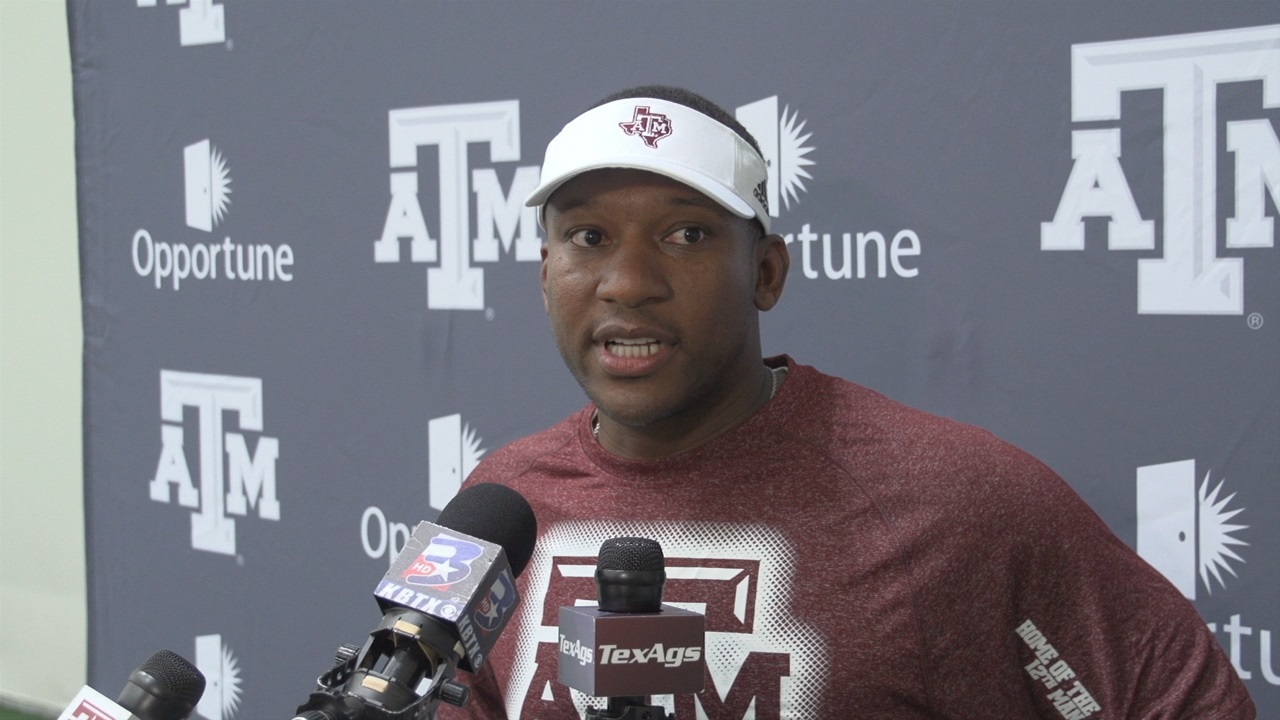 Mark Snyder
Terry Joseph
Devonta Burns
Texas A&M Football
Snyder, Joseph, Burns size up secondary, defense
---
Mark Snyder
"We have some depth and that helps us stay fresh but still stress them at the same time."
"I feel really good about our personnel. We have some speed and we have some big guys."
"Myles Garrett has shown flashes. He has some juice and can bend. He's a really smart kid."
"Armani Watts and Devonte Burns have had really good camps. Devonte has been a pleasant surprise and has proved he can play."
"Burns has taken advantage of the new coach and is doing well at the nickel."
"Nick Harvey is very smooth. Victor Davis has looked good as well."
"We have a lot of young guys getting quality reps right now and they're taking advantage of it."
"Talk is cheap. We will all know who is ready to play after the South Carolina game."
"The effort at the scrimmage was outstanding. We were getting population to the ball and limiting big plays."
"We're keeping Jordan at MIKE. A.J and Josh at WILL. Bass is the only one that we're mixing and matching."
"Alaka has a lot of talent. I like him."
---
Terry Joseph
"We are getting better. We just have to clean up the details and communication."
"All of the guys are playing with a sense of urgency, especially with a new coach and new recruits coming in. I think I've been pretty open since the day I've been here that the best guys are going to play. When we go out against South Carolina the best two guys are going to be out there. At the end of the day, we are looking for consistency at the position."
"It's hard to tell (the best two). It depends on what day it is. It's about being consistent. The guy who has the stock market up and down is probably not going to play. I need to know what the guy is going to do on each and every play."
"Burns has been working a lot at nickel. Armani Watts has done a good job so far. Donovan Wilson gives us some length and range for a kid who had 13 interceptions as a senior, he's shown some good ball skills. Now you're dealing with freshman, but with that first game that always worries you."
"The biggest thing we've been focused on since I've been here is understand not only the big picture, but the smaller details. Every little detail I can get pre-snap that can help me make a play."
"We have a lot of guys who do not have a lot of eye control. Sometimes they watch the game like people who watch it on TV. They want to see the ball and in the secondary that puts you in a bad situation."
"Going against our guys everyday, Ricky and the rest of those big receivers really help us out, because we are going to face that against South Carolina."
"The hardest thing for Deshazor right now is that I am his hardest critic. The biggest thing I've stressed on with him during training camp is whatever happens doesn't really matter because there is another play. The young guys can see him respond to some adversity, because we will face some against South Carolina."
"Floyd Raven is probably one the most gifted athletes that I've coached. The hardest thing about Floyd is that he hasn't played a lot of football. He has to really get on the mental side of it. You have to be able to process that information. We have to put him in position to use his God-given talent."
"Devonta Burns kept showing up and kept climbing up the depth chart. Unless something goes horribly wrong, he's entrenched to be the starter against South Carolina."
---
Devonta Burns
"I just came up with the mindset that since I got a new coach, I can make a fresh start for myself and go hard every day. That's what I've been doing since (Terry Joseph) got here."
"I like nickel. At first I didn't think I was going to like it because the type of player I used to be was more of a run support safety, but nickel helps with my man-on-man coverage, so I like that. Plus I get to blitz too, and I like that a lot."
"I used to be like, 'Man, am I ever going to play?' Now that I'm on the field, it's like my hard work is paying off. I'm thankful for that."
"With Coach (Terry) Joseph, I feel like we're going to have a real good secondary this year. He's hard on us. He gives us no days off. Before meetings, we take a quiz over what we do, what the linebackers do, and also what the defensive line does, so he makes sure we know the whole defense and not just our part."
"I see (urgency) a lot from Howard (Matthews), Clay (Honeycutt), Floyd (Raven). They go hard every day."
"I'm liking Nick Harvey, and it's really all of them (the freshmen). It's not just one, it's all of them."
"At first you could tell he was kind of nervous, but now he's comfortable back there making plays and flying around just like everyone else. You would think he has been here for a whole year. He's doing good."
Never miss the latest news from TexAgs!
Join our free email list