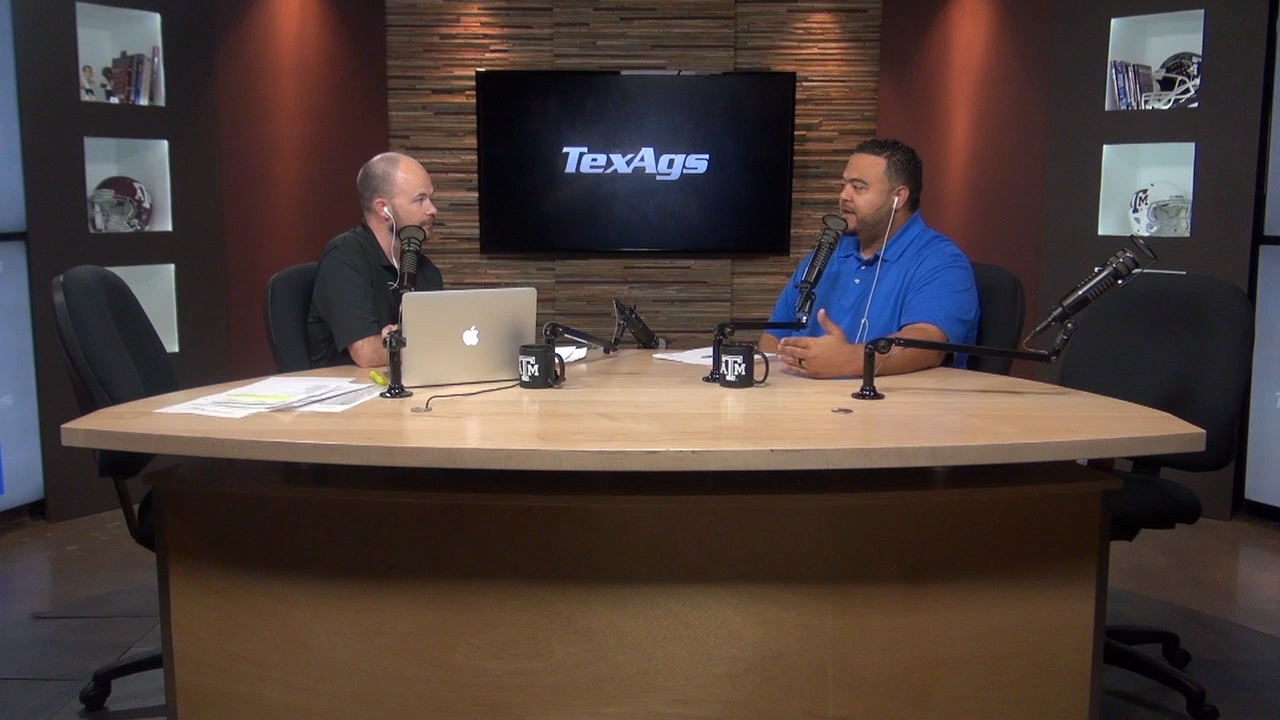 Texas A&M Football
A&M Director of Player Development Mikado Hinson talks new role
---
Key quotes from Mikado Hinson interview
"Last year before the Alabama game I spoke to the team for chapel and coach told me they would love to have me here full time. I'll be honest I almost ignored his text for about a month. Then in January he spoke to me again and something changed, not in what he said, but in my heart."
"I know that there are 105 to 120 young men in the program and everyone needs somebody to use as a sounding board. Someone to talk to when they go through life's storms or social media, whether it is legitimate or not. I operate off of calling in my life, and I was called to be at A&M. None of this was reactionary to things going on here."
"My job wasn't to come here and clean up anything. My job was to build an in-house personal relationship with young men that are in the best season of their life. These are supposed to be memorable years, awesome years of making lifelong friends with teammates. My job was to come in to maximize their season of life as a student athlete."
"There was one meeting that was mandatory with me. They had to come sit with me and to this point I've met with 96 or 97 of those guys one on one. A handful of those guys have come back three, four, five times and that is all voluntary. I want them to get to know me, what makes me tick and know that I'm passionate about them. Sometimes I wont try to fix anything if they just need someone to listen to them."
"I've learned some things, the number one rule is never act surprised. If you drop your jaw and say, 'are you kidding me?' They'll shut down immediately. If you sit there and say, 'I'm here to listen. If I have anything to add to correct you, challenge you or push you I'm going to do that.'"
"To build a complete athlete, it's not just physical. Every school around the country has physically gifted athletes in their program. I touch on the emotional and mental sides and keeping them in check. When you go through turbulent times being able to remain focused and disciplined is important."
"My years with the Rockets were great. We used to go into coach Rudy Tomjanovich's office and he'd say, 'alright brothers, you ready to pray?' and we'd invite guys from other teams to come be a part of it with us. It was always 55 minutes before the game. I gave Yao Ming a copy of everything and we talked about at chapel and he would read it at his locker before games. But eventually I felt my heart being pulled toward the college football guys."
"When I first met Sumlin in Houston, I noticed he observes everything. Larry Jackson was there a few years previously with Art Briles so I knew him and he told me, 'I'm pulling for my guy Kevin to get this job at Houston from Oklahoma.' I felt like it wasn't my job to impress, I just needed to do what I do. But I noticed he watched everything. He's always taking notes and you don't know what he's writing, he'll probably never disclose it. He's relevant, he knows how to touch people right where they are and he cares about his team. I knew he knew what he was doing."
"Sumlin allowed some awesome things to happen at Houston. We'd have a college retreat every year and he would encourage the guys to go do that. He's a supporter of the FCA ministries. Guys like DJ Haden, he's from Houston, and I connected instantly.
One day, DJ and his mom sat in my office and he forgot to turn in a paper, or I say forgot, and I'm a third wheel trying to find something to do while she is berating her son out of love. Next thing you know she punches him in the chest and says, 'Remember, Coach Sumlin said we are here to get a degree. You are going to get that degree.' She wanted me in there to hold him accountable and it was an honor to see him get that degree."
"I was there when DJ got into the collision in practice. He was going up for an interception and a freak accident tore his vena cava, the vein that carries blood from the heart to the lower part of your body. He's bleeding internally and just thinks the wind is knocked out of him.
He ended up having open heart surgery and I walked with all his family through that tough part of their lives and now he was a first round pick for the Oakland Raiders. He has grown immensely, I was fortunate to be able to baptize him and walk with him through some really tough things in his life."
Never miss the latest news from TexAgs!
Join our free email list