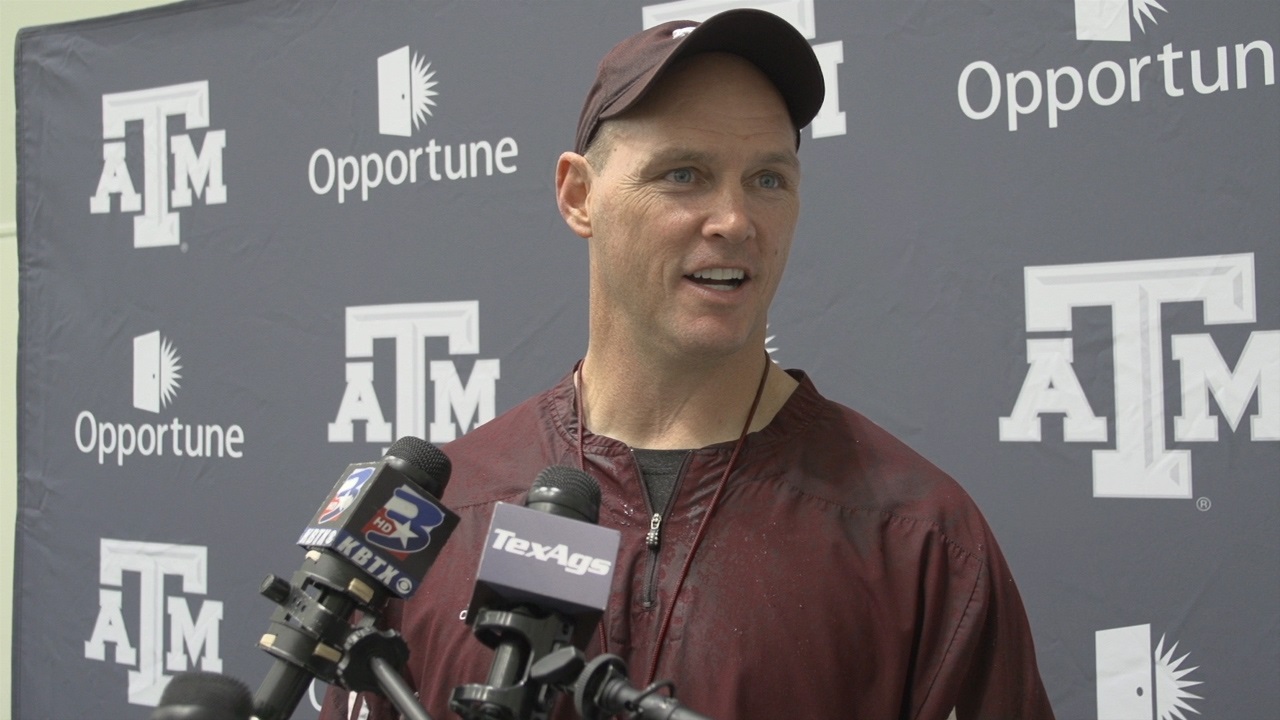 Kevin Sumlin
Mark Hagen
Donnie Baggs
Texas A&M Football
Sumlin, Hagen, Baggs queue up improvement talks
---
Kevin Sumlin
"We've had two hours and 20 minutes of linebacker evaluation and that's not enough. To evaluate linebackers we need to evaluate their physicality, which you can't do unless you are in full pads."
"(Malcome) Kennedy's a guy who's played in big games. With the exception of Quiv (Gonzalez), he's the only guy that's caught meaningful balls. He brings leadership, attitude, and experience that we need."
"You don't make a (quarterback) decision based on one practice. There are a lot of things that go into it. It helps that most practices are closed, so I don't have to get everybody's opinion."
"We've really been able to get our installation in (during) these three days. Our ability to be able to run as many plays as we have and be diverse offensively and defensively are reflections on the meetings this summer and how we spent our time and the tempo we practice."
"This was the first time we really stressed them for some time. That is where the physical and mental toughness part of the game comes."
"Mike Matthews is another typical decision that we made — were we better off playing him as a freshman instead of redshirting him? I know a lot of people didn't agree with that because he was 265. His ability to travel and back up Pat (Lewis) and play in those games, prepare every week like you're going to play, go on the road and see how that works, put him ahead of the curve last year to start every game."
"Trey (Williams) had an ankle injury earlier in the year last year that was probably worse than anybody knew."
---
Mark Hagen
"(Jordan Mastrogiovanni is) doing a good job, picked up where he left off in the spring. We've got other guys out there that aren't just letting one guy do it. Older guys like Donnie Baggs, Justin Bass, A.J Hilliard feels a lot better than he did in the springtime, Reggie Chevis is another guy, I think he is ready to take the next step. We met individually last week and I told him, 'Right now you're still a package guy for us until you prove otherwise.' He's come a long way but, like a lot of our guys, he's got a ways to go."
"The biggest thing we lacked last year were guys that had been there and done that. Steven Jenkins relied on two seniors the year before to help him get lined up, he just wasn't that guy. We put a lot of that on Donnie, didn't really have any other choice. He had to step in and be that middle linebacker and he was like a fish out of water. He could make checks and adjustments but it just wasn't the right place for him.
"It was constant swimming uphill (last season). Even though we got some pieces in the right place, the communication was never where it needed to be and I think that was evident. It has a different feel right now. Going back to Friday, the first practice, even though it wasn't totally clean, there was never a time where guys were looking left and right and when the ball was snapped we have a bunch of guys walking around out there. We operated as eleven and not nine or ten."
"We finally got (Baggs) in the right spot. He was a guy that played up on the line of scrimmage his entire high school career. If you guys remember back, we had a JUCO and a couple freshman coming in last year. We had Donnie and Steven Jenkins was hurt. We needed someone in the middle who knew the system and he was really the only guy that we had. He's in a comfort zone now. What Donnie has to worry about is he has a young guy in (Shaan) Washington that is probably as physical a guy as we have at linebacker and really wants to play."
"I said that the day I got here — that was the one thing Donnie brought to the table, was an ability to control a group that had a lot of youth. I think he's grinding. He wants to play and contribute as much as he can."
"Football is very important to Tommy (Sanders). He's probably 10-12 pounds heavier than he was in the springtime. The thing I sometimes forget about Tommy is that he had a busted up shoulder going into the fall last year. He could've had surgery but he strapped up his shoulder every day. He's put on a little bit of weight and got his shoulder fixed up and I think he's a more confident guy."
"The thing I keep talking about in our room is that we have competition. We didn't have that last year. We have competition at every spot. Another guy that allows us to compete is Justin Bass. He's a guy that gives us some flexibility. I really like what the two freshmen have done so far."
"A lot of people might look at Justin and think, 'Oh he's a walk on, how good is he?' He was as consistent a linebacker as we had in the springtime. He's a guy that hit our running backs and stood them up, they weren't pushing us back for two or three yards. I feel like we have a lot of options and we didn't have that last year when things went south."
"We never missed a beat because (Darian Claiborne) was never with us from late December on. It wasn't like, 'Hey, we had this guy up to the beginning of the summer and now he's gone.' I know they probably feel bad about their teammate, but you make poor decisions that affect yourself and more importantly the university and this football program, there is consequences. It's too bad — but it has opened up for somebody else."
"(Reggie Chevis is) in his comfort zone in between the tight ends, the tackles, where people are going to run the ball downhill at him. It's getting him out in space one-on-one, trying to isolate him with a matchup with a slot receiver (that's difficult). Reggie is a guy that is coming along. He is night and day a different guy than when he arrived here in January 2013. It's just a matter of if it's going to be fast enough to be a full-time guy this fall."
---
Donnie Baggs
"I finally feel real comfortable. It took a while to get there, but it's all good. You've got to roll with the punches, but yeah, I feel good at that (SAM) spot."
"We have competition at every single spot this year and I think that's going to drive us. Competition makes everybody better and I think that's going to drive the defense — and it's especially going to drive the linebacking corps."
"(Shaan Washington is) pushing me a lot. He's a real talented kid. It's fun. You get to compete with somebody every single day knowing, 'Hey, this guy is jockeying for my position.' It's just a lot of fun. It's really good to have him right there pushing me every day, making sure I'm on my A game."
"The seniors talk a lot. We've been together for four years. Over the summer we all hang around each other a lot and talk like, 'Hey guys, we've got to have a big year and step it up.' We're trying to get the leadership we had two years ago when we had Sean Porter, Jonathan Stewart, Spencer Nealy and those guys like that. We have to get that leadership back, and that's what we're trying to work on as a group."
"Jordan (Mastrogiovanni)'s making a lot of progress. He's working really hard. He stays in the film room and he's really starting to take that MIKE position. He's trying to control the defense by being more vocal and being a leader. It's really helped a lot and I can see in him that he's fired up and he's ready to go."
"We all have to play good. We have a standard. Right now, we're not happy where we're at, so our main goal is to get better. For all of us to play good, it's going to be great for the defense."
"We (the defense) know what we're capable of and we're out here grinding every single day getting better and focusing on the little things and getting better collectively. As far as that, no, we don't pay attention to any of that stuff (doubters)."
"(Josh Walker and Otaro Alaka) are extremely talented. These freshmen come in and they're ready to play. The hardest thing is the mental thing: learning the playbook, getting that stuff down, and the carry-over from the film room to the field. Those guys are really talented guys and really good players."
"I have a lot more confidence in myself, and that probably has to go along with being in my more comfortable position at SAM. I feel more confident, and I feel my skills at this position are really good, and I think I can go out there and make a lot of plays for this defense and play really well."
Never miss the latest news from TexAgs!
Join our free email list