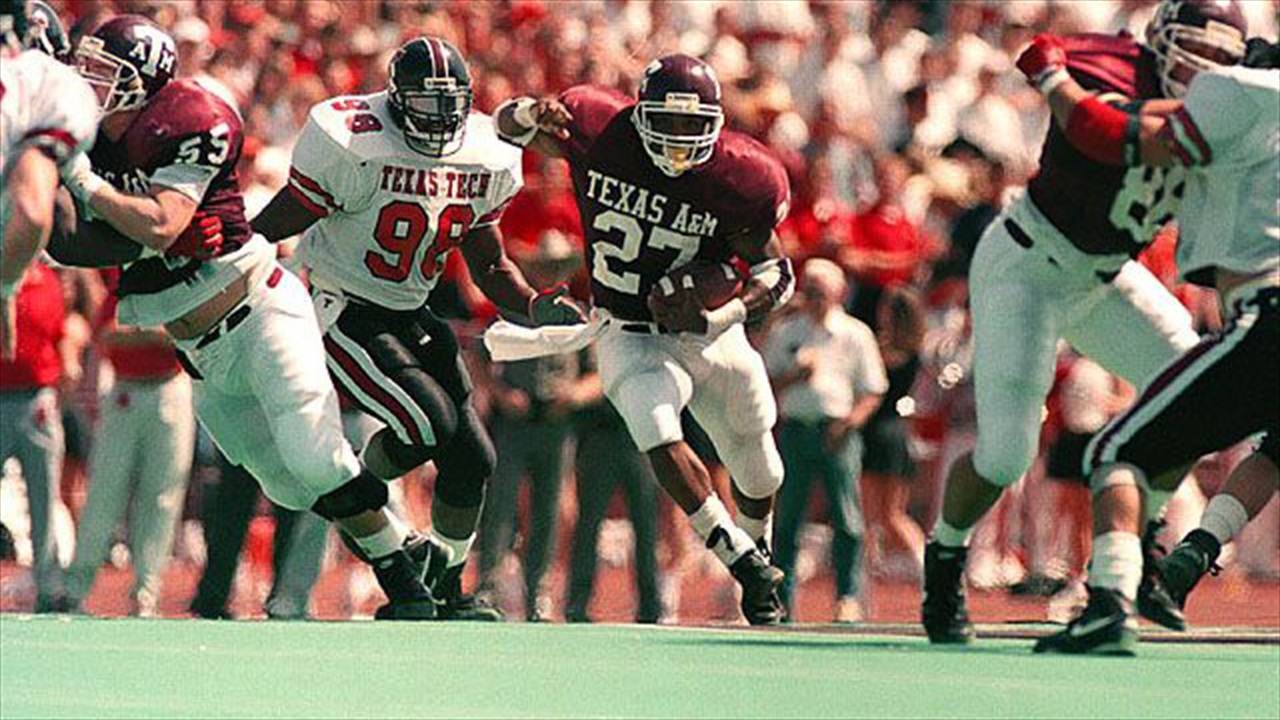 Texas A&M Football
GHT: Greg Hill's powerful tribute to Rodney Thomas
---
Key quotes from Greg Hill interview
"Rodney was just one of those quiet and humble guys, but he was a man's man. He was one of the most humble guys I've known. "
"He was just one of those guys that even after a win would be the guy that when we were all going to the parties on campus he would go to his dorm and just grab a bible."
"When he was with his teammates he was lively and upbeat and football was his life. If you've ever heard somebody say a 'true warrior' or a 'true man' ... he was somebody you feel like would have been at the right hand of God with the way he handled his life."
"He was an example of what all men should be and what all men should strive to be."
"That man made me better. He was directly connected to why I was a first round pick and the reason I broke the records I did. He was directly connected to me having opportunities to play pro football because of the kind of man he was, warrior he was, a soldier, a monster, just a beast of a person that we lost. You know, we truly lost a legend."
"I like to be remembered as a guy who would run people over and would be more than happy to play smash mouth football, but Rodney was one of those guys where everything that I had he also had."
"I remember after practice after one time, he got in trouble for trying to running a guy over. The next time that he ran the ball and it was time for a collision, he broke free and jumped over the guy, hurdled him in practice, and when he jogged back to the huddle he said, 'Hey, was that good enough for you coach?'"
"I remember so many stories of him laughing and joking around and being funny, but at the same time being so quiet and humble of the mouth. Sometimes we would go sit in each others rooms in the dorm and we couldn't even go to bed, because it was always about football, football, football and Jesus Christ."
"I remember how I was the starter and he was the back up and there was never one ounce of animosity. There was never one ounce of jealousy, one ounce of envy. There was always wanting to get better always wanting to use what the other one had to get better."
"Having left A&M, I now regret leaving school early because I didn't get a chance to spend more time with my friends."
"Simple is sophistication, and that's what Rodney was. He was a guy that was happy just being a man. He was happy just doing whatever it took everyday to get get up and get better."
"While playing football, I was blessed because I got a chance to be around Rodney."
Never miss the latest news from TexAgs!
Join our free email list