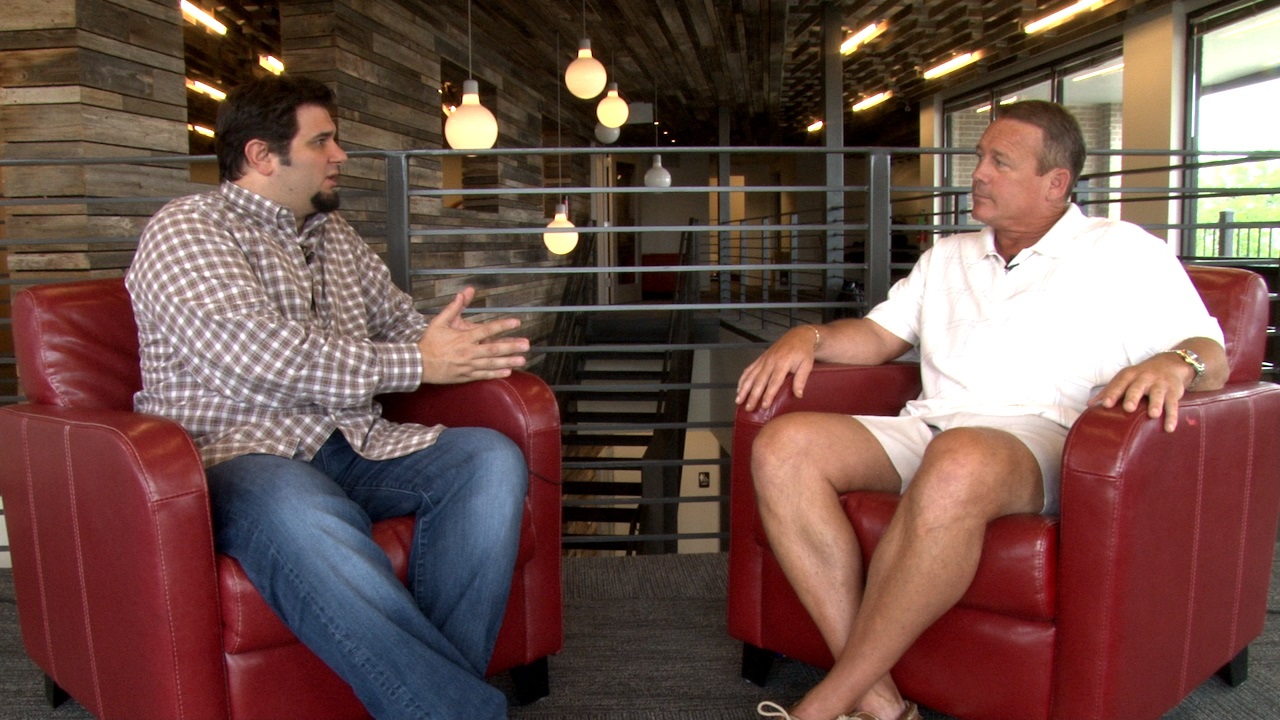 Texas A&M Football
Exclusive: Mark Snyder's look at the Aggie defense
---
On the most encouraging thing he saw from the defense this spring…
"Well, I think the whole goal coming in was to become a smarter football team — a smarter defense. You know we had young guys playing for us last year and they didn't have a lot of wealthy football knowledge, and that was one of our goals: to increase our football IQ. And I feel like we got that done."
On how much it helps having guys in their natural positions…
"I don't think there is any question about it, because we were so new last year. We tried Donnie (Baggs) at MIKE. Obviously, that wasn't ideal. We feel like we've got some guys in position where they can make plays, at positions they are comfortable with. Another year in the system, I think that always helps. They aren't thinking as much, so they can play faster. I said last year, defensively, we have a lot of speed. It's just getting it all going in the right direction is the key. I feel like we got that done this spring."
"I don't think there is any question that Deshazor will play at the next level. It's not fair to that young man to keep moving him from position to position. With Terry Joseph coming on board, he's from my family background football-wise. He's from my system. He understands my system. We felt like we wanted to get on people a little more this fall and play a little bit more man coverage than we've played. In order for us to do that, we have to leave Deshazor at corner."
On his coaching tree…
"It goes way back to a little bit of Nick Saban. The guys at Florida right now, the guys at LSU, Bo Pelini and Bob Stoops, were all from that family. Terry had a chance to coach with a guy that he had coached with along with Bo Pelini. So the nomenclature and the verbiage is the same, and it's so good to hear it again. I have not heard that verbiage for the last eight years. Things that I'm comfortable with, so I think it's a good marriage."
On 'coaching the coaches'…
"There's no doubt (that) there is a phase where you have to coach the coaches a little bit. The thing about Terry is that he has been in this system before. He knows what's expected and what the weaknesses are. I think it shows on the practice field when I watch him coach. I hear the things that I need to hear."
On how the players responded to Terry Joseph this spring…
"Even at this level — especially the NFL, but even at this level — kids want to know he can bring something to the table. Being with Bo, even for that amount of time, and coming in knowing the system right off the bat really impressed the kids. The kids are like, 'Hey, this guy knows what he is talking about.' He's a fundamentalist. He's a technician. Very detail-oriented guy and I think the players respond to that."
On the most improved group…
"Linebackers. They are kind of the engine of our defense. You have to have inside linebackers to make the world go around. They're the guys that have to get the calls from me and set the front. They are the guys that have to make the checks. I saw the maturation from those guys and that was really, really impressive. When I first got here, the one thing I noticed about Jonathan Stewart is that he was really intelligent. By midseason he was in my head, anticipating calls before I even made the calls. That will only continue here as we move forward with these young guys. As they get older, we are only going to get better and better every year."
On Jordan Mastrogiovanni's development and how big the second half of the Chick-Fil-A bowl was for him…
"It was huge. He got to play MIKE linebacker, his natural position. It's what we recruited him for. Earlier in the year, we were plugging him in all over the place, plugging the leaks. That's what we were doing. For him to settle in and get all that bowl practice at MIKE, we talked every day on the bus to and from practice. He is a very inquisitive kid. 'Why do you like this? Why don't you like that?' That's awesome coming from a young kid. To watch him continue to go through spring, every day he got better."
On which player was a pleasant spring surprise…
"I think moving Donnie Baggs back outside is going to help us. He found his home. That's where he played in high school. I think that is going to help. We've already talked about Jordan a bit. A.J. Hilliard has a skill set that is pretty nice now. Once he gets it done and plays with a guy like Jordan or Darian (Claiborne) that has been through this for a year, the settle down factor for him, because he does have a great skillset, he was a pleasant surprise. He was a blur. When he knows what he is doing, he's a blur. We love blurs. I love putting on film and going, 'Wow, what was that?' going across your eye.
"I was pleased with the two young corners (Tavares Garner and Victor Davis). They got a lot of reps this spring. They have a long way to go still, and we definitely need this offseason with LJ, but they have a fine skill set too. Both are very calm kids and very mature. Their heart rate doesn't get up so high, and that's what you want at corner. I was pleased with those two guys, too."
On the defensive line…
"It's funny. I was talking to Alonzo Williams the other day, and he's as excited as anybody because he's had to play a lot of reps since he's been here. We're excited. I've talked to Coach Price, that the coaching part of it won't be as big of a deal in the fall because he's going to have to get his rotation figured out. He's going to spend a lot of time rotating guys so we get used to it once we get to games, because that's going to be new for us. That's something we haven't been able to do here."
On Myles Garrett and how big it was to get him signed…
"Perception is more important than facts sometimes. Myles is a smart kid. He saw that this system fits his skill set. He saw that from the beginning. He wanted to be coached by Coach Price. Terry did a great job recruiting him. He felt like it was a great fit for him all the way around. The fan base we have here, being close to home, fitting in our system, and wanting to play for us, that's what you want. You want young guys that want to come play for you. It helps when that guy is the number one recruit in America. That helps."
On Terry Price's recruiting…
"Terry is so good in the home. He's so genuine. There's no fake there. There's no salesmanship. There is no used car salesman. He puts it out there. He has Coach Sumlin's philosophy: we want people that want to be here, so we put it out there. And Terry does a great job with that. He does a great job getting moms and dads feeling very comfortable about taking their child, bringing them here and helping them grow not just as a football player, but as a person."
On the injuries in spring…
"We have one full unit out there on defense. That will be our core. The guys coming back from injury and/or suspension will add to that core, and then the freshmen will come in and add to that core. But that will be our nucleus. We had a chance this spring to see that first group of guys that will play, and I'll be honest with you, for the first time since we've been here there's at least a group of guys out there practicing that's going to help us in the fall.
"That hasn't necessarily been the case the last few years. We've went through spring ball with guys that are never going to see that field. At least we had one group on defense, 11, 12 maybe 13 guys, that will be our core."
"He brings another element to what we do. It's interesting. When you go against an offensive line in a game and you see the same guy every snap, you start to feel his technique and his strengths and weaknesses. The good teams can roll people, like Auburn does. All of the sudden you have a twitchy guy, and then two snaps later you have a big guy that's pounding you, and so on and so forth.
"Zaycoven brings the 'big dude' part of it. He'll be thrown in for three snaps as a change-up guy, put him right in front of the center, and say 'Center kill' and take him backwards. Then you get him back out of the game and put a guy like Isaiah (Golden) or whoever it may be. Now that center is seeing three or four different guys throughout a football game with all different strengths and techniques. That definitely helps you."
On whether the SEC will shift back to a defensive league…
"I think that's a fair statement. We will see. I felt like coming in this fall, (on) our schedule, we had nine returning starting quarterbacks and a lot of receivers, and a lot of those guys are gone. Now, what's going to be the makeup of our league? Are they going to go back to the running game? Because there are some tailbacks back in this league and there are some offensive lineman back in this league. Is it going to tailor back more towards that or will it still be air raid, throw it around? We'll see. I think we will see a little bit of a shift back to the defensive side across the board in our league."
On how the young quarterbacks responded…
"Well. The good thing is we throw a lot of stuff at them. Talking with Jake (Spavital), we threw a lot of stuff at them. He likes that, because it slows the game down for them in the fall. I think they handled it pretty well."
On what he thinks the strength of this unit will be next fall…
"The concern is the unknown. As a coach, you dive into all the unknowns. All I can deal with is what I know. I think we are going to be fast; we are a year more matured, we are a year more in the system; I feel like we finally have some depth. The key for us is, and I touched on this earlier, I was teasing about Terry Price having to get that rotation going ... that's real. We don't want to get out in the South Carolina game, it's going to be hot, and not know what are rotation is defensively, especially across that front. It's going to be the first time we've had a chance to do it.
"Getting those kinds of things down, and just continuing having a great summer with LJ, coming back and being stronger. I think we've become a smarter football team, a smarter defense. Another year in the weight room — a lot of these guys haven't even been with LJ yet. So they get a year or two under their belt and come out and have a great summer, have a great fall camp, and I'm excited to see what this group can do. I think, optimistically, we are going to shock some people."
On where he sees the pass rush coming from this year…
"I think it's going to improve. It's going to have to improve. We can't call defenses and pressure every snap to get pressure on the quarterback. You just can't do that. You can't live like that. You have to be able to generate some pass rush with a four-man rush. A lot of that comes back to not being tired and playing eighty snaps a day, and then we can roll people, put fresh bodies in there. It's third down, the crowd is rolling, and we put four fast dudes in there and say 'sic 'em.' Then we get on them in the back end, and that's what creates the excitement and that's what this defense has always been here, even when I was a kid. That's how this thing was built and we are hoping to get back there."
On leadership…
"We still need that leadership role to come. I still think we are leading a little bit, as coaches. That's what this summer is for, this summer and fall camp. Some of these young guys have to step up, sophomores have got to step up and become leaders. The fruition of that will just continue to roll through the years."
On the immediate future of this defense…
"Very excited. Talk is cheap. We have to show it out there on the field, but I feel very good in the direction we are headed now."
Never miss the latest news from TexAgs!
Join our free email list