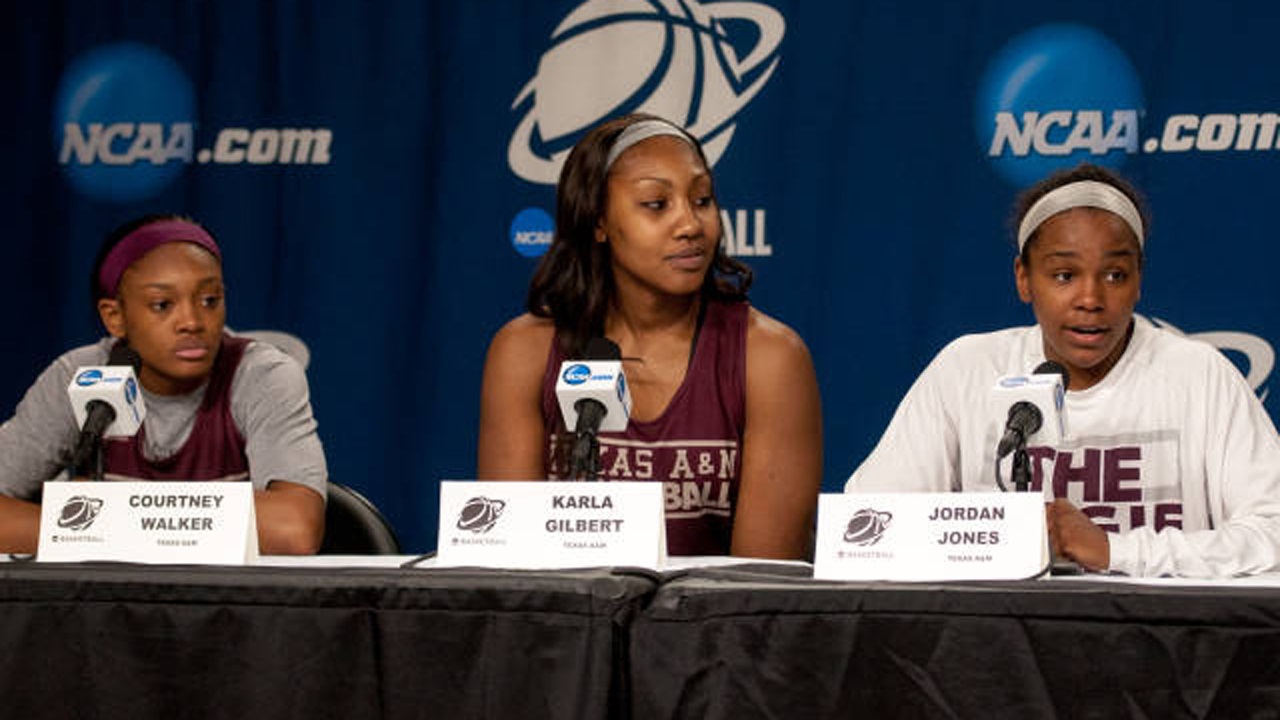 Gary Blair
A&M Players
DePaul's D. Bruno
DePaul Players
Texas A&M Women's Basketball
A&M set to take on seventh-seeded DePaul in Sweet Sixteen
---
LINCOLN, NE – Being Elite is always better than being Sweet. Although the Texas A&M women's basketball team has already lived up to their seeding in the 2014 NCAA Tournament by making in to the Sweet Sixteen, the Aggies surely aren't satisfied.
If A&M wants to reach the Elite Eight for just the third time in school history, the Aggies will have to prove better than a scrappy, high-flying DePaul squad in tomorrow's Sweet Sixteen matchup. The seventh-seeded Blue Demons upset second-seeded Duke in the second round to advance to the regional semifinals.
Matt Sachs, TexAgs
"We are going to have our hands full with DePaul," said A&M head coach Gary Blair. "That's expected when you get to the Sweet Sixteen. Both of us like to get up and down (the court), but hopefully one of us will be able to play some defense."
But against a DePaul team that averages 84 points per game – good for third highest in the nation – playing solid defense won't be an easy task.
Quick to shoot the long ball, the Blue Demons thrive off great guard play from junior guards Megan Rogowski and Brittany Hrynko. In the two previous tournament games, Rogowski and Hrynko have combined for more than 44% of DePaul's offensive production.
"They really have the total package of what you want in guards, so it's really just up to us to contain them," A&M point guard Jordan Jones said. "We're not necessarily going to stop them and take them out of the game altogether, but if we follow our game plan and just contain them and not let them get into the flow, then we should be pretty good."
Much like the Blue Demons, the Aggies will also rely on solid guard play and their ability to push the floor in transition during Saturday's contest.
"It's going to be like a ping pong match going back and forth," Blair stated. "We are both good in transition. Our game against DePaul will be one of the most entertaining games you have seen."
Although Blair and Blue Demons coach Doug Bruno have both been around the game for multiple decades, the two have only met twice in their careers. Blair won the first matchup in 1993 while he was at Arkansas and Bruno bested Blair's 2005-2006 A&M squad in a tournament in Hawaii.
However, that doesn't mean Blair is unaware of Bruno's style of play.
"My thoughts are always on the head coach first," said Blair. "I know Coach Bruno really well, I know what Doug's tendencies are."
If the Aggies are able to take care of business against Bruno's Blue Demons, a matchup with top-ranked and one-seed Connecticut potentially awaits in the Elite Eight if the Huskies beat 12th-seeded BYU.
Even with a perennial champion like Connecticut looming, A&M senior Karla Gilbert knows the Aggies must win on Saturday before beginning to think about the Huskies.
"I think everybody takes a view of the bracket to see where you are and what you have to come up against in the future, but as of now, we've been focusing on DePaul," Gilbert stated.
Hopefully that focus pays off for Gilbert and her teammates with a victory over the Blue Demons. However, it's likely that even if the Aggies advance to the next round, they won't be completely satisfied.
Matt Sachs, TexAgs
Texas A&M (26-8)
• Seed: 3
• Conference: SEC
• Coach: Gary Blair
• Mascot: Aggies
• Bid: At-large
• Last 10 games: 8-2
• Most impressive victory: South Carolina (January 16th)
• Leading scorer: Courtney Walker (15.3 ppg)
DePaul (29-6)
• Seed: 7
• Conference: Big East
• Coach: Doug Bruno
• Mascot: Blue Demons
• Bid: Big East Tournament champions
• Last 10 games: 9-1
• Most impressive victory: Duke (March 24th)
• Leading scorer: Megan Rogowski (15.8 ppg)
Connecticut (36-0)
• Seed: 1
• Conference: American Athletic
• Coach: Geno Auriemma
• Mascot: Huskies
• Bid: American Athletic Tournament champion
• Last 10 games: 10-0
• Most impressive victory: Stanford (November 11th)
• Leading scorer: Breanna Stewart (19.7 ppg)
Brigham Young (28-6)
• Seed: 12
• Conference: West Coast
• Coach: Jeff Judkins
• Mascot: Cougars
• Bid: At-large
• Last 10 games: 9-1
• Most impressive victory: Nebraska (March 22nd)
• Leading scorer: Jennifer Hamson (18.0 ppg)
Never miss the latest news from TexAgs!
Join our free email list
PRESENTED BY