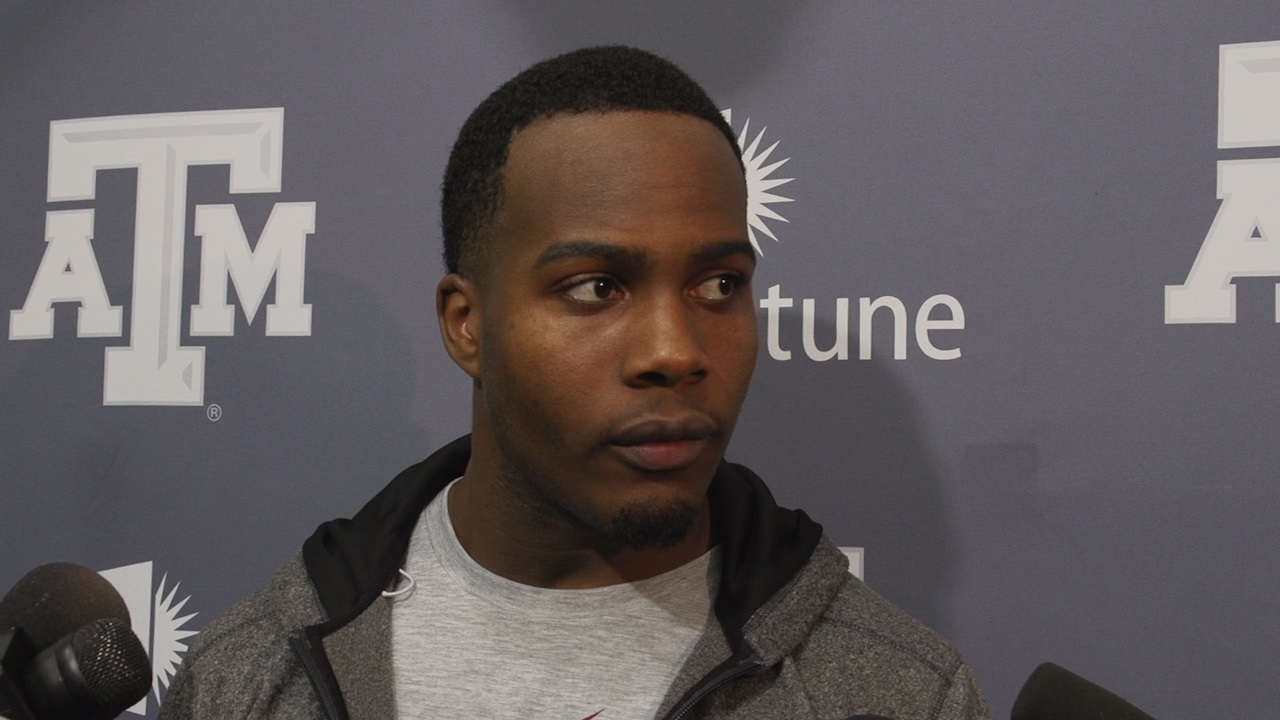 Kevin Sumlin
Ben Malena
Travis Labhart
Nate Askew
Toney Hurd
Texas A&M Football
Aggies size up, react to Pro Day performances
---
Kevin Sumlin
"Jake (Matthews) is such a team guy. He's been a real leader for this program since the time we arrived.
"Jake isn't just a tackle. He's one of the few guys in the country that can play all five positions. Coming back was huge for him. It put him in the top ten and made him a lot more money. Right tackles don't get drafted in the top 10 usually, so coming back at left tackle helped him immensely.
"To put it in perspective, we had three guys at the combine, and Vanderbilt had four. We still have a long way to go."
"Mike Evans has grown a bunch. He's only played two and a half years of football."
"Rick Smith has been a sounding board for me from a development perspective. The whole Texans organization has been great with us."
"I think we had eight guys last year that made a camp and wouldn't have had that opportunity without the Pro Day. The NFL is ever evolving, and we have a lot of relationships up there. Our doors are always open."
"All the first round picks have added credibility to what we're trying to do here at Texas A&M."
---
Ben Malena
"I was very pleased with how I performed."
"I can be a good contributor on special teams and running back as well."
"My best attribute is being productive. That's something that I've proved the last two years."
"Evans has the natural talent. When he came here he was just raw."
"Playing in this offense, you have no choice but to do everything on the field."
---
Travis Labhart
"Today was an enjoyable experience. Very nervewrecking, but I'm glad it's over."
"I just hope there is one team out there that saw something they liked."
"It'll be fun getting to throw with Johnny on the 27th."
"It's a big blessing for a little guy with me to be able to work with Johnny. It gives me a better chance at exposure. It means a lot that both Johnny and Mike were out here supporting all the guys today."
"I think Jake is going to really excel at the next level. He's a great leader and a hard worker."
---
Nate Askew
"I think I opened some eyes today. I came and attacked it with the best of my abilities."
"The biggest thing I have going for me is my speed. I ran a 4.45 official 40."
"I'll play wherever in the NFL. I'm going in as a linebacker but can play anything."
"Sean Porter has been a big inspiration for me, not just today, but throughout the season."
"I've talked to a lot of teams already. The most common question I've been asked is about my change from receiver to linebacker."
"It was a good thing I never had to play against Johnny. He really helped me out on my game a lot, though."
"A few teams have contacted me about doing one-on-one workouts."
"I never thought about being a linebacker prospect for the NFL. I always played receiver with the exception of being a 7th grade quarterback."
"I kid with the guys all the time about having the best hands on the team."
---
Toney Hurd
"It was great to get out here and watch my classmates go to work."
"Sean Porter just told me to come out and enjoy myself."
"I've been in therapy after getting shoulder surgery in the offseason."
"I did not perform today. I just want to rehab my shoulder and get back to 100%."
Never miss the latest news from TexAgs!
Join our free email list
PRESENTED BY