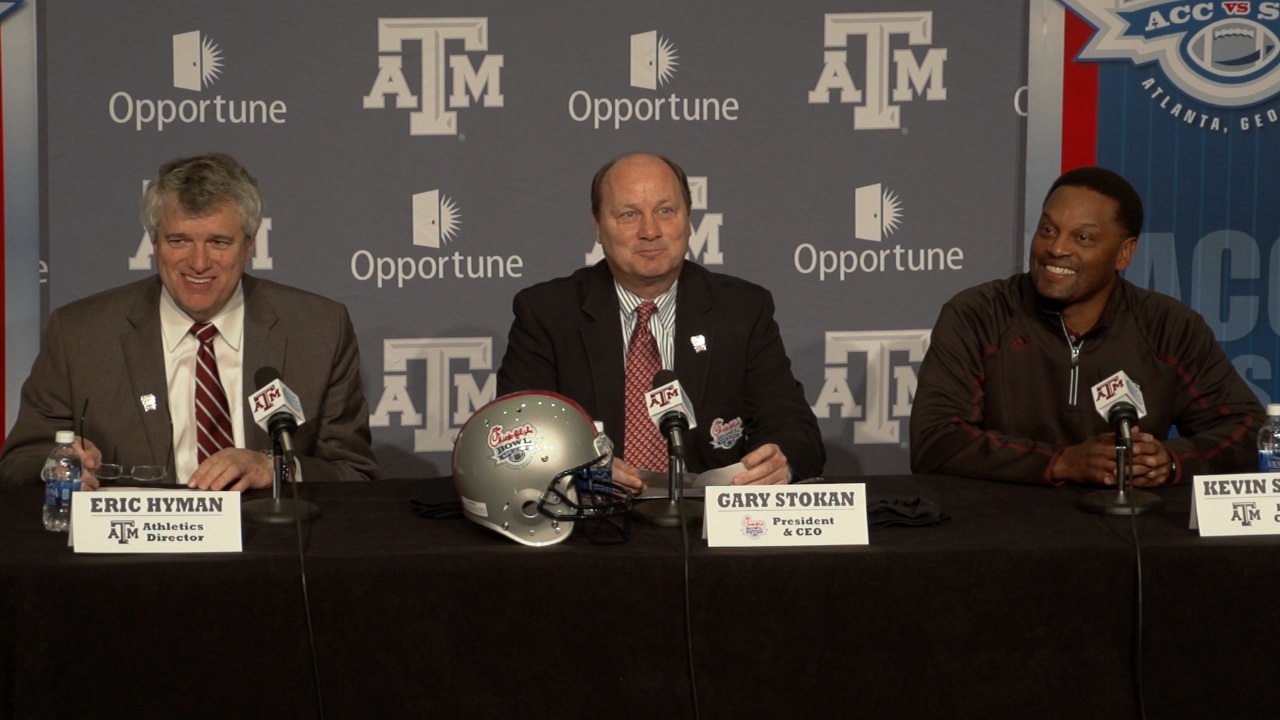 Texas A&M Football
Official Chick-fil-A Bowl press conference
---
Stokan, Hyman & Sumlin meet the media
Chick-fil-A Bowl president & CEO Gary Stokan's introduction...
Stokan:
"I should say 'Howdy!' If I can, first, I'm going to talk a little bit about the criteria for the selection, about our bowl game — because I know in this area, being in the SEC for the second year, to give you an idea of what the bowl game's all about — and talk about the matchup.
"I want to welcome back Kevin Sumlin, who played in the Peach Bowl at Purdue, and Eric Hyman, who was with us in 2010 when South Carolina played Florida State. We have two ranked teams with Duke and Texas A&M and that's big, not just for TV but for the fans as well. Having a top-10 offense makes for an exciting bowl game. Losing to #2, #3 and #8 by only a few points, they played a tough schedule, and it's the No. 2-rated football brand this year for TV ratings, and also Johnny Manziel, the Heisman Trophy winner. I'd also like to mention players that won All-American or all-conference honors this year in Jake Matthews, Mike Evans and Drew Kaser, and others I'm sure I'm forgetting.
"We'll pay $7.4 million dollars this year, which puts us over $125 million all time that the Chick-fil-A has played. We're the ninth-oldest bowl game in the country. In November we announced our sellout; we've sold out 17 straight bowls, second only to the Rose Bowl, and last year we were second only to the BCS games with eight-and-a-half million people viewing our game on ESPN on New Year's Eve.
"This will be our last guaranteed contract between the ACC and SEC, so the heat's on Texas A&M. Fifty-six percent of our games have been decided by a touchdown or less. We've had great matchups and we hope this one will be as well. Texas A&M is playing for three straight bowl wins for the first time in a storied football history; the winner of this game probably ends up in the top 15 in the final ratings.
"As we move forward as a bowl, we'll be moving into the College Football Playoffs as one of six bowls that will rotate the semifinal games every few years. We've also been restarting the kickoff games and we hope one day we could have Texas A&M come back to Atlanta for one of our kickoff games.
"Lastly, we founded the vision to move the new college football Hall of Fame to Atlanta, which will open next August. We were the first sponsor; the bowl put $5 million into it to get it started.
"Let's talk about the bowl experience. Everything we do is for our players. We know we're not the national championship game; the players are the ones that play in this game. Our philosophy is live, laugh and learn. These players get the opportunity to stay in great hotels, eat great food like Chick-fil-A, play in a great facility and just be treated first class. We have a battle for bowl week where there's a family feud to end the night. Every night we'll have a separate competition from Dave & Buster's to which offensive line can make the fastest milkshake, and we have a WWE belt we actually give to the team that wins that.
"On Friday, December 20th, at the Chick-fil-A on Highway 6 we'll have a spirit day that will include the Yell Leaders, Aggie Dance Team and Aggie Hostesses. Our mission as a bowl game is to be the most charitable bowl game in the country. This year it will be $1.6 million dollars that could fall in our bottom line but we give it back to the community of Atlanta because they've helped this bowl game thrive. We've given $15 million to scholarships since 2002, which is a record for bowl games, and we will donate a $100,000 endowed scholarship to Texas A&M for participating in our bowl, and we'll do the same with Duke.
"If you'll download the Chick-fil-A Bowl app, there's all kinds of information and discounts for our fan-fest, where we'll probably have 40,000 people at that fan-fest. Both teams will walk between their fans there and to the Georgia Dome for the game."
Texas A&M athletic director Eric Hyman:
"Gary, thank you very much. We are extremely excited to go to the Chick-fil-A Bowl. I go all the way back to the days of the Peach Bowl. It's a chance for the A&M brand to go east; it's a chance to get into a venue that's hosted Super Bowls. I've known Gary an extended period of time — the hospitality and service for the team and fans is second to none. It's an extraordinary experience and I think our players and coaches can walk away having really enjoyed the experience. I think we'll have a wide cross-section of people that will really enjoy being in Atlanta. They have the Coca-Cola Museum, the aquarium, CNN headquarters.
"Also to talk about Duke, not a lot of people know about Duke. I will tell you, this is one of the best teams they've ever had and it's a tremendous reflection on Coach Cutcliffe. Nothing but the utmost respect for him and everything he's done. Duke is playing on a high level; some people around here may not be familiar with them, but don't let it fool you.
"I am a little disappointed with John from the Chick-fil-A Bowl because I quizzed him on how many Chick-fil-A's are in the State of Texas and he didn't know. It's 294. We're very excited to play in your bowl and we've got a heck of a competition; Gary did mention the time slot, it's on New Year's Eve and won't have competition. It'll get ratings. Seventy percent of the population of America is east of the Mississippi and it's a chance to get into the heart of SEC country."
Texas A&M head football coach Kevin Sumlin:
"There's not a lot more I can say. We're extremely excited to accept this invitation and both of you hit it right on the head. The chance to expand our brand east, for our fan base and our players to be somewhere we haven't been, and a chance to be in Atlanta, which also hosts our conference championship and will move to the College Football Playoff series ... hopefully we can gain some experience here and come back.
"There's a lot of positives. We're excited to be there and play a team like Duke. They've won a bunch of close football games and they're playing with confidence because of that. Coach Cutcliffe has done a great job, particularly this year; they're playing with a lot of confidence and we have to match that.
"The time slot is a real added plus for us, being on New Year's Eve. It's been a while since I've been there; I go back to the Peach Bowl also, back in those days. Hopefully the outcome will be different for me as a coach than it was as a player. We're looking forward to it."
On practice schedules...
Sumlin: "We do it in a couple different phases. We have a developmental phase for our young players, which will really end today. We've had roughly five, six, seven practices with those young guys. After the season we had we gave them a couple weeks off and put them in a strength and conditioning program because of the wear and tear of a long season. This will be the last day of that.
"We try to have two game weeks, replicate the game week with one here on campus and one when we get to Atlanta. Basically tomorrow will be a Monday practice for a game week and we'll let them go early on Sunday, fly to Atlanta, meet up in Atlanta for a team meeting on Christmas night, and our guys will enjoy two Christmases — one with their family, one with their team and coaches — and we'll practice in the Georgia Dome. It'll be a great experience.
"It gives us an opportunity to insert a game plan twice. When you get to a bowl site, hotels and logistics are a bit different and it's more recall at that point than it is anything else."
On having a recruiting presence in Georgia and this game helping...
Sumlin: "Based on the list of the 2015s that I was just looking at in the Atlanta area, yes, we want to have a really good presence there. We haven't been over there as much, we have some guys on our staff that have recruited that area. You're talking about the State of Georgia and greater Atlanta area, you're talking about great student-athletes. Also, the New Year's Eve time slot gives you a chance to showcase Texas A&M and our program and university to everybody across the world.
"There are two positives in this — expanding our footprint east and being in the Georgia and Atlanta area, and being unopposed in the time slot, it's a good combination."
Stokan: "To add to that, Georgia is the number one recruiting base per capita in the country, and No. 2 in the SEC. There's a lot of A&M graduates in the metro Atlanta area as well, and they're coming out of the woodwork to come to this game."
On why Hyman believed in Sumlin to give him the contract...
Hyman: "You look at the excitement, the momentum, the enthusiasm that the program under his tutelage has generated, there's a wide cross-section of people in Aggieland that are so appreciative of the job he's done and the future's in good shape. This is a long-term commitment to Coach Sumlin and there's no question about that. The people of Aggieland feel it's worth their football coach; his focus is on the student-athlete and that resonates with a lot of people."
On his new contract...
Sumlin: "I couldn't be more appreciative, and it speaks to the University's commitment to us and our commitment to the University. We've got a ways to go with what we're doing, but what it says is people believe we're on the right track. You look around this building and what's going on with Kyle Field and what's coming down the road, it shows a commitment to all our athletic programs and particularly football. All those things together show a tremendous amount of commitment to where the program is headed. And I'm extremely appreciative of that."
On Johnny Manziel's potential last game...
Sumlin: "I'm not going to reflect on that until it is his last game. All I can tell you is what he's done for the University up to this point. It's well-documented. His numbers speak for themselves. He is without a doubt the most exciting player in America. Kirk Herbstreit said, 'When you turn on television on Saturday, he's the guy you want to watch.' That's the biggest vote of confidence you can give a player."
On how the team looks from a health standpoint...
Sumlin: "We're doing ... well. How's that? [Laughter.] No probably-probables or maybe-maybes. We've got a week and a half to go before we get to the time where we have to start worrying about whether guys are going to play or not."
On the team's mental frame after the season's end...
Sumlin: "The way this season has gone, we gave them a couple weeks off and we've been gone. I like our energy level right now. Guys have come back healthy, there's a bounce in their step; we were worn down mentally and physically at the end.
"You just heard Gary talk about how, if we can win this game, it'll be the first time in the history of this program we've won three bowl games in a row. That's significant. There's been a lot of football games played and a lot of guys come through this room who can't say they've done that. That can be real special for our seniors and it can really propel us in the offseason."
Never miss the latest news from TexAgs!
Join our free email list