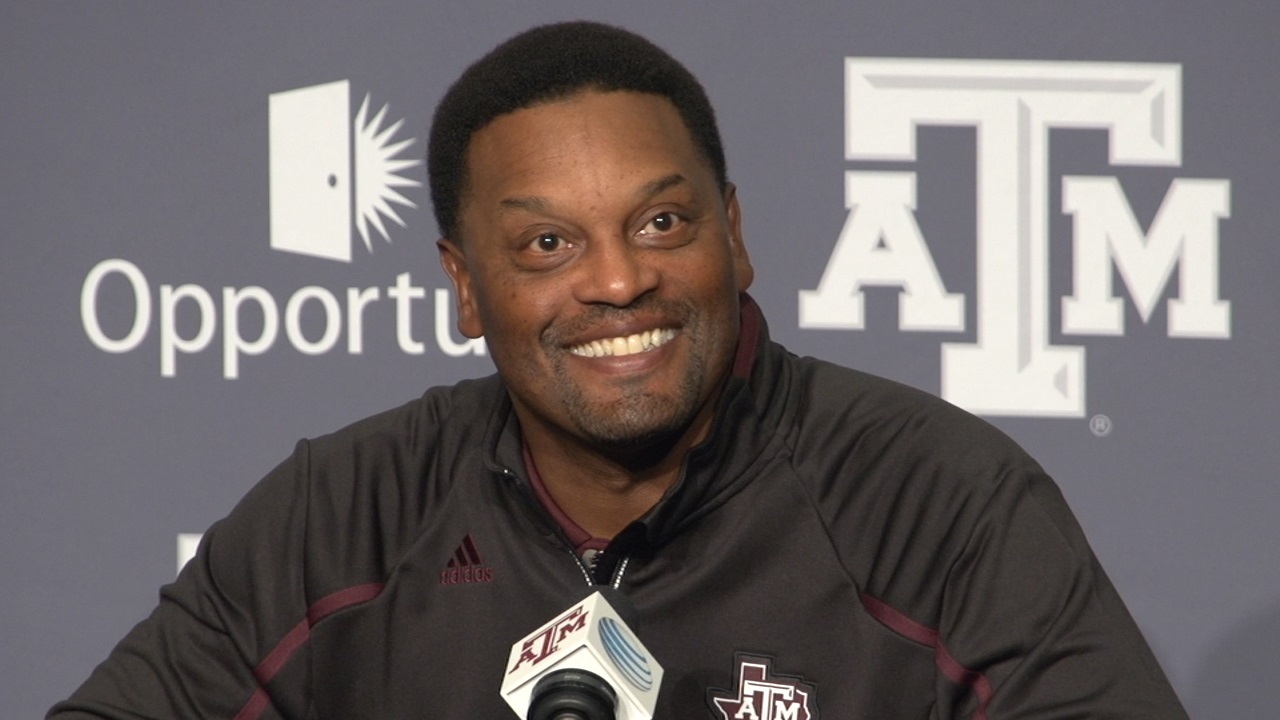 Kevin Sumlin
Clarence McKinney
Mark Snyder
Ben Malena
Travis Labhart
Cedric Ogbuehi
Julien Obioha
Toney Hurd, Jr.
Texas A&M Football
Press Conference: Aggies kick off LSU week in earnest
---
Kevin Sumlin
Opening statement...

"I thought last week was a good week for us. It came at a really good time. As a coach or assistant coach, I can't remember ever being a part of two bye weeks during the season. I've got to admit that at the beginning of the season I wasn't too thrilled about it. But the way it set up for this particular team in this season, I'm excited about it. Mississippi State was a physical team ... we get Tra Carson back, we had some guys limping around on defense like Alonzo (Williams).
"We got to take a deep breath and be ready to dive into the pool with these last couple games on the road, which are big games for us and as it impacts the league. Two quality teams on the road and we got to get some preparation and work with our young guys, take a breath and get healthy and reenergized and ready to go this week."
On Trey Williams as a returner...
Sumlin:
"Last year, in this game in particular he had a great return to give us a chance to do some things in that football game. He's a weapon back there when he gets his hands on it; he's a very, very talented player and he's increased his role and tried to become an every-down back. He's improved as a player; we've had faith in him since the day he came to campus. We put him back there against Florida in his first game — I'm not sure how much more faith in someone you can have.
"He's very capable. He was one of the better players in the country coming out of high school. He's shown that."
On having a guy win the Heisman twice...
Sumlin:
"For that to happen, as I just talked about, first we've got a couple big stages here for our football team. LSU is a prideful program with a great tradition and history; to go over there and play and be successful, we'll have to play well as a team and he's got to play well. The following week with Missouri, which will have implications for our league and who represents the East. Performances by our team and by him will have a lot to say about lots of awards for everyone and where we'll be in the bowl conversation.
"We've got to handle that one at a time, but everyone understands where we are. We'll have to play well against both of these teams and we'll have to play well this week to go into Tiger Stadium and win. We're trying to keep our dreams alive."
On special teams' role in this game...
Sumlin:
"Huge. It's going to be huge. Odell Beckham, Jr. has gotten loose on just about everybody. They've got a scheme and sometimes he says, 'The heck with it' and just takes off. I've seen teams fit it the right way and he just said, 'I'm going to do my own thing.' He made three or four guys miss against Alabama and they finally ran him down. He's exceptional — it's why he leads this league in all-purpose yardage.
"We've got to be prepared, obviously, in our coverage teams. And there's no doubt we've got to be prepared in our coverage teams for the myriad of fakes that Coach Miles has presented college football with over the last bunch of years. We've got to be on edge in all phases and we're paying particular attention to that. Other people have too and he's still been able to pull them off. So, we'll be on edge the whole time. From the time we get off the bus, our special teams units have to have the hair on the back of their next up looking for stuff to happen. After that, cover some kicks and get their guys on the ground."
On playing at LSU and A&M's Louisiana kids...
Sumlin:
"You know, that's kind of interesting. We've got kids from Louisiana, they've got kids from East Texas and Houston. For our current roster, last time we went over there, these guys were just born. What was that, '94? Everybody remembers this used to be a heck of a battle; these guys have never been over there unless they came on a visit. It's a little bit different for our current players than it is maybe for former students and fans. That was 18 years ago.
"Guys like Darian Claiborne couldn't walk last time that happened. Think about that. But it'll be big for us. A 2:30 game represents the significance of the game and we're looking forward to playing. I think, as I said, they're a program with tremendous pride and tremendous tradition. It will be, it will take a really good effort from all three phases for us to go in there and win. I think right now, where we are, we're about as healthy as we've been. We've got a lot of energy. Our guys understand our schemes as much as at any time this year. Right now we're in position where our guys understand what we're doing and we're looking forward to playing."
On turnovers playing an extra big role...
Sumlin:
"It's always the case. Whenever we play we put a premium on not just turnovers but turnover ratio. Our defense, one thing they've done is created a lot of takeaways. Moreso than last year. We haven't done everything always right but we have put an emphasis on that. Our turnover margin is better than we were last year; I think we're second in the league in interceptions. We've given up big plays, but we've taken it away.
"Turnover margin to me is a big deal. Your job is to score one more point than the opponent. To win the game, we talk about turnover margin. If we have two or three, we need to get four or five. I think our team understands that and we've done a pretty good job this year."
On how well LSU defended Johnny last year...
Sumlin:
"There's two different football teams on the field this year. They lost a bunch of guys, particularly edge players defensively, and it goes without saying that offensively, schematically we changed as the season went on after that game. Last year's video is important, but not nearly as important as the last eight weeks of video."
On Manziel's increased leadership and growth...
Sumlin:
"It's just a natural growth of a player. When you're a first-year player, all you're trying to do is your job. I don't care what position you're playing. But particularly at quarterback where everything is coming at you and you've got your hands at the ball. It's hard to lead and communicate. Coming into this year, being more comfortable with our schemes and with defenses, just being comfortable, he's gotten better with that and talking to other guys about what they should be doing.
"The game slows down for you the more you play, and that gives you an opportunity to communicate with other players. That's natural. I think he's comfortable in the system, comfortable with the situations ... we've been in every situation we can be, we've been ahead, we've been in tight games and won, tight games and lost, winning drives, chances to win, he's been through that. The comfort level to play in that situation makes it easier to be a leader and he's handled that very well."
On LSU's key offensive playmakers...
Sumlin:
"Obviously they've changed a bit philosophically; Cam Cameron's come in and done a great job, particularly with quarterbacks. Mettenberger is playing better, Jeremy Hill is a grown man running the ball. He got loose on us last year, which was a pretty big deal. The two big plays in the game were the pass touchdown before the half and Jeremy Hill's big run. Unfortunately those two guys are back and we've got to find a way to slow them down.
"Schematically, when you have a running back like that, you face a couple challenges. Do you have an eighth man in the box? Can the ninth guy get a stop? When you do that, Beckham, Jr. and Landry will make you pay on the outside. We've got to be multiple, two high safeties, and you'll get a dose of Jeremy Hill. You've got to be able to mix it up and eliminate the big play. They're really explosive offensively.
"The other stat that'll be huge in this game is you've got the two best third-down offenses in the country playing. Being able to stay on the field on third down and (do well on) first downs and get touchdowns, which is always our thought, that'll be big."
On Mettenberger and how he's different...
Sumlin:
"Last year's game is completely different. You've got a new coach coaching him, a new scheme, all kinds of different things going on. He's confident and there's no doubt that when you look at their percentages and passing yards, they're a different team schematically than they were last year."
On how being 8-2 at this point this year is different than last year...
Sumlin:
"I don't know what the perception is. We're ranked higher than we were last year at this time, which is a little bit different. That's the reality, that's not the perception." (Laughs)
On getting off to a fast start against LSU...
Sumlin:
"You would think it would be big every week. But somehow we've been able to score 50 anyway."
On the matchups potential as a rivalry...
Sumlin:
"For our fans, like I said earlier, it has the potential for that. For these guys, our current players, it's probably a little different. We've played LSU one time and that was at home. We haven't been over there. For it to feel like a rivalry to a player, you've got to play those guys a couple times. I have a feeling that once we get in that stadium they'll figure out what kind of atmosphere we're playing in and what kind of rivalry it is."
On whether the Louisiana players are extra motivated...
Sumlin:
"I don't know. I know the guys we're playing, five of them on defense, are five of our better players. Whether they were offered by LSU or not is irrelevant. They're starting for us. Playing anybody from your home state is a chance for you to get back and I'm sure they'll use up as many tickets as they can and have family there and be ready to go."
On how long he's been a Drake fan...
Sumlin:
"... (looking around) Seriously? (Laughter.) I'll give you the whole story. My two daughters, I surprised them, and Coach Snyder's two oldest daughters wanted to go to the Drake concert. So being a good dad on the bye week, I had one of two choices — let my two oldest daughters go by themselves to the Drake concert, or go with Dad. Somehow the pictures got up and the girls weren't around and it was just me and Coach Snyder. (Laughter.) That's really how it went. I guess that's the answer. We went last week, it's a bye week, it turned out to be a good week for a bye.
"And bye the way, I'd like to say congratulations to the College Station HS volleyball team, who is headed to State this week in the Final Four after winning a regional this week. I'm really happy for the coach and the girls on that team. (His daughter) is a sophomore on that team. They're headed up there on Friday. That high school's been open a couple years and to do that is pretty big for them."
On how beating LSU would impact recruiting...
Sumlin:
"I think it's just like every other game. When we play at home, we have recruits here, and how you play, the energy level of our stadium, becomes big. When we go over there and we play, wherever we play in this league, it's a big deal. I think fans make a big deal out of it, I don't think as a parent or a recruit that one game really matters in recruiting. If you're going to make your decision based on one game, whether we win or lose, I think that's kind of shortsighted. You should make that decision based on the overall program.
"We get guys committed after we win or lose. Is it important? I've never sat down and told a guy, 'We won that game, you should come to school here.' But where your program is headed, all that's important. But surely you'd like to win. You don't have any control on the road who comes to those games or not. The invitations come from the home team. We can't invite anyone to that game anyway."
Clarence McKinney
On what makes LSU good on defense...
McKinney:
"It's really another day in the life in the SEC — a bunch of big, fast, athletic guys, and they're deep with them. You saw what they lost last year from one of the best defenses in the country and they just reloaded."
On what LSU did to put pressure on Johnny and what they learned...
McKinney:
"Not a whole lot. Their defense last year, they had a bunch of NFL guys that were pass-rushers. Not that these guys aren't, but those guys were really, really good. It was just a battle between our tackles and their outside rush guys. This year we have similar tackles to what we had last year, and we just know we have to protect the quarterback a lot better than we did."
On what they've changed defensively...
McKinney:
"I don't think they've changed much from a schematic standpoint. They just reloaded with some really good players, maybe not as great as the guys they lost, but their turn is coming."
On whether Tra Carson will play on Saturday...
McKinney:
"Yes. We'll play with him and it'll be the same out there as far as the rotation goes. It starts with Ben and we don't have a particular order with the next three. Those guys, we use as they're needed."
On prepping for Death Valley in practice...
McKinney:
"The music, for us, has always been a part of helping us deal with distractions and deal with noise. It's not just to get the guys dancing. We use it as a distraction. When you're on the road, the loudest part of the stadium is when the game is at its most crucial point. We practice and use it daily. We don't anticipate the noise being a factor. We've played in some loud stadiums; we just have to go out and execute."
On whether they'll be polished and healthy after the bye...
McKinney:
"It's really good to have a bye week as late in the year as we did so we could heal up and have our guys ready for this last stretch. We used our bye week to fine tune some things heading into this week in our game plan, and all our guys are healthy and ready to go."
Mark Snyder
On the challenge of LSU's running game...
Snyder:
"That's what Coach Miles does, they run the ball. That's part of his fabric. They have a really big offensive line, four good tailbacks they'll rotate to keep them fresh. Jeremy's the lead one, he's a very hard runner. He'll try to crush you the best he can, he's that kind of runner. We have a challenge in front of us, no doubt."
On what's different this year in how they use Mettenberger...
Snyder:
"You have to remember last year he was a JUCO guy. I think he's just gotten more comfortable playing in this league. You can see his growth and development, but it looks like he's just gotten more comfortable running their offense."
On putting pressure on Mettenberger...
Snyder:
"They protected quite well against us last year and we took our shot at times and got home. It's going to be part of the chess match."
On how LSU's offense has changed...
Snyder:
"I see a lot of the same things. Coach Miles is going to have his influence on that offense, it's his baby. Cam has done some different things, but it's the same offense."
On whether anyone looks good in practice...
Snyder:
"I think now that we're healthy, we look fresh. And a lot of these kids are excited to play in this stadium. We've got a bounce in our step, some Louisiana kids on our team, so you see them flying around a bit."
On whether he's expecting a jump from his D...
Snyder:
"We've got a heck of a challenge in front of us. This is a really good offense. One thing we did last year was get off the field on third down against these guys. We didn't create any turnovers, but we got off the field. And they're really good on third down this year. It's going to be a challenge."
On whether his players are ready to stop the run...
Snyder:
"I think so. I'd hope so. That's why we're going to play on Saturday. We've got to stop the run and get off the field. There's not going to be a lot of trickery from that offense."
On what he took from Arkansas' similarity to LSU...
Snyder:
"They're going to line up with two tight ends and that big ol' fullback and Jeremy Hill and try and punch you in the mouth. And they've got those two wideouts they're going to throw it up to."
On Mettenberger's role in the Tigers' third-down conversion rate...
Snyder:
"They have a lot of third-and-shorts, but when they are in third-and-mediums, third-and-longs, he's completing those passes."
On Beckham, Jr. and Landry...
Snyder:
"They're really good. They're both pros. They're both different, but they're both very explosive players in a lot of areas. (Beckham) shows up in special teams too, and his yards after catch are (crazy). (Landry) is just a competitive kid."
On both teams having a bye week and preparing for the unknown...
Snyder:
"Not on our side of the ball, maybe on other sides of the ball. Not defensively. Last year they did the flip on fourth down; (Miles) will have one or two, but for the most part it's straightforward for us this week."
On the Drake concert...
Snyder:
"It was good. It was like any dad going to a concert with their daughters. Little different going with Coach Sumlin. He don't look like Justin Bieber ... he's going to kill me for saying that."
Ben Malena
On LSU's defense...
Malena:
"It's one of the best defenses in the country year in and year out. It's a Les Miles defense, that's what you expect. They're going to present some challenges for us. We have to find some ways to attack them."
On whether he believes Johnny should still lead the Heisman race...
Malena:
"No doubt. I don't see anybody who can compete with him. Nobody has the numbers, nobody's more exciting to watch, nobody's more valuable to the team than him."
On going to Tiger Stadium...
Malena:
"It's a tough environment. Probably one of the top five toughest for a team to go in there and win. To go into Death Valley and win, you need to (really) beat those guys."
On the turnover margin being key in this game...
Malena:
"That's in every game. Turnovers will kill you. Not a lot of teams at any level of football win if you lose the turnover battle. With two good teams playing against each other ... we have to protect the ball, and the team that protects the ball has a good chance to win. We had a lot of turnovers last year (against the Tigers), but we also had a lot of series last year we didn't turn into points. That's LSU, hats off to their defense. But the turnovers didn't help."
On whether he sees this as a hyped rivalry game...
Malena:
"Well, they're a team I look forward to every year to play. You love the competition, you love playing the best teams. I'm not sure if, for me personally, I have a team that I circle like, 'I can't wait to play those guys.' But LSU isn't a hard game to get hyped up for. Rivalries are made up on the outside, what the fans and people say. At the end of the day, if you don't put your best foot forward, no matter who you're playing, you're going to lose. You have to play every game like it's a rivalry game."
Travis Labhart
On Tiger Stadium...
Labhart:
"I always see it on TV; I've never had the opportunity to go down there. But it's one of those stadiums that's like Kyle Field — I'm biased, but I think Kyle Field is second to none — but they're rowdy. They do a great job of backing their team, and we have the mentality of going in and taking their crowd out of the game, starting fast and getting back to what we've been missing the last few weeks. I'm excited to get to go down there.
"When you go on the road, you have to realize it's you and your teammates against the world. You have to embrace that opportunity. That's when teammates become best friends, when there's blood, sweat and tears."
On where leadership on the road comes from...
Labhart:
"I think it's individual coaches — Coach Beaty is a very vocal leader for us, he does a great job getting us prepared — and there's individual players. Ben Malena does a great job getting us ready, Johnny Manziel does a great job getting us ready offensively."
On whether he gets tired of answering questions about Manziel...
Labhart:
"No, I love doing that for him. He's a great guy. I enjoy saying good things about him because of what he's done and what he's done for me ... and because of the leader is. I said earlier, I think Johnny's more worried about his team than himself. And you see that every Saturday; when you're out there on the field and you see him wincing from a hit because he's got an ache people don't know about, it shows (to us)."
Cedric Ogbuehi
On how Manziel has improved as a leader...
Ogbuehi:
"He's more vocal. And he's a better player."
On whether A&M-LSU could become a good rivalry...
Ogbuehi:
"I guess it could be. It's always going to be a fun, hard-fought game, so I guess it could be."
On whether he'll be around for next year's A&M-LSU Thanksgiving...
Ogbuehi:
"We'll see. I haven't thought about it yet. Just trying to play my game and let my game do the talking. Once it comes to a close, I'll think about it. But not right now."
On succeeding on the road...
Ogbuehi:
"It's all about preparation. Knowing that where we go, it's going to be loud, so stay focused on the task at hand and win the day. It's more fun to quiet the crowd. That's the challenge."
Julien Obioha
On why it's so hard to get recruits out of Louisiana...
Obioha:
"LSU is a culture-type thing. A lot of those guys grow up watching LSU football and going to the games. It's normally hard to get a guy from LSU. Me and Deshazor (Everett) weren't exposed (to it) that much. I know when I go to Baton Rouge that I'll have 200, 300 people in the stands who know me; that's why this is a big game. I can only guarantee my family will be cheering for me, maybe my best friend. Maybe."
On the old A&M-LSU clashes...
Obioha:
"I had a coach who played in the '80s, know a guy who played in the '90s. They didn't mention how good the rivalry used to be. I just know it'll be a big game."
On how he spent the bye week...
Obioha:
"Recovering. I've been nicked up all year, so just recovering and learning LSU's offense."
On going down the stretch with so much at stake...
Obioha:
"You don't look at the BCS or the honors or anything. You just want to look at the opponent and realize you have enough on your team to beat the next opponent."
On the keys to the game...
Obioha:
"For the D-line, getting pressure on Zach Mettenberger. You know he can throw the ball to #80 (Jarvis Landry) and #3 (Odell Beckham, Jr.), two of the best receivers in the country. That's the challenge for us."
Toney Hurd
On the team's improvement over the season...
Hurd:
"We've got a high-powered offense and a young defense, but we fly to the ball. Special teams are getting better each week. We've become a fun team to watch."
On LSU...
Hurd:
"Their offense starts with the running game. They have four running backs that all contribute. Stopping the run will be great for us because we won't have to worry about the play-action pass."
On the keys to the game...
Hurd:
"Each and every team has their different challenges. LSU is balanced with two receivers on the outside, in the backfield they have four solid running backs, their offensive line is great. We'll have to be ready to play."
On the defense at this point and heading into this game...
Hurd:
"With the young guys we had early, I feel like we've been getting better as the year's gone on. It's something we've embraced every week and become a better defense. First and foremost we want to stop the run. That's their power attack, the ground game. Second, you've got to have great eyes in the backfield for the play-action pass."
On enjoying his last ride...
Hurd:
"You never know what the future holds, but I know I have two games left in college, plus the bowl game. Everything is memorable."
Never miss the latest news from TexAgs!
Join our free email list