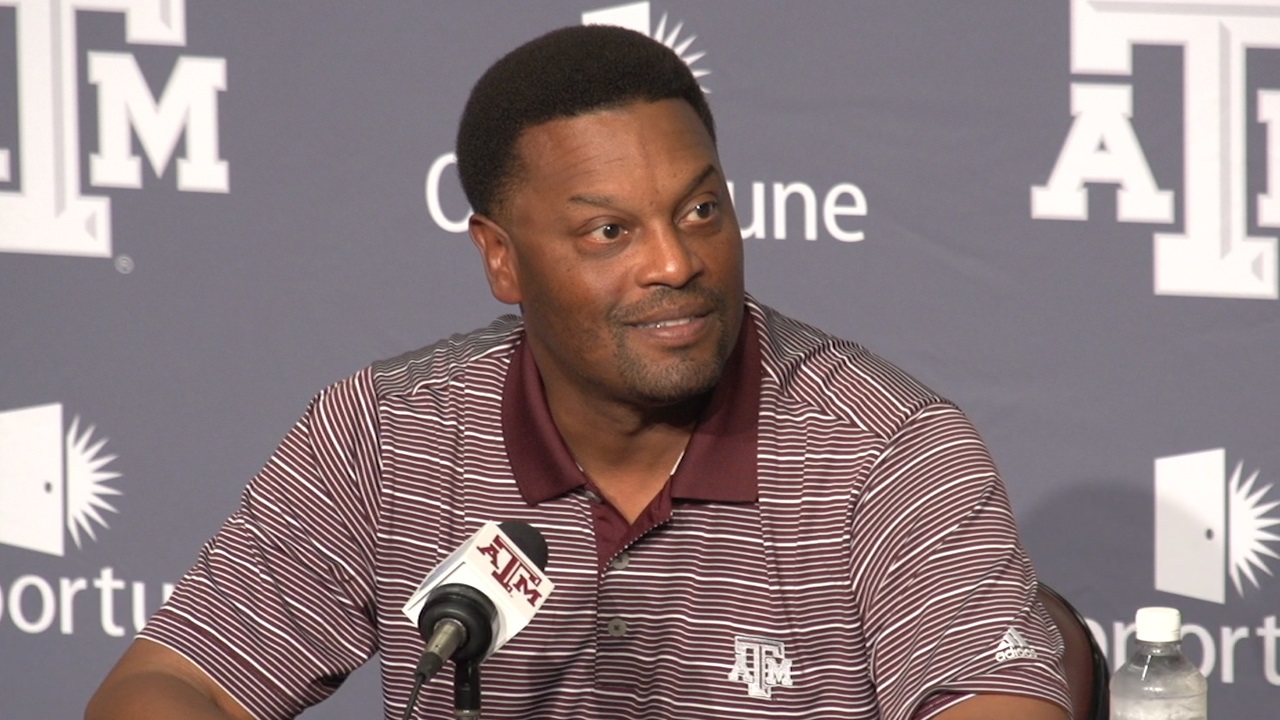 Kevin Sumlin
Clarence McKinney
Mark Snyder
Ben Malena
Travis Labhart
Julien Obioha
Toney Hurd, Jr.
Josh Lambo
Texas A&M Football
Aggies ride momentum to home tilt with Auburn
---
Kevin Sumlin
Opening comment...

"Last week was a good win for us. Any time you win in your division in this league it's good; to go on the road and win, playing 25 new guys, 17 true freshmen, any time you can get in that situation, particularly the last couple road games, no matter how you get out of there, as long as you get out of there with a win you can grow from it. There are a lot of lessons that can be taught across the board.
"It's been a point of emphasis for us this year, turnover margin. It was the first week in a while we did not win that battle. Defensively, in the first half I thought we played pretty well. Gave up one big play. In the second half both teams made adjustments. We made a late stop to win. Lambo made a big kick as well and that will give us confidence going into this week. Looking forward to being back home with a big crowd."
On Floyd Raven's play...
Sumlin:
"You have to be real encouraged since we didn't plan on playing him at all. We tried to get through the game without him playing. He was cleared to play. He was probably probable. He could've played if we needed him to play, and actually we did need him to play. He made a big play on the play-action pass, defended it. We need to get him back, he's a big and fast, talented guy that can help us in a secondary that's had some moving parts. We didn't want him to play but he got in there and did a good job and got his confidence back.
"It helps us this week because we're going to see another offense where discipline is key. A lot of back-end responsibilities. They get their big plays from play-action wheels and multiple sets. His work a week ago helped him in that game because he saw it in the second half and it gave him a jump on this week. He'll be ready to go."
On Travis Labhart...
Sumlin:
"This time of year, if you're going to continue to win, you're going to have to have guys that play at a high level that maybe before the year you didn't talk about. Every team across the board, if you're trying to get to double-digit wins, if you're trying to play at a championship level, very few teams are going to have the same 22 guys at the end of the year or even the middle of the year in this league. The guys who haven't played a bunch have to keep preparing the way they've prepared and Travis is a guy who's been a great story for us. He worked very hard, wasn't a scholarship player for us, didn't back off once that happened and has earned the respect of his team.
"I know for a fact that four weeks ago his quarterback felt as comfortable with him as anybody. The success he's had is a surprise to a lot of people but not to this team. Because that's how he practices. I'm proud of him and Josh (Lambo), too. We've had a couple of those guys the last couple years. It's an example to the other guys that as long as you do what you're asked, we're going to put you in. You're going to play. That helps the competition throughout the week and keeps the place from getting stale."
On whether the offense is running at peak performance...
Sumlin:
"We put a big emphasis on turnover margin and being able to hang on to the ball. We've done better. We could get better. We have a lot of guys touching the ball. You talk to Clarence (McKinney), he'll tell you that the big points are first downs and touchdowns. They're doing a pretty good job of that.
"We've got to cut down on penalties. That's something we've been talking about the last three or four weeks, offensively and defensively. We've got to get better at that. But overall, the guys we're asking our things to do, as long as you see those things as a coach it's encouraging."
On when he first noticed Labhart...
Sumlin:
"We just put him out there and threw him the ball. I don't know if he was on defense before we got here or not. We threw him out there and he was playing offense. That probably doesn't sound very good ... we had a lot of other issues when I got here besides whether Travis was playing offense or defense (laughter). He's worked his way into it. It's a great story for him. We've got a couple guys like him that we awarded scholarships to in the preseason and a couple of other guys on the edge.
"When you talk about a guy who's the true 12th Man, walks on here, earns his way on the team and goes in an SEC game is one of the offensive players of the week at night on national television, it doesn't get any bigger than that for a guy who didn't have a scholarship. It just goes to show everybody in this room that whether you're the highest recruited guy or a guy who shows up and says 'I want to play football here at Texas A&M,' if you work hard, it'll be recognized. And you'll play."
On the targeting penalty...
Sumlin:
"Everybody's got an opinion about it. It's safe to say it's probably going to be revisited at the end of the year. It is what it is right now. You have to coach through it. You ask yourself why this happens or why that happens — it's all part of the game. The procedure for the rule is what is questioned. If a guy's ejected and it's ruled he's not ejected but the penalty stays, there's some real confusion by the fans and the players. After that happens, it's not reviewed. It happened to us early in the year and there's no appeal to it. We've coached it, coached around it, talked to our guys about where that target area is, but it happens so fast.
"It's a difficult position to put an official in on the field and that's why you have replay. The question is what we're trying to do here, and it's all about player safety. But I think the procedure is going to be revisited at the end of the season because of the confusion about the penalty stands, but it wasn't a penalty, but it is ... that's the frustration."
On similarities between Cam Newton and Johnny Manziel...
Sumlin:
"They won a Heisman. I don't compare players, quarterbacks, whether I coached them or not. They're different people, different times. They're both impact players. One guy's 6-6, 250. They're different guys."
On the differences between this Auburn team and last year's...
Sumlin:
"They're 5-1. And they're ranked 24th in the country. They're very different than the team we played last year. It's a bit like where we were last year. They've got a new coach, new energy, new players and they're playing with confidence. Gus Malzahn does a great job schematically, Ellis Johnson is a veteran defensive coordinator. They've got one of the best punters in the country, they've returned a kick 100 yards. They're playing very well, have some confidence and won some close games at home. It might be a lot of the same guys, but it's a completely different football team from an attitude standpoint. That shows up not only from a record standpoint but their approach to the game on Saturday."
On the team's trust in Lambo and setting up for the final field goal...
Sumlin:
"You guys ask me what it does for the team's confidence. It's not about the team's confidence, it's about his confidence. He's demonstrated over the last couple weeks that he's getting more confident. He missed one early, came back and made one, and there was no doubt. We didn't hesitate with what our plan was. I have a card in my pocket that has wind direction and the yard line that Coach Banks feels comfortable with our kickers kicking. He had given me the 33, which would make that a 50-yard field goal. I was not quite comfortable with the 33-yard line (laughs). So we kept running the ball.
"That tells you something when those decisions are made for us before the game. The 33-yard line was the discussion and he said it without hesitation. At halftime we have the same discussion. That tells you the kind of confidence he had before the game. But inside the 20-yard line was a bit better than the 33."
On his thoughts on the Coaches' Poll factoring into the BCS standings...
Sumlin:
"I've been a part of the Coaches' Poll and I gave it up one year after it was made public and a bunch of people wrote me. As you get down the road, the Coaches' Poll is a good poll ... I think the problem is you have a bunch of preseason polls. A lot of teams benefit from it, a lot of teams don't. Teams move up and down the poll based on the preseason poll. A couple years ago you had a team that started No. 1 in the preseason poll finish unranked and a team that started unranked play for a national title. That rarely happens. In my opinion, there shouldn't be a poll until this week."
On how much the coaches actually put effort into it...
Sumlin:
"David Shaw said it best last year — we don't get to see all the games. We're playing at the same time. I get to see some games every week. But based on your schedule getting to the stadium, I might see the second half of a night game. You have to rely on the highlights and the highlights can be skewed a bit. You try to do the best you can and rely on information. As a coach, you don't get to see everybody."
On what he credits the team's composure to late in games and how to build it...
Sumlin:
"I would just say we put guys in those situations all the time. You can't simulate the pressure that's in those situations all the time, but we take time to show other teams — matter of fact, a week ago we watched different situations at the end of games and how guys closed it out and how they didn't — all the ways you can show guys what to do and how not to be that guy is what you talk about. We show things a bunch and guys go, 'Aw, man!' or they're laughing. The goal is not to be in that position.
"We had a number of situations there that fell our way, but we also had enough timeouts and enough time left that we were going to be able to operate. Our guys are comfortable in that situation. And, quite frankly, the way we play offense, we're in hurry-up all the time. We're probably more comfortable in a two-minute situation than many teams because we don't change our offense. You do the math, a couple minutes left, first down and clock stops, we're going to get eight plays. That's a lot of plays in eight minutes."
On the receivers stepping up when Mike Evans gets attention...
Sumlin:
"That's a part of what we do. Last year you saw Malcome Kennedy come on in the second half. You have to. There's a bunch of good players and coaches in this league who won't let you do the same thing every week. You've got to have a lot of people helping. Travis and Derel keep getting better and Malcome really picked up where he left off last year. He just got better and better.
"We need to continue to develop some of these young guys — Pope is coming along; he's got to keep stepping up and making plays. Defensively it's the same thing. We've had some rotation in the back end, but Darian Claiborne keeps getting better and better. Steven Jenkins is getting back in the flow. That's the nature of the game. We're no different than anyone else in this league. There are teams across the board that have injury problems but that doesn't deter from your goal at the end of the week, and that's to win games."
On the defense's familiarity with a spread from practice...
Sumlin:
"We're two different teams. They don't see anything like us and we don't see anything like them. When we go against each other, it's nothing similar."
On whether they're placing heat on the defense and feel like the offense has to score X amount to win games...
Sumlin:
"We don't really afford anybody to struggle, offensively or defensively. Frustration level would not be the word to use. We're trying to get better. When you're playing 11 freshmen and you see things getting a little better every week, that's one thing. If you don't see any improvement at all and the same problems ... you have one guy go out and then you lose Deshazor, two of your best players, that's one other thing. It's a team game. Our job as coaches is to try to win the game no matter what the conventional way is. Our job is to try to win.
"So if we're not playing very good defense, we've got to do something offensively to win the game and not make excuses about where we are from a talent-wise — because talent-wise, we've got good young players, but they're young, probably a year or two away. You've got to try to win the game as a team. What did we score last year? (Silence.) There's your answer."
On whether the team likes playing in primetime slots...
Sumlin:
"I think so. It's what you want as a program. It's great for the fans and the University. A 2:30 game is a marquee game. To be back home and be at 2:30 is even better. A 7:30 night game, I'm not complaining. It's on ESPN. It just makes it a little difficult when you get home at 4:00 in the morning. Our guys understand that the price of being the program you want to be is being on television all the time. If that's where you are, that's a good thing. You go back to the days where you're not on television at all, nobody wants that. Our guys like it and it's a chance for them because they work very hard in the offseason and during the week to show who they are and what they're about.
"It's great exposure for our athletic program and for our University."
On Trey Williams' 18-yard touchdown run...
Sumlin:
"There were a lot of people involved in that. I'm not sure how many people he made miss. Trey was hurt during two-a-days and got that ankle again on a kickoff against Rice. He felt better and against Alabama gets tackled during an opening kickoff and twists it again. It's time for him to be healthy. And he's starting to feel pretty good, because you can see it in practice. He's getting back to full speed.
"Just like we have guys getting nicked up now, we had guys at the beginning of the season who were nursing injuries. Those things balance out. Where was Trey Williams? He was probably probable (laughter). He's back to full strength. And there's only one football. We've got a bunch of guys we need to get it to."
On Mike Evans' hurdle in the fourth...
Sumlin:
"After he got up and was healthy, I told him that was a great job. And, 'Don't do that again.' You guys talked about the effort tape, last year we watched a bunch of things and there were three plays at the end of the game that were indicative of where this team is: Johnny's run on fourth down where he accelerated into the middle of the defense and people were flying everywhere shows you where his heart and his head are, trying to win the game. He looked to see where the chains were and didn't slide. Wow.
"Then we throw the ball to Ben Malena and Mike Evans is down there. Instead of running out of bounds, he's trying to score. And even Tra Carson's run where we have a two-back set on third down and three and we get nine. We have guys who are playing to win and going after the win. And that's contagious to everybody. You don't want certain things to happen, but you can tell where these guys' heads are at and you don't want to stifle that. I don't like a 6-5 guy to go up in the air, I'm not big on that, but he's playing with great effort like he does all the time and that's a great example to the rest of the team."
On Trey being a complete back...
Sumlin:
"He's gotten better. His attention to detail is improved. Like a lot of guys, in high school he didn't have to worry about protection and blocking. Last year he didn't play against LSU because of the complexity of the defense. You miss a block in that game and let Mingo or somebody hit Johnny in the back of the head ... but he has gotten better and his protection has really picked up. His ability to see what the defense is trying to do has improved.
"He's always been a talented guy with his hands, a screen guy, but as he has become an every-down back — he's 180, 190 pounds, not a big guy but strong — he's gotten a lot better at his protection. Is he there yet, no, but we're a lot more comfortable with it."
Clarence McKinney
On his offensive line through six games...
McKinney:
"The offensive line has played real good with the exception of one game. The young guys in one of those six games, I think it was SMU, struggled. But they've played great."
On scoring sparsely early...
McKinney:
"Any time we don't score, it's always the same — we get a penalty that stalls a drive or turn the ball over and it stalls a drive. When we find our rhythm, constantly moving the ball and getting first downs, we score touchdowns. But little things like getting a penalty that stalls a drive, it tends to hurt us."
On his thoughts on Trey Williams...
McKinney:
"I think Trey is really growing into the position. He's finally healthy, first of all. We've all seen it, he's really good with the ball in his hands. He has a better understanding of protections and that allows us to play him a lot more."
On Labhart's emergence and Johnny spreading the ball around...
McKinney:
"Spreading the ball around has to do with what the defenses are trying to take away. Take a guy like Mike Evans and the start to the year he had, so he's got coverage rolling his way. Guys are having their opportunities. A guy like Labhart came in and learned every receiver spot, so he's very valuable. You can put him out there at any spot and feel confident he'll catch the ball."
On Labhart then and now...
McKinney:
"I didn't know the women's basketball thing until a few days ago, I have to tease him about that. But he came out and wasn't as healthy as he would like, but he learned every position. He's Mike's backup at Z. He's very valuable to this team."
On the offense's play on the final drive...
McKinney:
"We're very proud of the way our guys fought and never gave up. We felt like we had plenty of opportunities early to put the game away and didn't do that. Those last drives, they really stepped up. We knew we had plenty of time left and three timeouts, I believe, and it was set up for us to go down and score."
On whether Mike Evans' leap scared him...
McKinney:
"No (chuckle). Mike's a basketball player, so when he takes off, he knows how to land."
On Cedric Ogbuehi's first penalty...
McKinney:
"We had a perfect play for what they were doing and we get a false start penalty, and that stalled the drive. We can't have that. But I can tell you who has the most penalties on the offensive line, and it's not Cedric or Jake."
On last year's Auburn game...
McKinney:
"I don't really remember a lot of the Auburn game last year. I thought the pregame atmosphere was probably the greatest I've seen when they release the eagle and the crowd goes crazy. But then we ran up and down the field on them. I don't feel those players really wanted to play. This year they're a totally different team. Very talented, one of the more talented defenses we'll see all year. They play base, and when teams play base they feel they're pretty good."
On what third-down conversion percentage he'd be pleased with...
McKinney:
"If we could get into the seventies. I'd like to stay out of third, but if we could get to 70% that would be good."
On the offense's potential...
McKinney:
"If you watch the tape from each game, if we stall as an offense it's because of things we've done to ourselves. Things you can't have happen if you want to score points. We try to find our rhythm, and when we do find our rhythm we're pretty good."
Mark Snyder
On the fourth-quarter three and out...
Snyder:
"The kids had a lot of belief. We knew we needed a stop, especially the way our offense was playing. I thought the kids did a good job. They adjusted to the formation, trying to go vertical, took that away and were able to get off the field."
On Floyd Raven's play...
Snyder:
"It'll be interesting to see how Deshazor is. I thought Floyd played well. With all the misdirection this team gave us, I thought Floyd's eyes were really good. For the limited number of plays, he did real good."
On Darian Claiborne's growth...
Snyder:
"He's coming. One thing about Darian, he's so coachable. He's still learning, but to give you an example, the fourth-and-one stop, he puts his hat right on him. It was a picture-perfect tackle. Everybody swarmed and knocked him back, which was great to see. Earlier in the game I said, 'If you push weak, you'll have an interception.' Not too long later, sure enough, an interception. That tells me he's coming along."
On fourth-quarter stops the last two weeks...
Snyder:
"The key is consistency. I thought we played pretty well for three quarters this week. The fourth quarter was just back. We keep talking to these guys about consistency. You see them out there pressing. Don't press. Let's not give up explosives and let people back into the game."
On what he looks for in terms of progress...
Snyder:
"It's the things I see on film. You always want the statistical part of it too. The thing I like is we're getting ready to face another great running team and we just had our best performance against the run on Saturday. Take away one explosive and they barely had more than 100 yards rushing. No one's done that since Alabama. They have a talented running back and a quarterback who can roll (out). That was exciting."
On Gus Malzahn's offense...
Snyder:
"Basically what you saw last week. Very, very similar. Gus has probably a few more things Hugh didn't have in their scheme, but it's the same."
On the timing of Ole Miss and Auburn working well for the defense...
Snyder:
"I think it goes both ways. That's a great question. Obviously Gus is looking at the film saying, 'That's how they defended it.' But where we are I don't think there's any doubt that practicing to see some things is very helpful."
On moving Deshazor back to corner with Raven back...
Snyder:
"As of right now (Raven) is (in the starting lineup). We'll see how things go during the week."
On Isaiah Golden and the D-line...
Snyder:
"Not bad. Nothing spectacular. The one thing Isaiah did was his job. That's what we asked him to do. He did do that. Did he stand out? No. That's okay — he didn't stand out in a negative way either. I was pleased with him. I was pleased with our front. We've challenged our guys that we need to get some pass rush. It's difficult with the offenses we're facing, but we have to apply some pressure at some point in time. I can say that now because I think we played pretty well against the run game. Now the next step is we need to get some pass rush."
Ben Malena
On what he was thinking when Johnny Manziel got hurt...
Malena:
"Nothing, really. You really can't overreact to situations where guys go down. It was a relief to see him getting up and walking off the field, knowing with the kind of competitor he is he'd be back."
On whether the offense is firing on all cylinders...
Malena:
"I wouldn't say we're at peak performance yet. We still have some things we need to clean up. We had penalties and we need to be on all our assignments. The main focus we look for is cleaning up the penalties. And we need to be moe efficient on third down."
On whether scoring on every drive is a realistic goal...
Malena:
"It is realistic, if you go out there and you do everything your coaches ask of you. We're confident in our coaches and our players and our scheme that we can score on every possession."
On Travis Labhart's performance...
Malena:
"If you know Labhart, that's not shocking. It's not shocking at all. He comes in and works every day and he's a great-minded guy. Him stepping up and making catches is not surprising — but I'm really proud of him."
On the final drive to get in scoring position in a tie game...
Malena:
"We practice situations like that all the time. Especially during fall camp, we practiced 'offense down by three' or 'you need a touchdown.' In a game scenario like that, we're ready."
On having Manziel to lead the final drive...
Malena:
"It doesn't hurt to have a quarterback like that. But it's not just him. It's the whole offense. When times get rough, just like on that fourth-and-six conversion, it's great to have that quarterback, getting out there with his body. But it's a whole team aspect. The defense got a three-and-out to get us the ball. It was a team effort."
Travis Labhart
On coming from the women's basketball scout team to football...
Labhart:
"It's been a very interesting ride. You don't hear of many people from women's basketball transitioning into football. It's been a ride, because I went through a lot of injuries ... But it's been an enjoyable ride so far."
On his football background...
Labhart:
"I played football in high school and was a really small guy. My coaches would make bets as to whether or not I'd break 100 in my weight class. I didn't. I was 99 pounds. I played quarterback and safety."
On what spurred him to go back to football and walk on at A&M...
Labhart:
"I had a coach in high school who messaged me on Facebook and said, 'Hey, there's a 12th Man tryout going on.' I didn't want to because when you work so hard (for basketball without making it), it's discouraging. But he encouraged me."
On coming back into the rotation this season...
Labhart:
"The bye week and this past week I was struggling a bit and wasn't having my best week of practices and Coach Beaty and I talked about it. He told me I needed to step up and get back to doing the things that got me here. He always says you're only as good as your next day. I used that as a motivator."
On being granted a scholarship this season...
Labhart:
"When I was a senior in high school I realized it probably wasn't going to happen, getting a full ride. It was a humbling experience because of all the work I'd put in. I was so ecstatic. I called my parents crying. As a walk-on you have to do a lot financially and that may be hard for them. It came out of nowhere. I was so surprised."
On his connection with Johnny Manziel...
Labhart:
"Me and Johnny would take it to the scout team. When Coach Sherman was here they had the developmental team and they'd go against the developmental defense and we'd always find each other. It was really funny to look back on it. And it was great to take it to a real game."
Toney Hurd, Jr.
On Saturday's game...
Hurd:
"Two teams that came out ready to fight down to the wire. They put their best foot forth and we put our best foot forth and we came out with a W."
On Ole Miss' play selection on its final drive...
Hurd:
"Ole Miss came out and passed the ball three times. I guess they thought they could pass the ball down the field. Coach Snyder dialed up some good plays. We're very fortunate, with the way we played as a defense in the fourth quarter, that we got out of there with a win.
"It didn't surprise me at all. They were throwing the ball around (before). They have a great quarterback and receivers. They chose to throw the ball three times and our defense manned up. It shows that we have the heart and the pride to finish games. That last drive, when it mattered most, we manned up and got the stop. It gave us confidence and hopefully we'll carry it into Auburn."
On preparing for Auburn and mobile QB Nick Marshall...
Hurd:
"We have one of the most mobile quarterbacks in the game and we practice against him every day. We have a great scheme and Coach Snyder always prepares us for whatever the other team has to offer us."
On what the coaches said before the final drives...
Hurd:
"It was basically, 'It's time to man up.' You've got to be coachable and you've got to do your assignment. We went out there and we executed, their play call against our play call, man-on-man, one-on-one. We executed and they didn't."
Josh Lambo
On his process when preparing to kick...
Lambo:
"I kick it in the net, make sure my steps are good and just imagine kicking the field goal. I visualize making every shot."
On his football background...
Lambo:
"The first time I kicked a football, I was 10 and won the national title in the punt-pass-and-kick competition. I asked my parents if I could play football and they said no, so I played soccer."
On transitioning from soccer to kicking a football...
Lambo:
"I was a goalie and taking goal kicks every day, so I'm used to hitting 60-, 70-yard balls. It was just about raising the point of contact."
On how he got into college football...
Lambo:
"In the summer of 2012 I made a couple highlight tapes with my kicking coach and I really wanted to finish my education. We sent them out and A&M responded."
On his relationship with Taylor Bertolet...
Lambo:
"We're teammates and we're always going to root each other on. He's still out there helping the team on kickoffs and he's doing a great job."
Never miss the latest news from TexAgs!
Join our free email list