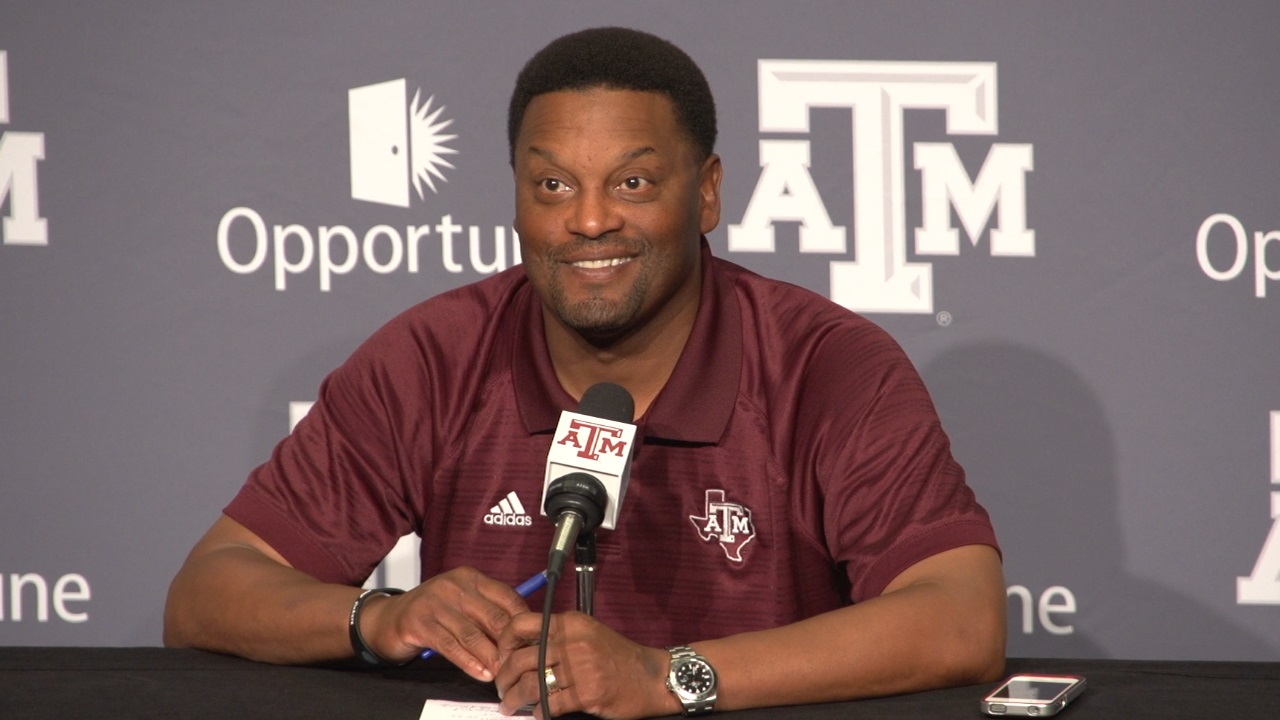 Kevin Sumlin
Mark Snyder
Clarence McKinney
Deshazor Everett
Toney Hurd, Jr.
Ben Malena
Mike Matthews
Julien Obioha
Texas A&M Football
Following bye week, A&M prepares for Ole Miss
---
Kevin Sumlin
Opening statement...
"I thought the bye week came at a good time for us as a program. Most people think of it as a physical toll that's taken on a team and that's true. When you have so many new guys and young guys playing, there's a mental toll there too. Because of that, it was a great time for that break. It comes at a time when we start practice on the 5th and, you look through our season, we've got the championship game in December and we're at the two-month point between them.
"Right in the middle of all that we got a break, and our players needed it — particularly the young guys, from a mental standpoint. Playing at this level is hard; the pressure to perform is difficult. And you've got exams and quizzes. Getting used to college life, it couldn't come at a better time. I like where our mindset is. We had a lot of juice yesterday in practice and we're ready to get back on the road and play someone else."
On how beneficial the week was for Darian Claiborne...
Sumlin:
"I think it was more beneficial since he didn't finish the game last week. He had a thigh bruise. He's healed up and bouncing around. He's ready to go. The pressure to perform and all that adds up and it came at a good time for him. He was able to settle down a bit and, instead of missing practice and missing reps he needs — particularly playing a team like Ole Miss who is going to force you to be disciplined defensively and read your keys and know where you're going — him being able to do that healthy is a big help for us this week."
On how different Ole Miss is this year...
Sumlin:
"I don't know that they're different. They've got a lot of their main pieces back. Whenever you've got a quarterback who returns for you, that makes you happy as a coach. The addition has been on the perimeter. They've got really good skill; Moncrief and Logan have been there a while and they had a great recruiting year. Those young guys they're putting on the field are really good players. They have great team speed, they're athletic across the board, they're explosive offensively and their receivers on the perimeter are 6-3.
"You throw into that a running back who's a wire-to-wire guy, kick returner, punt returner ... they're explosive. Defensively they've made a lot of strides with a bunch of guys up front who are playing very hard, very sound. They're a bit like us last year in that they're in a stretch where they've played four of five games on the road. That's tough particularly when you're playing young guys.
"As a football team, they're as advertised. They've played some good people and have played well. You look at how they played in those games, a play here or there and things could be different. They're a talented, well-coached team and they've got a lot of pride. They're happy to get back home and it's going to be a hell of a ball game."
On Kirby Ennis and Floyd Raven's injuries...
Sumlin:
"Kirby is going to have surgery and he will be done for the year. That's something we discussed and I should've updated you at the end of last week. He had an ACL tear on top of the cartilage. We're going to get that fixed and that'll be it for him. Floyd Raven, we'll see. We'll monitor that situation. He could probably play but I don't know how much practice he's going to get at this point. He practiced last week but it was non-contact. We'll see where he's at and what he can do. He's probable this week and probably probable next week."
On how Tra Carson got to Texas A&M...
Sumlin:
"We've known about him for a long time. When he was in high school Coach McKinney, (Carson) and Brandon (Williams) were recruited at Houston. They just decided to go elsewhere. Within the first three months of getting here to Texas A&M, Brandon wanted to come back and within a couple months after that Tra wanted to come. They both knew each other out of high school and both knew everything up front.
"I felt like it would be hard for us at that time to recruit a guy that good. We had bowl practice after I first got here and had Tra and Brandon show up and we had to make a decision for everybody. And it worked out. I understand they both had to sit out and that was difficult. They knew who was here and that Trey Williams was on his way here. We had a history of playing two or three running backs in this offense.
"He's a guy who gives us more substance, 230 pounds, he got in here in bad shape and we used to give him a hard time. He worked his way into it during the summer. He gives us an added dimension at running back that we didn't have before. We like where he is, we like where all our guys are right now. As I said a week ago, you put them in there in those two-back sets and you can hand the ball to either one of them. They're doing a great job of blocking for each other."
On what caught his eye about Clarence McKinney...
Sumlin:
"It was before Jack Yates. He was at Booker T. Washington as an offensive coordinator when I was at Purdue, coming down to Houston to recruit. He was a guy who was always inquisitive about new ideas offensively and we talked about things. I've known him a while. The interesting thing is, all those years, whether I was at Purdue, Minnesota or Oklahoma, I never got a player from him (chuckle). That ruins the theory that you've got to get players from a guy to hire him. I don't hold that against him.
"I had a lot of confidence in his knowledge and his reputation and the rest is history. When I got the job at Houston I called him and told him the situation to see if he'd be interested and he was there the next day. The rest is history. He's a great recruiter and has a great way to communicate with his players and the community. He knows Houston like the back of his hand ... he's a great fit for us. And he'll be a good head coach some day."
On whether they're encouraging Johnny Manziel to run...
Sumlin:
"We encourage him to win. So, you have a player like that and you go back through video and (say), 'Right here, what would you do?' What would a lot of people do? He's a bit different than most people. There's been a concerted effort and I think everybody sees his improvement as a quarterback. It all gets back to what is the best thing for us to be successful on that play? It gets back to not giving the team the ball and not taking negative plays.
"So, the more you can do that, that's what being a better quarterback is about. Ultimately that helps you win, whether you're standing in the pocket or taking off and running. We're not telling him what to do on every play, run or throw. That limits his game. That's what makes him different. Obviously he's matured, and when he's taken off he's probably slid more in the last two weeks than he'd slid in his life. Running out of bounds, standing in there and going through his reads ... it's a comfort level. He's more comfortable conceptually and going through his reads and that's given him some freedom to check plays. That's helped him.
"Instead of coach calling the play and him being stuck and having to take off running, he's got the ability now to change the play into something that has a high probability of not being a negative play, so he doesn't have to take off as much. There's a lot more than us telling him to stay back there and not run. It has to do with his overall growth as a quarterback."
On last year's win in Oxford...
Sumlin:
"You can point back to that and say that was a pretty big deal. I wasn't here the year before but all I heard was that we would've lost that game. All the emotion in the locker room to go out and win our first road game in the SEC. At the time, everybody said we beat a team that hadn't won very much. That team ended up being a thorn in everybody's side and talented and a tough team to beat.
"You make strides as a program and there's things you point back to that are steps in your growth, and certainly us going on the road and winning our first SEC road game last year was big for this program and a step in the right direction. As I said, the year before, I wasn't here, but I heard all the stories about what happened and the mindset about those types of football games — we wouldn't win. There was a lot of emotion before the game and, once we settled, it helped us gain confidence at a time when we needed it."
On Isaiah Golden...
Sumlin:
"It doesn't matter how comfortable I am, it's how comfortable he is. He's the guy we've got going. This isn't the NFL, I can't call Bob Stoops and trade a got. We've got who we've got. We've got to be able to develop players. In this game, in college football, not just this particular game, you have players you recruit and they're playing and you hope you can get through the season in a backup role and getting the experience they need, then be a three-year starter. That didn't work out; we're not the only team like that. You've got a lot of players who were going to be backups that are forced into starting roles for the rest of the season or the next three or four weeks.
"We've got a lot of guys who are one play away. Isaiah's been through a lot this season. He missed a week after the death of his child, came back, played some good football for us and settled down. It's been a pretty up-and-down situation for us this year. Last week we talked about where he was after Kirby's situation came to light and the possibility he'd have to go. Now he knows he's got to be the guy. Different guys react differently; I'd be surprised if Isaiah didn't do very well from here on out."
On the public and recruiting perception of his program...
Sumlin:
"Whenever you come into a situation I think that's more important, particularly if you're trying to change the culture and establish what your program's about. Then it becomes more of an issue. I think as you go on, as your program starts to move on, I think you've got to be known for something. You'd like to try to control what that is. Everybody's going to have their opinion about who you are. You try to speak for yourself and not let everyone else talk about Texas A&M and Texas A&M football.
"Our university has done a great job of telling our story and not letting other people think they know what we're all about. There's no difference for a football program. You'd like to speak for yourself and let people know what you're all about from your players' eyes, the University's eyes, instead of just assuming some things. Our university's done a great job of that the last few years, and we've obviously followed their lead and done some things on our own that help us tell our own story that some people nationally may not have known up until the last couple years or even the last few months."
On anything that stood out to him nationally as he watched games during the week...
Sumlin:
"All the above. We watch a bunch of football and it's an opportunity for a teaching moment for our team. We used a few plays from Saturday in here with our team that may or may not come up, but they're teaching moments for coaches and players. Just like everybody else, as coaches you're not really critical when you watch other games. What I do is put myself in that position and say, 'What would you do?' That's kind of how you do it. There were a lot of things. A lot of really good games, I thought, and a lot of close games.
"What you see is, across the country, the talented guys that are out there. It's been a while since I've seen this many talented quarterbacks across the country. I think people have figured out that it's had an effect on scoring. There's a lot of guys out there that can throw and run it. And they're throwing to some big, fast guys out there too. With offenses spreading people out and the talent level getting better and better and the quarterbacks getting better and better, a missed tackle can be 40 yards in a moment."
On Mike Matthews...
Sumlin:
"Mike is a blueprint for what we do at certain positions. Our decision last year was to play him as a backup behind Pat and if Pat went down we'd have (him). Guys prepare differently when they're redshirting. You don't really know what's going on. You spend the year working the offense and having the chance to play. He prepared differently, he understood the pace of play and it really worked out well for him.
"He's really progressed in his ability to diagnose and get us lined up, get us operating in the right direction, handle things on the road, handle things at home. He's ahead of the curve when you're talking about a first-year starter in this league as a center. Anybody in our league would take it. Five or six teams are starting a first-year center; with how he's played and the lack of mistakes he's made and how he's got us targeted in the right way, I couldn't be happier with his development."
On playing night games and getting into a long routine on Saturdays...
Sumlin:
"We play whenever. You get to a point where your team, if you're a decent football team, you're not going to know what time you play. That doesn't really affect us. Whatever time they give us, we show up and we kick it off."
Clarence McKinney
On winning despite the struggles last year in Oxford...
McKinney:
"Any time you win a game where you have six turnovers, you feel like you got out of there with a gift. You turn the ball over six times, you don't expect to win. But our guys dug deep, Mike Evans made a great play to get us started there at the end and it was a lot of fun."
On whether this is the best wide receiver group in the nation...
McKinney:
"(Laugh) I don't want to get into that. But I really like the guys we have. They all have a skill set and compliment each other well. You've got Mike Evans and the rest of the guys play a role well. There's some great receivers around the nation but we really like the guys we have."
On whether Manziel is executing the called play more often now...
McKinney:
"He's probably — no, definitely — executed the play a lot more than he did last year. It's part of being in the second year in the offense and understanding it. Your first year you don't really understand why you're doing what you're doing. He chose (last year) to run but this year he understands it and he's going through all his reads."
On his players getting mad when they don't score...
McKinney:
"(Smile) Our goal as an offense is to score touchdowns every time we're on the field. The goal is to get first downs and score touchdowns. When that doesn't happen, everyone's disappointed. I talked last week about getting better in the red zone and when that happens, you score touchdowns. Me personally, I just want to score more points than the other team. We're happy at the end of the day, but there are things to improve on. We go against the defense in
On the third-down success...
McKinney:
"We have certain plays we run on third-and-long, third-and-medium and third-and-short. Often they're different than our first-down plays. We practice those plays every week and we're trying to get better at them. We feel like we can be successful with them."
On whether they encourage Johnny to run and will against Ole Miss...
McKinney:
"I think it's a different offense than what they went against last week. Auburn's offense is to run the quarterback, whereas ours is a passing attack and if things break down Johnny will run. It's not a called QB run. We're going to do what we do and try to find a weakness in the defense and be successful that way."
Mark Snyder

On Isaiah Golden and the Kirby Ennis situation...
Snyder:
"Obviously Isaiah will move into that role and we'll have a three-man rotation. Alonzo Williams has the ability to rotate in there. We'll play it like we did last year."
On recruiting to the 4-3 in Texas and the 4-3 talent here when they got here...
Snyder:
"Probably not, going into this league. The Big 12 is different than this league. This is more of a power running deal and even if people try to spread you out, it's a power run deal. It was more about the league than Mike Sherman or Tim (DeRuyter) and what they recruited. They recruited to the system of what they had to face in the Big 12."
On facing the up-tempo in practice every day...
Snyder:
"It does help. It's a bit different offense than ours, but it is good to go up-tempo and have guys getting the call and getting lined up."
On Floyd Raven...
Snyder:
"It would help some. He's been practicing. He hasn't been getting a lot of reps, but he's been in there with the 2s and spelling Deshazor and we've been getting Deshazor back to corner a bit. We're awaiting his return. It's good that we had a bye week. This is a different offense than the ones we've faced. Having this bye week to prepare for Auburn has really helped us."
On how ready Golden is to step up...
Snyder:
"He's a very physical kid and he's very capable of playing in this league. He's going to be a great player some day. I sat in Terry (Price)'s meeting room yesterday like a fly on the wall and he seems excited. ... I liked what I saw yesterday in practice, although we didn't have pads. I think Isaiah's excited. I really do."
On the Ole Miss receiving corps...
Snyder:
"Well, they're good. Bo Wallace is doing a great job of distributing the ball. Moncrief is real good, thank God we go against Mike Evans every day. The freshman (Treadwell), he's a good player. It's a challenge. They spread you. (Wallace) knows that offense and does a nice job of changing it up."
On the Rebels' problems...
Snyder:
"Nobody's slowed them down, they've slowed themselves down. I'm sure they're working hard on that and, like anything, trying not to beat themselves. Coach talks to us about it all the time and I'm sure he's doing the same thing. It's going to be a heck of a challenge for us."
On the timing of the bye week being fortuitous...
Snyder:
"No doubt, because this is a different type of offense. It definitely came at a good time. We're a little banged up and it gave us extra time to prepare for an offense, the closest thing we've seen is Sam Houston. It was a great advantage."
On how to stop this kind of spread...
Snyder:
"You really can't (center on one thing), that's what makes it a good offense. We got our schedule up on the board coming into the season and we knew we were going to see nine or ten returning starters at quarterback. That gives you a chance. We're going to have to be multiple and change it up on them."
Ben Malena

On Johnny Manziel sitting in the pocket more...
Malena:
"The run game is much stronger this year, so he's not having to get out and run as much."
On the Aggies' offensive mindset...
Malena:
"The goal for our offense is to score every time we get the ball. Every time we walk off the field without six points we are mad, but we don't let that drag over to the next series. That's the mindset that Coach McKinney and Coach Sumlin have installed in our offense. We feel like we're the best offense in the country."
On whether A&M's six turnovers in 2012 helped Ole Miss make the game closer than it should have been...
Malena:
"You really can't say things like that because you don't know what would have happened. The game happened the way it did. But it was important for us to have that last drive that we did last year."
Mike Matthews

On the importance of the bye week...
Matthews:
"Especially being at the halfway point of the season, being able to evaluate how I've done and fix my mistakes and get better (was important). The false starts and stupid stuff."
On the offensive tempo and picking it up more...
Matthews:
"We play at a pretty good pace but every week we're trying to get faster. With how many points we're putting up, I feel like we're unstoppable."
On the offensive mentality...
Matthews:
"Every time we step on that field we expect to put touchdowns on the board. To us, we feel like we're unstoppable, so it's a disappointment when we don't. We feel like it's us beating ourselves."
On the confidence gained from playing well against Alabama...
Matthews:
"How great of a team that is ... their linebackers are really good. I feel like I played a good game. So that boosted my confidence a lot."
On pounding the ball against Arkansas...
Matthews:
"As an offensive lineman, the run game is first. You just want to go out there and pound the rock. We're known as a passing team but it's good to know we can still go out and do that."
Toney Hurd, Jr.

On Ole Miss...
Hurd:
"They run the ball very well and have a great passing game. Their quarterback runs the offense well and makes good decisions."
On the bye week...
Hurd:
"This is a fresh start for us. This is basically the second half of the season. The first half is in the past (for the defense)."
On Ole Miss' receivers...
Hurd:
"(Donte) Moncrief is very fast. They have a great group of receivers. We'll be ready though — we've been practicing against the best in the country."
On being a good road team...
Hurd:
"When we go on the road it's us against the world. We'll have some fans there, but for the most part we have to create our own energy and our enthusiasm. We'll be fine. Coach Sumlin will have us ready.
"We love playing on the road. That us-against-the-world mentality is something we've embraced. On the road it's more of a team mentality. It starts in practice — we have the radio up loud, TV up loud, get the signals and get everything going. We have to know what the offense is doing because it's going to be very loud. Just have to prepare."
On the bye week...
Hurd:
"I actually enjoyed my bye week. I went out on the boat on the lake, relaxed and got away for a bit. I enjoyed some away time. While I was here I just studied a lot of film."
Never miss the latest news from TexAgs!
Join our free email list