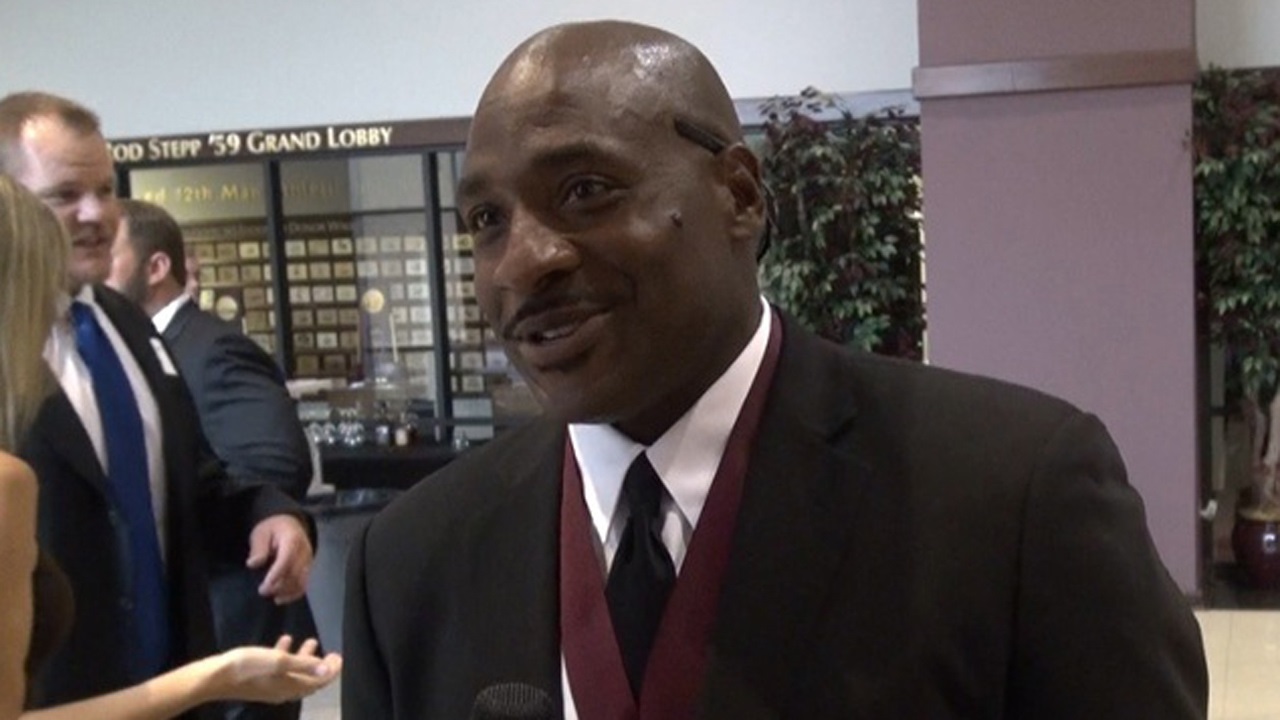 Chet Brooks on coining 'Wrecking Crew,' time in Aggieland
---
Key quotes from Chet Brooks interview:

"[It meant alot] to be one of the first guys on the pipeline from Carter High School to Texas A&M. It goes back to the work ethic that we had at Carter."
"During my time [at Texas A&M], they called defensive backs ' the dogs.' I was of the young ones that went out there and competed for playing time, so I was a 'young pup'. I had to earn my spot."
"I thought the campus [at Texas A&M] was great. I had a wonderful visit. But when it came down to it, it was Coach Jackie Sherrill. There was something about him that made you believe what he told you. I wanted to get a good education and be able to play as a freshman."
"I think the football gods have been looking down on me and smiled. I have had a tremendous career."
"The term 'Wrecking Crew' happened in practice. We would just wreck things... both in practice and games. We took pride in keeping guys out of the end zone."
"We invited people to run and we dared them to pass."
"People always ask me why I didn't trade mark 'Wrecking Crew.' I had no idea it would take off the way that it did."
"[Trash talking] was part of the game that I took with me and it served me well. Some WR's would get distracted, but a lot of guys would give it right back to you. You would have a good time with it. It was never anything malicious. I could get with it. "
"Coach Jackie Sherrill was the master motivator. He had some great moments motivating us before games."
"I got tired of hearing [about how good Baylor was]. I was like 'listen. Those guys are good, but they are not a Timex. They can't take a lickin' and keep on tickin'. I didn't realize when I said it, the life it would take on."
"Come game time [vs. Baylor], Coach Sherrill was giving a speech and getting all fired up. He took his Rolex watch off and turned around and said 'They can't take a lickin' and keep in tickin'! Then he smashed that thing against the wall, and it shattered in to pieces. We were all looking at each other with our mouths open... We went crazy."
"We didn't find out for a long time, couple of years later, that it wasn't his real Rolex... it was an old watch from a Pawn Shop."
"The most memorable thing for me [in the NFL] was walking on to the field for the first time and seeing the guys I had always looked up to... and they were now my competition."
"Jeff Fuller Sr.'s neck injury affected me emotionally. As a football player, I had never been affected like that. I had never thought about hitting people until I saw him on the ground unable to move. It still to this day bothers me."
"[The rules now to try to protect the players] I think they are missing the picture with the contact thing. I think the older you get the less you need. I think the younger ones, where they are really trying to implement it, I think that's where they are missing the boat. those young guys need the experience of hitting technique so they know how to do it. Then you can dial it back as they get older."
"Our best wrecking crew defense vs. the current offense? We would take it, hands down. I wouldn't be worried! I'm good."
Never miss the latest news from TexAgs!
Join our free email list