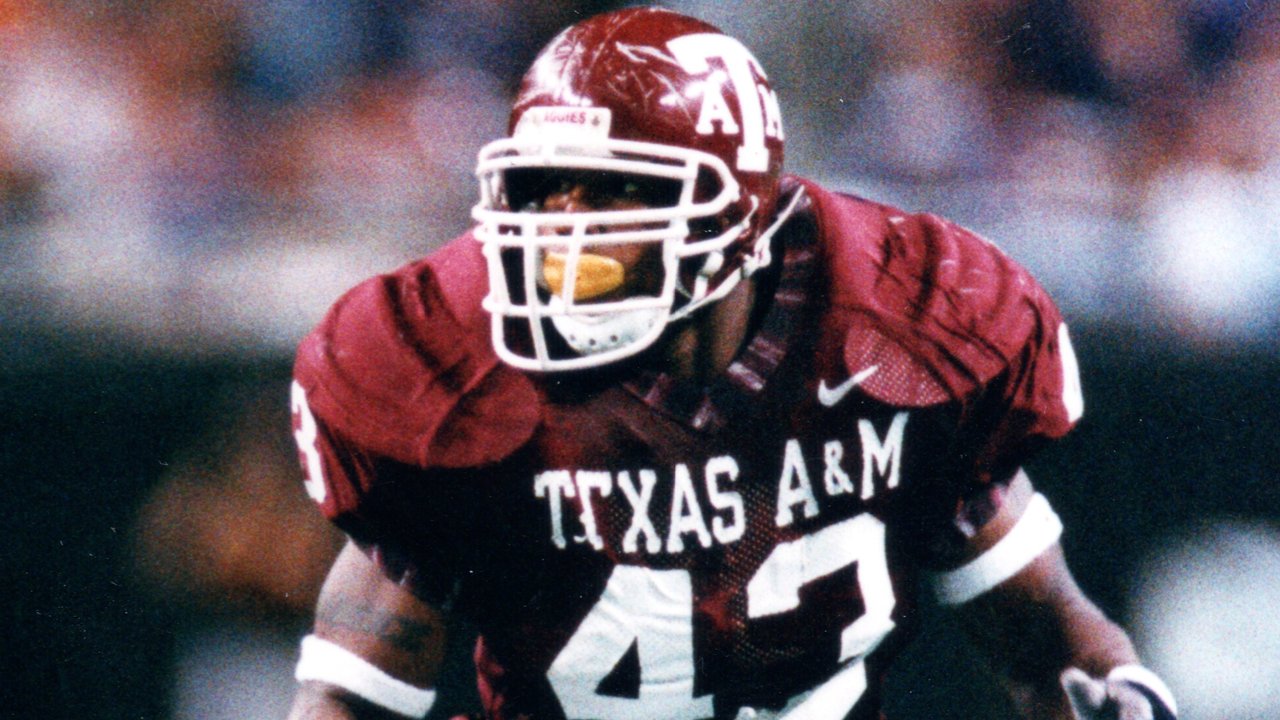 Photo by Texas A&M Media Relations
Texas A&M Football
Aggie Flashback with former A&M linebacker Warrick Holdman
---
Key quotes from Warrick Holdman interview:

"Right now, I am in coaching. I have coached on the collegiate level, Division II. Now I am back in Houston working on getting certified to do High School so I can be closer to my daughter.
"A&M was close to home. I was an only child, it was hard to tear away from my mom. She wasn't letting me go that easily."
"The biggest thing for me was that was when the Wrecking Crew was big. If you lived in Texas and you didn't know about the wrecking crew then you really didn't know football."
"I went on a visit and saw how the stadium was. I saw how electrifying it was. I had to go there."
"Dat [Nguyen] and I were the two guys that red-shirted our first year... and we ended up the two guys that played in the NFL for a while."
"I remember the first day, we all looked at each other and knew each other. We were all sizing each other up."
"[The freshman] became instant friends. We competed, but we also respected each other because we knew that each other had been successful in high school."
"The first thing you learn about Dat when you play with him is that you learn how smart he is... he had surpassed the physical part and he was going off the mental."
"Dat has a very high football IQ."
"I can remember every game I played at A&M. Every game, every big play I made... I will always remember it."
"I always say the [1998] Kansas State game sticks out the most because that was the game where we won the Big 12."
"Every time we played a high-ranked team or a team that was supposed to be legitimately good, we would always lose. Every one would say we were a good team but we could never beat the big teams."
"When I think about [the Kansas State game]... Sir Parker lived up to everything. You finally got to see what he could really do."
"It was just crazy. It was a game where I think the whole team was dialed in. We wanted to win that so bad because we had gone to the Big 12 Championship the year before and we got beat really bad. So when we had a chance to go back, we had a chance to make history."
"The Big 12 Championship game and the game where we beat Nebraska at home are the two games I remember the most."
"[The fumble recovery for a touchdown] in the Nebraska game was a good play... I just remember seeing the ball rolling. At that time I didn't know I was that close to the end zone. I just remember diving on it, and when I looked up and saw the ref holding up the touch down sign, I was so excited."
"That game was so electrifying too. At that time, Nebraska was the team to beat."
"That year, that team... We were prepared to win. We had a real close unit. We just refused to lose."
"Every thing now is so different. Just how athletes are evolving now is different."
"Johnny [Manziel] has a unique talent to where he is just a football player. I always tell people when you watch him, he just plays football. He played in the back yard."
"You can tell every thing about college football is different now."
"My advice to the guys that were just drafted is to obviously enjoy the moment. You never know when it can end. Enjoy every day. Don't take one practice, one weight lifting session, one film watching session for granted because it is over before you know it."
"Another thing I would tell them is to approach this as a professional job. Now someone is paying you to play football. You are getting paychecks to perform...That's where a lot of people make a mistake."
"Von Miller is perfect. He has done everything right so far on how a professional should perform and how he is supposed to act off the field. When you approach it like that, you will have a long career in the NFL."
Never miss the latest news from TexAgs!
Join our free email list