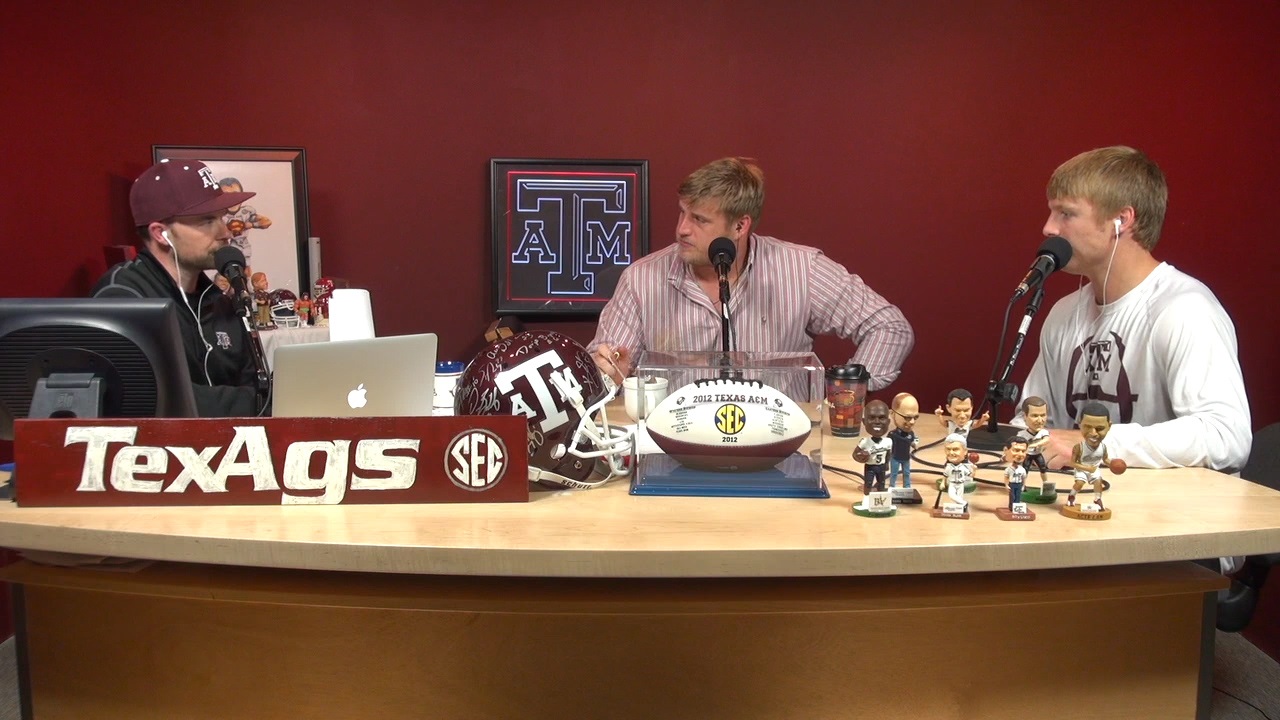 Texas A&M Football
Spencer Nealy, Ryan Swope look back on their time in Aggieland
---
Key quotes from Ryan Swope interview:

''I'm more anxious than anything for the Draft. I'm ready for this process to come to an end and be slotted with a team."
"Spencer is one of those guys you need on your team that brings energy to your team. He's the kind of guy you want on your team"
"A&M is a special place and that's the main reason why I came here. Kyle Field is a different place, it's very electric."
"We knew what our goals were going into the season, and we had to gain respect in the SEC. We knew we had a good team."
"At the end of the season, we were the hottest football team out there. It was a special season that I will remember forever."
"Our defense stepped up and made some big plays this season. They gave us an opportunity to feed off of them and work as a team."
"As an offensive player, going against Snyder's defense in practice was difficult. Nothing but good things to say about him."
"I remember in Sumlin's first meeting, he told us we were going to win football games THIS year. He set the bar extremely high."
"Going undefeated on the road in the SEC was pretty impressive. It says a lot about a team and the confidence we played with."
"Evans is a remarkable receiver. Beaty always says 'big players make big plays' and we knew the wideouts had to step up."
"Malena has a motor. I have great respect for the way he plays. He's just a work horse."
"We came out on fire against Alabama, because that's the kind of mentality we had. They made a late run, but we kept pushing."
"I had to get up and send a message to the sidelines and the fans [after getting hit down the sideline in the 4th against Bama]"
"The 2013 offense will be special. They have a ton of talent and I can't wait to see what they do."
---
Key quotes from Spencer Nealy interview:

"If I get the opportunity to play football again, I'll be jacked about it. If not, I'm moving back in with my mom."
"My time in college is coming to an end, and that's scary. It's really sad that I won't be here every day anymore."
"Our career couldn't have ended any better. It would have been better if it was Texas, but beating OU was great."
"I would do anything for Coach Snyder. He's the coolest dude I've ever met."
"I love Sumlin. He's the man."
"We had the struggle game against Ole Miss, but we finally pulled out a close win. Seeing Sumlin run in and pump us up was great."
"We were very mad about the Florida game, but Sumlin imbedded having a short memory into our head."
"After Swope caught that ball and got jacked in the 4th against Bama, we all got fired up on the sidelines."
Never miss the latest news from TexAgs!
Join our free email list