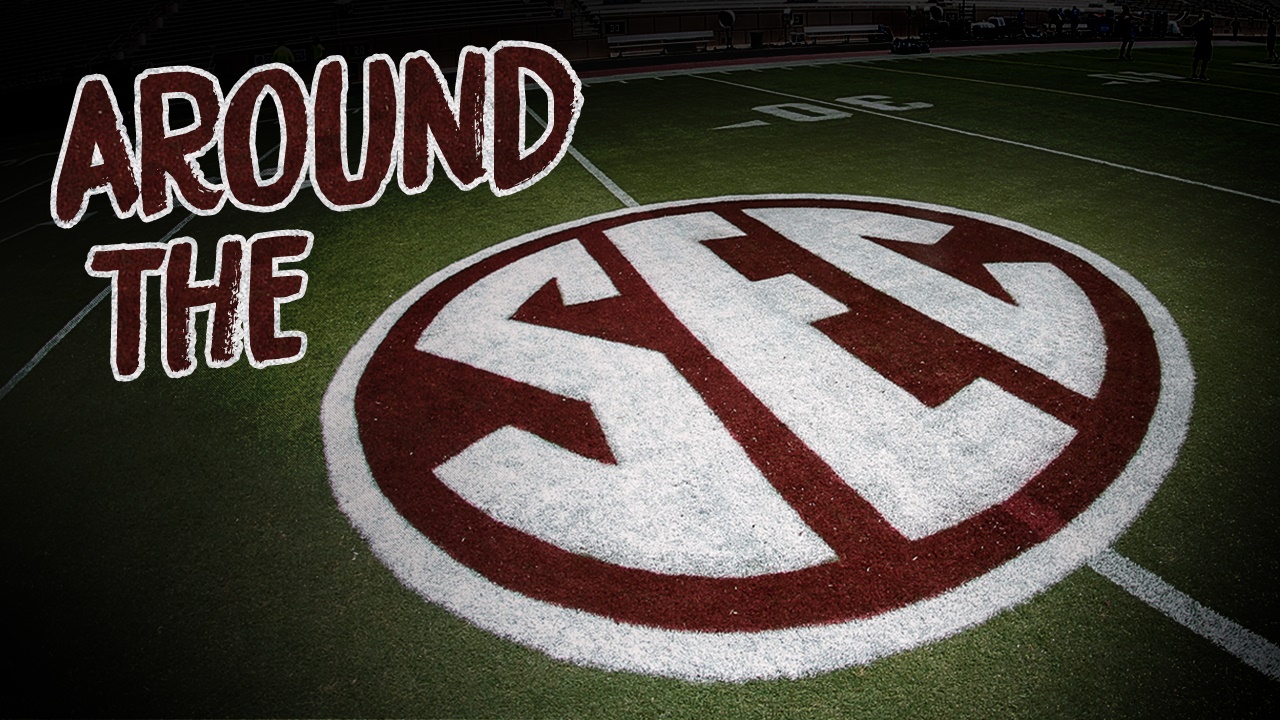 Photo by Ray Carlin-USA TODAY Sports
Texas A&M Football Recruiting
Around the SEC: Recruiting News & Trends
---
The recruiting action has been fierce as the 2023 season quickly approaches, and now it is time to take a look around at the latest news, notes and headlines from across the SEC recruiting trails.
Big Gets
OL Blake Ivy‍ commits to Texas A&M


DL Kamarion Franklin‍ chooses Ole Miss


DE Williams Nwaneri‍ stays home at Mizzou


CB Wardell Mack‍ is headed to Florida
http://instagr.am/p/Cv7kXPTMMBp">http://instagr.am/p/Cv7kXPTMMBp
DE Jordan Ross‍ selects Tennessee
http://instagr.am/p/CwOeeCysYjJ">http://instagr.am/p/CwOeeCysYjJ
DL TJ Lindsey‍ makes the call for Auburn

Headlines
Dre Kirkpatrick Jr‍. carries on the legacy – CB Dre Kirkpatrick was a five-star cornerback and prized recruit for Nick Saban out of Gadsden (AL) in the class of 2009. He went on to earn All-American honors and become a first-round NFL Draft pick. Now his son, Dre Jr., is on a similar path. A Gadsden standout DB in his own right, the younger Kirkpatrick committed to the Tide over offers from Auburn, Arkansas, Missouri, Mississippi State and South Carolina.
Trever Jackson‍ eyes a decision – Orlando (FL) Jones QB Trever Jackson has announcement plans and finalists. The standout signal caller will make the call between Oklahoma, Ole Miss, UCLA and Texas A&M on Saturday, Aug. 26.
Headed Elsewhere – A couple of Georgia prospects announced plans to leave the SEC area, and both are headed to the Big Ten. Buford (GA) standout DE Eddrick Houston‍ chose Ohio State over Alabama, Clemson, Georgia and USC, while Carrollton (GA) 2026 QB Julian Lewis‍ picked USC over offers from across the country.
New name to know
WR CJ Wiley‍, Milton (GA) – 2025
At 6-foot-4 and 190 pounds, Wiley is a long, lean fluid athlete with surprising quickness. The length gives him a large catch radius, and he also has the flexibility, body control and awareness to make quick adjustments, locate the ball and work in tight spots. Then there are the feet. Wiley has a burst off the line and the ability to change directions in a hurry to keep defenders off balance and be a threat on the outside.
He prides himself on his explosion, and he has seen firsthand what it takes to push to the highest levels. He is a student of the game and considers George Pickens, Justin Jefferson, Randy Moss, Terrell Owens, Mike Evans, Ja'Marr Chase, Odell Beckham and Julio Jones to be among his role models.
College coaches have already taken notice. Texas A&M offered in January, and Wiley also holds offers from the likes of BYU, Florida State, Georgia, Georgia Tech, Indiana, Kentucky, Louisville, Miami, Michigan, Michigan State, Nebraska, Ole Miss, Pitt, South Carolina and UCF. Interest has also arrived from the likes of Tennessee, Auburn, Florida and Oklahoma.
Athleticism, competition and college football run in the family. His father, Chuck Wiley, was a three-time All-SEC defender at LSU before moving on to the NFL. His mom, Jay, ran track at LSU. His sister, Logan, is committed to Georgia Tech for Volleyball. His cousin is Super Bowl MVP Doug Williams, and Wiley also has countless relatives who have played ball at the college and pro levels.
In addition to football, Wiley also competes on the track, and last spring, he ran a personal record of 10.9 in the 100m.
What's up with the top
Top SEC area prospect at each position
QB: Dylan Raiola‍, Buford (GA) – Georgia
RB: Taylor Tatum‍, Longview (TX) - Oklahoma
WR: Jeremiah Smith‍, Opa Locka (FL) Chaminade-Madonna – Ohio State
TE: Landen Thomas‍, Moultrie (GA) Colquitt County – Florida State
IOL: Casey Poe‍, Lindale (TX) - Alabama
OT: Ashton Funk‍, Katy (TX) Tompkins – Texas A&M
DL: Dominick McKinley‍, Lafayette (LA) Acadiana
Edge: Williams Nwaneri‍, Lee's Summit (MO) Lee's Summit North - Missouri
LB: Sammy Brown‍, Jefferson (GA) - Clemson
CB: Jaylen Mbakwe‍, Pinson (AL) Clay-Chalkville - Alabama
S: KJ Bolden‍, Buford (GA) – Florida State
ATH: Mike Matthews‍, Lilburn (GA) Parkview - Tennessee
Never miss the latest news from TexAgs!
Join our free email list