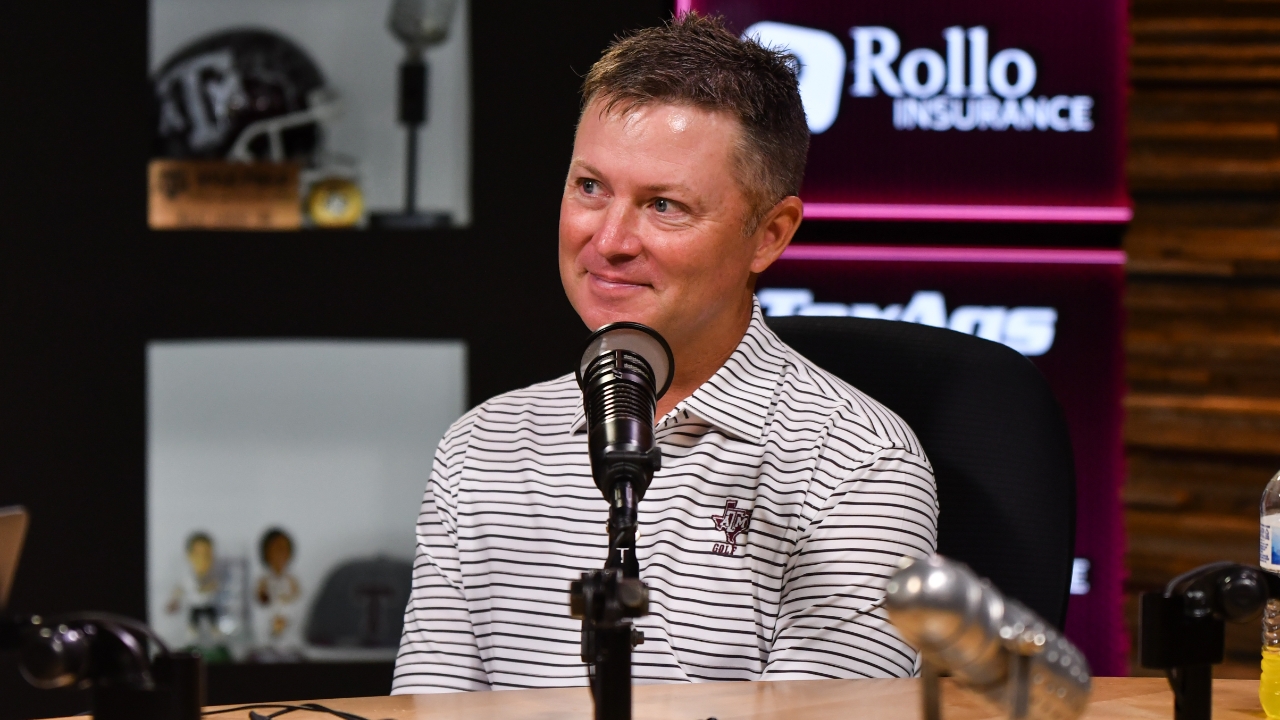 Photo by Jamie Maury, TexAgs
Texas A&M Women's Golf
Chadwell's Ags playing at a very high level ahead of SEC Championship
---
Fresh off a runner-up performance at the Silverado Showdown, No. 6 Texas A&M travels to Hoover next week for the 2023 SEC Championship at Greystone Golf & Country Club. On Thursday, we caught up with head coach Gerrod Chadwell for an update on his squad.
---

Key notes from Gerrod Chadwell interview
I'd have to go with Michael Jordan in my celebrity golf foursome for sure. I think it would be fun to play with Justin Timberlake. Tiger would be fun to play with. I will also go with my wife, Stacy Lewis. She would be my partner.

It was neat to see the comeback at Silverado. It doesn't happen very often, but it can happen. In team golf, that can happen in a couple of holes. The golf course was very demanding. You literally had to drive it in the fairway. The rough was thick because they've had a lot of rain in Northern California. Greens were fast and firm, and there were tough hole locations. You could literally make a bogey on every hole. We just ran out of juice. That last nine, we couldn't get it going. Runner-up in a good field is something I'll take it right now going into the conference championship.

The worst thing you see teams do is that they're up big at the half, you can kind of see them going into a stall. They're running out the clock, and they totally get out of their rhythm. I think it is easier, in a lot of situations, to play from behind because you do kind of just let it rip. That golf course helped us because literally every shot had a premium to it. The comeback could happen in a hurry, whereas you see some tournaments where we're shooting 34, something under par to win, you have to create a lot of offense and make a lot of birdies to erase that deficit. I think it was a little bit of a perfect storm. Northwestern probably ran out of gas a little bit too, and that golf course set up something to happen as well.

Hailee Cooper played phenomenally. I thought it was a pretty sweet week for her. They have given a sponsors exemption for the major championship that is coming up in Carlton Woods, and the winner got a spot. It looked interesting at the turn going into the last back nine and like it was going to be really close. The other girl birdied the last hole to make it a two-shot deficit. Hailee is our lone senior that we're going to lose, but just everything that she's been through, it's exciting seeing her play at such a high level going into the postseason because last year she kind of struggled at this. We get to end her career on a high note and chase a national championship.

Blanca Fernández García-Poggio got it going in Georgia a couple of weeks before actually, and it was great to see things carry over. It's really great to see her rounding into form and starting to play like she did last year.

At every point in the year, Adela Cernousek has felt like she's been the most solid. She struggled with the putter a lot.

Right now we're trying to manage rest as we take off Monday for the SEC Championship next week.

Jennie Park is coming off a very emotional week at Augusta. I told Jennie I'm just so proud of her because the course really doesn't complement her strengths. She played really well there. I'm proud of her for showing up and really gutting out a week. I just asked her to give me all she had in the last hole.

Last year, we didn't play well at all in Hoover. I'm very excited for us to take that lesson into next week. Anything can happen in the SEC. Everyone is so strong from top to bottom.
Never miss the latest news from TexAgs!
Join our free email list