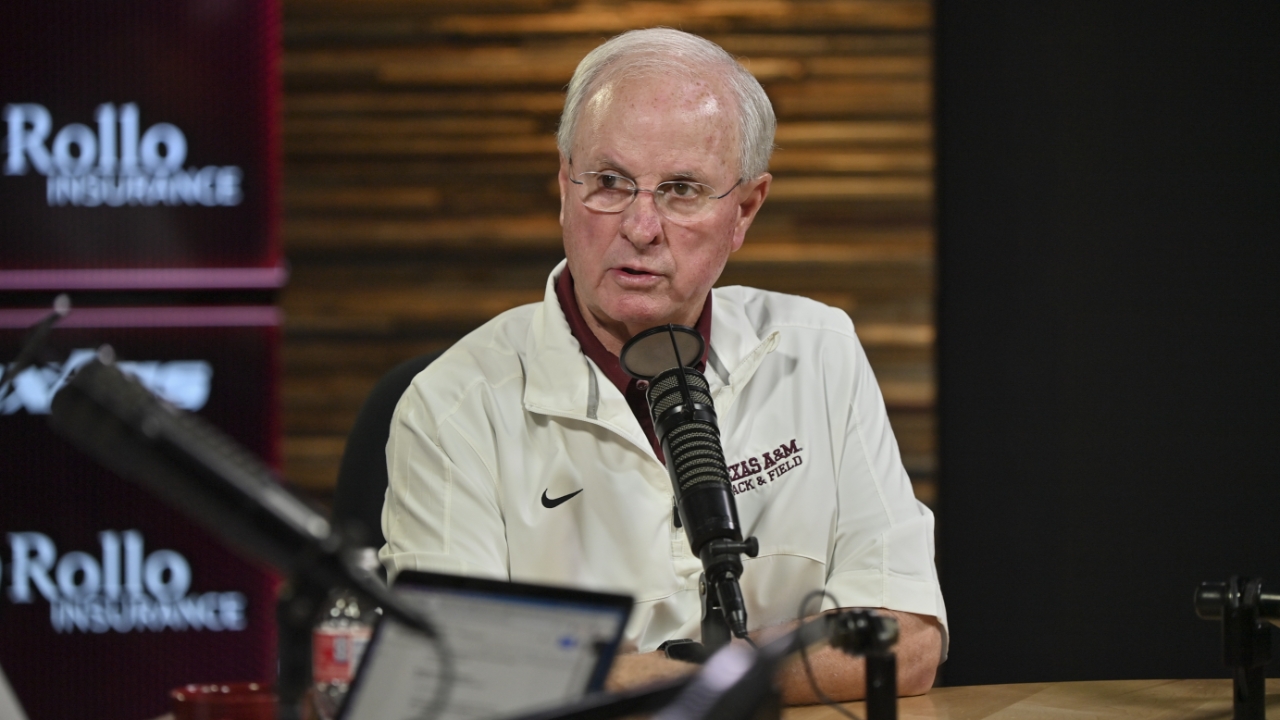 Photo by Jamie Maury, TexAgs
Texas A&M Track & Field
Track & Field Report: Hurdler Kaylah Robinson joins Pat Henry in-studio
---
Texas A&M Track & Field coach Pat Henry joined Tuesday morning's edition of TexAgs Radio, along with hurdler Kaylah Robinson, to look back on the team's previous meet and preview their final home meet of the 2022 season.
---

Key notes from Pat Henry Interview
Good weekend. Terrible weather. The wind has not stopped blowing in about three weeks, maybe longer. It has been a tough three weeks for track. When you're out in a field like that, it's tough on a lot of events. When you have too much wind at your back, it can be worse than running into the wind, especially for short hurdles. I don't know if we have short memories of bad weather or not, but I don't remember this kind of wind here. It has been a little different.

We've had some great hurdlers here, so for Kaylah Robinson to do what she has done has been a great accomplishment.

This is different for me to have fifth-year athletes here. Who said you only had four years of eligibility? Most education takes five years to graduate now. Having five years of athletics would help everybody, and you're seeing fifth-year athletes have success in all sports.

Age in doing anything helps. In our sport, the knowledge of your event is even higher. For Kaylah, the knowledge of what she needs to do has increased with each year of eligibility. There is no question that the fifth year has been very beneficial.

This time last year, Kaylah wasn't as good as she is now, mentally and physically. Seeing the progression has been the most important thing to see.

Even with the wind at Lamara Distin's back the way it was, to jump the way she was able to jump is a huge accomplishment. You have to make quick adjustments. It was another great weekend for her.

Just a few weeks ago, Bryce Foster was at 59 feet. Now he's at 62 feet. He has time, and he is getting better all the time. He can only go so far in three months, but he's coming along and doing a great job. The more he gets into a rhythm of what he's doing and is able to use his strength, the better he will be. It's really hard to find it sometimes, but he certainly has it.

We talk about running between your lines. A horse wears blinders. That's the way you have to be mentally.

I think the field this weekend will be very good. We have Oklahoma, Houston, Rice and about ten other in-state schools coming in. It should be a relatively good competition. We're off next week before the SEC Championships, so we need this competition this week.

Seniors get awards at this track meet, and for a lot of our seniors, this is the last time they'll run here. You're always going to miss young people, but that's part of the job.
Key notes from Kaylah Robinson interview
I make it through "The Notebook," and I cry every time. It's my favorite movie. You should give it a try. It's a great movie.

I loved Texas A&M coming out of high school. It was A&M and Oregon coming out of high school, and when I went into the transfer portal, I knew where I wanted to go. I really liked the vibe of College Station. This is my third season here. It goes quick.

I spend time with the sprints and hurdles group. I really like everybody on the team. Everybody we train with, we hang out a lot. We keep each other in check, but we have fun at the same time. Kennedy Smith, Deshae Wise and I are all fifth years, so we want to have fun but stay focused at the same time.

I always tell the younger athletes that it hasn't always been like this. I haven't had a year like this. It takes time. You have to find a rhythm, and until then, it's a rollercoaster. I tell the young ones that might be struggling that it's not going to always be like that.

It feels amazing. Going up to the line and not performing to the level you're capable of bothers you. To perform at the level that I can feels really nice. It feels nice to be able to show everybody that this is what I've been telling you I can do.

The most frustrating thing about track & field is that the conditions have to be right on that day. If you're not mentally and physically ready when the gun goes off, your preparation or whatever time you hit before does not matter. It only matters on that day.

A lot of my performances this season, I haven't felt good going into my races, and I've gone out and shocked myself. You just have to compartmentalize and do what you need to be done.

The biggest thing, especially in hurdles, is running your race. I've had people fall next to me. You have to keep pushing. It can throw some people off, but you have to say focused. You can't let things like that throw you off.

I was pampered at Oregon. We didn't train in the rain, and we trained indoors most of the time. Being at A&M has helped me get used to the weather. If there is a drizzle, we get after it regardless.

Kennedy and Deshae have helped me so much. They have picked me up out of some dark times. We always make sure to pick each other up and continue to have a positive mindset.

My time at Texas A&M has gone by so fast. I'm kind of sad, and I'm trying not to think about it. It's hard to believe that my collegiate career is almost over.
Never miss the latest news from TexAgs!
Join our free email list