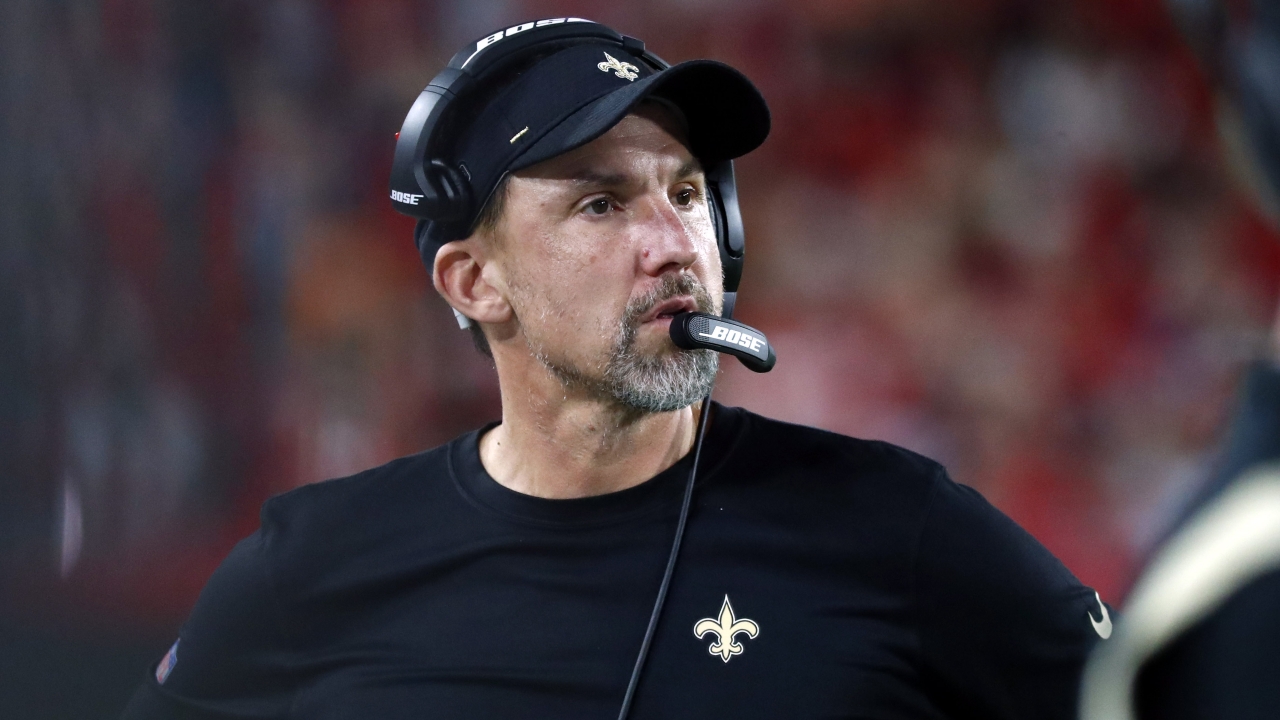 Photo by Kim Klement-USA TODAY Sports
Texas A&M Football
Dennis Allen tops Charean Williams' Aggies in the NFL list for Week 15
---
Key notes from Charean Williams interview
I was at the NFL owners' meeting last week. They had the outbreak where 200 players tested positive last week. They found that two-thirds of those players were asymptomatic, and the others were very mild cases. What they decided to do was to stop testing and require just one negative test to come back. You saw Cleveland play with a third-string quarterback. Washington is hoping to have a quarterback today. The league is fighting it a little bit more. Cleveland was fighting for a playoff berth and would have preferred to have one of their top two quarterbacks. The symptoms with most of these guys are so mild that they're leaning towards letting them play. COVID-19 is changing, and the protocols will need to change too. I don't know if they'll change fast enough to let the Aggies play.

There will be other players within A&M's program to test positive. You still have a week and a half to get healthy, but do you want to play a bowl game without practicing? I'd lean towards calling it a year, and I'm not sure many Aggies would be disappointed with that decision.

A&M did OK in recruiting. On paper, it looks good. The class is great, and it seems like all of these guys have the potential to do great things. I'm excited. There are some great players in there. People are excited about the skill position players, but you have to build on the offensive and defensive lines. The lines in this class are terrific. The lines and the quarterback have me more excited than anything. This will be one of the classes that go down in history as one of the greatest of all time.

We all see the progress, and you saw the improvement last season. If Haynes King doesn't get hurt, maybe they take another step this year. Last year was a huge step for the program in the right direction. Maybe this year was a step back, but it's hard to say that when you beat Alabama and show what you're capable of. I'm seeing a building process instead of the two exciting years with Johnny Manziel before it fell off the cliff. It's very different with the building process vs. what this program was under Kevin Sumlin.

The transfer portal has changed the game so much, and it's almost like free agency in the NFL. You look at what the baseball team has done with the best transfer class in college baseball. Sometimes it works, and sometimes it doesn't. It's a different era. I compare it to the NFL, and you still have to draft well. If you don't draft well, you're not going to have a good team in the NFL. Signing day is your draft, and now you have the free agency to supplement it. Building your program through the portal will not give you a really good program. You still have to do well on signing day to have good teams consistently.

I don't personally like the transfer portal because I want guys to love A&M like I love A&M. I understand why Zach Calzada is leaving, but I'm still sad about it. They deserve chances to play. Look at the coaches that moved around. Some kids signed with Notre Dame to play for Brian Kelly, and some kids signed with LSU to play for Ed Orgeron. If the coaches can change, then the players should be able to change teams too. It will continue to evolve, and we'll see more rule changes in the next five to ten years in college sports.

There are 32 in the NFL, and it only takes one team to like a player for that player to go higher. There are two Aggies that scouts are in love with, and that's DeMarvin Leal and Kenyon Green. They're expected to go in the first round. With regards to Green, one scout told me he has never seen a wider base. He's so versatile and can play all five positions. That's not easy. Even going from right tackle to left tackle is a very difficult process. They love Green's versatility. Teams are very intrigued with Leal's ability to get the quarterback. They need to test well.

One player that is interesting is Jalen Wydermyer, and a number of scouts said he should go back to school after a terrible year. He dropped a lot of passes. They have trouble understanding what motivates him. He will test well and had a couple of good years, so it will be interesting to see where he goes. Isaiah Spiller is a little interesting because running backs have been devalued in the NFL. You only see a few special running backs, but teams do see Spiller as a three-down back who can block, catch and run. He's expected to go in the second round.

Leon O'Neal is probably a third-day pick. He's one of my favorite players I've watched at Texas A&M, where he came in and where he ended up. His transformation was really fun to watch. He could be a Donovan Wilson kind of pick, who was a third-day pick as well.
---

Aggies in the NFL
#3. Justin Madubuike had three tackles, a tackle of loss and a sack. The sack was huge. It was a nine-yard sack of Aaron Rodgers with 2:30 left. The Ravens wouldn't have gotten the ball back without his sack. They didn't win the game, but Madubuike gave them a chance.

#2. Co-selections here from the Lions. Josh Reynolds had a 22-yard touchdown catch. He had six catches for 68 yards. He has found a spot in Detroit and hooked up with Jared Goff well. Dan Campbell and Aaron Glenn getting that win over Arizona was unforeseen, and it wasn't just a win. It was a blowout. That's overlooking Christian Kirk, who had nine catches for 94 yards and a touchdown in that game.

#1. Dennis Allen and what he did with the Saints, not only as the defensive coordinator but as acting head coach with Sean Payton out with COVID-19. They shut out Tom Brady for only the third time in his career. All Dennis Allen needs to do when it comes time to hire coaches is turn on the film of this game. That game may get him another head coaching opportunity, and he certainly deserves it.
Never miss the latest news from TexAgs!
Join our free email list