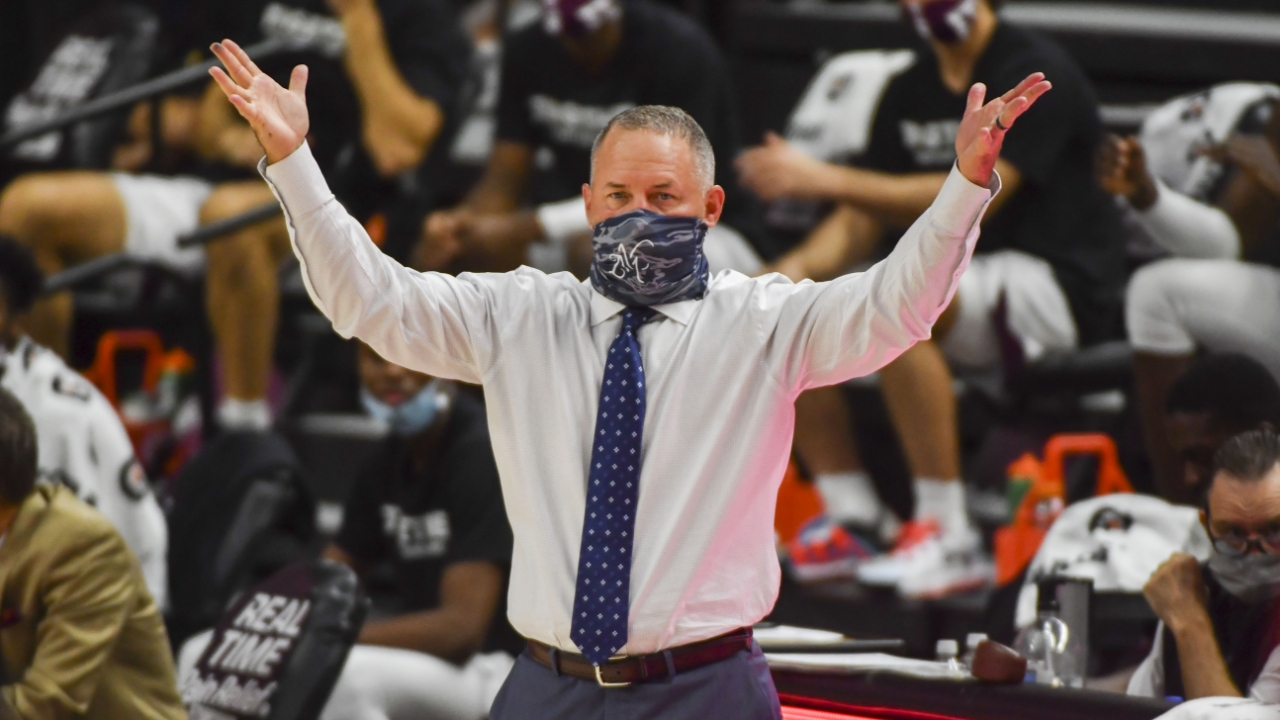 Photo by Lia Musgrave, TexAgs
Texas A&M Basketball
Buzz Williams discusses Aggie basketball's first win in the Little Apple
---
Key notes from Buzz Williams interview
We changed up how we've done things since school has started back. This is our third full-week since school has been back in session. We had a good workout with our young seven this morning, and we just finished our early bird workout as we prepare for this next week.

This sounds over-simple, but the last two games, our effort, attitude, togetherness, and spirit with which we have completed has been the best all season. You could hear and feel that togetherness. That's the most encouraging thing. Second, it was another game in which we had single-digit turnovers. That gives us a chance to get the most shots. In both of our last two games, we've had more of a presence on the offensive glass. We've done a good job of keeping the other teams off the glass.

Andre Gordon was not great at Ole Miss, and it was arguably the worst he has played this season. It helps our team when we play those primary ball handlers together. If we can get 40-50 minutes from those two guys — Dre and Emanuel Miller — with one turnover, that increases the margin. Eman played well. It helps our team in where we need to change the most.

It was a tie ballgame at the last media timeout. We play that in practice a lot — four-minute games with no timeout. They scored a three, and then our next possession unfolded, and I wouldn't say I liked how it was playing out. I told Savion Flagg to take a timeout. Savion passed it in, and he's becoming like a magician with his in-bound passes. It was a specialty play. The first read was not open, and the second read failed. From that point, with the clock down to six and five, I thought Sav made a good charge-circle play. And-1. Tie ballgame. I thought Savion had a couple of huge plays, including that one. How we closed the game was crucial, and we were clutch from the free-throw line.

Kansas State had lost eight in a row. I think they beat Iowa State in their first game of conference play. For them to arrive on Saturday morning after playing the latest game on Wednesday night on the road, it speaks to the competitiveness with which they play for it to be a one or two-possession game for the majority of the contest. Our resilience came out as well. We collectively stood our ground. We didn't have many people lose track mentally or physically, which showed from an outcome standpoint.

This is such a delicate balance, and we have struggled with turnovers so much that the premise of the other numbers we track has changed, and I've let off the pressure of our whiteboard stats due to our turnovers.

When you get to that four-eight foot range, you have to make a two-footed, two-handed decision and work hard to get to the charge circle. I thought we were really good at that, and we played well in straight lines. If you have to do fancy stuff to get to the charge circle, you'll never get there because the defense will rotate to you. We were good at getting to the charge circle and avoiding the one-handed, one-footed, ill-advised decisions.

It was fun to play the first game of the day and even more fun to win and have the next day off. We had some pizza on the way home, and that was a big treat. I got through eating the pizza and turned on some games to watch. Vanderbilt-South Carolina was on, and I went from an emotional high to wondering if the team we are playing next would score 100. They score at a high rate, and Pippen is one of the most improved players this year. They shoot more threes than any team in the league other than Auburn. Beating Vanderbilt is the next step we have to take. We need to have a better practice than we did today tomorrow and get better after that. Vanderbilt is looking to start February the same way we are: With a winning streak.
Never miss the latest news from TexAgs!
Join our free email list