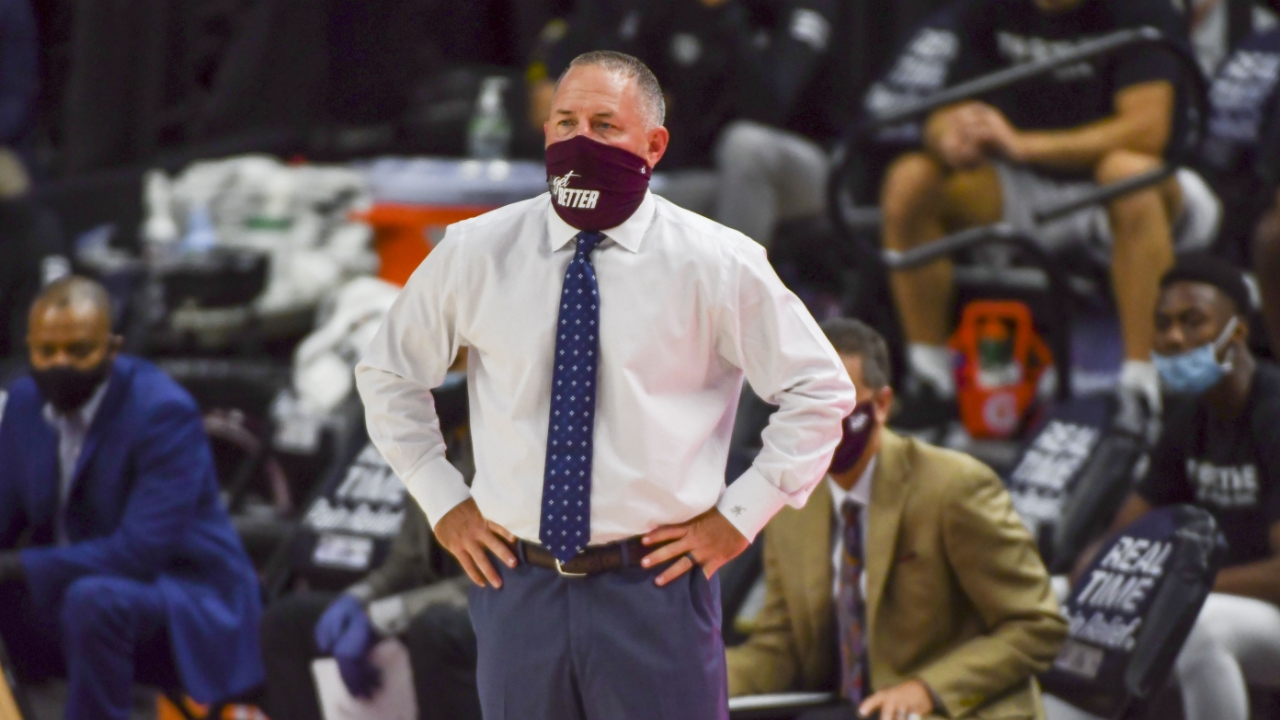 Buzz Williams
Andre Gordon
Jaxson Robinson
Texas A&M Basketball
Decreasing turnovers & increasing rebounds vital for Aggies vs. Tennessee
---
Videos courtesy of Texas A&M Athletics.
---
Statistics don't always tell the whole story. But sometimes, they get down to the moral.
For example, No. 9 Tennessee is ranked 26th in the nation in turnovers forced and 63rd in offensive rebounding. Meanwhile, Texas A&M is 273rd in turnovers and 281st in rebounding.
The moral of that story is the Aggies (6-3, 1-2) must reduce turnovers and increase rebounds to have a chance to beat the Volunteers (8-1, 2-1) on Saturday in a 1 p.m. Southeastern Conference basketball clash at Reed Arena.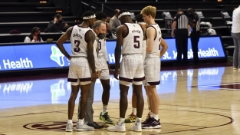 Jamie Maury, TexAgs
"They present a challenge to us in every possible way," Texas A&M coach Buzz Williams said on Friday. "The two biggest would be our turnover rate is bottom 30 in the country. Their turnover rate forced when they're on defense … they're top 30. The same is true in our defensive rebounding percentage.
"That, I think, will tell the story of the game."
Those stats certainly were central to the plot in the Aggies' 78-54 loss at South Carolina on Wednesday. They committed 19 turnovers while surrendering 17 offensive rebounds. The Gamecocks scored 20 second-chance points.
"We have to regather as a team. Focus on the little things like rebounding and turning the ball over," sophomore guard Andre Gordon said. "I think our team has to get a shot every possession. Just get a shot every possession, get a rebound after they shoot the ball. Don't allow them to get more than two to three offensive rebounds and put-backs off those. That's big for us."
The Aggies cannot afford to give additional shots to the Volunteers, who have more than a few capable scorers.
Junior guard Victor Bailey, from Round Rock McNeil High School, averages 13.4 points. John Fulkerson, a 6-foot-9 senior forward, averages 11.7 points and 6.3 rebounds. Freshman guard Jaden Springer also is averaging 10 points.
Of course, there's also a matter of A&M putting the basketball through the hoop.
Tennessee is ranked fourth in the nation in scoring defense, allowing opponents an average of 57.1 points per game.
In its three losses, A&M has been limited to 55 points by TCU and 54 points by LSU and South Carolina.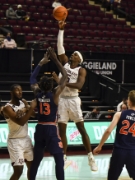 Jamie Maury, TexAgs
Sophomore forward Emanuel Miller typically gives a herculean effort in the post. He averages 18.8 points, has scored in double figures every game, and has posted three double-doubles.
But he needs help. The Aggies perimeter scoring has been inconsistent at best.
Senior guard Quenton Jackson averages 12.1 points and has hit 13 times from behind the 3-point arc, but nobody else has been a reliable contributor.
Savion Flagg, a preseason All-SEC selection who averaged 10.4 points last season, is mired in a slump. He has hit just three of his 21 field-goal attempts in three SEC games. That includes just one of 15 treys.
However, Williams is more concerned that the 6-foot-7 Flagg has managed only five rebounds in SEC play.
"He'll make shots," Williams said of Flagg. "He works diligently on his game when coaches are not around.
"We need him to have more of a presence on the glass. Sometimes shots will go. Sometimes shots won't go. You hope you make them more than you miss them, but we have an issue as a team on the glass. We need him to have a minimum of five per game, not every three games, total."
Williams was careful to note that's been an issue with the entire team.
Freshman Jaxson Robinson has picked up some of the shooting slack with a pair of 3-pointers in each of the last two games. But Williams seemed more impressed with his seven rebounds in a loss to LSU on Jan. 29.
"I thought Jax played well at LSU," Williams said. "He made two shots that helped. The thing that helped us the most was he had seven rebounds."
Robinson's scoring and rebounding figure to increase as the season continues. He just turned 18 on Dec. 3. A highly-rated prospect, Robinson graduated high school early and opted to join the Aggies this season instead of waiting for next year.
"It was a little weird, at first, trying to figure out kind of what my role was on the team," Robinson said. "I think the more games coming in and the more passes I get, I'm getting more confident in my play. I think as the season goes on, I'll be better."
The Aggies are hopeful they all make significant improvement, starting with their game against Tennessee.
Never miss the latest news from TexAgs!
Join our free email list