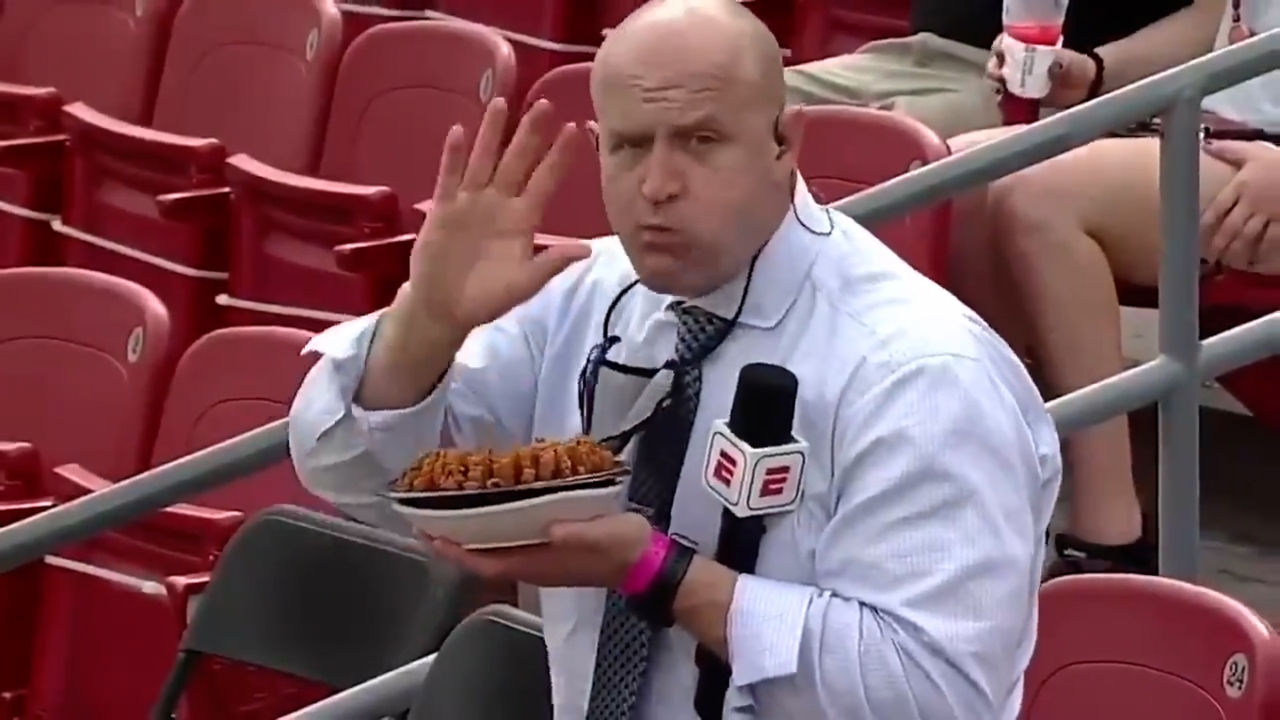 Photo by ESPN
Texas A&M Football
Cole Cubelic discusses NY6 storylines, his Bloomin' Onion experience
---
Key notes from Cole Cubelic interview
I've always watched the Outback Bowl, and they usually have the dueling mascots — the bloomin' onion and coconut shrimp. I told our producers if they were giving some away, to get me one, and we'd make it happen. I thought that was going to be the end of it. We had to change producers close to kickoff because of COVID. We were just worried about doing a good broadcast. Sure enough, some guy came and found me and handed me a plastic bag. It was a bloomin' onion. We came out of the break and said it was all mine. I was just going to be eating the food when the camera came on me. I don't know why I should be nice or cordial about eating it. It was just about having fun. If we were sitting around watching college football in the house, that's how it would've been. That's how I would've eaten it.

Some people were mad because they didn't get to see a penalty. Oh well. I cannot watch football with other people because there are these people called "penalty vultures" who go nuts on every single play. I don't know how people can cheer for flags. I don't know or get that at all. Complaining about not seeing a penalty because of the bloomin' onion segment is the ultimate penalty vulture move.

I'm not sure if something changed for Texas A&M after week two. There were many things about this season that we knew going in, but after a few weeks in, we forgot all about them. I can remember talking to guys about how they didn't expect their kids to play well because they hadn't been together, whatever. It was just going to take a little bit longer for teams to find their identity this year. That's what happened with A&M. They didn't know who they were in the first two weeks of the year. With all of these different ways you had to manage things, the games essentially became your practices. You could make the adjustments or find who you were until you played games. As the season went on, A&M found who they were. They figured they could build their offense around the ground game. They had to be different early in the season, but then they found they could improve.

"Culture" is what it means to you. When I say that, it has to do with the guy playing next to you, across from you in practice, guys in the locker room, and the coaching staff. The perfect example of this is the offensive line. Nobody is leaving anybody else on their own. There were so many perfect examples in that Orange Bowl where the smallest guy on the team was out there blocking. That tells you everything you need to know about this team. A&M didn't have anybody opt out before the bowl game. They actually had guys try to come back. You need nothing more than to see that embrace between Kellen Mond and Jimbo Fisher after the game. That's "culture."

I haven't seen Kenyon Green at tackle a whole lot, but I feel good about him at guard. That's a tough transition. You have to have quick feet and good lateral movement. Sometimes guys who have a lot of power are just better suited for guard. If you combine him with Layden Robinson, because we've seen that's what's coming, that's an excellent starting point. If Kenyon Green can show that he's a good fit and that's a better place for him, then absolutely.

Right now, I think Alabama wins the national championship, but Ohio State blew me away. I did not see them coming. It's fair for us to sit here and say that we didn't expect that from them. None of us knew they were an incredible ground attack with a back that could go for 200, 300 yards until the Big Ten championship game. When you look at Alabama and Najee Harris, they can still be good on the ground. Nobody has been able to slow DeVonta Smith all season. I would not bet against Alabama. I don't see anybody getting enough stops to beat them. I do think it'll be a good game, though.
Never miss the latest news from TexAgs!
Join our free email list