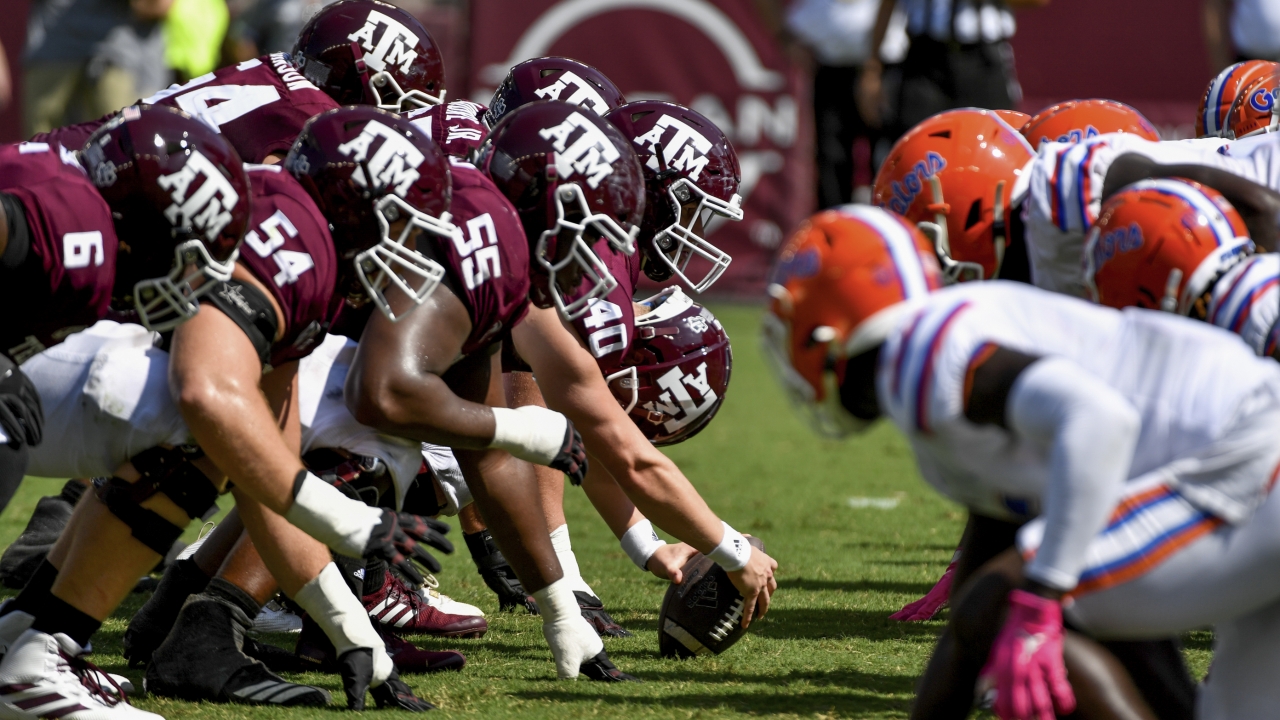 Photo by Logan Riely/NBAE
Texas A&M Football
Maroon Goon Dominance: A&M's offensive front controlling the line of scrimmage
---
At first glance, the list appeared to be upside down.
A second look confirmed that wasn't the case.
As odd as it may seem, Texas A&M is indeed ranked among the best football teams in the nation in sacks allowed.
Through three games, the Aggies have allowed just one sack. That's fewer than any Power 5 program. In fact, only Florida Atlantic and Temple have allowed no sacks, but those teams have played just once.
Before this season, the Aggies were typically found on the other end of the list. A&M was ranked 106th in each of the last two seasons in which they combined to surrender 69 sacks.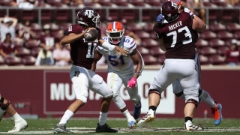 CourtneyCulbreath
Not only that, A&M is averaging a healthy 167.7 rushing yards.
Last year, A&M offensive linemen's best blocks might have been on Twitter critics. But last week, the A&M line was nothing short of specular in a 41-38 victory over Florida.
Quarterback Kellen Mond wasn't sacked. He was hurried just four times in 35 passing attempts. Also, the Aggies dominated the line of scrimmage in the running game. A&M averaged 5.4 yards per carry behind Isaiah Spiller, who rushed for 174 yards and two touchdowns.
Further, A&M's offensive line did not draw a penalty against Florida. No holding penalties. No false starts. No illegal shifts.
It was a rare but welcome sight for the fans at Kyle Field. Apparently, though, it was a familiar sight in practice.
"I already knew it was coming," sophomore defensive end DeMarvin Leal said of the offensive line's performance against Florida. "I've already known the potential of this offensive line. These guys are just monsters, honestly. They just proved it. They showed everybody what they were about."
Doubters might still remain. Skeptics would argue A&M's line play was skewed because Florida's defense isn't very strong.
"I've already known the potential of this offensive line. These guys are just monsters, honestly. They just proved it."
However, Florida had posted four sacks in each of its first two games against Ole Miss and South Carolina. The Gamecocks managed only 117 rushing yards against Florida. A&M was close to doubling that total.
Face it: A&M's offensive line is improved. The question is: Why?
For the most part, it's the same guys from last season.
Seniors Dan Moore, Carson Green and Jared Hocker are each in their third season as starters. Sophomore Kenyon Green is in his second year as a starter.
Senior center Ryan McCollum would have been a starter last season if not for a back injury.
So what's different?
"Amazing what maturity is, isn't it?" A&M coach Jimbo Fisher said. "You've got maturity. Guys know. They've played games. They recognize blitzes. They recognize stunts. They know how to pass them off.
"Plus, your quarterback is more experienced. He can get the ball out quicker."
Fisher also pointed out that the inflated sack totals of the past two seasons aren't necessarily a result of poor line play.
"Everybody (blames) the offensive line for a sack. Well, no," Fisher said. "Maybe the receiver ran the wrong route. Maybe he didn't get open in one-on-one coverage and that made the quarterback hold it. Maybe the quarterback held it, or maybe the quarterback made a bad read.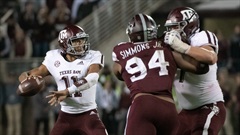 Clay Taylor, TexAgs
"I mean, the obvious to everybody is not obvious. Sacks don't always go on the offensive line."
Perhaps not.
But Texas A&M's offensive line was excellent against Florida. The "Maroon Goons" as they are known must be excellent again this week against Mississippi State. The Bulldogs lead the Southeastern Conference in sacks with 12. They're second only to Georgia in rushing defense.
The last time A&M ventured into Starkville, the Aggies managed just 61 rushing yards and surrendered three sacks. That was in 2018.
A&M figures to fare better this time. The Aggies offensive line is improved.
That's obvious, too.
Never miss the latest news from TexAgs!
Join our free email list
PRESENTED BY