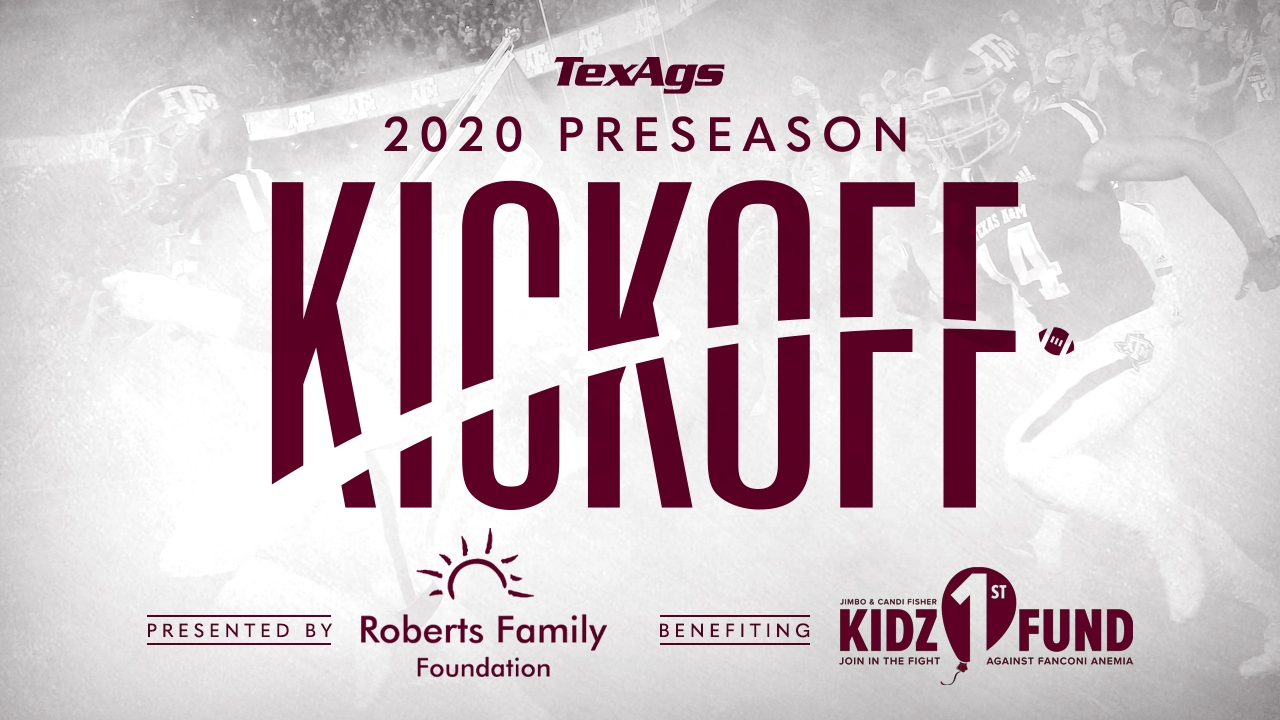 Announcing 10th Annual TexAgs Kickoff Event (Register HERE)
---
We're very excited to announce that registration is NOW OPEN for the 10th annual TexAgs Preseason Kickoff – featuring Texas A&M head coach Jimbo Fisher and benefiting Coach Fisher's Kidz1stFund – on Saturday, September 19 at 1:00 p.m. CT. This two-hour subscriber-only event will be held virtually due to local and statewide ordinances limiting large groups due to the COVID-19 pandemic. Register NOW by clicking on the above link at the top of this page.

Despite us not being able to gather in-person this year, we feel like it's important to carry on a preseason tradition that has lasted a decade and has become a huge annual tradition for our staff and our subscribers. It's a chance to gather the TexAgs Premium and Varsity community to talk a ton of Aggie Football and raise donations for Kidz1stFund, whose fundraising efforts have been limited this offseason do to COVID-19. You don't want to miss it! We'll have much more news coming your way on what this year's panel sessions will look like, and we're extremely excited about the lineup that has committed to being a part of this event.
Once registered, you can access the event at: https://texags.com/kickoff2020
---

Kidz1stFund
For the third straight year, our Kickoff event will benefit Kidz1stFund, founded by Jimbo and Candi Fisher during their time at Florida State. The mission of Kidz1st is to fund the fight against Fanconi Anemia ... a rare blood disorder that affects thousands of children each year across the United States, including the Fisher's youngest son, Ethan. Kidz1stFund provides education and awareness about this disease, and raises money for Fanconi anemia research with the goal of finding a cure. It is the hope of Coach Fisher and everyone at Kidz1stFund and at TexAgs that you will continue to join us in this important endeavor as you have over the last two years.
To donate to Kidz1stFund NOW, log on to TexAgs.com/Kidz1stFund
A portion of the proceeds will also contribute to the TexAgs Endowed Scholarship Fund.

---
Past guests have included:
Coach Jimbo Fisher
Dr. R. Bowen Loftin
Coach Terry Price
Justin Moore
Billy Kennedy
Bucky Richardson
Tank Marshall
Darby Rich
Domingo Bryant
Seth McKinney
Steve McKinney
Jerrod Johnson
Jordan Pugh
Stephen McGee
Aaron Wallace
Reggie McNeal
Jake Hubenak
Coach J.T. Higgins
Katy (Pounds) Lee
Brandon Leone
Coach Jackie Sherrill
Steve Solari
Doug Teague
Richmond Webb
Evan Eike
John Harris
Peter Kuo (TexAgs founder)
Preseason Kickoff Event Details
Cost per "virtual ticket" for the Kickoff: $20 for Premium subscribers; $15 for Varsity subscribers. You can make a donation to the event on top of your ticket cost - benefiting Kidz1stFund - in the open "donate" section during registration.

As for the specific elements of the special virtual program, here are the basic details that we plan to present to you during this exclusive and very special event...

* Official welcome from TexAgs President & CEO Brandon Jones

* Billy Liucci Q&A with Jimbo Fisher

* Stephen McGee chats with former Jimbo Fisher Quarterbacks

* John Harris Film Breakdown on the Aggies

* Celebrating Hugh McElroy and the 50th anniversary of his historic TD at LSU in 1970

* Kidz1stFund video

* Hype video from Lia Musgrave

---

Sponsorships
If you have interest in helping sponsor TexAgs Kickoff or in providing a direct donation, please send an email to logan@texags.com. We would really appreciate any additional support you feel you would like to provide!
---
Let's recap:
What: TexAgs Preseason Kickoff 2020
Who: TexAgs Premium & Varsity Subscribers ONLY
When: Saturday, September 19 from 1:00-3:00 p.m.
Where: TexAgs.com (link and password to be e-mailed to those who register for the event)
Why: To go inside A&M Football with TexAgs Premium subscribers and TexAgs staff, along with insiders, analysts and special guests, and to raise money for Jimbo Fisher's Kidz1stFund and the TexAgs Endowed Scholarship Fund while gearing up for the 2020 Aggie Football season!
Click HERE to watch a quick recap of the 2018 event and HERE to watch a recap of the 2019 event, giving you an idea of what TexAgs Preseason Kickoff is all about!

Click HERE for a photo gallery of Kickoff 2018 and HERE for a photo gallery of Kickoff 2019!

Thanks for taking the time to read this announcement and for being a part of this community. Despite our extreme limitations and being forced to hold this event virtually this year, we believe that TexAgs Kickoff 2020 is going to be a huge success and something that you absolutely want to attend and experience!

Thanks & Gig'em,

Brandon Jones & TexAgs Staff
Never miss the latest news from TexAgs!
Join our free email list