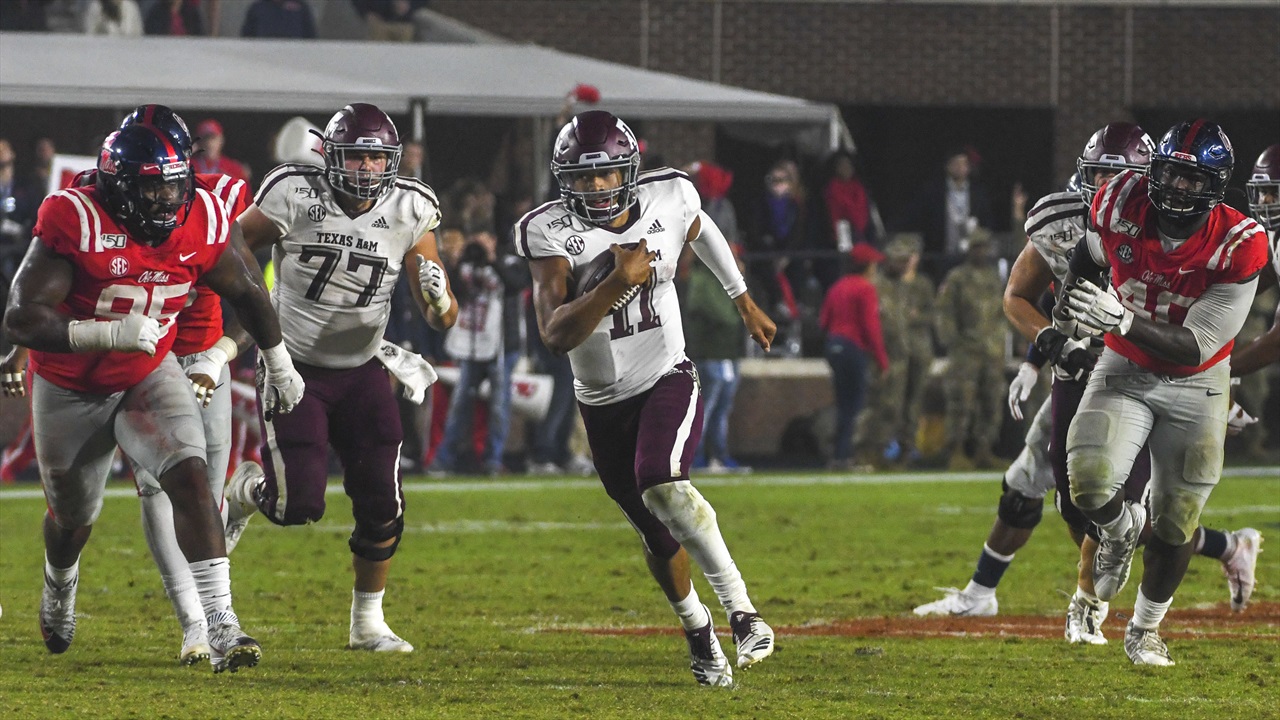 Photo by Lia Musgrave, TexAgs
Texas A&M Football
Third's the Word: Aggies possess ingredients for improved third-down success
---
Bodybuilders say protein is the key to accumulating muscle.
Football coaches say third down is the key to accumulating points.
Therefore, success on third down is the protein of football. The strongest college football teams typically excel on third down.
Need proof? Last season, all ten Power 5 division winners — or teams that played for conference championships — were ranked among the nation's top 50 in third-down conversions. Seven ranked among the top 27.
Further, 16 of the 20 best Power 5 teams on third down posted at least eight victories. Only TCU, Arizona, Boston College and Washington State had losing seasons.
These statistics don't reveal anything that educated college football fans don't already know. Third-down success equating to victories is not a revelation. Rather, this is just a reminder of the importance of third-down success.
Not that Aggies need a reminder. Behind Johnny Manziel, A&M led the nation in third-down success in 2012. Not coincidentally, the Aggies finished 11-2 that year.
The next season, A&M was eighth in the nation on third down and posted nine victories. Since 2013, A&M has finished no higher than 41st on third down. The Aggies ranked 65th in third-down percentage last season.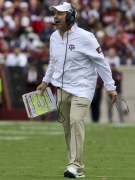 TexAgs
That underscores A&M's need to improve this year. Sure, pessimists will say it won't matter because football won't be played this season because of the COVID-19 pandemic.
But as of this writing, Southeastern Conference teams are proceeding as if a season will indeed be played, even if it's a conference-only schedule. Then, for the Aggies to be as successful as projected, they must show significant improvement on third down.
Some will counter that — like Highway 6 — third down goes both ways. Preventing opponents from success on third down is just as vital.
No argument there. Except that A&M has been effective on the defensive side.
Last season, the Aggies allowed opponents a third-down success rate of just 31.77 percent. That was good for 15th in the country. With eight returning starters on defense — and an influx of talent on the way — A&M figures to remain among the nation's best in that category.
The need for improvement is obviously on offense. There are ways and reasons the Aggies can make notable progress.
Be better on the early downs: Again, this won't reveal anything that the football educated individual doesn't already know, but the shorter the distance on third down, the higher the rate of success.
Against just Power 5 opposition, the Aggies converted 49 of 128 third-down opportunities (38.2) percent. However, when facing third-and-four or shorter, the success rate was 27 of 41 (65.8 percent).
The question then becomes: Why expect A&M to improve on early downs?
The offensive line should be better if for no other reason than Kenyon Green will have more experience at guard. Also, A&M projects to be bigger and more physical at center, whether Ryan McCollum, Luke Matthews or Layden Robinson is the starting center.
Running backs Isaiah Spiller and Ainias Smith figure to be more efficient as sophomores. A year's experience and increase in strength will likely result in picking up more tough yards.
Last season, nine of A&M's ten Power 5 opponents were ranked 67th or higher in rushing defense. Four were among the top 25.
A&M likely will have increased rushing productivity with Clemson (No. 19) no longer on the schedule and LSU (No. 21) and Auburn (No. 25) subtracting key figures from their defense. The Aggies also faced Georgia (No. 1) last season, but it remains to be seen if the Bulldogs will be added to A&M's schedule should the SEC move to a ten-game, conference-only schedule model.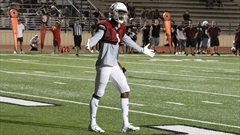 Walker Lott, TexAgs
More explosive talent: The Aggies did not produce many big plays in 2019. They were tied with Tennessee for seventh in the SEC in 20-yard plays from scrimmage with 59. A&M tied with Missouri for ninth in plays of 30 yards or more with 21. Only South Carolina, Vanderbilt and Arkansas had fewer. Subsequently, the Aggies converted only 10 of 48 tries when facing third-and-10 or more against Power 5 competition.
The number of big plays is expected to rise — perhaps dramatically. Receiver Jhamon Ausbon and Spiller accounted for 22 of A&M's plays over 20 yards, and both are back.
The addition of heralded receiver prospects Demond Demas and Muhsin Muhammad along with mercurial running back Devon Achane also figure to boost A&M's big-play output.
Quarterback Kellen Mond's rushing prowess: There's no doubt that Mond's running ability is a weapon. Yet, at times he seemed reluctant to use that weapon.
Mond rushed just 53 times in A&M's first six games of 2019. He ran more often in the second half of the season, with 73 carries for 300 yards in the final seven games.
Moreover, of A&M's 49 third-down conversions against Power 5 opponents, Mond accounted for roughly 25 percent (12) on runs. That included conversions on a third-and-15 and a key third-and-6 in a victory over Ole Miss. He also had an 18-yard run on third-and-9 on a drive that culminated in a vital field goal late in 31-27 win over Arkansas.
Mond's increased willingness to run should increase A&M's chances of converting on third down.
Consequently, a running threat at quarterback, more players with big-play ability around him and the potential for increased production on early downs could — perhaps should — result in a stronger A&M offense on third down.
Never miss the latest news from TexAgs!
Join our free email list
PRESENTED BY