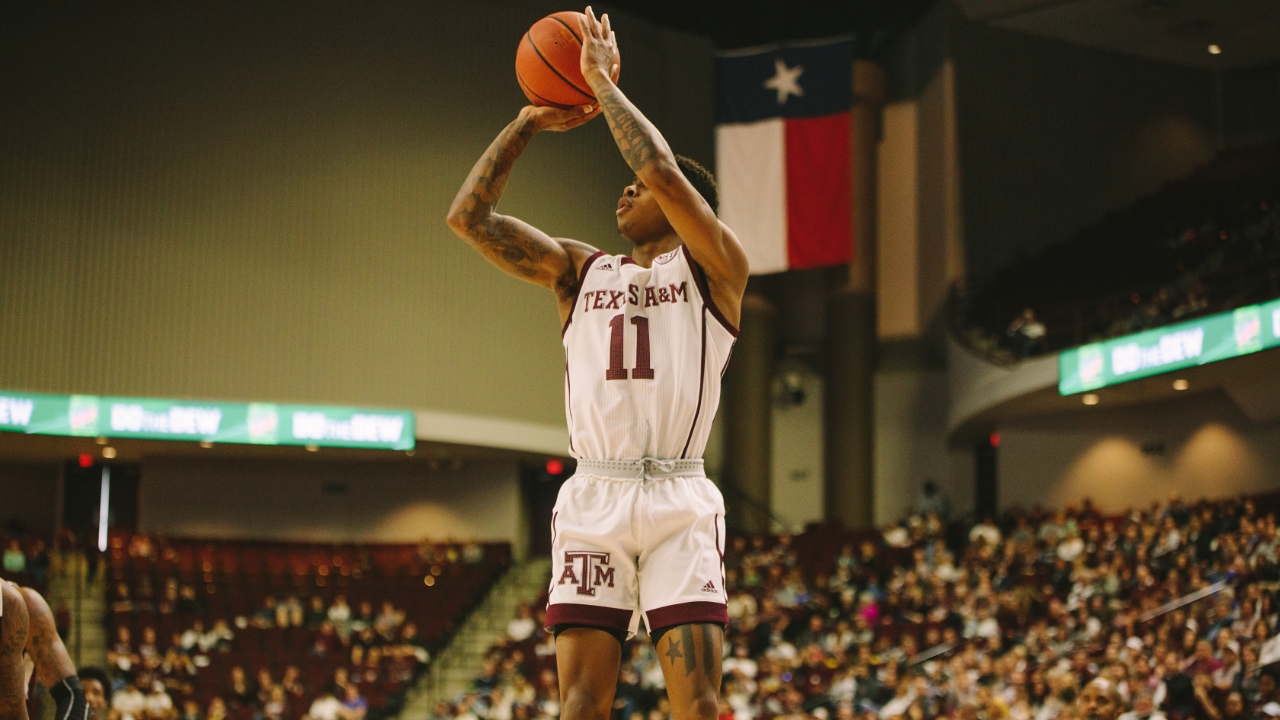 Photo by Rey Romo, TexAgs
Texas A&M Basketball
Continuing fiery shooting streak key for Aggies' chances against No. 8 Kentucky
---
Throughout Southeastern Conference basketball play, Texas A&M, which is on a three-game winning streak, has run hot and cold as fire and ice.
That's largely because of how they've fared in "fire" and "ice." Coach Buzz Williams explains:
"One of the things that we track is the last 10 seconds of a possession when we're on defense — we call that 'fire,'" Williams told TexAgs radio on Monday. "When we are on offense, we call those last 10 seconds "ice." During the previous three games, we have gotten to fire and ice as much as anyone in the league because of what we want to do defensively and on time of possession. Our fire and ice numbers have been really good over the last week."
The Aggies (14-12, 8-6) have been on fire in posting consecutive victories over Georgia, Alabama and Mississippi State. They hope to bring some ice on Tuesday night at Reed Arena to cool down red-hot Kentucky (22-5, 12-2), which has won six in a row.
"Our fire and ice numbers have been really good over the last week."
The nationally-televised clash on ESPN tips off at 6:00 p.m.
The Aggies have been impressive in connecting three straight victories. It figures to be much more difficult to connect four.
Kentucky leads the SEC standings and is among the top five in most significant statistical categories. The Wildcats are fifth in scoring (74.9 points), third in field goal percentage (46.1), fifth in 3-point percentage (32.7) and first in free throw percentage (79.1).
Guard Immanuel Quickley boasts a team-leading 15.7 scoring average, while 6-foot-11 forward Nick Richards averages 14.3 points and 8.0 rebounds.
Also, guard Tyrese Maxey averages 13.9 points, and guard Ashton Hagans averages 11.8 points and 6.5 assists, which leads the SEC.
A&M's season stats pale in comparison. But during their three-game winning streak, the Aggies have shot 49.6 percent from the field, 42.8 percent from 3-point range line and 78.3 percent at the foul line.
Wendell Mitchell has been particularly hot. He's shot 58.6 percent in that span and has averaged 17.0 points.
Guard Quenton Jackson has also come on strong. He's averaged 16.3 points in the last three games while converted 23 of 24 free throw attempts.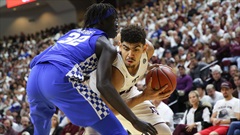 Matt Sachs, TexAgs
The Aggies can also glean optimism from the recent past. Since joining the SEC, A&M is 2-3 against Kentucky at Reed Arena. Two losses were in overtime. The third was a competitive 71-63 setback in 2017.
The last time Kentucky visited Reed Arena, A&M prevailed 85-74 in 2018.
"Regardless of who or where we play, we have a chance in very specific ways," Williams said. "It's going to have to be similar to Saturday's (win over Mississippi State). We are so burdened by how we can make it a push on the glass. How can we prevent them from obliterating us on the glass?
"Because of Kentucky's size and length, they put so much pressure on the rim. We're going to have to be at our absolute best for it to even have a chance of being a game. We have to negate their pressure or even it out a little bit. At the other end, we have to find a way to create pressure on the rim. Our formula will be the same against Kentucky - a team that is going to win the league."
Never miss the latest news from TexAgs!
Join our free email list