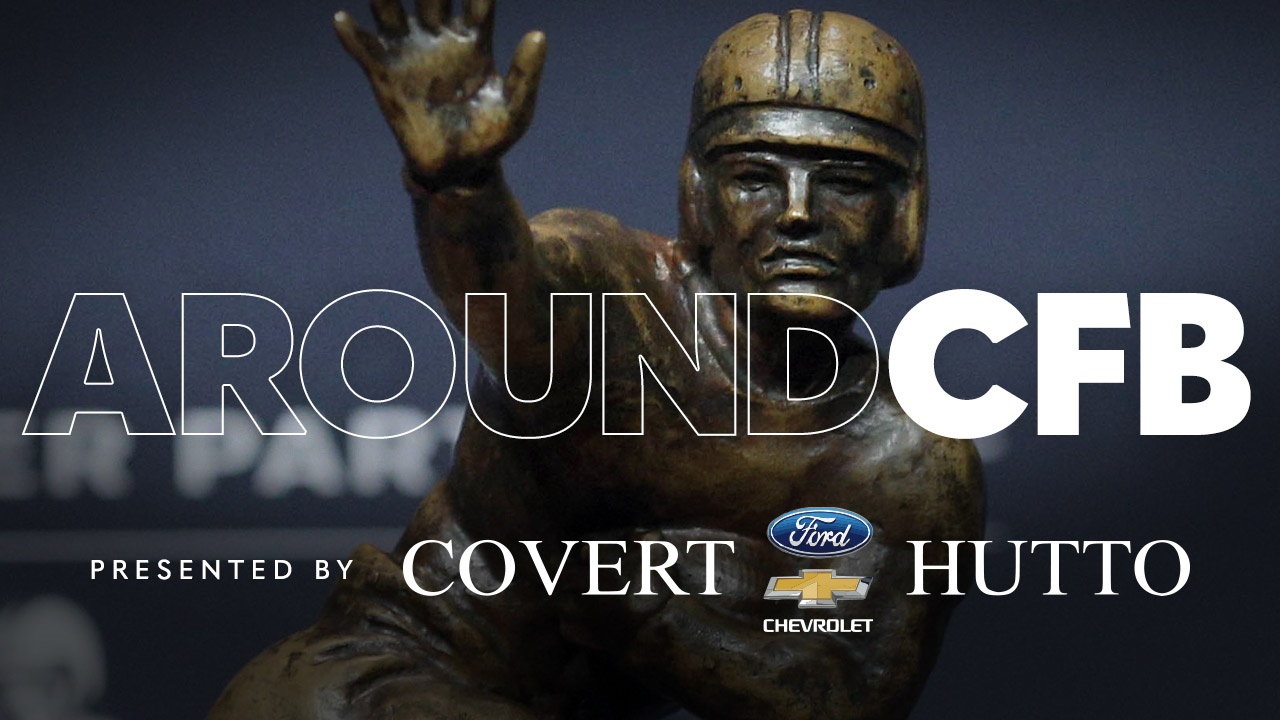 Photo by Brad Penner-USA TODAY Sports
Texas A&M Football
Around CFB: Teams to believe and those that deceive
---
Every college football team deserves a mulligan.
They just can't get mugged again.
Since the inception of the College Football Playoff five years ago, only three teams — Florida State in 2014, Clemson in 2015 and Alabama in 2016 — entered the field unbeaten.
In fact, not since Florida State in 2013 has there been an unbeaten national champion.
What those statistics suggest is that each of the dozen one-loss "Power 5" teams still have hope of reaching the playoff field and perhaps winning a national title.
But some hopes are more realistic than others.
Here's a look at the teams to believe and those that deceive.
Believe:
North Carolina State: Admittedly, on the surface this seems laughable, especially after the Wolf Pack was dismantled by Clemson 41-7 a week ago. But consider that their remaining schedule includes Syracuse, Florida State, Wake Forest, North Carolina and East Carolina. Those teams are a combined 17-24. Also, NC State is in the Atlantic Division with Clemson. That means if the Wolf Pack win out it won't face Clemson in the ACC championship game. NC State won't get into the playoff, but has a realistic shot at finishing with one loss.
"If [Washington State] can win [at Stanford], they don't figure to be seriously challenged until the regular season finale."
Washington State: The Cougars have a tough task of following up last week's win over Oregon with a road trip to Stanford. But if they can win there they don't figure to be seriously challenged until the regular season finale against arch rival Washington. Should Wazzou win the North, Utah likely would be waiting in the Pac-12 championship game. Washington State already has a victory over the Utes.
Ohio State: Purdue exploited Ohio State's defensive issues last week. However, none of the Buckeyes remaining regular season opponents — Nebraska, Michigan State, Maryland and Michigan — have explosive offenses. The best remaining foe is arch-rival Michigan, and that game is in Columbus. The Buckeyes would then probably have to beat one-dimensional Wisconsin for the Big Ten title.
Michigan: OK, so if it's not Ohio State it's the Wolverines. They get an open week to prepare for Penn State. Then, punching bags Rutgers and Indiana are next before heading to Columbus.
West Virginia: True, the Mountaineers lost to Iowa State. But losing to the Cyclones didn't keep Oklahoma out of the playoff last year. West Virginia ranks among the nation's Top 30 in scoring offense and scoring defense. That double isn't seen often in the Big 12.

Deceivers:
Texas: This isn't meant to slam Texas just for fun. The fact is the Longhorns have posted four wins by a touchdown or less. Three of those close wins have come over Tulsa, Kansas State and Baylor. Woof. The Longhorns face West Virginia in two weeks and then travel to Texas Tech. If they survive that, a rematch against Oklahoma in the Big 12 championship game may loom.
Oklahoma: The Sooners defense is awful.
Iowa: Back-to-back road games vs. Penn State and Purdue loom. Then comes Northwestern, which is no pushover. And even if the Hawkeyes navigate the remainder of schedule unscathed, they will be underdogs against Michigan or Ohio State in the Big Ten championship game.
Kentucky: The Wildcats are too one-dimensional offensively.
LSU: Still must play Alabama.
Florida: Faces Georgia on Saturday and follows with Missouri and South Carolina. None of those are easy wins. Besides, even if the Gators make it through they'd face Alabama in the SEC championship game.
Georgia: Did we mention facing Alabama in the SEC championship game?

Heisman watch: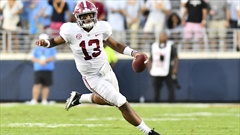 Matt Bush/USA Today Sports
Tua Tagovailoa, Alabama, QB: Let's have a Sam Montgomery moment: "Heisman … give it to him." Why not? Tagovailoa isn't just the quarterback of the nation's No. 1 team. He's the main reason Alabama is No. 1. He hasn't yet played in the fourth quarter, but has thrown 25 touchdown passes and no interceptions
Dwayne Haskins, Ohio State, QB: Don't blame Haskins for the Buckeyes' 49-20 loss to Purdue. He still passed for 470 yards and a pair of touchdowns. It was the third consecutive game in which Haskins has exceeded 400 passing yards. He's second in the nation in passing. He's thrown for 30 touchdowns.
Gardner Minshew, Washington State, QB: Some respect for the 'stache. Minshew averages 392 passing yards per game to lead the nation. He's exceeded 300 passing yards in every game and has at least three touchdown passes in six of the Cougars' seven games. He threw four touchdown passes in Washington State's 34-20 win over Oregon last week.
Kyler Murray, Oklahoma, QB: He had four touchdown passes in last week's 52-27 victory over TCU. That was his third consecutive game with at least four touchdown passes. Murray has rushed for 428 yards and passed for 1977 to rank fifth in the nation in total offense with 2,405 yards. He's thrown 25 touchdown passes and has rushed for five scores.
Jonathan Taylor, Wisconsin, RB: Taylor posted his seventh triple-digit rushing performance of the season with 159 yards in Wisconsin's 49-20 win over Illinois. He has the nation's second-highest rushing total with 1,109 yards, and leads the nation in rushing yards per game at 158.4.

Predicted playoff participants:
Alabama: The Tide's schedule gets tougher in November. It won't matter.
Clemson: The Tigers have scored at least 41 points in three of their last four games. They don't figure to slow down as long as freshman quarterback Trevor Lawrence is healthy.
Notre Dame: The road isn't easy. Only one losing team remains on the schedule — this week's opponent, Navy.
Michigan: The nation's top defense still must get by Penn State, Ohio State and probably Wisconsin in the Big Ten championship game (if they get that far).

This week's best games:
No. 9 Florida vs. No. 7 Georgia: The winner remains in the thick of the SEC East Division race.
No. 18 Iowa at No. 17 Penn State: Hawkeyes have Big Ten West Division (and even playoff) hopes. Penn State of the East will play a big role in deciding the West. The Nits play Wisconsin, too.
No. 14 Washington State at No. 24 Stanford: Coach Mike Leach's Cougars are the only Pac-12 team with a chance to reach the playoffs. A win over Stanford would enhance those chances.
No. 2 Clemson at Florida State: After a slow start Florida State has won three of its last four. Of course, the competition isn't as good as Clemson, which is rolling.
No. 21 South Florida at Houston: The Bulls (East Division) are unbeaten. Houston (West Division) is 6-1. This could be a preview of the American Athletic Conference championship.
Idle thoughts:
Considering the recent success of Oregon's Marcus Mariota, Ole Miss' Jordan Ta'amu and Alabama's Tua Tagovailoa, look for college coaches to start scouring the Hawaiian islands for quarterback prospects.
LSU will likely just keep scouring Big Ten depth charts for its quarterbacks. It's worked with Danny Etling and now Joe Burrow.
It's kind of hard to figure how No. 16 Texas A&M isn't the highest ranked two-loss team. The Aggies defeated currently No. 12 Kentucky and their two losses are to No. 1 Alabama and No. 2 Clemson — which are both unbeaten. Meanwhile, No. 15 Washington has lost to unranked Auburn and No. 19 Oregon. The Huskies' best win is over No. 23 Utah.
Never miss the latest news from TexAgs!
Join our free email list