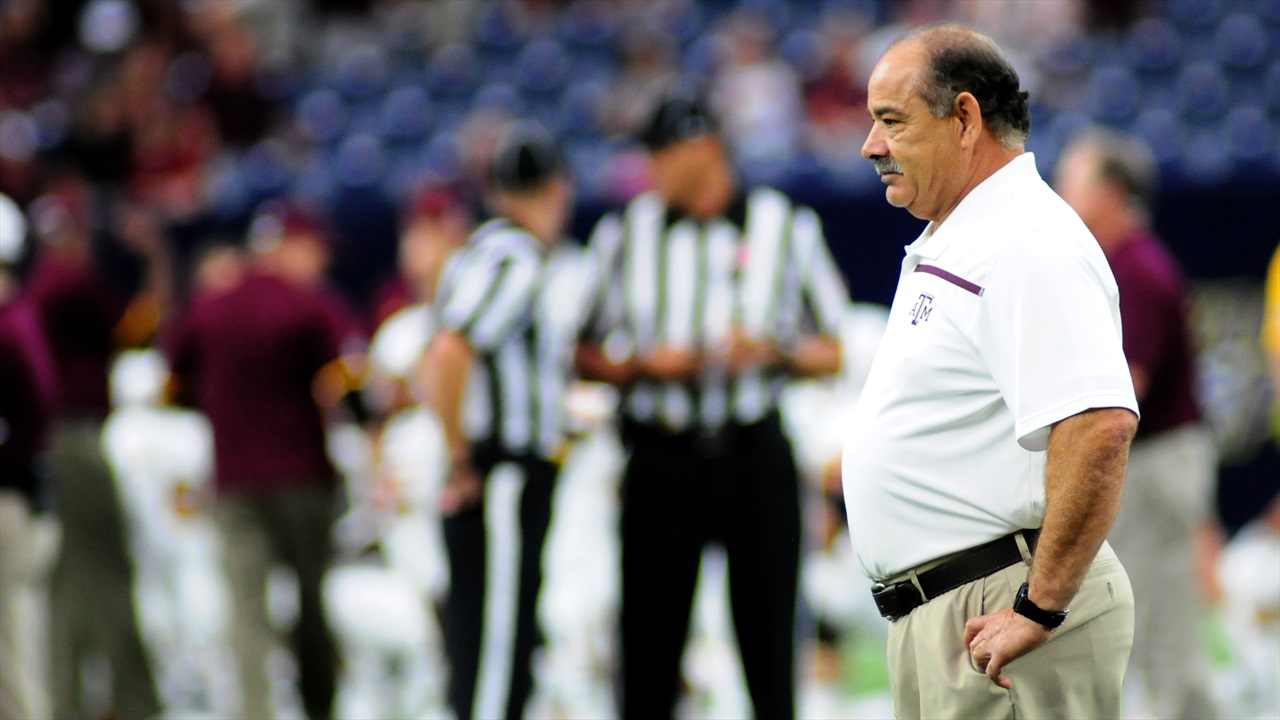 Photo by Kirby Clarke, TexAgs
Texas A&M Football
Breakdown: John Chavis reveals new tricks against ASU
---
The first game of the John Chavis era went about as well as anyone could've expected. The sheer numbers are staggering to say the least.
Nine sacks.
Five forced fumbles.
Fourteen tackles for loss.
Under 300 yards total offense allowed.
Under 200 yards passing allowed.
Under 100 yards rushing allowed.
Ten punts forced.
A 27.8 percent conversion rate allowed on third downs.
Two fourth down stops (granted one was a fourth and a mile late in the game).
It was a monumental change from the previous seasons. It's hard to imagine John Chavis in reality surpassing the enormous John Chavis hype, but in THIS game, it truly did.
When I did my talk on Chavis' defense for the TexAgs kickoff back in July, I showed a few things that his scheme exemplified throughout his tenure as defensive coordinator at both Tennessee but most recently at LSU. He followed that script, for the most part, but did throw a couple of wrinkles at Arizona State that I hadn't seen, or didn't recall seeing, before.
He saved one of those until the second quarter. As Arizona State faced a third and eight situation, Chavis countered with nickel personnel on the field against a three (bunch) by one, gun formation. It's not unusual for him to counter 10 personnel with nickel. What was unusual and unique was the alignment of his front four.
Note the alignment of the two star defensive ends, Myles Garrett and Daeshon Hall. They're aligned as defensive tackles, while the defensive tackles were aligned as defensive ends. My first thought was this was a prototypical stunt alignment. I expected the DEs to shoot upfield, while the DTs loop in behind. In the end, the four rushers would eventually end up in their traditional rush spots.
On the snap, you can see exactly that.
Garrett fired hard upfield to draw the double team from the Sun Devils LG and LT. The same was happening on the other side, but not nearly as effectively. In essence, the two on the left side didn't time that stunt well and didn't get anywhere. They did this much more effectively later in the game.
Regardless, at this point, you can really see the impact of the stunt. Garrett drove completely upfield, taking both guard and tackle with him. At that moment, a wide open inside rush lane opened for DT Alonzo Williams.
ASU QB Mike Bercovici had no time to look downfield and was forced to check down to his running back well short of the first down. Garrett made the stunt work with his forceful charge upfield, but the wrinkle of putting he and Hall inside worked beautifully. Chavis called this set again a couple of times, but he didn't tag it with a loop or a stunt. All four guys rushed upfield from their non-traditional alignments.
Once the Aggies had a firm lead and the Sun Devils were forced to the air, Chavis unleashed another blitz wrinkle. On third and long in the fourth quarter, Chavis put his Mustang package on the field — six defensive backs (three down linemen and two linebackers). That made it an odd front at the line of scrimmage with both linebackers showing blitz.
The ultimate key, though, was nickel back Donovan Wilson. It appeared at first glance as if he had the RB in man-to-man coverage but, similar to the way that Chavis used LSU star slot corner Jalen Mills, Chavis called for Wilson to blitz.
The two linebackers showed in the A gaps, but No. 54 Jake Blount dropped out at the snap. The three down linemen rushed, alongside LB No. 33 Shaan Washington. Then, Wilson fired through as well.
Washington came free but, most importantly, Wilson came through as well. Bercovici didn't have a chance because Garrett blew off the edge clean too. Sack.
That set up a fourth and forever late in the game and Chavis dialed up a similar blitz. Wilson came 100 percent free and sacked Bercovici to eliminate any Arizona State chances at a comeback.
That package I had seen before from Chavis, so I'm assuming Arizona State had to know it was coming. The Sun Devils still couldn't/didn't stop it.
The first stunt wasn't something I'd seen before from Chavis, but with DEs like Hall and Garrett and DTs like Daylon Mack, Zaycoven Henderson, Alonzo Williams and hopefully Julien Obioha (when he returns), there's some, well, let's call it 'fun' to be had.
Never miss the latest news from TexAgs!
Join our free email list