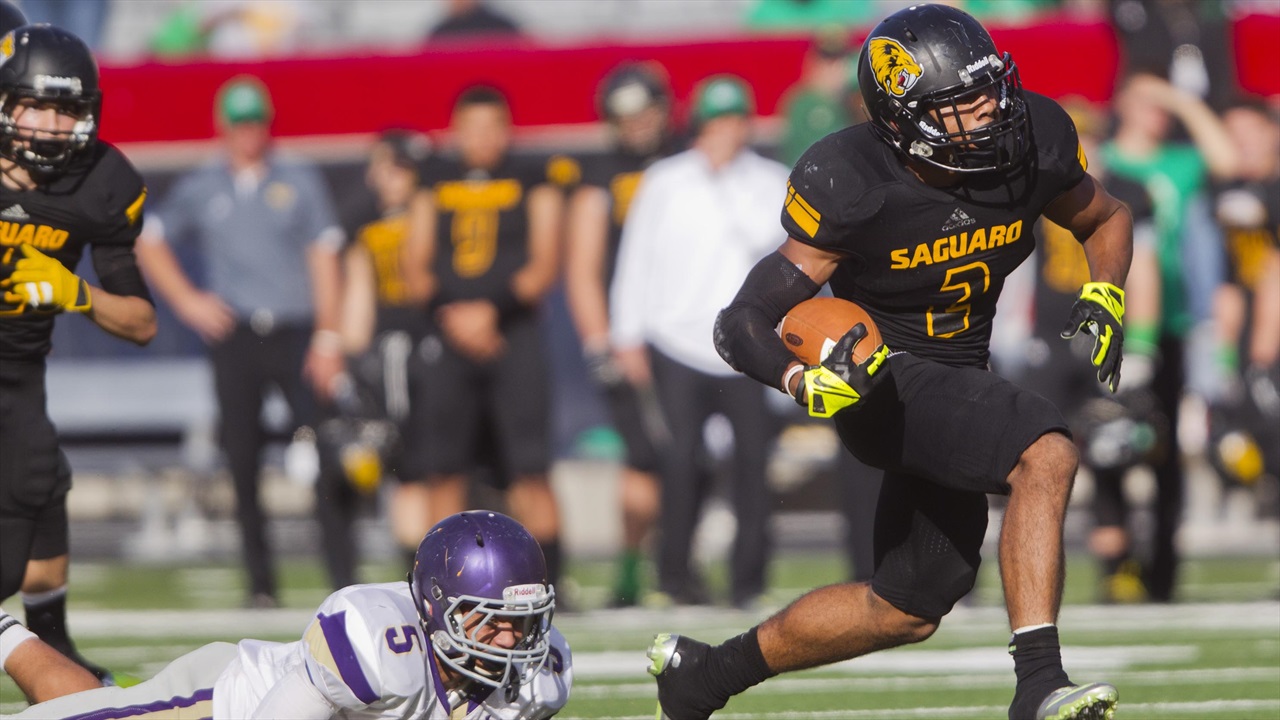 Photo by azcentral.com
Texas A&M Football Recruiting
Coach's Scouting Report: Saguaro (Ariz.) WR Christian Kirk
---
Saguaro Head Coach Jason Mohns on Christian Kirk…
"I always start by telling people that for every thing he is as a football player, he's an even better person. I think that's such an important thing for an athlete that's as highly decorated as he is. He does it the right way. He's a great kid and leader for our team. Academically he gets good grades, and he's never in trouble. He's a great leader and a hard worker.
"For everything he is as a gifted athlete, he does the little things you want him to do. He has the desire to be great and is a student of the game. He's never just relied on his athletic ability, he puts in the extra work to achieve the goals he's set for himself."
On his versatility as an athlete…
"The kid could have been a four- or five-star running back, a five-star corner, he probably could have been an all-state quarterback if we wanted him to, and he's even lined up and played linebacker for us. He's a natural athlete with an extremely high football IQ. He understands the game, and that allows him to play all over the place. Pretty impressive when you can take a kid like that and you can line him up anywhere. Expect him to be able to versatile like that at the next level."
On how much getting into school early helps him…
"I think it's a huge advantage for him to get in there and get acclimated and learn the system. Being there for spring ball is a huge head-start for him. I know it was important for him to graduate early because he has every intention of getting in early and playing right away. He's busted his butt the last year to take extra classes and summer school to get in and play early.
"He's planning on getting to work studying the system and getting to compete right away. He's not coming there to redshirt, he's coming to play right away. He knows there's a lot of talent there at the receiver position, but he sees the competition as a challenge and won't shy away from it."
On how well Kirk's game fits into the A&M offense…
"I think that was one of the huge draws for Christian outside of his relationships with Coach Sumlin and Coach Spav: the offensive is system they run is a great fit. We don't run the exact same system here, but we are a variation of the air raid offense. He will have a familiarity with the terminology they use. It's obviously a receiver-friendly offense where the receivers will touch the ball and it will get spread all around the field. That was important for him to play in that type of system, so I know he's excited about that."
On what he needs to work on the most to play college football…
"It's just to continue to evolve as a football player. He's played at such a high level at high school the last couple of years, so I feel like physically he's ready. He's one of the most physical specimens I've seen at the high school level for the position he plays. He will just need to learn and get to know the system so he can play fast.
"His biggest challenge will be learning, and translating that into game speed. Obviously things are going to go much faster at the next level, and you're competing against guys that have been in the system for a while. That will be his challenge — to catch his brain up with the physical tools that he has.
"I'm sure it's going to help him that Kyle (Allen) is there. They will spend the extra time together posted up in the dorm room with the playbook. Christian is a student of the game, and he will do whatever he can to give himself an advantage. Going over things with Kyle will help him out a lot."
Never miss the latest news from TexAgs!
Join our free email list