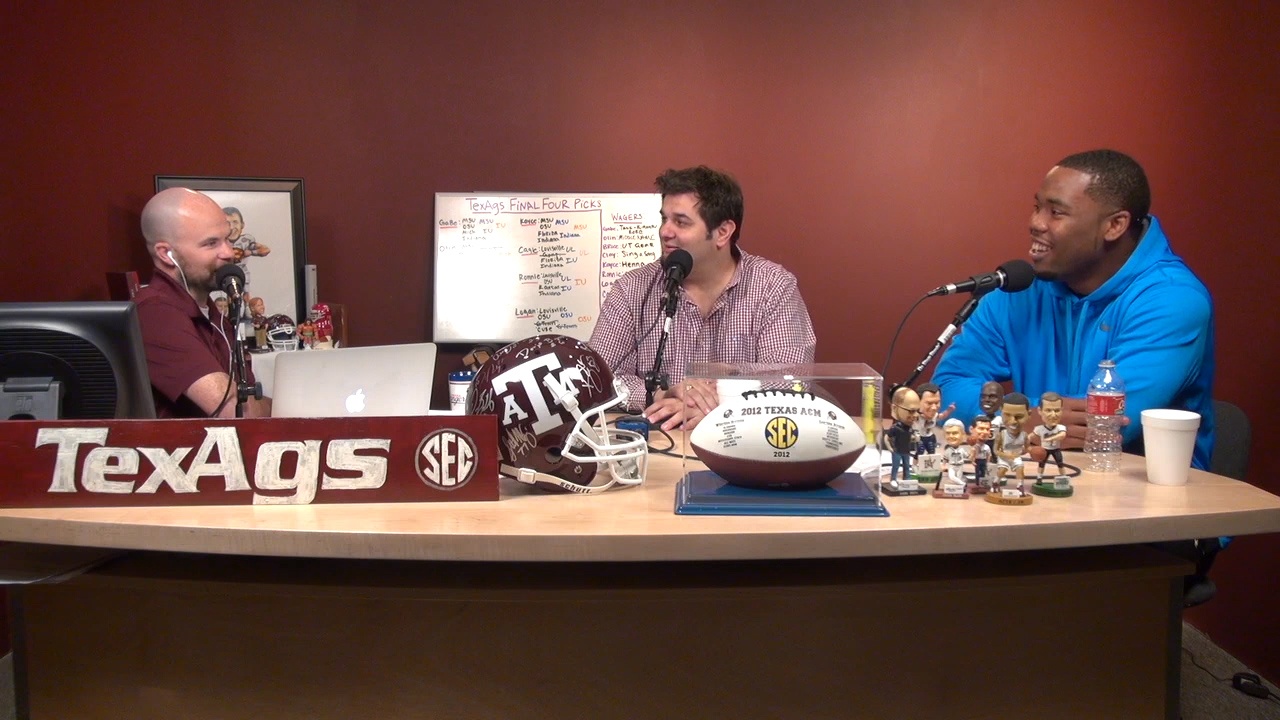 Texas A&M Football
Jonathan Stewart details 2012 season, preparing for NFL Draft
---
Key Quotes from Jonathan Stewart Interview
"You don't think the combine is that tough, but it actually is. Some days you're up at 5 and don't sleep until after 12."
"I was a little disappointed in my 4.6 40 at the combine. I felt in great shape though and ate a ton of organic food."
"The interview part of the combine was easy. It's just a matter of talking to someone and carrying on a conversation."
"Once you get older and more mature, you start to understand the game more. I was fortunate to play in the 3-4 and the 4-3."
"I tell scouts to watch the Florida game and the MSU game if they want to see me at my best."
"A big part of our success was Coach Jackson.Our offseason program was tough but once we got to camp you could tell a difference."
"I look at the Ole Miss game as a turning point game for the defense. We had lots of turnovers as a team, but we were able to win"
"The fourth down stop at Ole Miss is one of my most memorable plays of my career. It's up near the top."
"Ensuring that we didn't miss opportunities was a focus of the season. In 2011, we missed opportunities and had to learn from it"
"Regardless of coaching, it all comes down to executing and making plays."
"The oldest guys on the defense will have to be the leaders this year. Toney Hurd walks around with the field with confidence."
"It was special to end 2012 with a win. We were finally able to win in Cowboys Stadium."
"Bowl week wasn't that exhausting. We had a lot of fun. We were really relaxed and the bowl gifts were great."
"Going out and having fun is a big part of success. You're able to enjoy it every day and build camaraderie with your teammates."
"Knowing that the other team was usually fighting to get out of a hole helped us a lot. Our offense would score nearly every time"
"Practices can get intense, especially down near the goal line. They want to beat you so they can trash talk the rest of the day"
"Johnny is a chill guy. He doesn't think he can walk around and do anything he wants. He's always trying to improve his game."
"When I'm with Johnny, he is always trying to help the community. He's far from a party boy and is a normal college kid."
"Johnny always talks about wanting to give back to people. People have contributed to his success and now he wants to give back."
"Johnny Manziel is going to be the most marketable name, maybe ever."
"Johnny doesn't talk about winning a second Heisman. The national championship comes before the second Heisman in his mind."
"We talk about wanting to win the national championship and what it can do for the Texas A&M program."
"My favorite memory was when the guy jumped offsides to end the Alabama game. We were just so excited."
"In order for A&M to make a run in '13, they can't feel a sense of entitlement. You can't expect people to lay down when you play"
Never miss the latest news from TexAgs!
Join our free email list