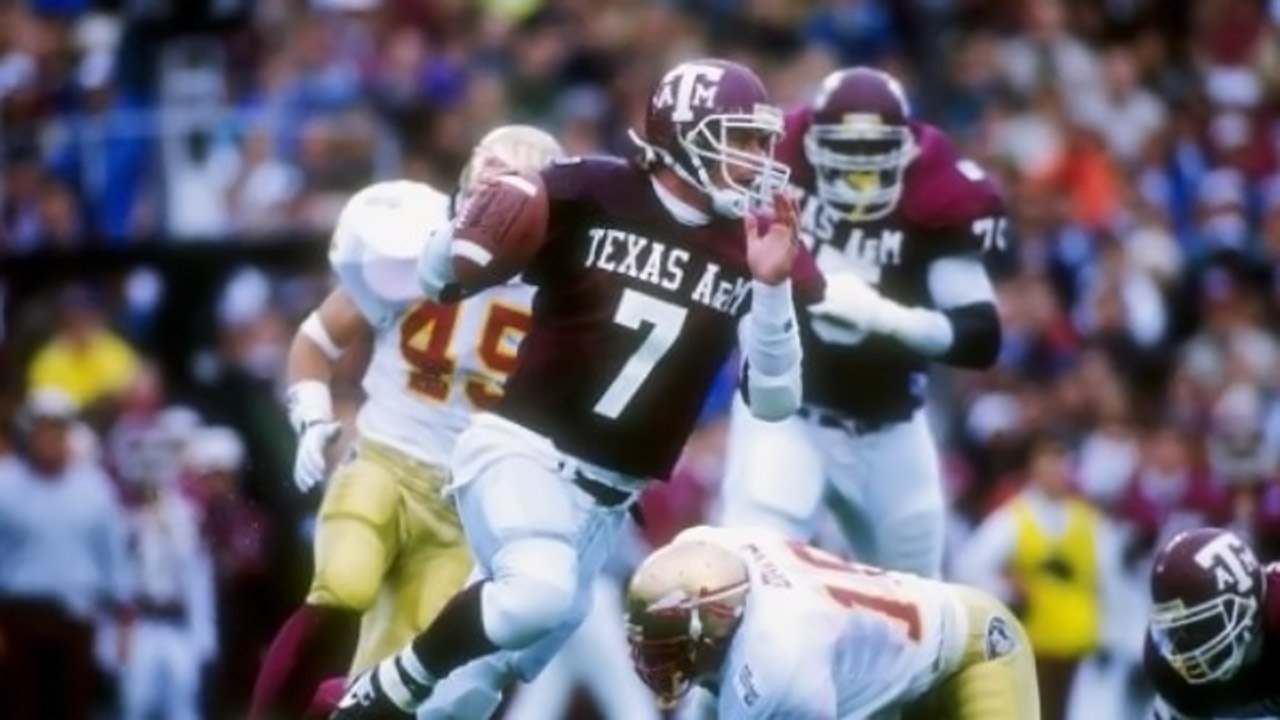 Texas A&M Football
Bucky Richardson gives his take on Johnny Manziel
---
Notes from Bucky Richardson interview

* He's having fun and soaking up all the SEC sun just like all the other Aggies out there. Johnny Manziel has played his butt off this year, and he knows that the coaches saw something special in him to earn the starting spot back in August. They gave him the keys to the car and he's been driving it very nicely.
* It's a compliment to him when he hears the comparisons between and him and Manziel. He can relate to Manziel because of the emotion Manziel plays with. People across the country appreciate a guy who plays with emotion and leaves everything on the field each and every Saturday. Playing with that emotion is contagious, and it has made all of the other kids on the team play at a higher level as well.
* The offense at A&M is the same kind that Manziel has been running for a long time, and you can tell that he is comfortable within this style of play. He is excelling at a rate that is impressive for any player, let alone a freshman. No moment is too big for Manziel, and he always seems poised and calm no matter what the circumstances are. That is a heck of an intangible to have, particularly for a freshman.
* The guys in the huddle expect Manziel to make plays now, and that is the sign of a great player. Great players make the players around them better, and it's clear that Manziel does that. Manziel is a complete package, and making your teammates better is a special intangible to possess.
* He has heard comparisons of Manziel to Doug Flutie and Charlie Ward. Ward could throw the ball the way Johnny does, but he was also capable of hurting you with his legs if you gave him the chance.
* Manziel is the most exciting player he has ever seen in an A&M uniform. The style of offense A&M is already exciting, but when you add someone like Manziel to pull the trigger, it makes it even better. He couldn't be more excited for Manziel and the entire A&M football team. They are definitely representing A&M the right way.
* Football is important to Manziel and he has the right people around him to keep him from the hangover of early superstardom that happens in certain players. In the football world, you're only as good as your last game and Manziel knows that there is still a ton of improvement to be done. To avoid that hangover, Manziel needs to focus on turning his weaknesses into strengths and stay hungry during the offseason.
* In order for A&M to beat Missouri, they need to continue to play at the level they have been through the course of the season. Manziel can't be worried about all the Heisman stuff and rather needs to focus on just winning the game. Winning the game is the most important thing, and with that will come opportunities for him to get his yards and touches. The Heisman stuff will take care of itself, and as long as Manziel prepares himself and plays well, he will be just fine.
Never miss the latest news from TexAgs!
Join our free email list